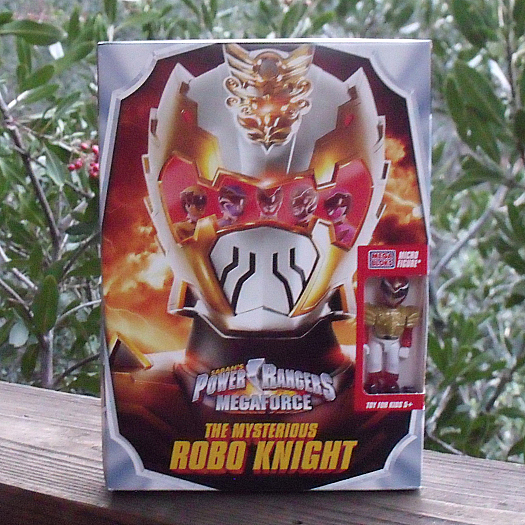 Power Rangers Megaforce AND a bonus toy? Yes!
The new DVD, The Mysterious Robo Knight, includes a collectible Mega Bloks Micro Figure. Naturally, this makes it a must-have! Fortunately, the DVD itself is also fantastic, so you'll get the fun figurine and hours of entertainment from the four episodes on the DVD.
Power Rangers Megaforce is the most recent season from this long time series. It originally aired in 2013 and features new characters along with old favorites. Of course, there is plenty of action and the storyline is complex enough to keep young and older fans entertained.
The DVD includes four episodes for over 1 1/2 hours of programming. It's fun for kids and there are many teens and adults who still enjoy the show. The bonus toy has small parts and is recommended for ages 5 and up.
Power Rangers Megaforce:
The Mysterious Robo Knight DVD

Release date 1/14/14
Synopsis: "The action-packed series continues as Troy, Noah, Emma, Gia and Jake POWER UP to defend Earth from evil insectoid monsters! The Rangers must use friendship, teamwork and their Megazords to overcome evil villains Beezara, Dizchord, Bluefur, Bigs, Hisser and Creepox! Then, when all seems lost, a mysterious new ally emerges – ROBO KNIGHT! With the help of this transforming robot, Earth's mightiest defenders will never surrender! "
The four episodes featured on the DVD are:
United We Stand

Harmony and Dischord
Who's Crying Now
Robo Knight
Enter daily through the Rafflecopter form below: