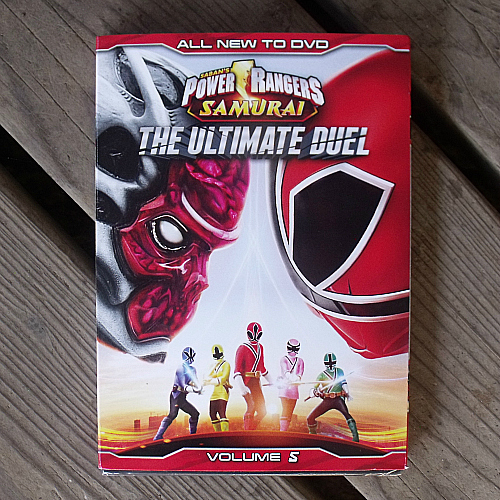 Go Go Power Rangers!
The Saban's Power Rangers Samurai series is full of adventure that entertains young and old fans. The story has been building and will reach it's conclusion on this exciting DVD. It's easy to pick up on the story, even if you haven't seen the other episodes but fans will want to see all 20 episodes so that they can savor the details.
Volume 5 contains 4 episodes and some fun bonus features:
The Tengen Gate

Boxed In
Broken Dreams
The Ultimate Duel
Bonus: Character Gallery
Bonus: Mega Flash Mob Video
Bonus: Everyday Fun Music Video
Bonus: Train Like a Ranger Video
Power Rangers Samurai
The Ultimate Duel 5
Release date 7/16/13
Synopsis: "With Master Xandred's power surging out of control, the Sanzu River seeping into our world, and giant Moogers running on a rampage, the Power Rangers Samurai must enter the Tengen Gate to retrieve the most powerful samurai weapon yet – The Black Box! But when Deker kidnaps Jayden, the remaining Samurai – Kevin, Emily, Mia, Mike and Antonio – must join forces to battle the web-shooting Arachnitor, dream-invading Rhinosnorus, and giant Spitfangs. Even after Mia learns the tragic origin of Dayu and Deker, nothing can stop the ultimate duel between Deker and the Red Ranger in these final four episodes!"
Power Rangers has been going strong for 20 years. It looks like it's going to continue on and on. Kids (and adults!) can watch the show on Nickelodeon and Nicktoons in HD and on DVD.
Enter daily through the Rafflecopter form below: