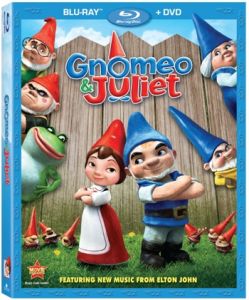 Gnomeo & Juliet
2 Disc Combo Pack
Blu-ray and DVD
Rated G
Release date 5/24/11
Synopsis: From a director of Shrek 2 comes your chance to step into the secret world of garden gnomes — Gnomeo & Juliet. Perfect for the whole family, this fresh and funny makeover of one of the world's most timeless stories features music from Sir Elton John, and the voice talents of Emily Blunt, James McAvoy and Sir Michael Caine. Caught up in a feud between neighbors, Gnomeo and Juliet must overcome as many obstacles as their namesakes. But with flamboyant pink flamingos and epic lawnmower races, can this young couple find lasting happiness? Complete with hilarious never-before-seen bonus features, Gnomeo & Juliet is an out-of-the-ordinary animated comedy your entire family will love. We just gnome it!
This movie is adorable and fun for the whole family!
I was expecting it to be more of a "little kid" film since the gnomes are so cute, but the story was written in a way that can also appeal to older kids and adults.
It's nice to see that there's still such a thing as a G-Rated movie that families can enjoy together. There's fun, adventure, a little bit of danger and romance. It's done tastefully without unnecessary violence or crude jokes.
The music is fantastic – thank you, Sir Elton John! There are new songs and the ever popular Crocodile Rock.
There are some bonus features on the dvd. The Blu-ray has extras that are quite fun. They've even included an alternate opening, an alternate scene and 2 alternate endings.
Whether you're watching this at home or in the car, Gnomeo & Juliet will entertain. This is one that I'm happy to watch even when children aren't present!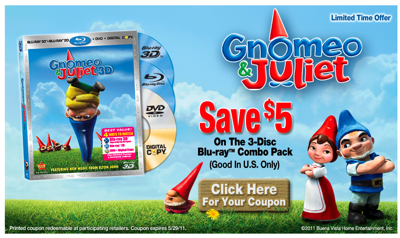 It's always nice to save money on Disney's new releases. I've been keeping my eye out for discounts and was happy to see that they've got a $5 off coupon available. Click on the banner above to print out your coupon.
WHERE TO BUY – Gnomeo & Juliet is available at a discount on Amazon.
Disclaimer/Disclosure: Review sample provided to me.