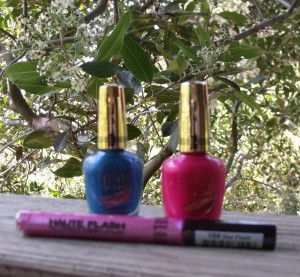 About: A global brand, Milani is a multicultural collection that creates wearable colors for all ethnicities. High quality and affordable pricing has always been Milani's mission to its consumers. Premium Packaging, top of the line formulations and trend setting colors are some of the reasons why Milani has been and continues to be every woman's affordable luxury.
Milani's bright and bold colors are very fun!
They have have to products to help you create the latest trendy looks. They even provide instructions to help you get the results you want.
I love wearing bright colors on my toenails. Their color selection is fabulous. You can use them normally for a bold look or you can get creative with marbleizing or lace. I really like their High Speed Fast Dry nail lacquers. They dry quickly, so there's less chance that I'll mess them up.
The nail products are DBP, Toluene and Formaldehyde Free – Hooray!! Why anyone ever thought it was a good idea to use those harsh chemicals on our nails is beyond me.
Their Haute Flash full coverage lip shimmer is another fun new product. It gives a little bit of color and a lot of sparkle.
HOW TO CONNECT – You can like Milani Cosmetics on Facebook and follow them on Twitter.
Disclaimer/Disclosure: Review sample provided to me.