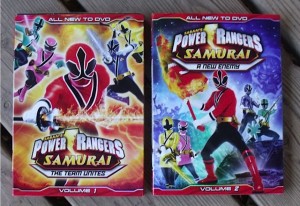 Power Rangers Samurai
Not Rated
Release Date 6/19/12
Synopsis: Master Xandred, the evil Nighlok leader, has reawakened. And it's up to Red Ranger Jayden and his Mentor Ji to form a new team of Samurai Rangers! Bound to duty by ancestry, Kevin, Mike, Emily and Mia join Jayden in his quest to abolish evil from the world. Soon, the teens must work together, with the help of their inherited symbol powers, to battle and defeat the menacing Nighloks. Meanwhile, Xandred moves forward with his plan to cause the waters of the Sanzu River to rise with human tears and flood Earth. The Samurais must risk everything to keep their friends, family, and civilization safe.
Synopsis: A new threat lurks deep from the Netherworld and the future of mankind rests in the hands of the only team with the knowledge and powers to defeat them – The Power Rangers Samurai! Jayden, Kevin, Mia, Mike, Emily and Antonio must battle Master Xandred's menacing Nighloks as they also learn to hone their powers and energies from Mentor Ji. Whether its saving civilians from physically crippling insults, mastering new Megazords and Beetle Cannons, the Rangers must do whatever it takes to bring down the Nighloks. But soon a mysterious new enemy appears on the horizon, intent on battling Jayden. Who will prevail?
What fun!
Each one of these DVDs contains 4 full length episodes and fun bonus features. Kids will get to watch hilarious bloopers and learn more about the characters and the weapons that they use.
I remember when the first Mighty Morphin Power Rangers debuted almost 20 years ago. It was unique and instantly popular with kids. The latest Power Rangers Samurai series retains the appeal of the original program, but is more modern. The stunts, costumes, action and filming are more realistic – well…. realistic in a Power Rangers kind of way.
The episodes are fun and will encourage kids to use their imaginations and fight for what is right.
WHERE TO BUY – You can get Volume One and Volume Two at a discount on Amazon.
Disclaimer/Disclosure: Review sample provided to me.