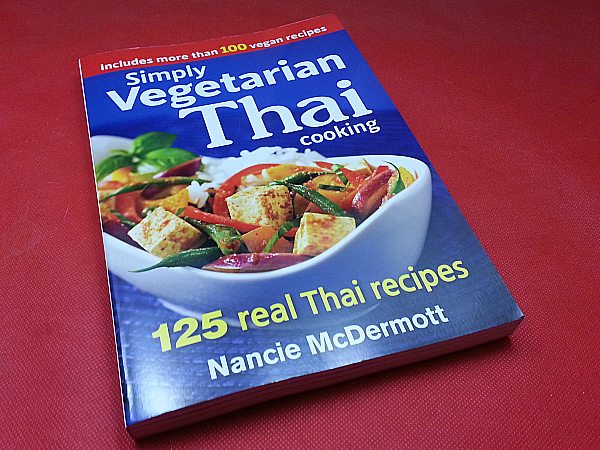 At a glance, it might appear that it would be easy for a vegetarian or vegan to enjoy Thai, Japanese, Korean and other Asian cuisines, since they often include a colorful assortment of fresh vegetables. Unfortunately, this assumption is not reality. Even tofu and vegetable dishes often include fish sauce, eggs or other animal products.
Simply Vegetarian Thai Cooking has 125 vegetarian recipes and most of them are vegan or can easily be adapted for vegans. These are authentic dishes that are often found on restaurant menus, but they have been reworked to leave out those things that vegetarians and vegans avoid. Those who keep a Kosher kitchen would also find inspiration in these recipes.
The cookbook includes basic recipes for Asian cooking staples – curries, tofu, vegetable stock and sauces. There are also complete menu plans and recipes for appetizers, salads, soups, main dishes, sides, desserts and beverages. Each one is explained in detail and there are plenty of tips to help you have good results.

Simply Vegetarian Thai Cooking

125 Real Thai Recipes
by Nancie McDermott
isbn 9780778805052
Pub. date 2/19/05
Description: "A cookbook that defines true Thai culinary spirit with delicious and magical dishes. Everyone loves Thai food, but truly meatless dishes are often difficult to find. Nancie has developed authentic yet innovative variations on traditional Thai recipes, providing health-conscious cooks with a repertoire of vegetarian dishes that capture the vibrant tastes and scents of Thailand."
CONNECT – You can like Robert Rose Books on Facebook and follow them on Twitter
Enter daily through the Rafflecopter form below: