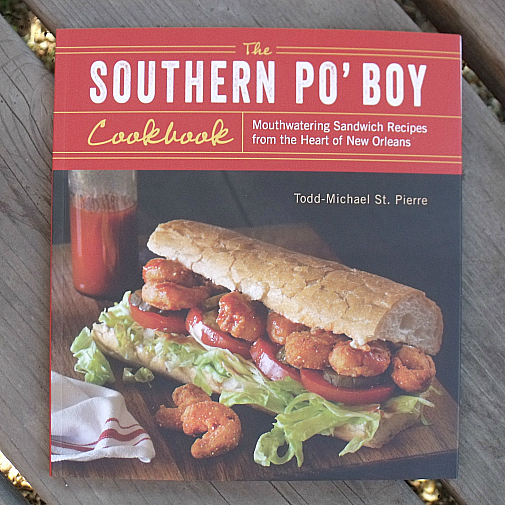 These gourmet southern po' boys are much more than "just' sandwiches. They are culinary masterpieces from New Orleans' native, Todd-Michael St. Pierre. He's a foodie who loves the culture and flavors of his city.
The cookbook includes traditional recipes and many that are more unique. Most of the sandwiches can easily be made by a novice. The instructions are clear and easy to follow. Each one is made with crusty French bread. You can either use store-bought or make the bread from scratch. The sandwiches are hearty, filling, satisfying and full of rich flavors.
The Southern Po' Boy Cookbook

Mouthwatering Sandwich Recipes from the Heart of New Orleans
By Todd-Michael St. Pierre
isbn 978-1612432373
Pub. date 11/12/13
Description: "Traditional takes and bold new flavors served up in a split loaf of light and crusty French bread. Humble and delicious, po' boys are the favorite of local folks in the Big Easy who snatch them up by the thousands at delis, bars, and corner stores every day. In recent years, gourmet chefs have been getting innovative and raising these popular submarine sandwiches to new heights. Now, The Southern Po' Boy Cookbook brings the many flavors of these scrumptious treats to the home cook's kitchen."
Each sandwich has a name. You may want to try them all or you may end up with a few favorites that you'll make time and time again.
Here are a few of the po' boy recipes that are included:
The Peacemaker

– Fried Shrimp and Oysters

The Benny – Eggs Benedict
The Treme – Fried Catfish
The Josephine – Creole Style Sloppy Joe
The Pontchartrain – French Toast
CONNECT – You can like Ulysses Press on Facebook and follow them on Twitter.
Enter daily through the Rafflecopter form below: