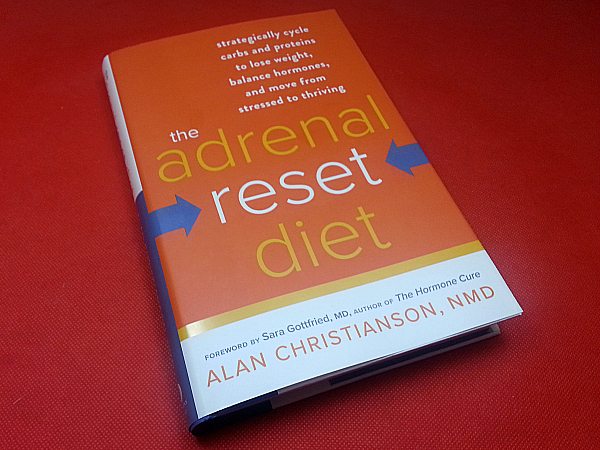 Stress.
We all experience it and our bodies can suffer the consequences.
In The Adrenal Reset Diet, Dr. Alan Christianson has put together a plan to help keep your stress levels down, so that you can look and feel better. Through clinical studies and research based on patient visits and results, he has learned that both what you eat and when you eat impact our health and weight.
In this book, you'll get the basics that will help you understand the reasoning behind all this and a detailed 7 day plan to help you get started. The diet and lifestyle changes are not extreme. It just requires a shift in thought about food, lifestyle, sleep and exercise to help get you on your way to living smarter to keep your body functioning better.
The Adrenal Reset Diet

Strategically Cycle Carbs and Proteins to Lose Weight,
Balance Hormones, and Move from Stressed to Thriving
by Alan Christianson NMD
isbn 978-0804140539
Pub. date 12/30/14
Description: "If you are tired and struggling with your weight, you might be surprised to know that your adrenals hold the key to getting energized and lean. Despite their small size (about the size of a sugar cube) and weight (about the weight of three or four paperclips), the adrenal glands play a vital role in many aspects of your health. Along with controlling a staggering list of important body functions, they control your weight. Dr. Alan Christianson, a natural endocrinologist, has shown that the growing number of adrenal stressors in modern life can explain the current obesity epidemic, and that resetting the adrenal glands with the right diet and lifestyle changes can provide the cure."
Enter daily through the Rafflecopter giveaway form below: