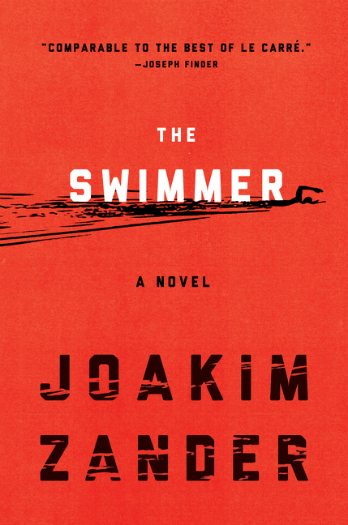 Do you like political thrillers?
The Swimmer by Joakim Zander is an exciting adventure with lots of twists and turns. The descriptions are vivid and the plot is complex. Once you get caught up in the story, it's hard to put the book down.
The author's own life experiences have obviously influenced his storytelling skills. He lives in Sweden where he was born, but graduated from high school in the US and got his Phd in the Netherlands. He's also lived in Syria and Israel.
The Swimmer is fiction, of course, but it has that feeling that all of this could be possible. It's an exciting read.
The Swimmer

A Novel
by Joakim Zander
isbn 978-0062337245
Pub. date 2/10/15
Description: "Klara Walldéen was raised by her grandparents on a remote archipelago in the Baltic Sea, learning to fish and hunt and sail a boat through a storm. Now, as an EU Parliament aide in Brussels, she is learning how to navigate the treacherous currents of international politics: the lines between friend and enemy, truth and lies. But Klara has accidentally seen something she shouldn't have: a laptop containing information so sensitive that someone will kill to keep hidden. Suddenly, she is thrown into a terrifying chase across Europe, with no idea who is hunting her or why Meanwhile, in Virginia, an old spy hides from his past. Once, he was a man of action, an operative so dedicated that he abandoned his infant daughter to keep his cover. Now, he is the only man who can save Klara . . . and she is the only woman who can allow him to lay old ghosts to rest."
SOCIAL MEDIA – You can connect with Harper Collins on Facebook and Twitter.
Enter daily through the Rafflecopter giveaway form below: