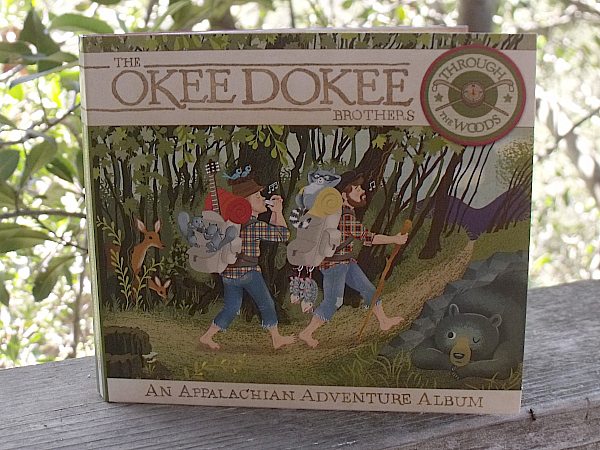 The Okee Dokee Brothers do more than just talk about adventure. They live it! This pair of childhood friends had fun exploring the outdoors when they were kids and have continued to do so as adults.
Last Spring the duo went on a month long adventure hiking and camping along the Appalachian Trail. They met mountain musicians and others along the way. Their trek inspired them to write the music for Through the Woods.
The music is fun and full of carefree, positive thoughts and sounds. It is a joy to listen to and sets the stage for a happy and adventurous day. The music style and instruments are what you would traditionally hear along the trail. The high quality recording brings the music into the modern day.
The accompanying DVD includes music videos, beautiful scenery and a glimpse into the fun that these two lifelong friends had along their journey.
The Okee Dokee Brothers
Through the Woods

Audio CD and DVD
Release date 5/20/14
The CD includes fifteen songs.
Through the Woods

Big Rock Candy Mountain
Jamboree
Evergreen
Walking with Screen
Out of Tune
Black Bear Mama
Hillbilly Willy
Riddle & Rhyme
Tiny Little Life
Ruby Jane
Fiddlestick Joe
Lighten Your Load
Echo
Baby Mine
Enter daily through the Rafflecopter form below: