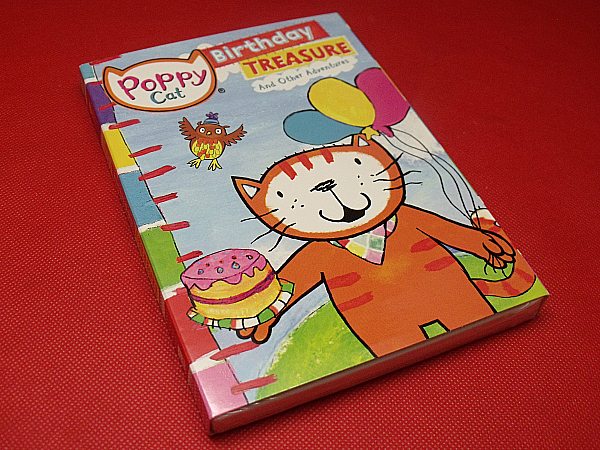 Have you met Poppy Cat?
This adorable little cat began as a character in a British children's book series. Then a few years ago, she starred in an animated TV series that could be seen on Nick Jr., Disney Junior and PBS Kids Sprout. The show is just as sweet as the books it is based on.
Poppy Cat and her animal friends have some fun adventures. It's nice to see a strong female character who is a leader and treats her odd assortment of friends well. A cat, dog, mouse, rabbit, owl and badger may not get along well in real life, but in this animated world they do. Kids will just think of it as entertainment, but there are some good positive attitudes and life lessons that kids will pick up while they are watching.
Poppy Cat DVD

Birthday Treasure
Not Rated
Release date 5/13/14
Synopsis: "Seen through the eyes of Poppy's imaginative young owner, a little girl named Lara, each episode tells the tale of a very special cat and her colorful band of friends as they embark on extraordinary adventures through fantastical lands. There's Poppy, a capable and endearing ginger tabby, who's also an adventurer, dreamer and devoted friend to Zuzu, an energetic dog; Mo, an overly cautious mouse; Alma, the melodramatic, excitable rabbit; the knowledgeable owl and Egbert, the stout badger. With heroic gusto and unquenchable curiosity, Poppy leads her little gang to unexpected experiences and discoveries."
The 80 minute DVD is recommended for children ages 2- 6 and includes 7 episodes:
Birthday Treasure

Bad Robot
Magic Show
Sunken Ship
Bumble Fumble
Cheese Mountain
Marshmallow Mines
Enter daily through the rafflecopter form below: