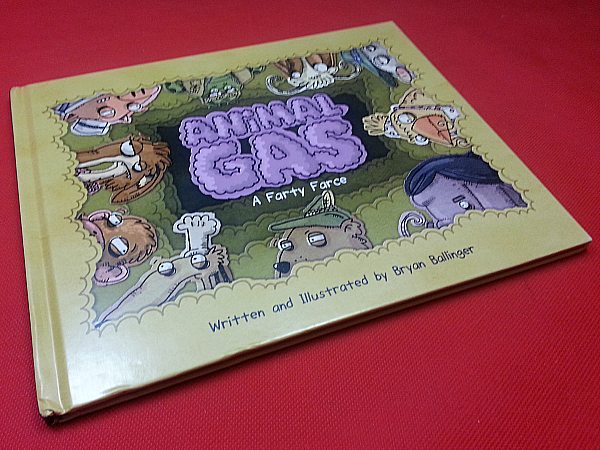 "'I foof in the night
as well as the day.
It smells like perfume
and flowers in may.'
'Perfume…? Flowers…?
Now that's quite a leap.
Try mold and some beans
all piled in a heap.'"
Yes, you guessed it. This is a children's book about farts and the variety of smells they have – something that makes kids of all ages laugh and laugh.
The story is cute. The words are lyrical. The illustrations are fantastic. This is a children's book that is full of fun.
Author Bryan Ballinger knows just how to reach kids. He's got degrees in illustration and children's writing. He's worked with many well known brands including Nintendo, Microsoft and Veggie Tales.
Animal Gas

by Bryan Ballinger
isbn 978-1454916161
Pub. date 7/7/15
Description: "Every child—and plenty of adults—know that nothing's funnier than a fart joke. And it's also a universal truth (and mysterious fact) that people don't mind the smell of their own farts, while everyone else's should be avoided at all costs. Bryan Ballinger explores this hilarious concept through a parade of wacky animals who describe why they don't think their own farts stink—against the truth about how they REALLY smell! Ballinger's comical and detailed illustrations give the characters their own personalities while skillfully using imagery to relay their different scents."
Enter daily through the Rafflecopter giveaway form below: