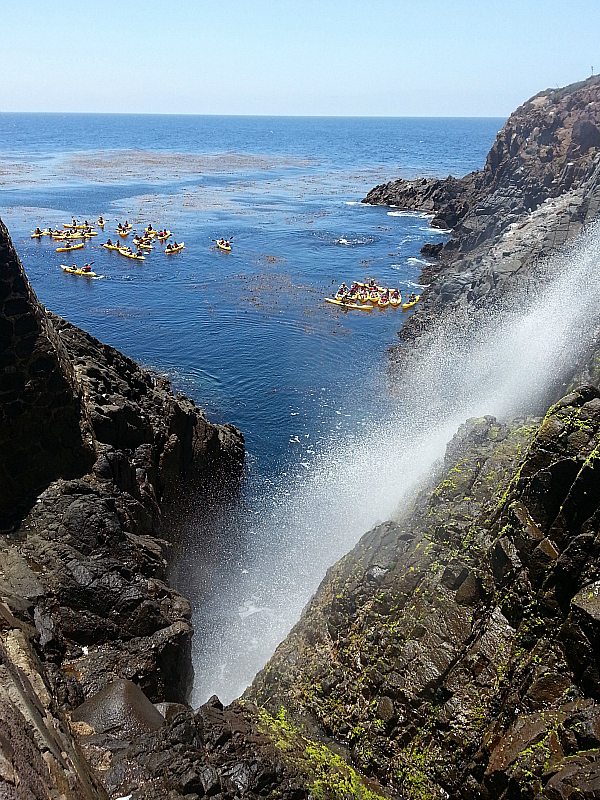 Day two of my Mexican cruise on the Carnival Inspiration was a stop in Ensenada. When I was younger, I used to drive down to Baja California with friends to surf and camp at the beach. We would drive into Ensenada to shop and eat in what used to be a much smaller town. It was great to go back again.
For Mexico, we decided to sign up for one of Carnival's shore excursions to make the most of our day. We chose a guided bus trip to La Bufadora (the blowhole). It was easy to disembark and a comfortable tour bus was waiting.
Our tour guide was excellent. She was funny and kept us entertained as we learned about the area and Mexican culture. The drive was beautiful and it was nice to see more than just the city.
La Bufadora is as beautiful as I remember, but there was a whole lot more going on there than the last time I visited. After the bus parked, we walked past restaurants and a large outdoor market on our way to the blowhole viewing area. There we were entertained by traditional dancers and musicians and, of course, we watched the blowhole go off repeatedly.
Our guide allowed plenty of time for shopping. US Dollars are accepted in this market. I bought a couple of blankets to add to my collection, a bottle of good strong Mexican vanilla to use at home and some fresh churros to eat right there. They were delicious!
This was a great way to spend my day in Baja California and it brought back good memories of previous trips. Even though it was just one day visit, I got to see a lot and experienced more of the culture and history of the area than I would have on my own. I'm glad I signed up for a Carnival shore excursion and would do it again.