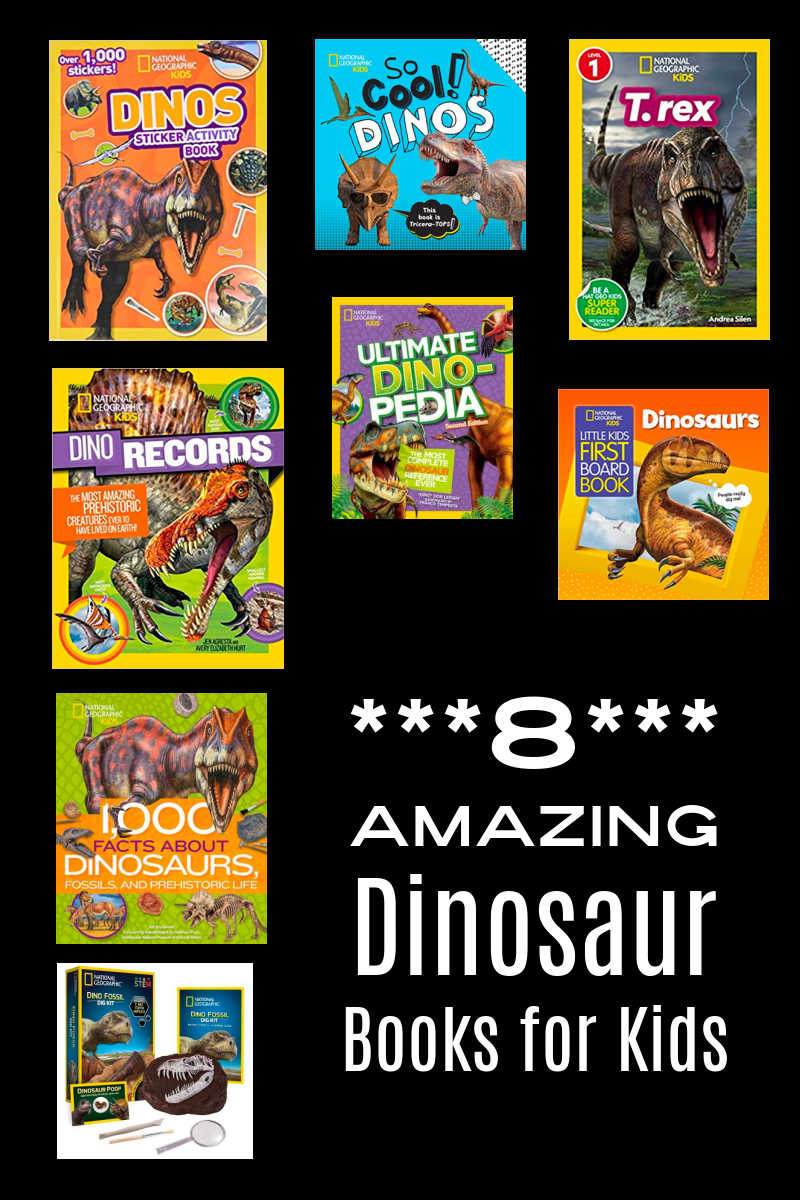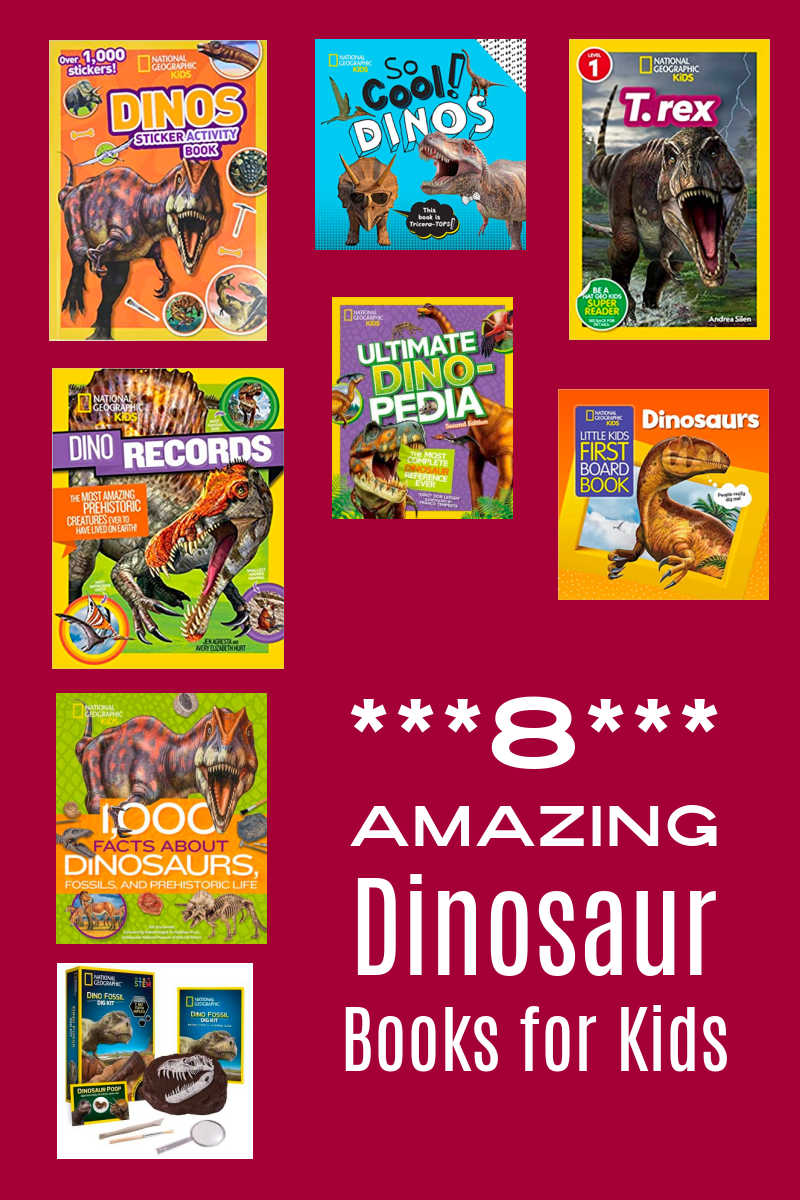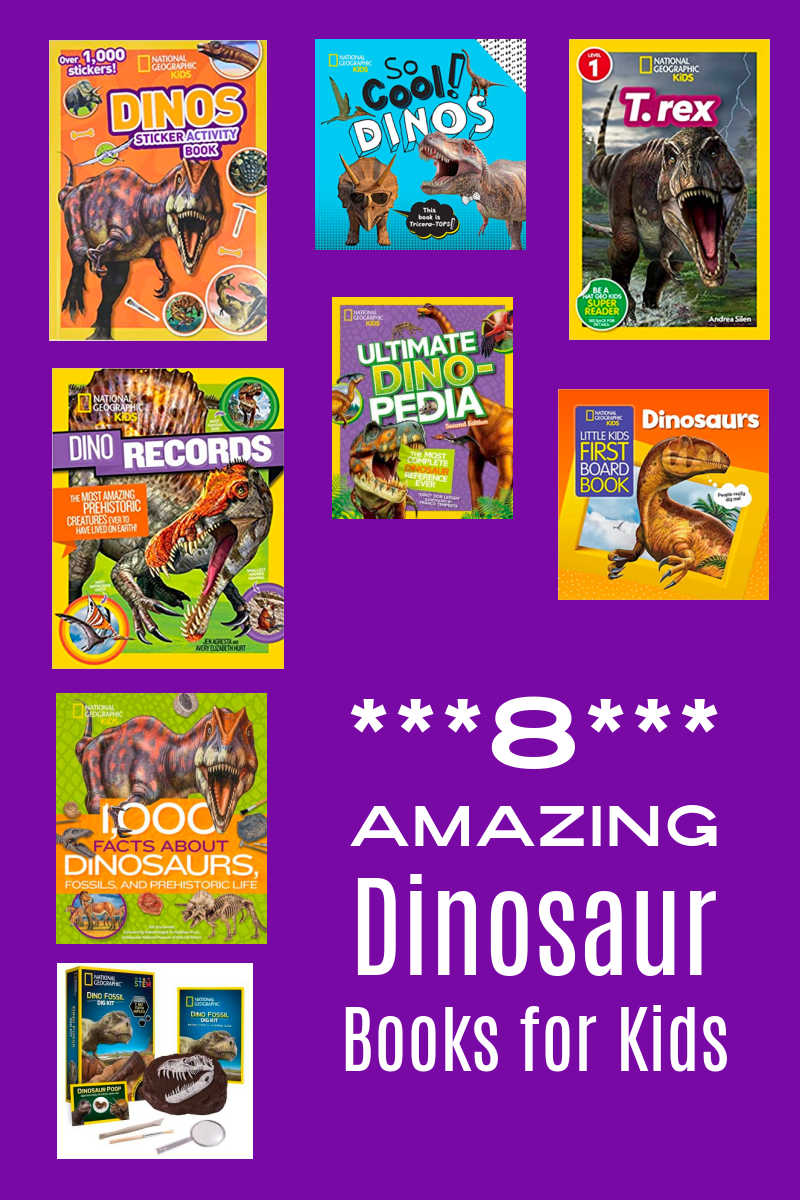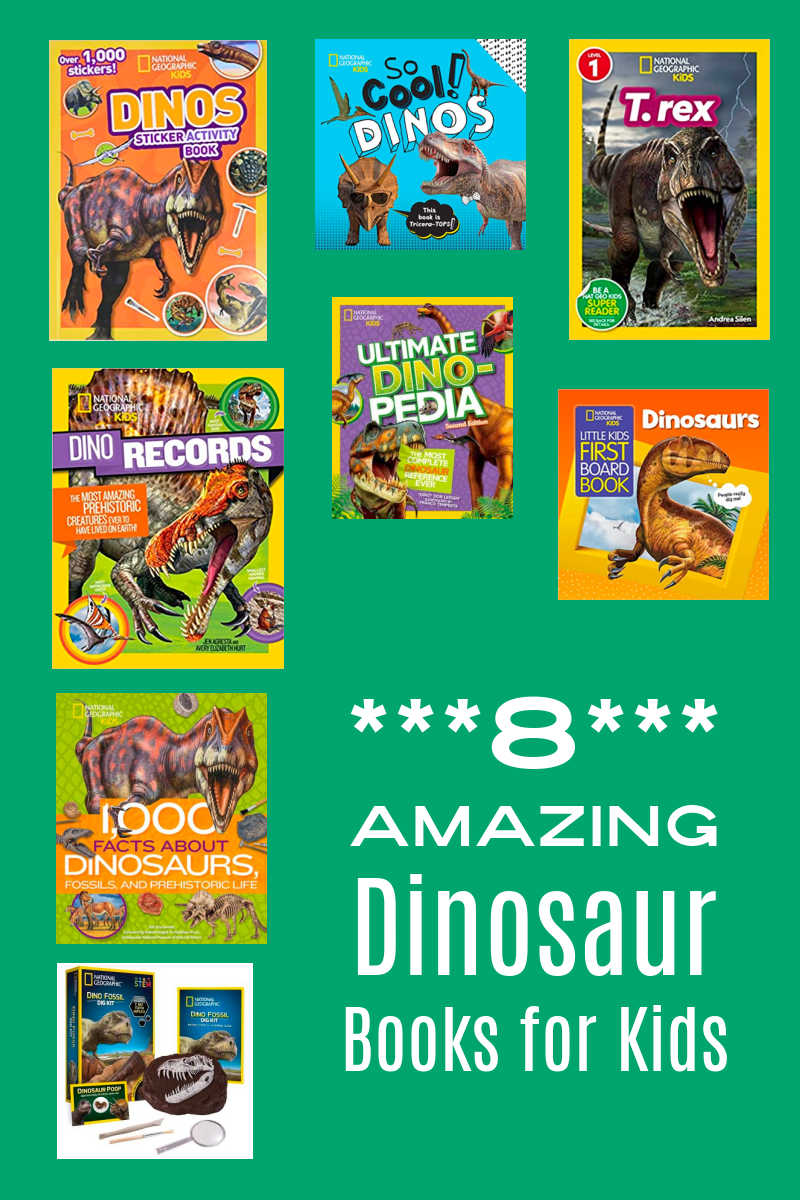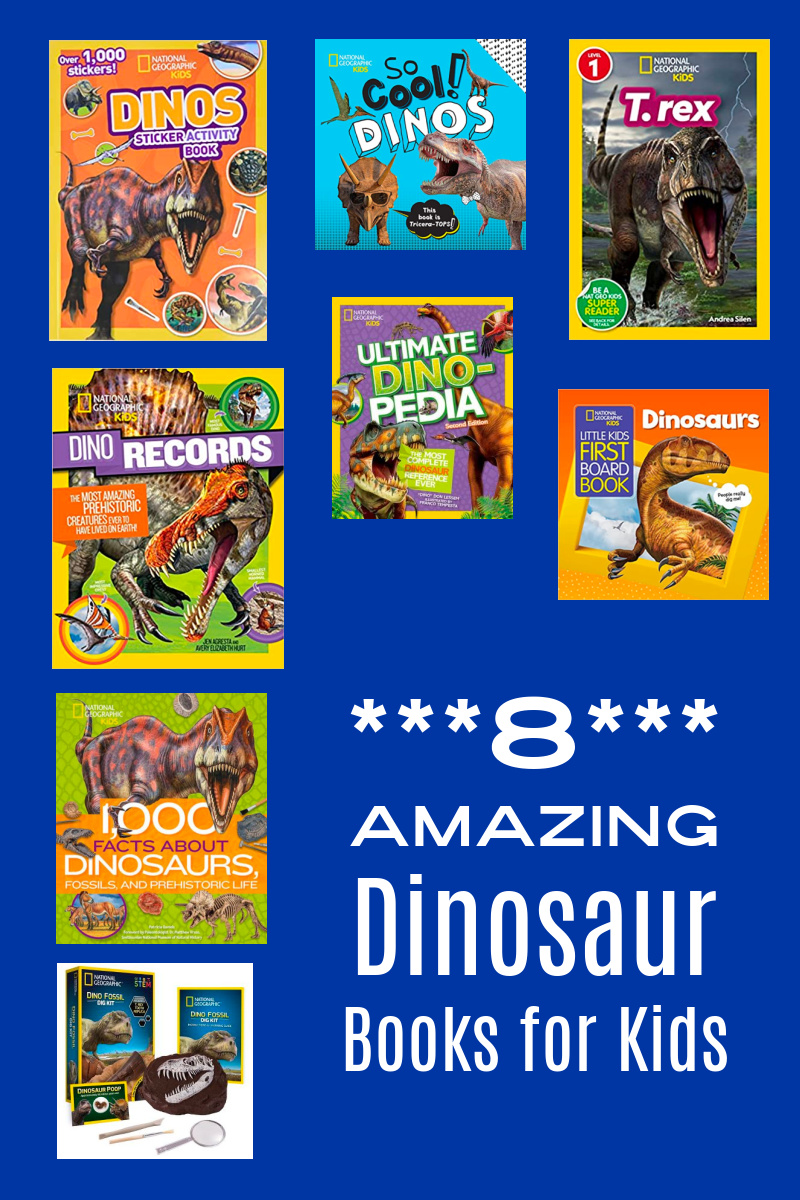 National Geographic Kids Books About Dinosaurs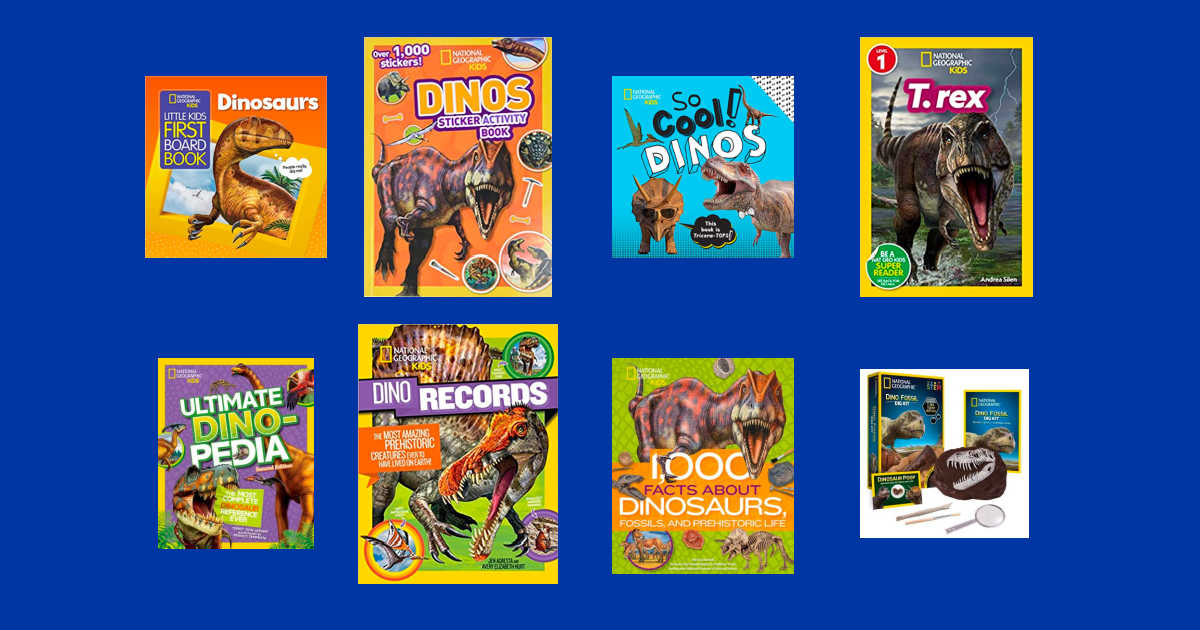 Children and dinosaurs are a perfect combination, so your child will LOVE these amazing dinosaur books for kids.
National Geographic does a wonderful job creating eye catching, fact filled books that engage kids and get them excited about learning.
And, dinosaur books for kids are a great choice for preschoolers and bigger kids.
I'm always amazed at how well children can remember detailed information and proper scientific terms, when they are talking about dinosaurs.
Even kids who struggle with other parts of learning, often have the ability to excitedly and accurately discuss these ancient creatures.
You'll want to look at all 8 of these National Geographic releases.
7 of them are "regular" books and 1 is a fossil digging kit that includes a 16 page guide.
It would be wonderful to get all of them for your child to dig into this Summer, so that they keep their minds active learning and discovering new things when school is out.

8 Amazing Dinosaur Books for Kids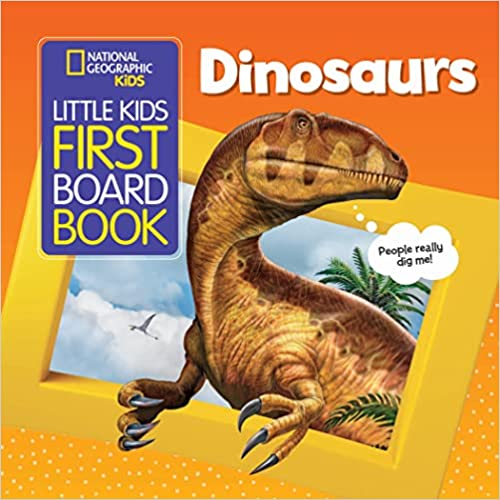 Little Kids First Board Book: Dinosaurs
Ages Baby to 3
Hardcover
Synopsis
The prehistoric world comes alive with dinosaurs small, big, giant, and gigantic in this colorful book for the very youngest dinosaur lovers!
Each spread in this sturdy book features a different dinosaur, along with super simple facts and lively, age-appropriate language to keep babies and toddlers–and their grown-ups–fascinated by every colorful page.
Not only will readers learn about a variety of dinosaurs–and how to say their names, they can also find recurring shapes and patterns in the art, while adults can keep their eyes open for occasional funny commentary from the animals.
Sidebar text offers additional learning for older siblings or those ready for more complex information.
The Little Kids First Board Books mirror the beloved First Big Books while taking a fresh new approach to excite a baby's sense of wonder and make learning about nature and science fun.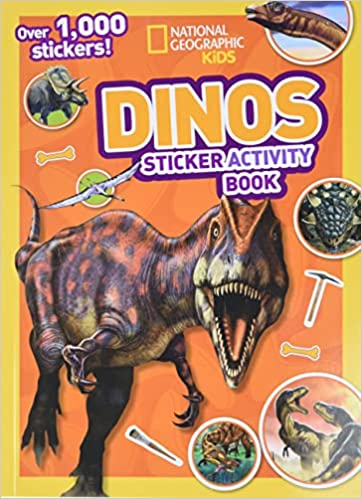 NG Kids Dinos Sticker Activity Book
Ages Preschool to 3
Paperback
Synopsis
From T. rex to Stegasaurus, Diplodocus to Triceratops, this super engaging activity book is packed with mazes, spelling and pattern games, drawing activities, and more.
Dino-crazy kids are sure to love these pages loaded with fun, learning as the go!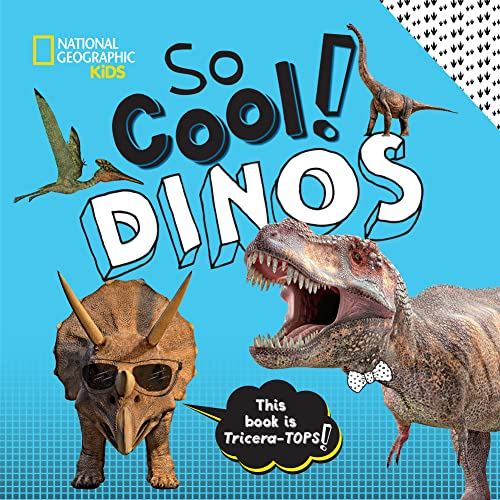 So Cool! Dinos
Ages 3 to 5
Hardcover
Synopsis
Those sharp, pointy teeth!
Those terrifying claws!
Those long necks and pointy spines!
Let's face it … dinosaurs are SO COOL!
Blending dinosaur art with silly quips and informational fact boxes about when dinosaurs lived on Earth, stats about dinos, dinosaur feathers, and more, this is the perfect little reader to get kids' brains buzzing and keep them laughing while learning.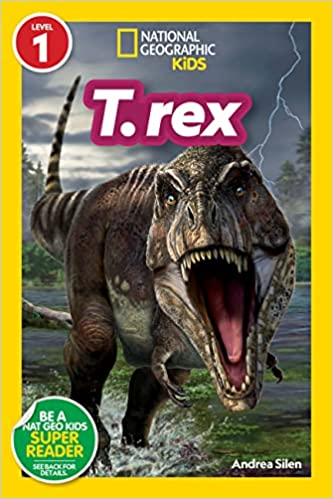 National Geographic Readers: T Rex
Ages 4 to 6
Paperback
Synopsis
Giant teeth!
Crushing bite!
Slicing claws!
And … feathers?
Scientists have unearthed new knowledge about the king of the dinosaurs, and now you can, too.
Travel back in time to the Mesozoic forests to meet the mighty Tyrannosaurus rex.
Learn how their bodies were perfectly adapted for hunting, how T. rex parents guarded their nests, and just how much meat they could guzzle down in a single bite.
Then explore some of the fascinating fossils―including Sue and Scotty―that have helped scientists make important discoveries (for example, T. rex may not have roared at all!).
National Geographic Readers' combination of expert-vetted text, brilliant images, and a fun approach to reading have proved to be a winning formula with kids, parents, and educators.
This level 1 text provides accessible information for kids just beginning to read on their own, perfect to encourage the scientists and explorers of tomorrow!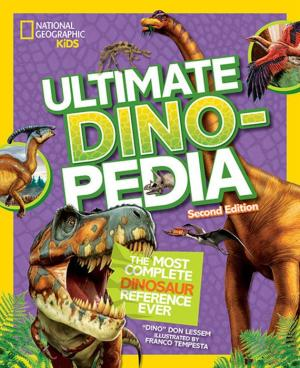 Ultimate Dinopedia, 2nd Edition
Ages 7 to 10
Hardcover
Synopsis
Big, beautiful and gift-worthy!
The new edition of the popular Nat Geo Kids Dinopedia includes all the latest species and is the most complete, up-to-date dinosaur reference available.
Find favorites, like the fierce T-rex and the gentle Brontosaurus, plus audacious new finds, like the Anzu, Kosmoceratops, and Yi. Every dino profile is colorfully illustrated and features descriptions of when they roamed the Earth, how they lived, what they ate, and more.
There are more than 600 dinos featured in all, including 10 profiles of recently discovered dinosaurs and new entries in the Dino Dictionary.
Reports from paleontologists present the latest news and insights from the field.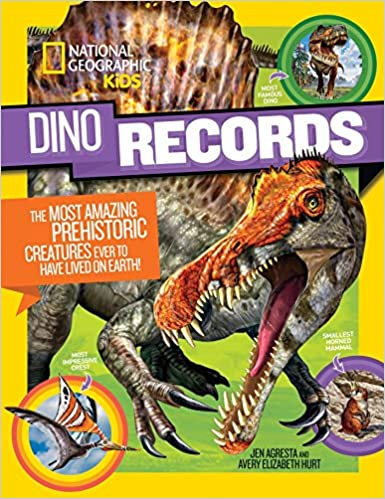 Dino Records: The Most Amazing Prehistoric Creatures Ever to Have Lived on Earth!
Ages 8 to 12
Paperback
Synopsis
Get ready to meet the record-setting creatures from the time when dinosaurs roamed the Earth, including the biggest, smallest, smartest, weirdest, deadliest, most notorious, and most mysterious of all time.
Young paleontologists can explore fantastic firsts, including the first dinosaur fossils found and the first dinos in space.
They'll also meet other rad, remarkable creatures that lived before, after, and alongside them.
Did you know that the largest fish, the largest turtle, and the largest flying animal that ever existed lived during the time of the dinosaurs?
Or that mammals – no bigger than a small dog when dinosaurs roamed – eventually evolved into massive land animals?
See who wins in head-to-head species smackdowns and enjoy games that complement the records.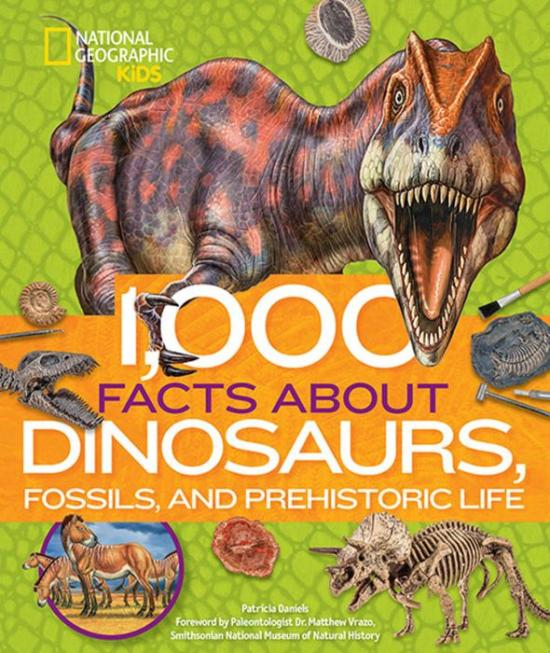 1,000 Facts About Dinosaurs, Fossils and Prehistoric Life
Ages 8 to 12
Hardcover
Synopsis
T. rex, triceratops, pterosaurs, saber-toothed cats!
This eye-catching, comprehensive, and "browsable" title is jam-packed with 1,000 fascinating facts about what these prehistoric creatures looked like, how they lived, and the evidence they left behind.
Uncover amazing fossil facts about the first four-legged creatures; find out what it's like to be on a dinosaur dig; and marvel at some of the fiercest, most fascinating claws and teeth.
Learn how dinosaurs and birds are connected, find out the biggest prehistoric mysteries that scientists are still trying to crack, and sink your teeth into some seriously supersize dino stats.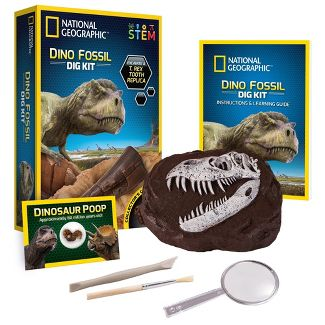 National Geographic Dino Fossil Dig Kit
Ages 8+
Description
Your child will be able to do the work of a real paleontologist as they excavate a T. rex tooth replica from the large dig brick with tools similar to what paleontologists use in the field.
This T. rex tooth is a very special item because it was molded from a real T. rex tooth fossil, so your child will have the chance to see, feel, and treasure an artifact from one of the most famous and fearsome dinosaurs yet discovered.
A genuine coprolite (dino poop) fossil is also included.


Dinosaur Books for Kids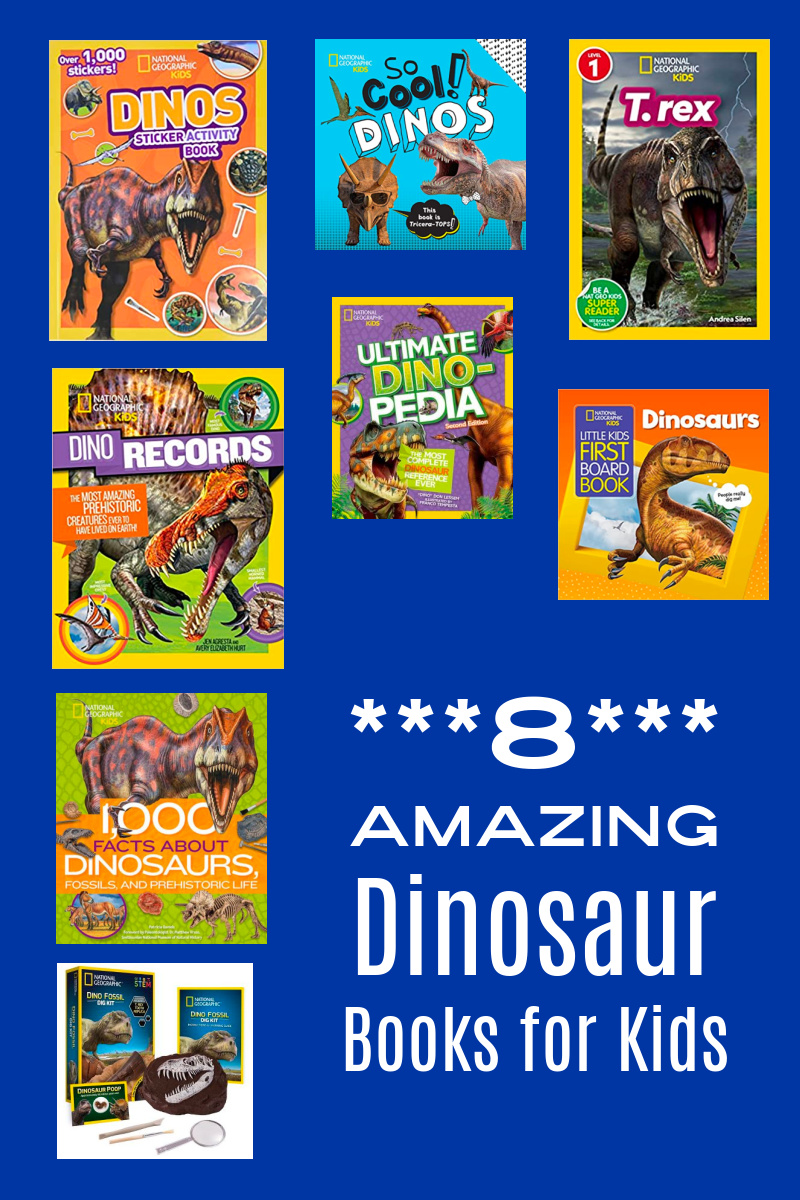 More from Mama Likes This
Take a look at my other entertainment articles, so you can keep up with the latest TV, movie and book news.
Also, check out my free printables, when you are looking for fun activities to do at home.
Many are from Disney, Netflix and Shout Factory, so they feature movies, TV series and characters that your kids already know and love.
Some are educational, but others are just plain fun.
There are coloring pages, crafts, word puzzles, mazes, memory games and, also, many other family friendly activities.
Free Printables from The Good Dinosaur
Walking with Dinosaurs Printables
Free Dinosaur Train Printables
Land Before Time Printables
Print as many as you'd like, so that your family can have some dinosaur themed fun!
Of course, they will want to read dinosaur books for kids, too!