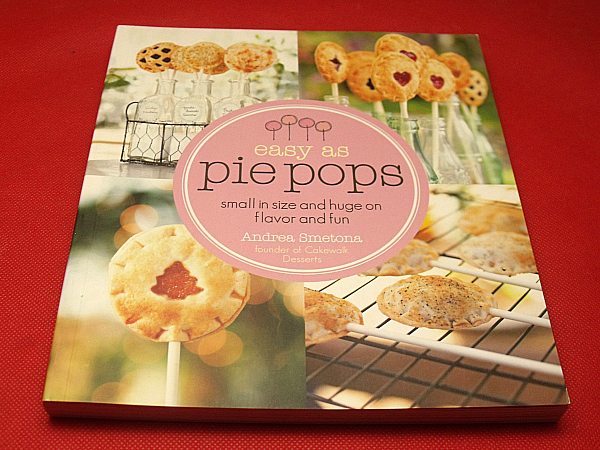 This Summer I got to experience the goodness of pecan pie pops at the LA County and Orange County Fairs. They were delicious and it really is fun to eat dessert on a stick.
In Easy as Pie Pops, you'll learn how to make a variety of sweet and savory pies that look and taste great. They make an impressive party food that will have your guests talking long after the party is over.
The recipes are clearly explained and include our basic US measurements along with metric. There are detailed instructions for the fillings, the crust and assembly. It may sound complicated, but it isn't. If you've got an older child who likes to help in the kitchen, pie pops would be a fun activity. The photographs in the book are beautiful and inspirational.

Easy As Pie Pops

Small in Size and Huge on Flavor and Fun
by Andrea Smetona
isbn 978-1624140228
Pub. date 11/12/13
Description: "Whether you want something sweet, fruity or savory, Easy as Pie Pops has the perfect bite-sized treats that'll be a hit with family and friends. Andrea Smetona, the owner of Cakewalk Desserts, shares for the first time her most in-demand pie pop recipes. And with some of her most coveted cake pop and mini loaf recipes included, this book is a necessity for any person looking to make talk-of-the-town, miniature pastries that are the next dessert sensation."
Here are a few of the recipes that are included in Easy as Pie Pops:
Pizza Pocket
Gouda Broccoli Quiche
Boston Cream
Pumpkin Cheesecake
Old Fashioned Apple
What would you like to create?
Enter daily through the Rafflecopter giveaway form below: