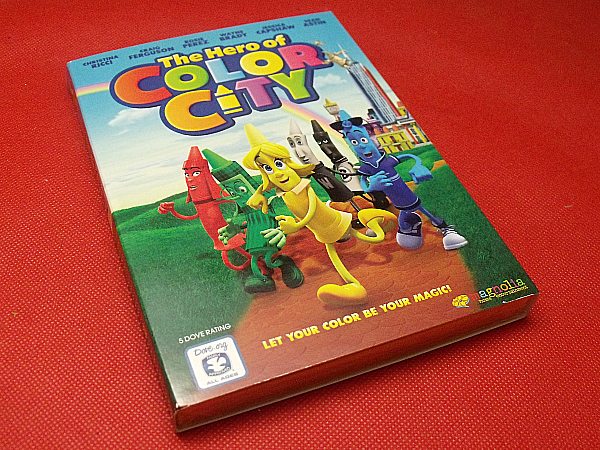 A movie about crayons? Yes!
The Hero of Color City is a partnership between Magnolia Pictures and the non-profit organization The Crayon Collection. They collect crayons from restaurants for children in need.
The story and characters are unique and their adventure is magical. The movie will inspire kids to dream and will encourage them to be good people who do the right thing.
The star studded cast includes the vocal talents of Christina Ricci, Craig Ferguson, Rosie Perez, Wayne Brady and others. Bonus features include behind the scenes featurettes, music and even some kid friendly recipes.
The movie is rated G, so is suitable for all ages. This is a cute one!

The Hero of Color City

Rated G
Release date 12/2/14
Synopsis: "Each night, when Ben falls asleep, his Crayons' magical Crayon Box transports them to Color City, a world of dazzling hues, soaring fantasy and the whimsy of childhood. When timid Yellow is accidentally left behind in Ben's room, she inadvertently awakens two Unfinished Drawings: King Scrawl, a huge, mute monster, and Gnat, Scrawl's overactive sidekick. They follow Yellow to Color City and claim the enchanted Rainbow Waterfall and all of it's color for themselves. Soon Color City will fade and our lovable crayon characters will disappear. It's up to Yellow and her pals, Blue, Green, Red, and the twins, Black and White, to save the day. Meeting with fantastical creatures and fun adventures along the way, Yellow discovers she has more courage and strength than she knew and learns to believe in herself and to count on the support of her friends."
Enter daily through the Rafflecopter giveaway form below: