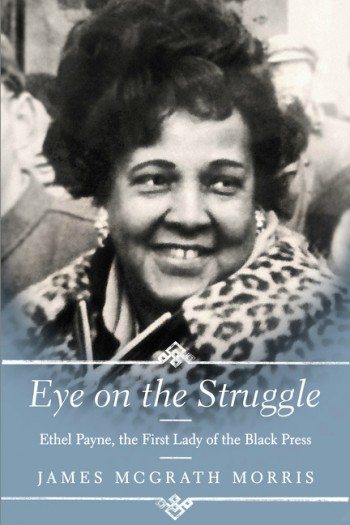 Eye on The Struggle is a powerful reminder that the actions of an individual can make a difference.
The biography is the story of Ethel Payne, the First Lady of the Black Press. Her fearless writing and her appearances at public events and on TV were instrumental in the Civil Rights movement.
It's easy to think of these things as having happened a long time ago, but it wasn't that long ago and the struggle is not over. There has been lots of progress in the last 50 years, but, as recent events in Ferguson, Florida and New York have shown us, there is still work to be done.
James McGrath Morris has done a great job compiling information and telling the story of this remarkable woman in a powerful way. The book is inspirational and motivational. We can all learn from Ethel Payne.
Eye on the Struggle

Ethel Payne, the First Lady of the Black Press
by James McGrath Morris
isbn 978-0062198853
Pub. date 2/17/15
Description: "A self-proclaimed "instrument of change" for her people, Payne broke new ground as the Washington correspondent for the Chicago Defender. She publicly prodded President Dwight D. Eisenhower to support desegregation, and her reporting on legislative and judicial civil rights battles enlightened and activated black readers across the nation. In 1964, President Lyndon B. Johnson recognized Payne's seminal role by presenting her with a pen used in signing the Civil Rights Act. In 1972, she became the first female African American radio and television commentator on a national network, working for CBS. Her story mirrors the evolution of our own modern society."
SOCIAL MEDIA – You can connect with Harper Collins on Facebook and Twitter.
Enter daily through the Rafflecopter giveaway form below: