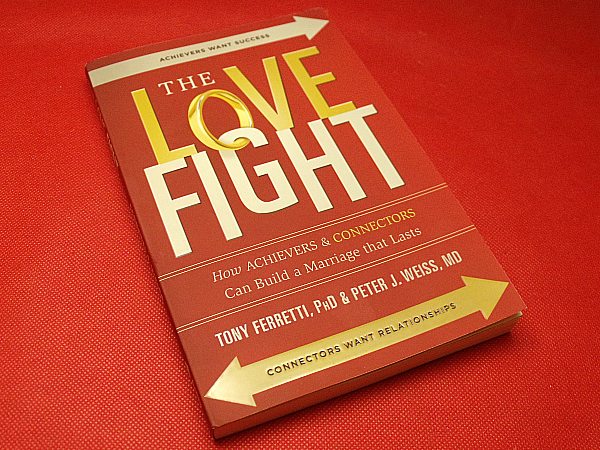 Some people find a soul mate who seems to be exactly like them – identical goals, lifestyles and personalities. For many others, opposites do attract. It can be a disaster or it can be a success that brings out the best in these very different people.
In Love Fight, relationship experts Tony Ferretti and Peter Weiss, have some great strategies and advice to help couples build strong and lasting relationships. They focus on the opposite pairing of achievers (success/career oriented people) and connectors (relationship focused people). This pairing can end up with both parties feeling unfulfilled or they can choose to learn from each other to capitalize on each of their strengths.
The Love Fight is a good tool that can get you on the right track to make the most of your relationship.

The Love Fight

How Achievers & Connectors Can Build a Marriage That Lasts
by Dr. Tony Ferretti and Dr. Peter J. Weiss
isbn 978-0990419129
Pub. date 12/2/14
Description: "Are you going to fight for love or against each other? Opposites have tied the knot since the beginning of time. To explain the bond, experts have used the analogies pink and blue, Venus and Mars, or spaghetti and waffles. In The Love Fight, Drs. Tony Ferretti and Peter Weiss address a new dichotomy: the clash between Achievers and Connectors. In studying couples with Achiever and Connector personalities, this duo illustrates how this common encounter can create a mutually satisfying relationship. Their expertise will walk you through the scrimmage between those who want to accomplish and those who want to relate. They couldn¹t be more opposite, but Drs. Tony Ferretti and Peter Weiss know how to mentor Achievers and Connectors through their differences and guide them to a marriage that lasts."
Enter daily through the Rafflecopter giveaway form below: