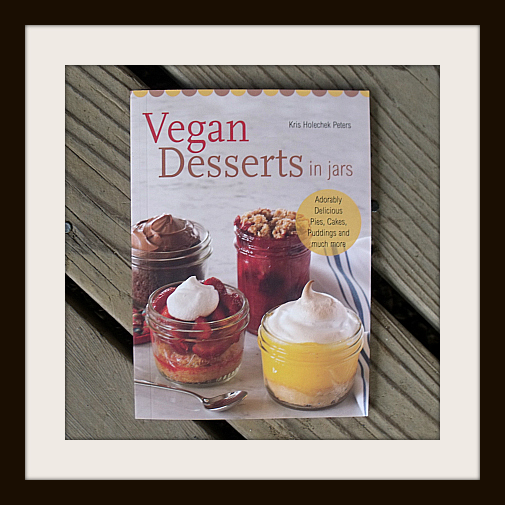 Don't these desserts look fabulous and adorable?
All of the sweet treats in this recipe book are designed to be served in mason jars and each one is vegan. This is great for vegans and anyone who prefers to avoid or can't have the common dessert ingredients of butter and eggs. From what I've seen, no one will miss the animal products because they'll be too busy finishing up the delicious contents of their jarred dessert.
The recipes are clearly written and most are easy enough for a novice cook to follow. Most of the ingredient lists are short and contain things that I already have stocked in my pantry. Some don't even require baking.
Dessert is always nice, but a dessert in a jar is extra special!
Vegan Desserts in Jars

Adorably Delicious Pies, Cakes, Puddings, and Much More
by Kris Peters
isbn 978-1612432250
Pub. date 10/15/13
Description: "The appeal of a miniature cake, cobbler, or crumble baked and served in an adorable jar is no mystery. Portable, giftable, and so, so charming, these cute confections are sweeping the dessert world.Vegan Desserts in Jars opens the jar craze to those who want all the flavor and fun of single-serving sweets without the use of dairy or eggs. Seamlessly adapted to the vegan kitchen and avoiding exotic or hard-to-find ingredients, these recipes pack all the punch of their butter- and cream-laden counterparts without any of the guilt."
Here are a few of the recipes on my to-do list:
Pumpkin Creme Brulee

Chocolate Blueberry Crumble
Strawberry Shortcakes
Grasshopper Pies
CONNECT – You can like Ulysses Press on Facebook and follow them on Twitter.
Enter daily through the Rafflecopter form below: