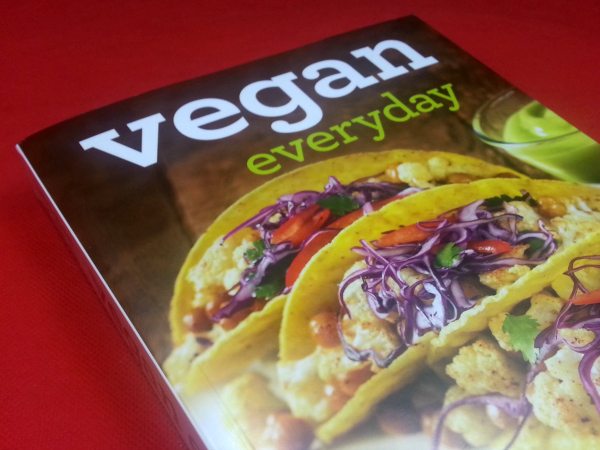 Are you a vegan or vegetarian? Do you celebrate meatless Monday? Are you trying to add more healthy, plant based dishes to your diet? If you answered yes to any of those questions, this cookbook is for you!
Vegan Everyday is a wonderful collection of 500 recipes that can be enjoyed by anyone. They are beautiful and full of flavor, so even non-vegans can enjoy them without feeling like they are missing something.
The book includes extra information and tips that novices and experienced cooks will appreciate. They also include pairing information for those of you who are looking to put together an entire meal instead of just preparing one recipe.
Here are a few of the delicious recipes that are included in the book:
Quick Sweet and Sour Tofu Stir-Fry
Okra and Squash Gumbo
Churros with Cinnamon Sugar
Silky Chocolate Mousse
Baked Loaded Nachos
Oatmeal Raisin Cookies
Vegan Everyday

500 Delicious Recipes
by Douglas McNish
isbn 9780778804994
Pub. date 5/15/15
Description: "Tantalizing food that you will enjoy sharing with family and friends. These tempting dishes are bold, innovative, fresh, and, above all, delicious. They reflect Doug's chef's expertise and his complex palate, yet he has made sure they are easy so that anyone who enjoys food (both vegans and non-vegans) will find them a breeze to prepare. The recipes are varied, and most use the ingredients typically found in a vegan pantry."
CONNECT – You can like Robert Rose Books on Facebook and follow them on Twitter
Enter daily through the Rafflecopter form below: