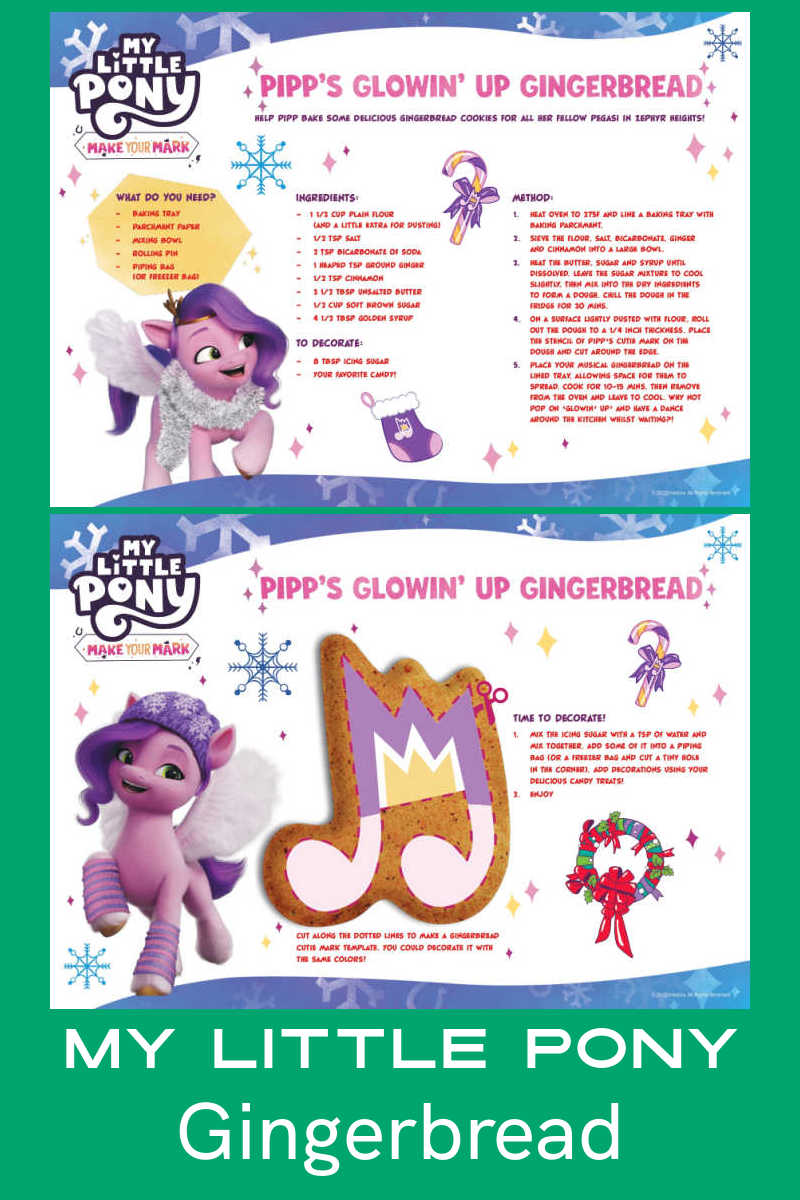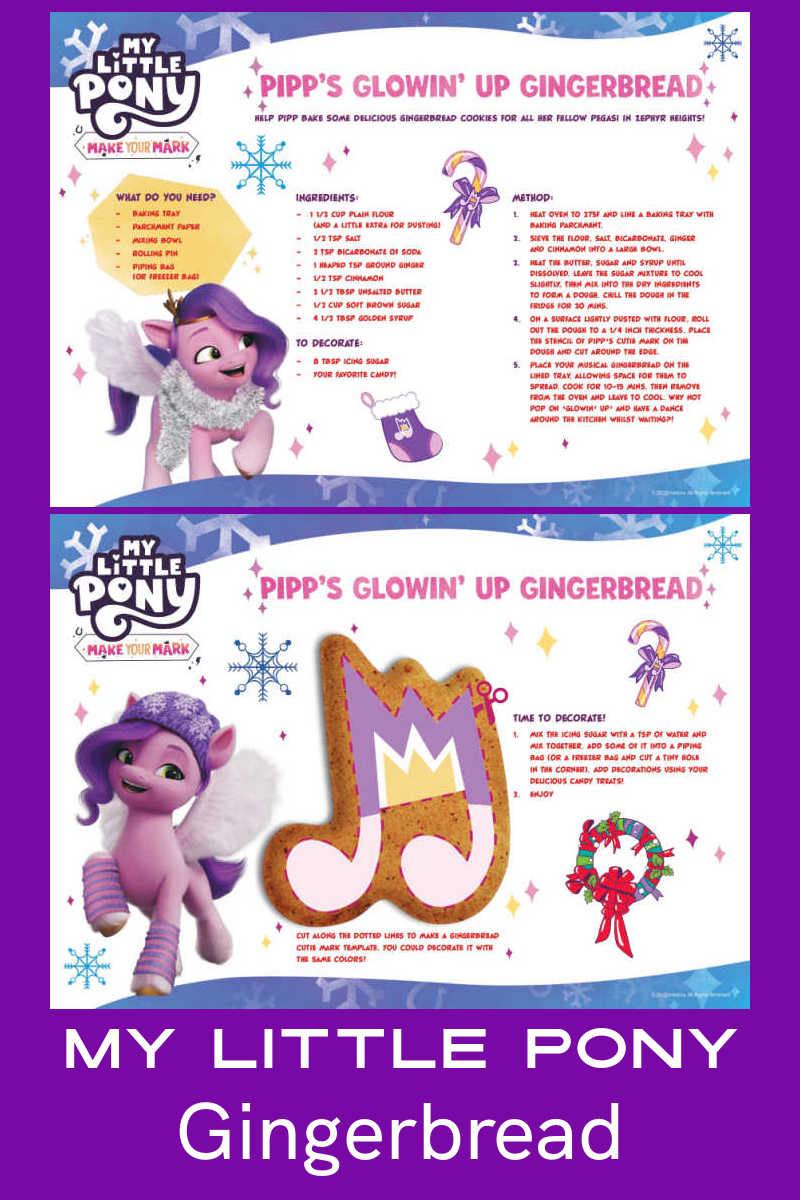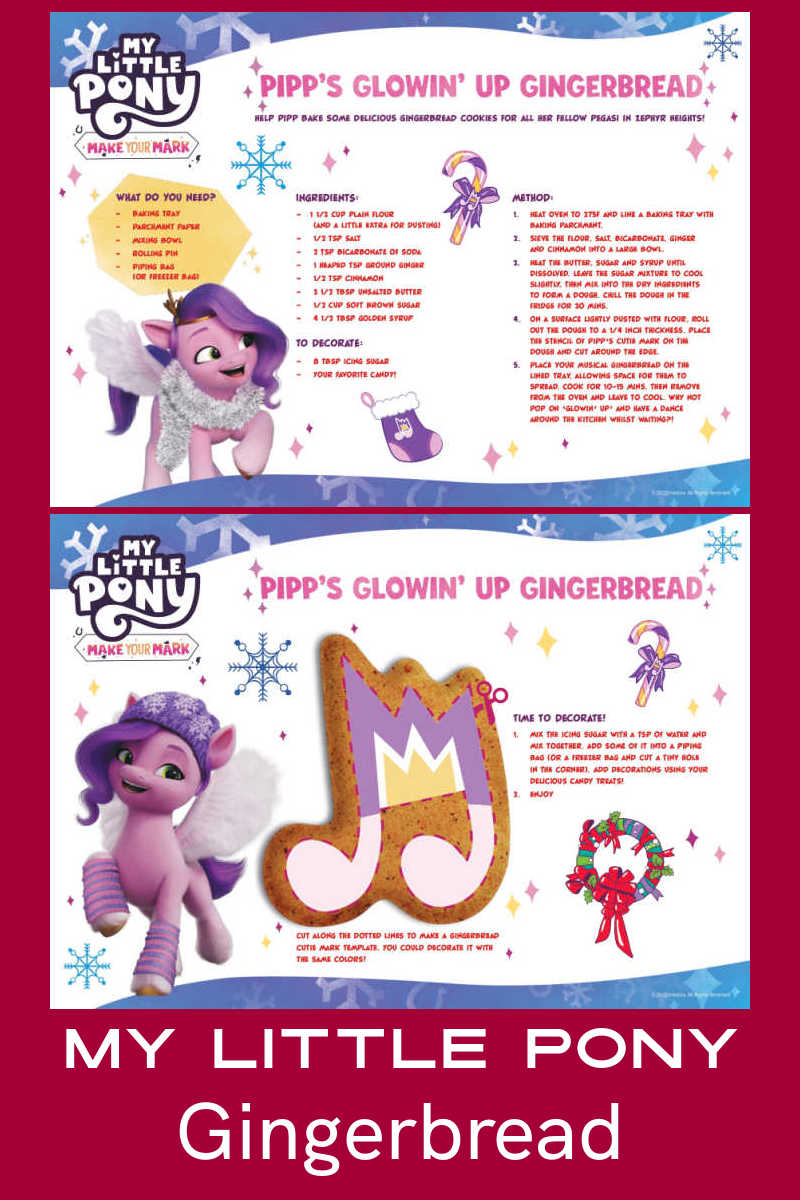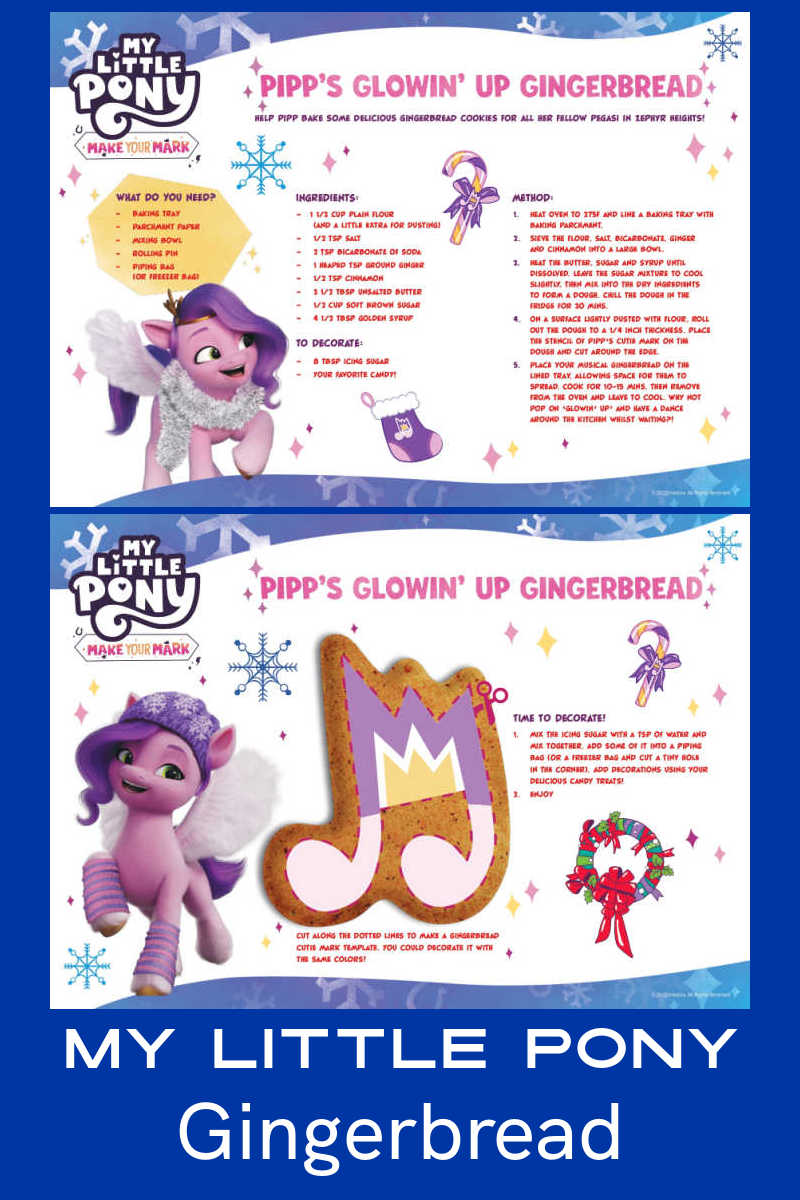 Gingerbread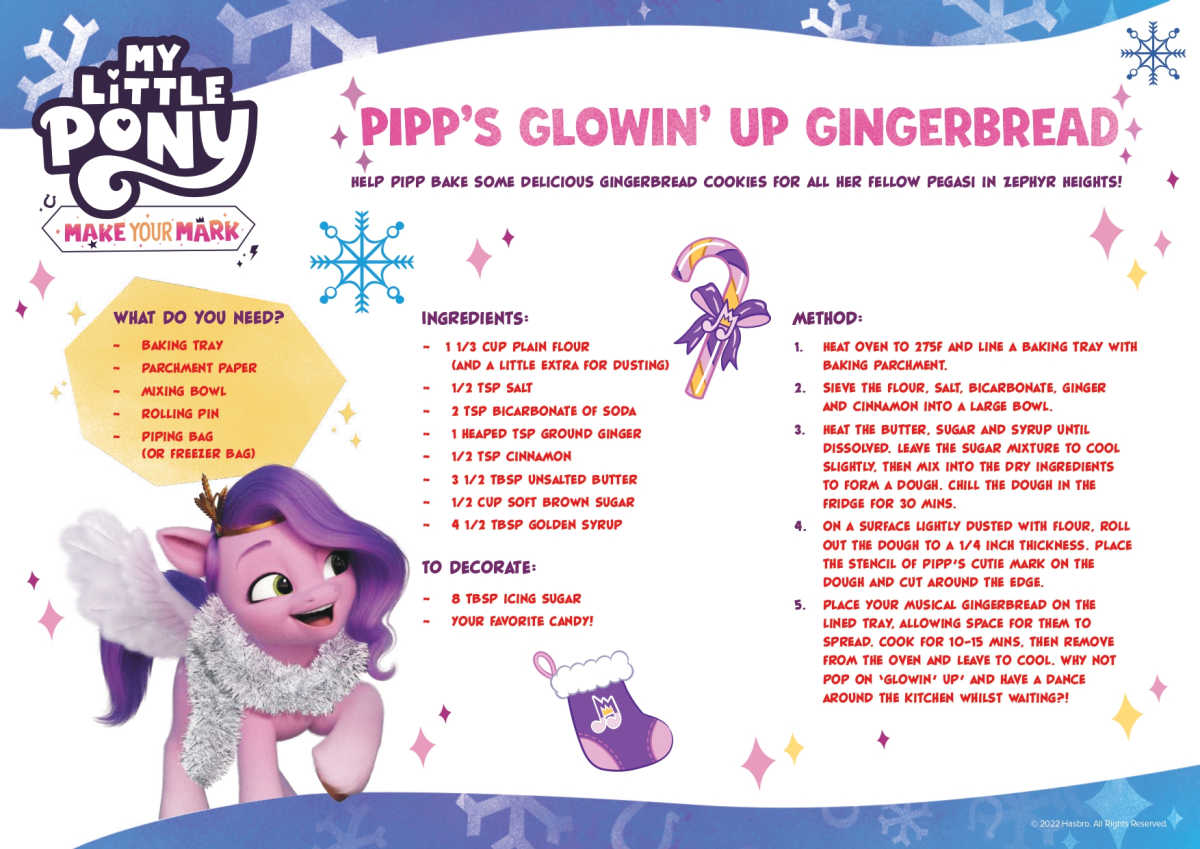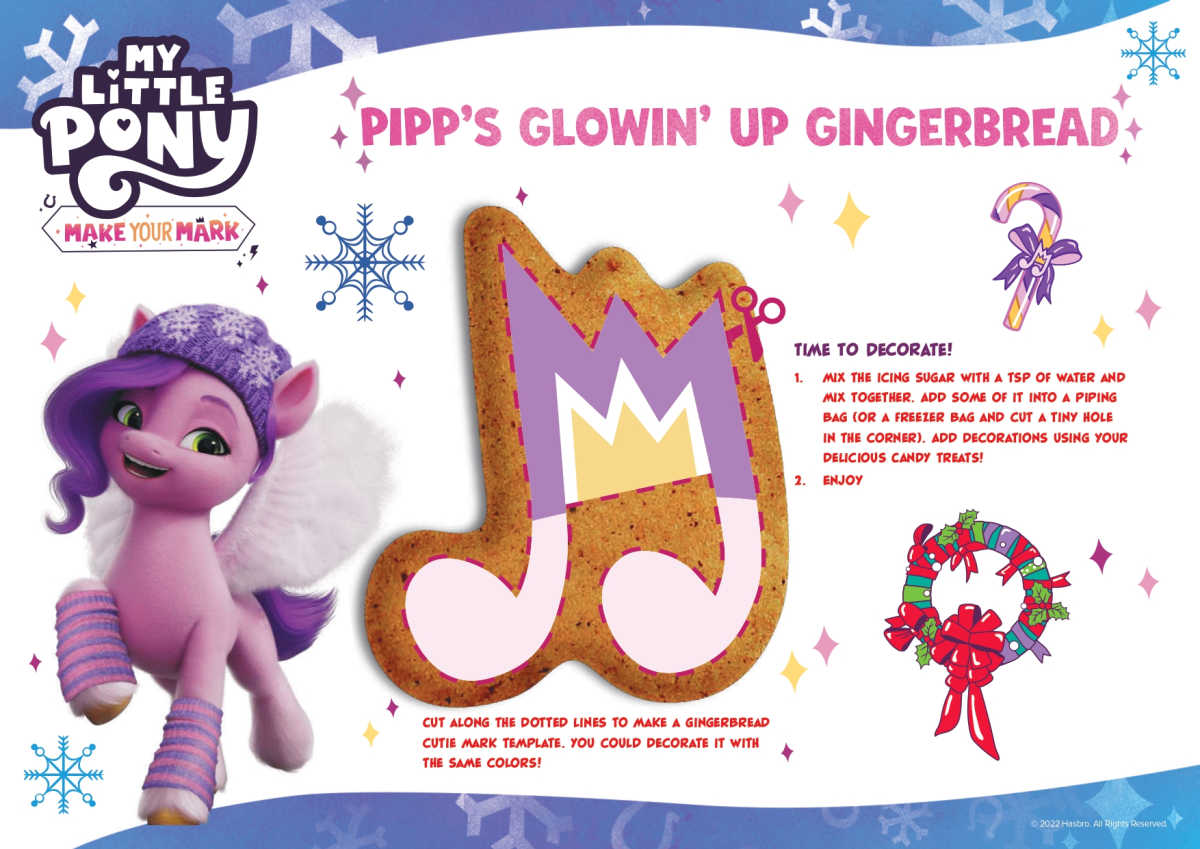 Bake a batch of My Little Pony gingerbread, so that you can have a delicious treat while watching the show on Netflix.
You can even make the cookies in the shake of Pipp's cutie mark, if you'd like.
Gingerbread is great for the holidays, but you are free to enjoy this dessert recipe any time of the year.
Pipp's Glowin' Up My Little Pony Gingerbread Recipe
Ingredients
Supplies
Baking tray
Mixing bowl
Rolling pin
Piping bag (or freezer bag)
Directions
Heat oven to 275F and line a baking tray with baking parchment.
Sieve the flour, salt, bicarbonate, ginger and cinnamon into a large bowl.
Heat the butter, sugar and syrup until dissolved. Leave the sugar mixture to cool slightly, then mix into the dry ingredients to form a dough. Chill the dough in the fridge for 30 mins.
On a surface lightly dusted with flour, roll out the dough to a 1/4 inch thickness. Place the stencil of Pipp's cutie mark on the dough and cut around the edge.
Place your musical gingerbread on the lined tray, allowing space for them to spread. Cook for 10-15 mins, then remove from the oven and leave to cool. Why not pop on 'Glowin' Up' and have a dance around the kitchen whilst waiting?!
Time to Decorate
Mix the icing sugar with a tsp of water and mix together. Add some of it into a piping bag (or a freezer bag and cut a tiny hole in the corner). Add decorations using your delicious CANDY treats!
Enjoy
Download the free printable My Little Pony gingerbread recipe, so that you and your family can have some delicious fun this holiday season!
Recipe PDF Page 1
Recipe PDF Page 2
Regular copy paper is ok to use, when you print this pdf.
You can also use cardstock, if you would like.
My Little Pony: Winter Wish
Holiday Special
Available Now on Netflix
Synopsis
It's Winter Wishday!
Can the Mane 5 celebrate their holiday traditions and still make it back in time to exchange gifts under the Wishing Star for Sunny?
My Little Pony: Make Your Mark – Celebrating Wishiehoof in Bridlewood!
More from Mama Likes This
Take a look at my entertainment articles, so you can keep up with the latest TV, movie and book news.
My Little Pony Christmas Printables
Free Christmas Printables
My Little Pony Recipes
Free My Little Pony Make Your Mark Printables
My Little Pony Equestria Girls Printables
MLP Friendship is Magic Printables
My Little Pony Crafts with Free Printable pdf Templates
Printable Activity Pages
For year round fun, take a look at the rest of my free printables.
Many are from Disney, Netflix and Shout Factory, so they feature movies, TV series and characters that your kids already know and love.
Some are educational and some are just plain fun. There are coloring pages, crafts, word puzzles, mazes, memory games and other family friendly activities.
Shop Now
Check out the latest online deals, so you can save money and pick out some great products for yourself and your family.
What will you buy first?