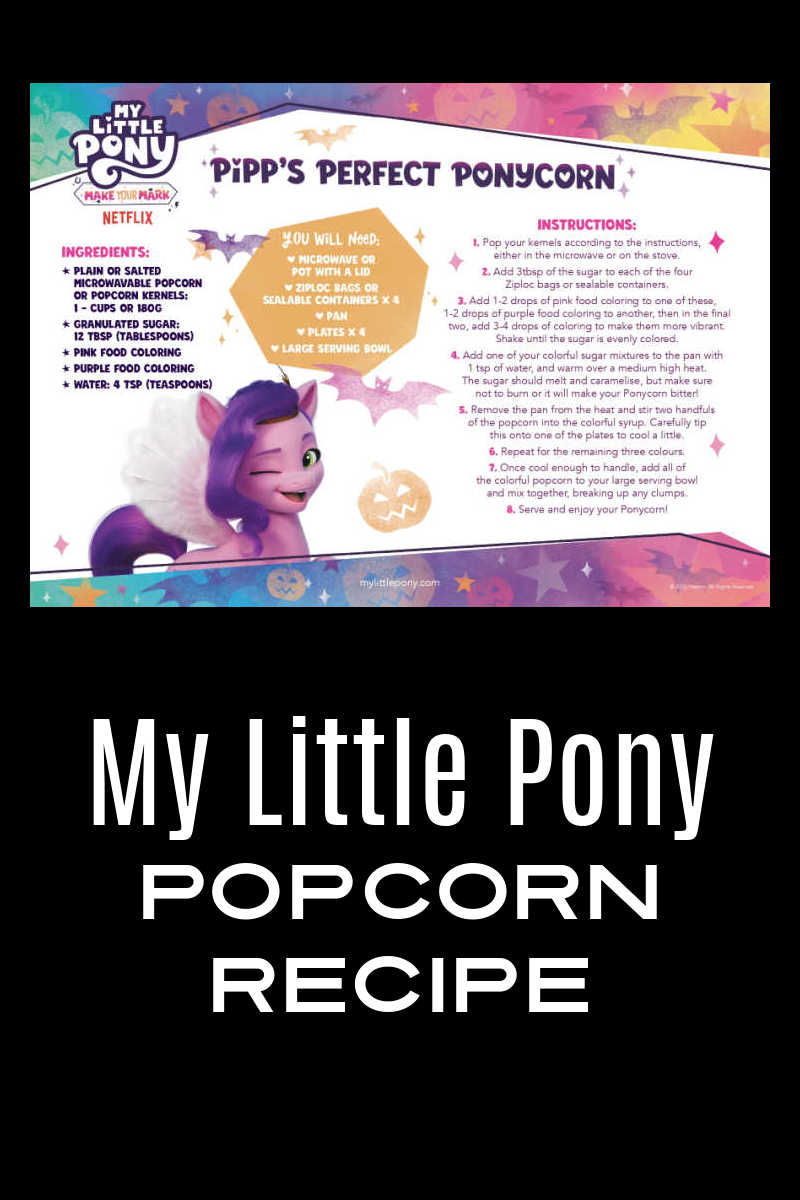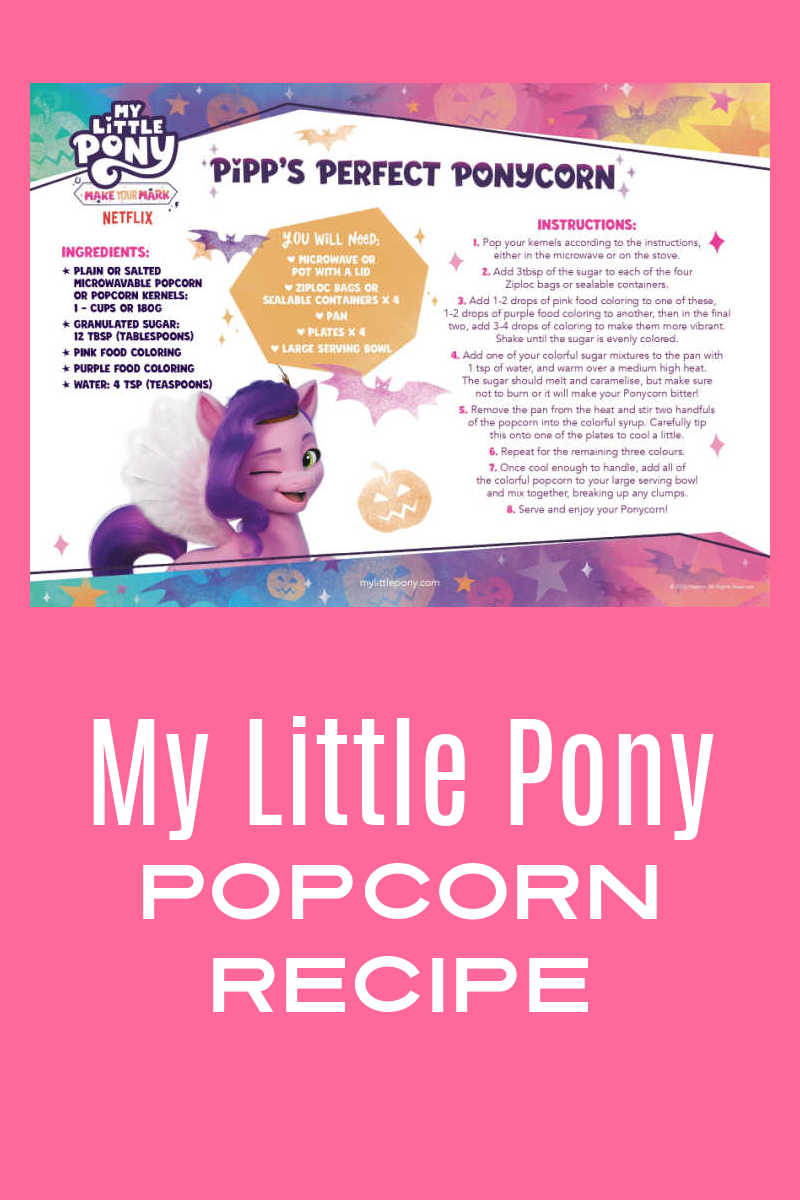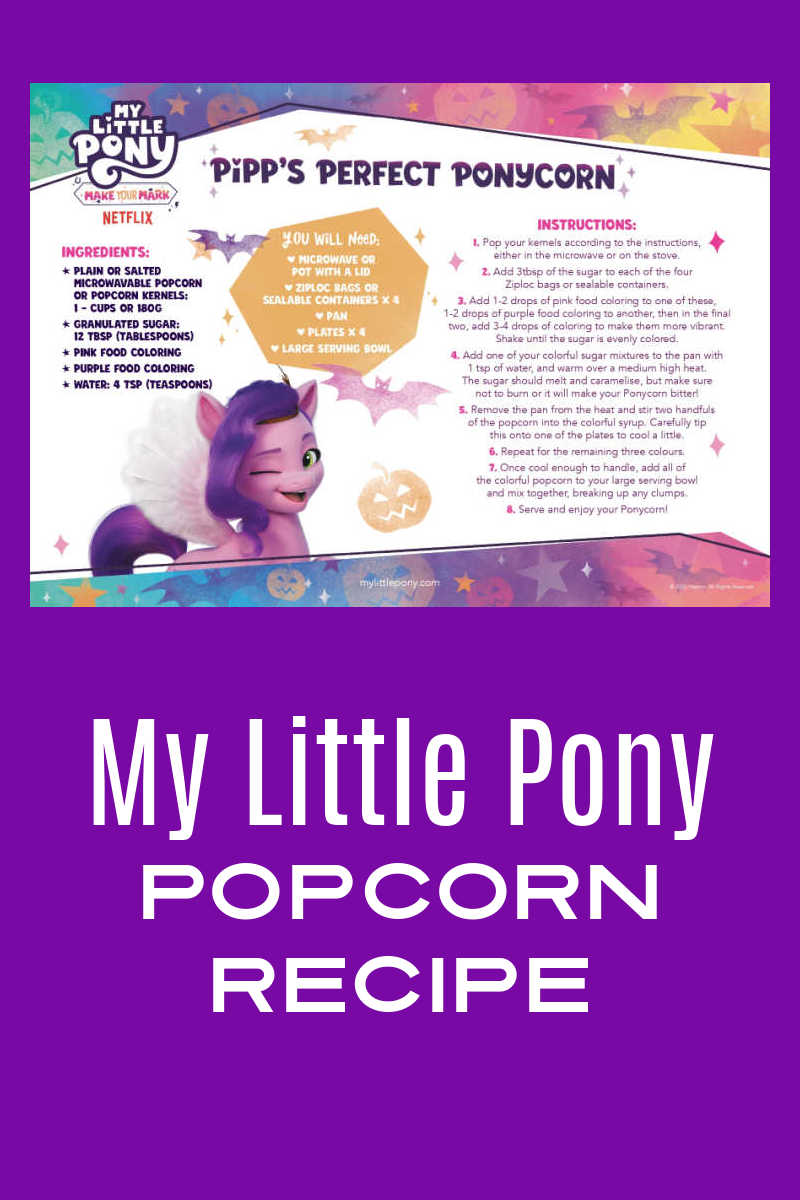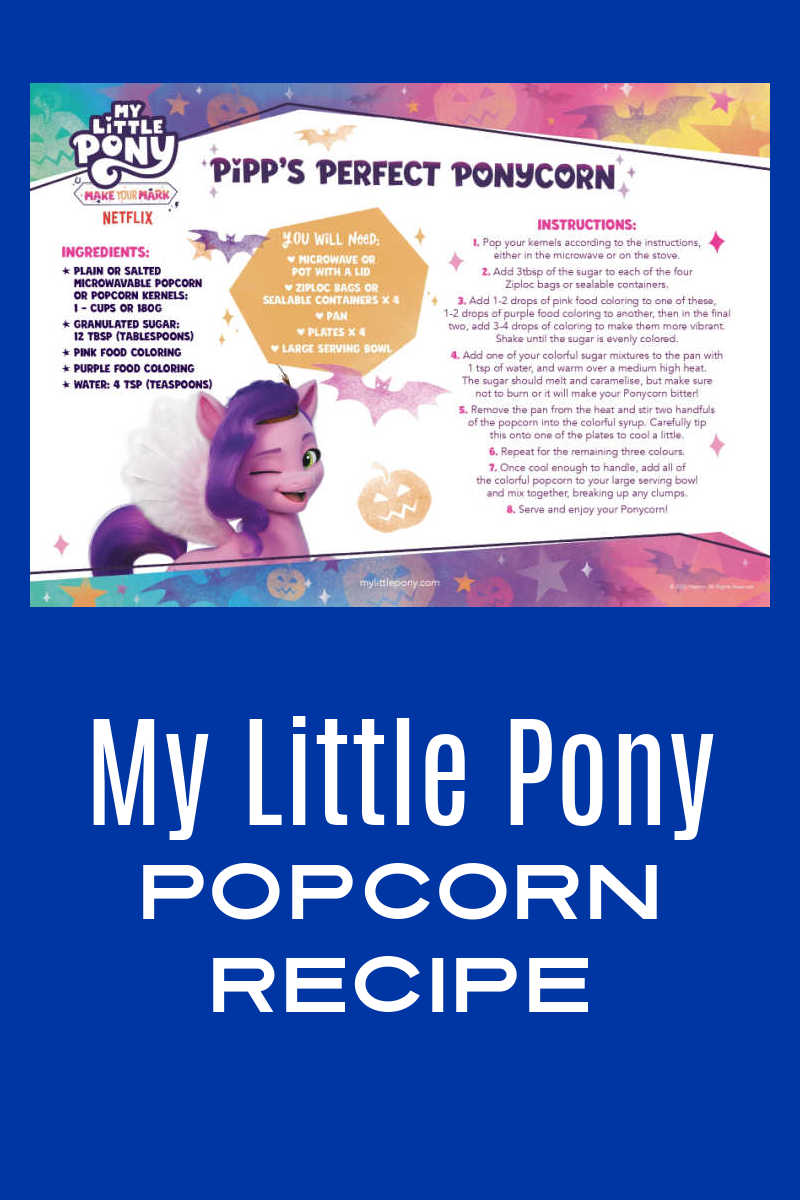 My Little Pony Printable Recipe Page
Sweet Pink and Purple Popcorn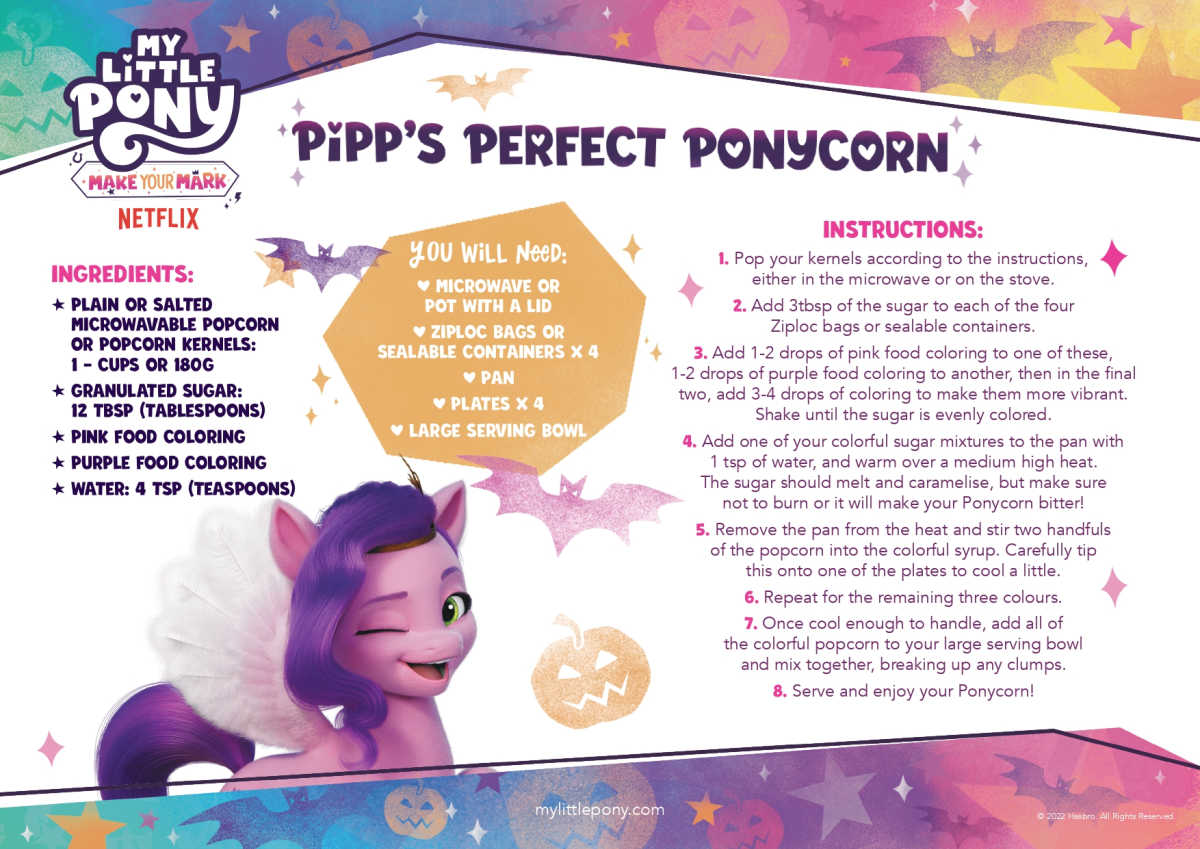 Follow this fun My Little Pony recipe, so you can make pink and purple sweet MLP popcorn that looks fun and tastes great.
Snack on the multi-colored popcorn while your kids watch the show or serve it as a treat at a My Little Pony themed party.
Microwave popcorn works well for the recipe, but you could also pop your own another way or simply open up a bag of ready to eat popcorn.
Pipp likes purple and pink popcorn (Ponycorn!), of course.
Feel free to mix it up and use different colors to match other ponies, if you'd like.
MLP Popcorn: Pipp's Perfect Ponycorn Recipe
Ingredients
Microwave Popcorn (plain or salted)
3/4 cup (12 T) Granulated Sugar
Pink Food Coloring
Purple Food Coloring
4 t Water
Supplies
Microwave
4 Ziploc Bags or Sealable Containers
Sauce Pan
4 Plates
Large Serving Bowl
Instructions
1) Pop the popcorn in the microwave according to the package instructions.
2. Add 3 tablespoons of sugar to each of the four Ziploc bags or sealable containers.
3. Add 1-2 drops of pink food coloring to one of these and 1-2 drops of purple food coloring to another. Then in the final two, add 3-4 drops of each color to make them more vibrant. Seal and shake until the sugar is evenly colored.
4. Add one of your colorful sugar mixtures to the pan with 1 teaspoon of water, and warm over a medium high heat. The sugar should melt and caramelize, but make sure not to burn or it will make your Ponycorn bitter!
5. Remove the pan from the heat and stir two handfuls of the popcorn into the colorful syrup. Carefully tip this onto one of the plates to cool a little.
6. Repeat for the remaining three colors.
7. Once cool enough to handle, add all of the colorful popcorn to your large serving bowl and mix together, breaking up any clumps.
8. Serve and enjoy your Ponycorn!
Click HERE to download the free printable MLP popcorn recipe, so that your family can have some delicious My Little Pony fun.
Regular copy paper is ok to use, when you print this pdf.
You can also use cardstock, if your child will want something that will last longer.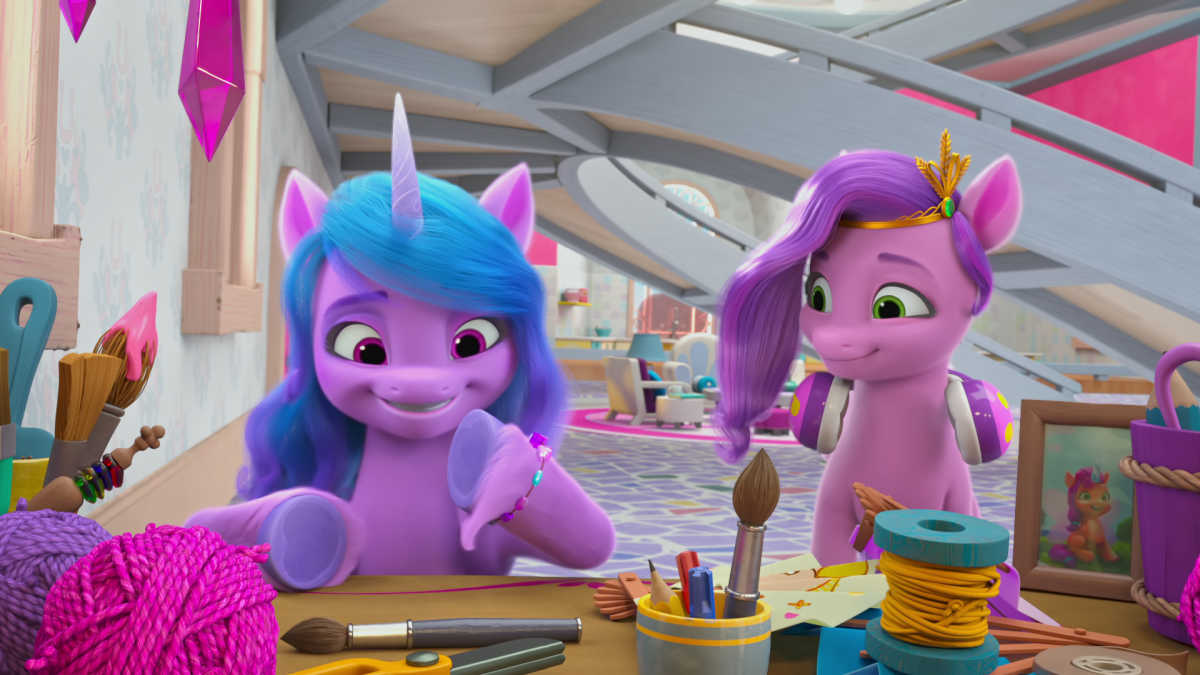 My Little Pony: Make Your Mark
Netflix
Synopsis
Welcome back to Equestria, where pony magic is everywhere. With friends Zipp, Sunny, Izzy, Pipp and Hitch leading the way, adventure is sure to follow!
Cast
Jenna Warren
Maitreyi Ramakrishnan
JJ Gerber
Ana Sani
Aj Bridel
Rob Tinkler
Bahia Watson
Athena Karkanis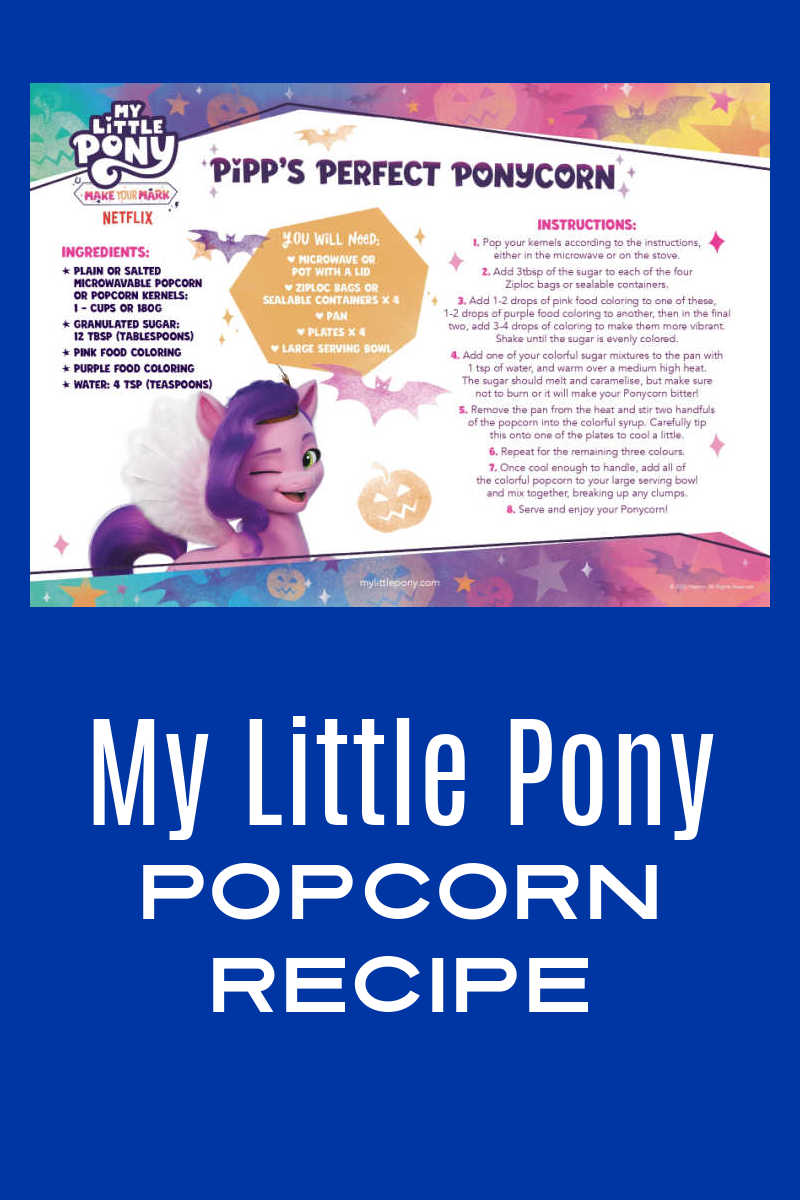 More from Mama Likes This
Halloween Deals
My Little Pony Recipes
My Little Pony Pumpkin Stencils
Free Halloween Activity Pages
My Little Pony Make Your Mark Printables
My Little Pony Equestria Girls Printables
MLP Friendship is Magic Printables
My Little Pony Crafts with Free Printable pdf Templates
Printable Activity Pages
For year round fun, take a look at the rest of my free printables.
Many are from Disney, Netflix and Shout Factory, so they feature movies, TV series and characters that your kids already know and love.
Some are educational and some are just plain fun. There are coloring pages, crafts, word puzzles, mazes, memory games and other family friendly activities.
Shopping Deals
Check out the latest online deals, so you can save money and pick out some great products for yourself and your family.
What will you buy first?