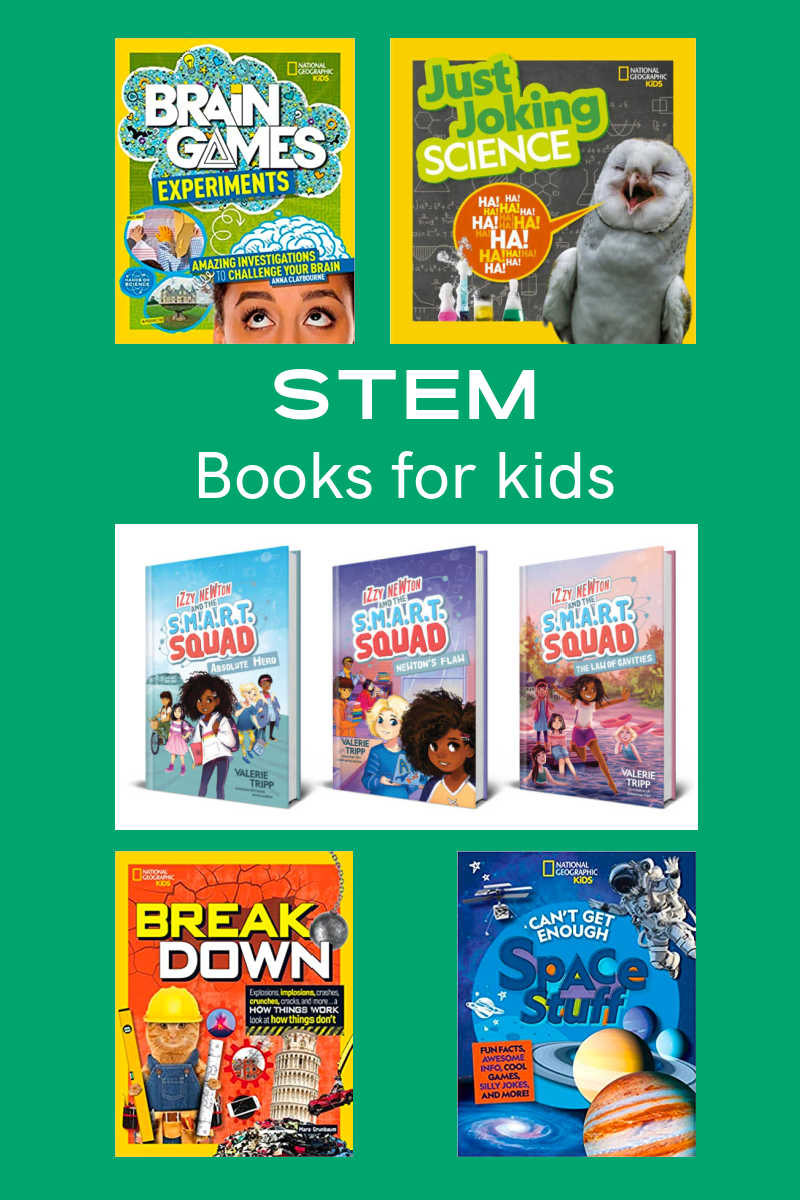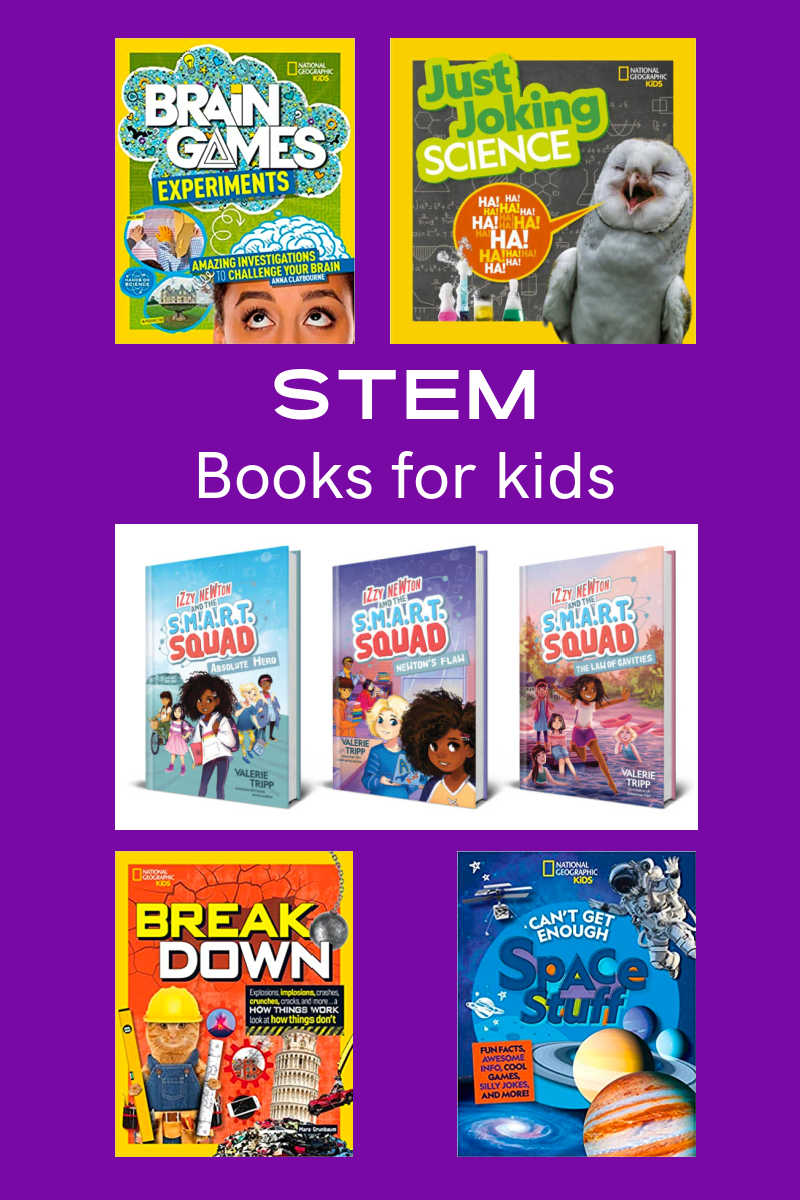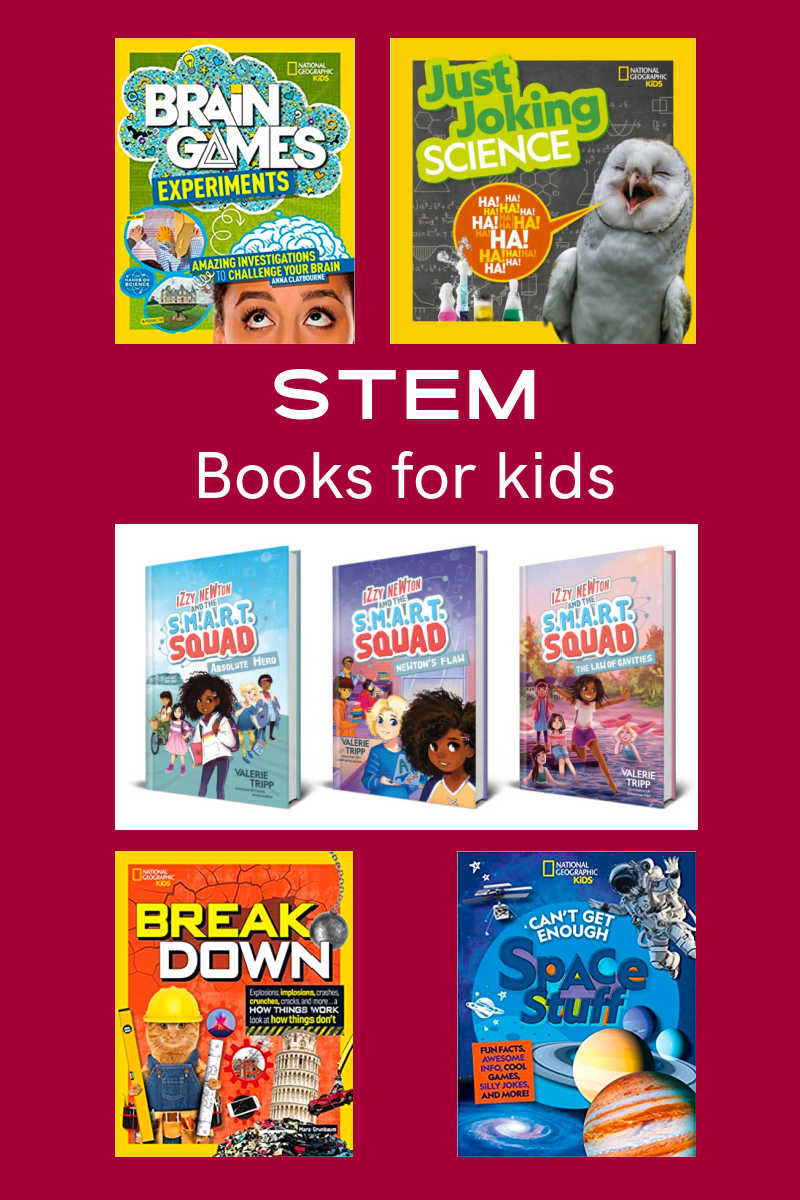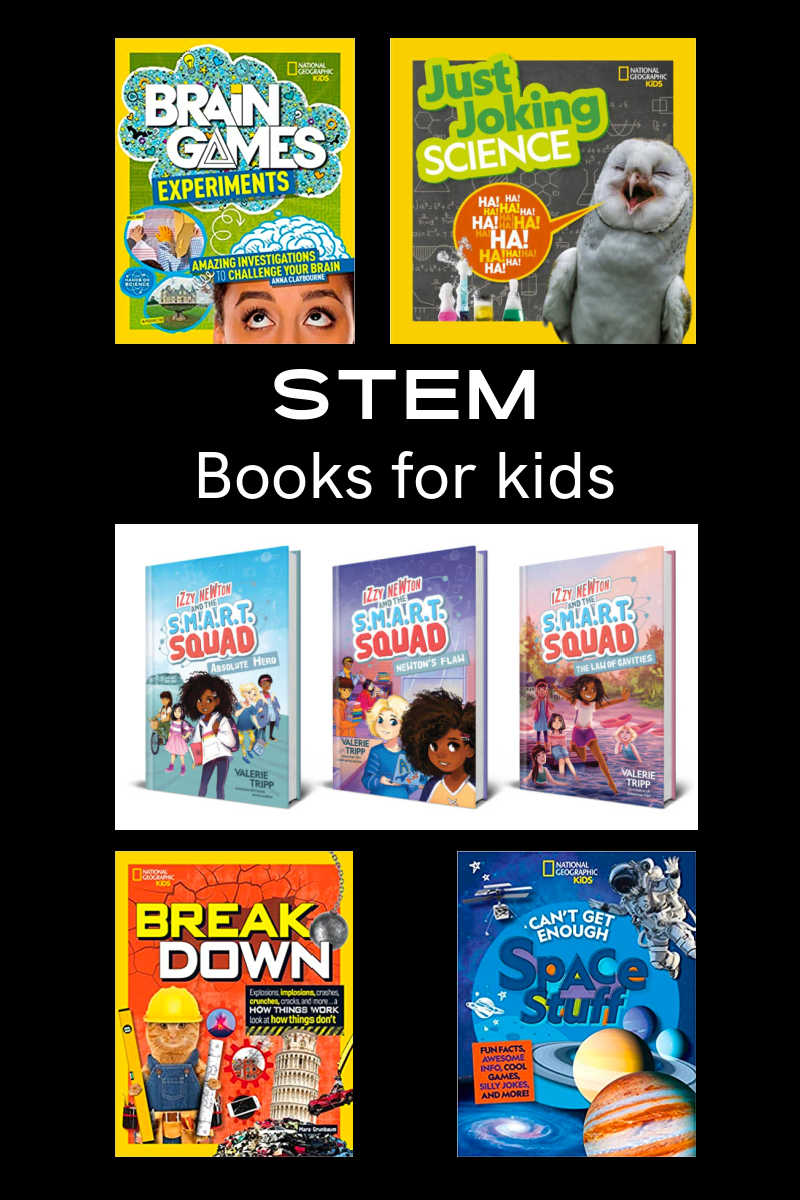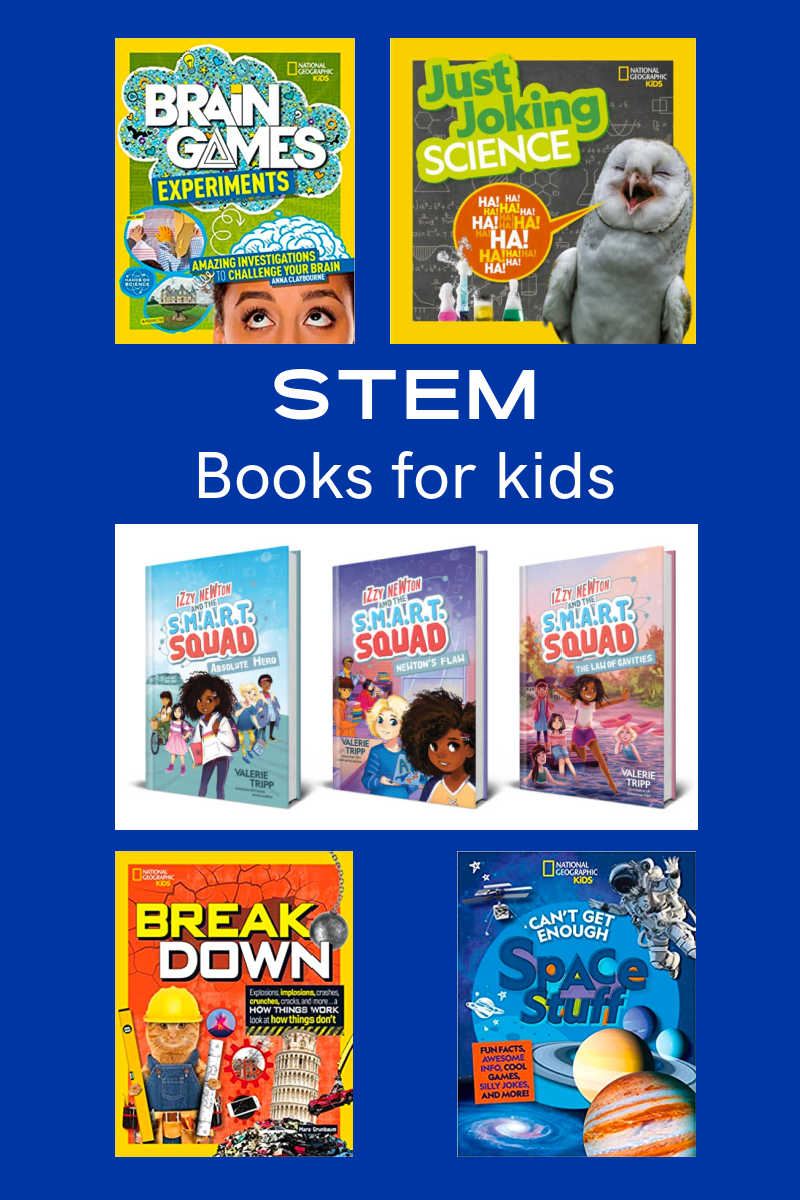 STEM Books For Kids From National Geographic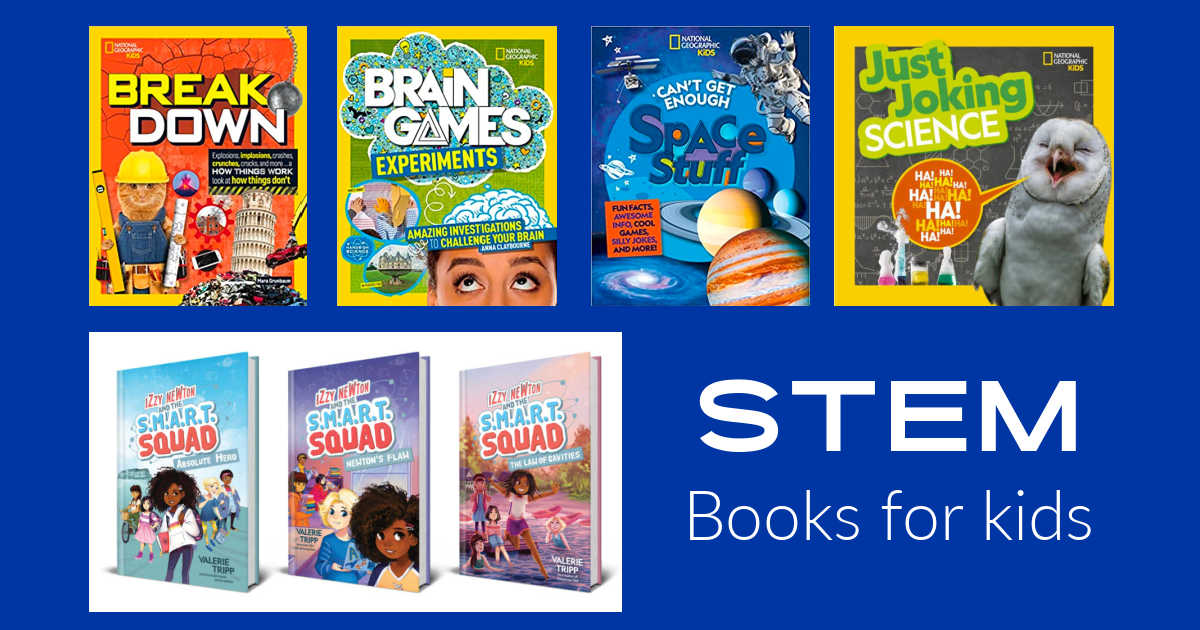 Science, technology, engineering and math absolutely are fun with this fantastic set of Nat Geo STEM books for kids.
Learning any new material can be a challenge, but the folks at National Geographic know how to get children and adults excited about these interesting subjects.
There are four nonfiction books and the three fictional Izzy Newton and The S.M.A.R.T. Squad books.
They are especially great for kids in the 7 to 12 age range, but can definitely be enjoyed by other ages, too.
The books contain solid science facts that are presented in ways that kids can understand and retain the knowledge they gain.
I always like the nonfiction books and pick up interesting information each time I open one up.
National STEM Day is November 8th, so new books are a perfect way to celebrate!
Nat Geo books are always a good addition to a family's home library, so they can be enjoyed for years.
Nat Geo STEM Books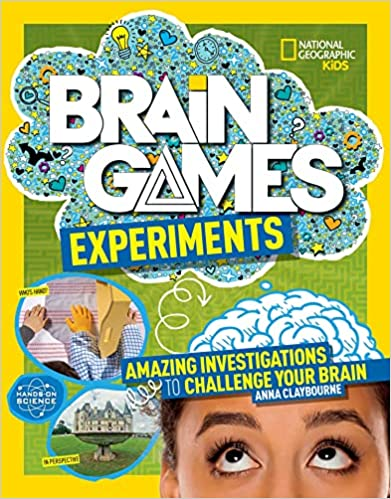 Ages 8-12
Paperback
isbn 978-1426372520
Pub Date May 3, 2022
Synopsis
Discover what makes your mind tick. Explore the secrets behind smell, taste, touch, and vision.
Find out how to trick your friends into thinking they taste something they don't.
Then turn the tables as you try to outsmart your own brain. Put your own mental powers to the test with tricky quizzes, optical illusions, and more.
Learn about phantom sensations as you make your brain think your nose is six feet long!
Each kid-friendly experiment is paired with step-by-step instructions, vibrant photography, and intriguing explanations of the neuroscience at work.
Mind-blowing topics include:Senses:

Ages 8-12
Paperback
isbn 978-1426371516
Pub Date March 22, 2022
Synopsis
Who says science can't be silly?
Just Joking Science features 300 science-themed jokes that are scientifically proven to leave kids laughing.
Jokes about all kinds of science stuff―kooky chemistry, funny physics, dinosaurs, space, and more―is combined with fast STEM-centric facts and 10 stories of real-life scientific experiments that are almost too wild to believe.
Sized just right for Christmas stockings, back packs and back seat/holiday travel boredom busting.

Break Down: Explosions, Implosions, Crashes, Crunches, Cracks, and More … a How Things Work Look at How Things Break
Ages 8 to 12
Hardcover
isbn 978-1426373053
Pub Date August 23, 2022
Synopsis
This book explores how things break down, crack, explode, crumple, and shatter.
This fun, unique take on a how-things-work book explores the world through the lens of what it takes for things to, well, not work.
In these vibrantly illustrated pages, you'll peer through the smoke and rubble of controlled demolitions to discover the properties of building materials.
Then get a glimpse of the inner workings of a cracked cell phone screen, peek carefully at mega-avalanches and sinkholes, and hold on tight as wrecking balls swing and car crushers crunch metal.
Buckle up with crash-test dummies and travel back in time to explore the world's most famous failures (looking at you, Leaning Tower of Pisa).
Featuring hands-on activities that walk kids through their own experiments in destruction, Break Down! will change the way you look at the world.

Ages 7 to 10
Paperback
isbn 978-1426372803
Pub Date August 2, 2022
Synopsis
Featuring more than 200 extraordinary illustrations and photographs, detailed diagrams and infographics and a winning combination of comprehensive articles that do a deep dive into outer space research, fast facts and first-hand accounts from experts, Can't Get Enough Space Stuff is the ultimate book for space enthusiasts.
This book covers it all — get the scoop on space food, space junk, space volcanoes and NASA's future plans for reaching Mars and Europa.
Learn about how scientists are looking for life on other planets, cutting edge space technology, mind-blowing black holes and the International Space Station.
Hands-on activities you can try at home are a terrific resource for STEM studies and science fair projects.

Izzy Newton and The S.M.A.R.T Squad Series by Valerie Tripp
Ages 8 to 12
Hardcover
Books in The Series
1) Absolute Hero
2) Newton's Flaw
3) The Law of Cavities
Synopsis
Join Izzy Newton and her five brainy buddies in this fun three-book FICTION series, where science and tech reign supreme!
It's not easy making the jump from elementary school to a middle school with 900 students. but for the S.M.A.R.T. (Solving Mysteries And Revealing Truths) Squad, it's all about relying on the value of friendship and the power of science to help them think their way through all kinds of sticky situations.
And when middle-school mishaps happen, the Izzy and her five friends (the S.M.A.R.T. Squad!) use their collective skills and the power of STEM to bring order to their school.

Nat Geo STEM Books Giveaway
Prize: National Geographic Kids STEM Spectacular Prize Pack: Brain Games, Just Joking Science, Break Down, Can't Get Enough Space Stuff & All 3 Izzy Newton and the S.M.A.R.T. Squad Books (arv $96)
1 Winner
US 18+
Ends 11/21/22 11:59pm ET
Check out my other giveaways, so you can have more chances to win prizes.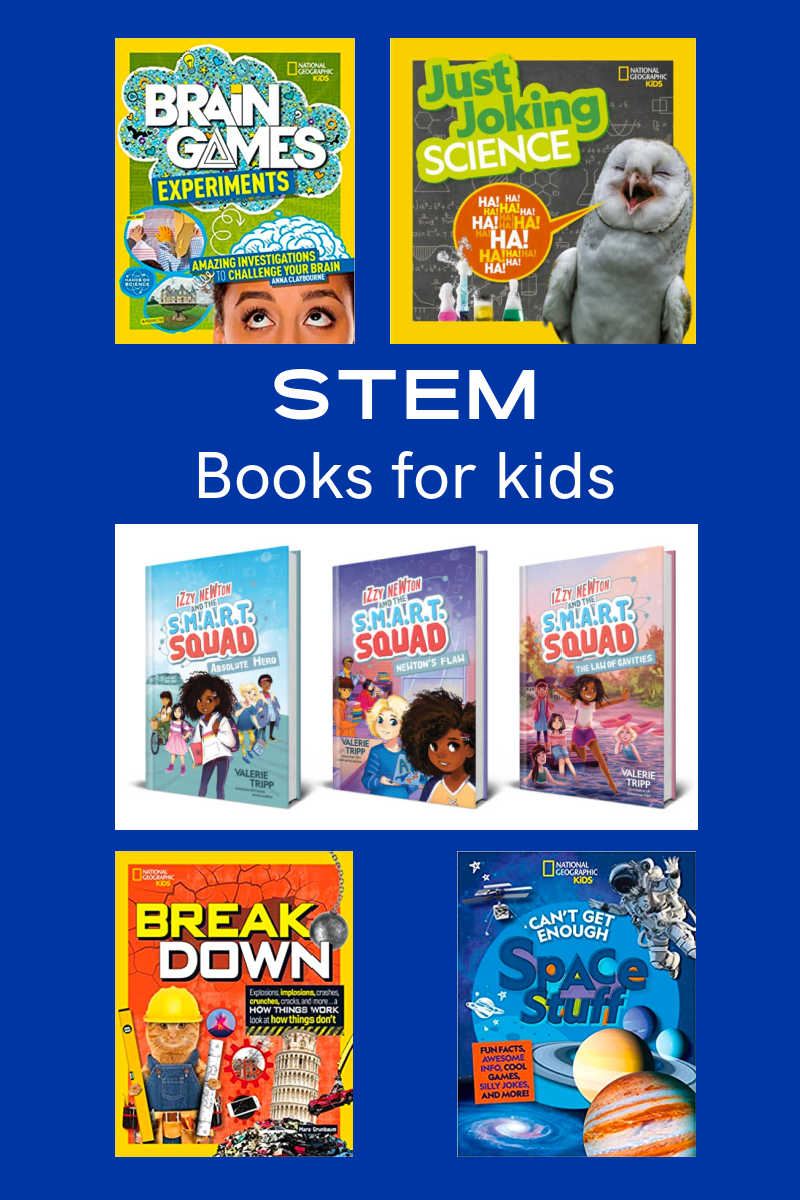 More from Mama Likes This
Take a look at my other entertainment articles, so you can keep up with the latest TV, movie and book news.
Printable Activity Pages
Check out my free printables, when you are looking for fun activities to do at home.
Many are from Disney, Netflix and Shout Factory, so they feature movies, TV series and characters that your kids already know and love.
Some are educational, but others are just plain fun.
There are coloring pages, crafts, word puzzles, mazes, memory games and many other family friendly activities.
Free Printable
Rainbow Crafts
Shopping Deals
Check out the latest online deals, so you can save money and pick out some great products for yourself and your family.
What will you buy first?