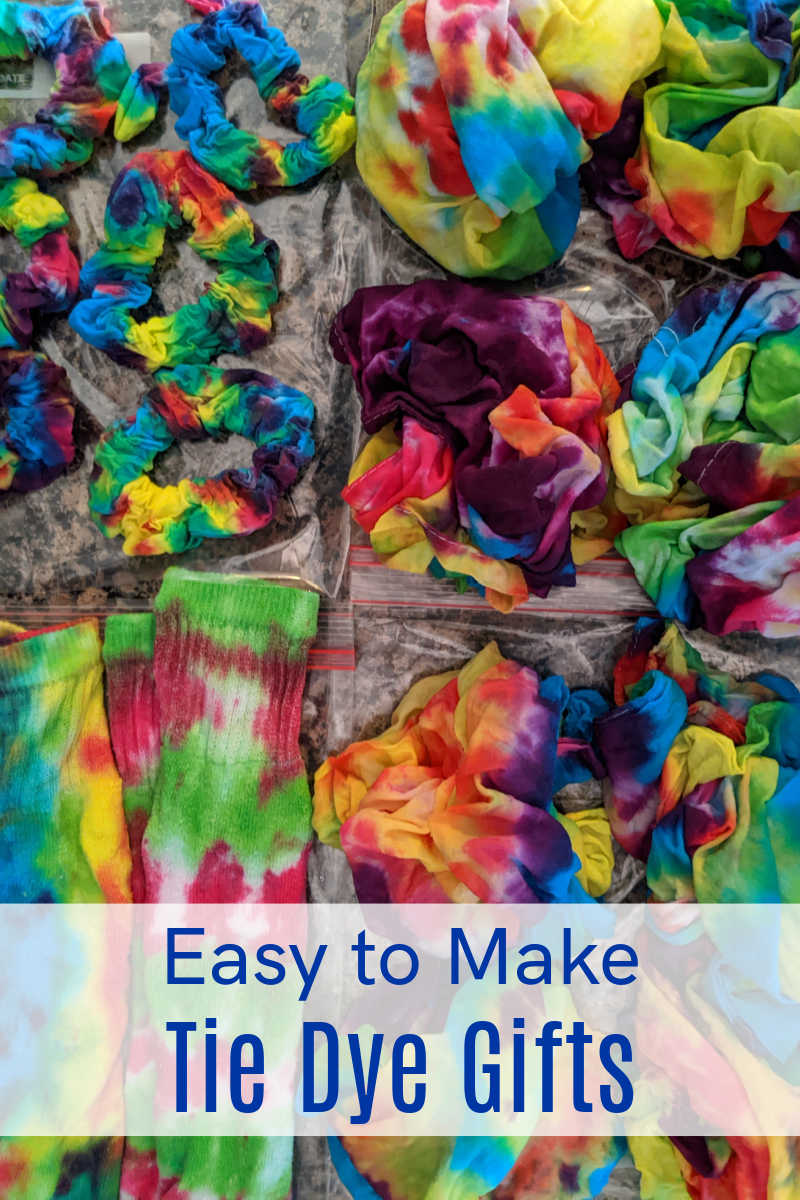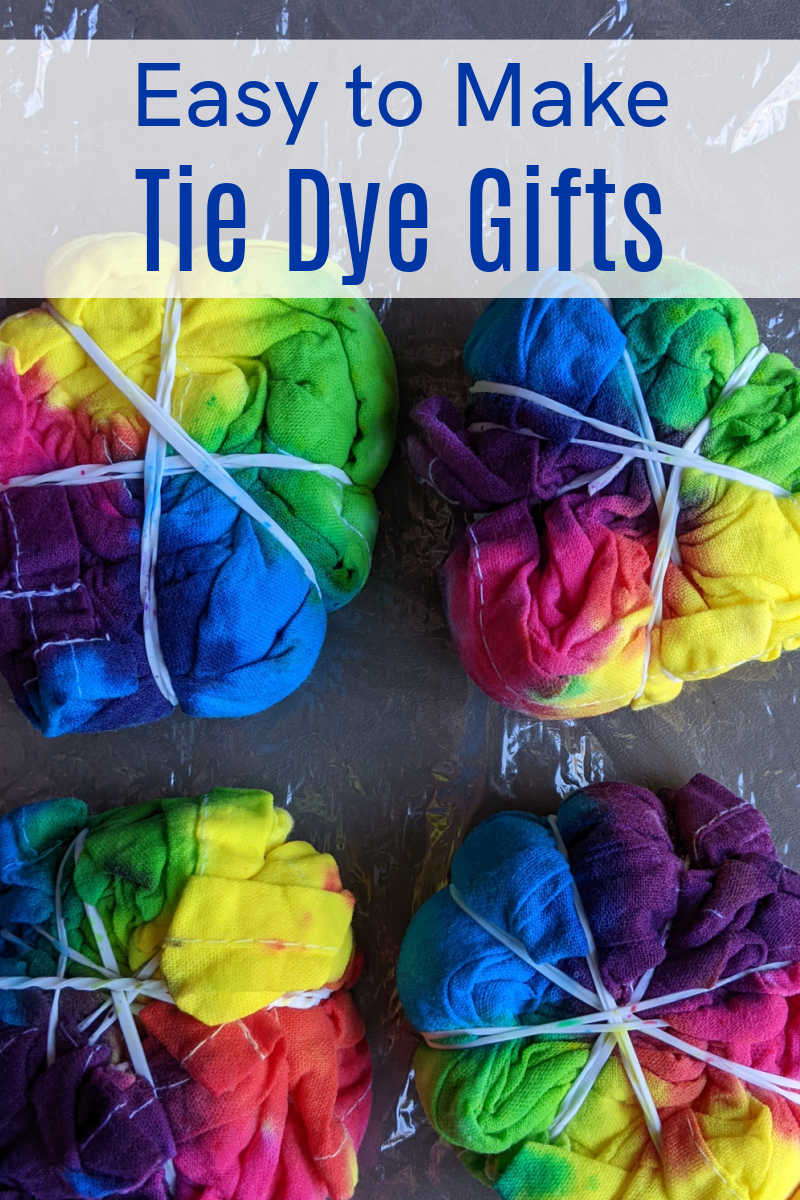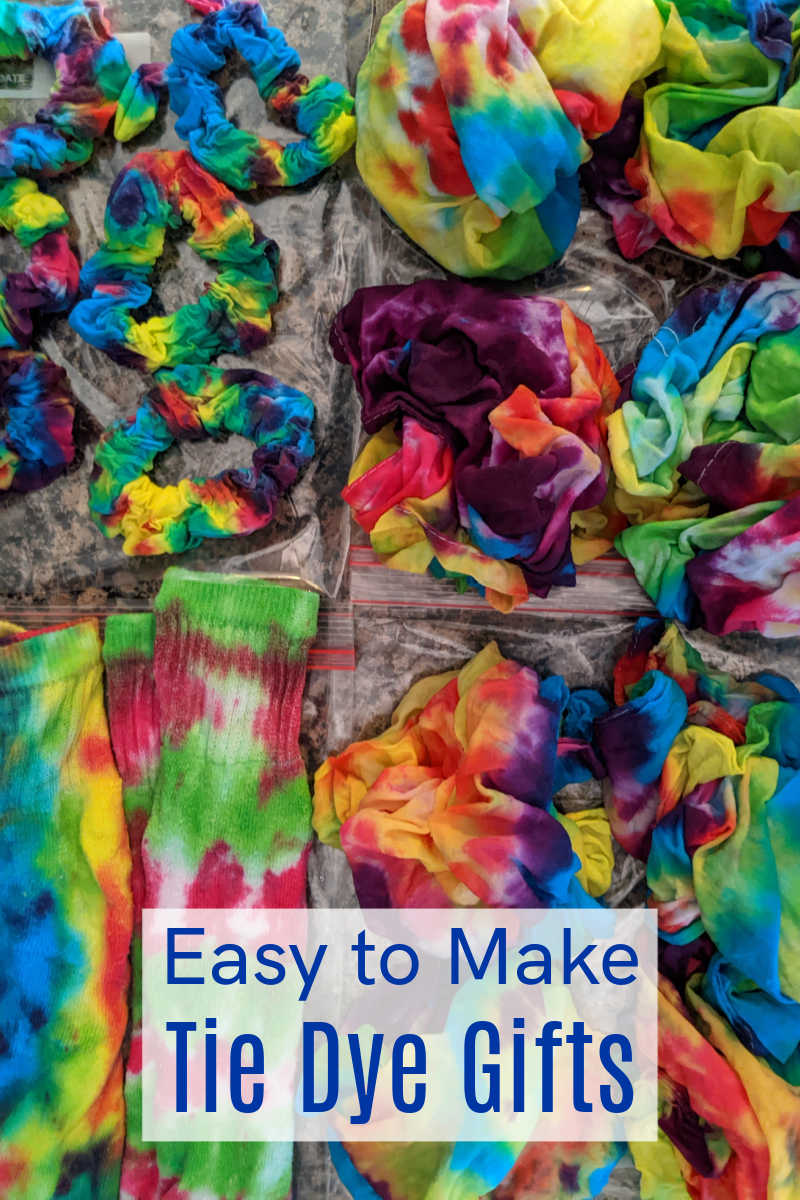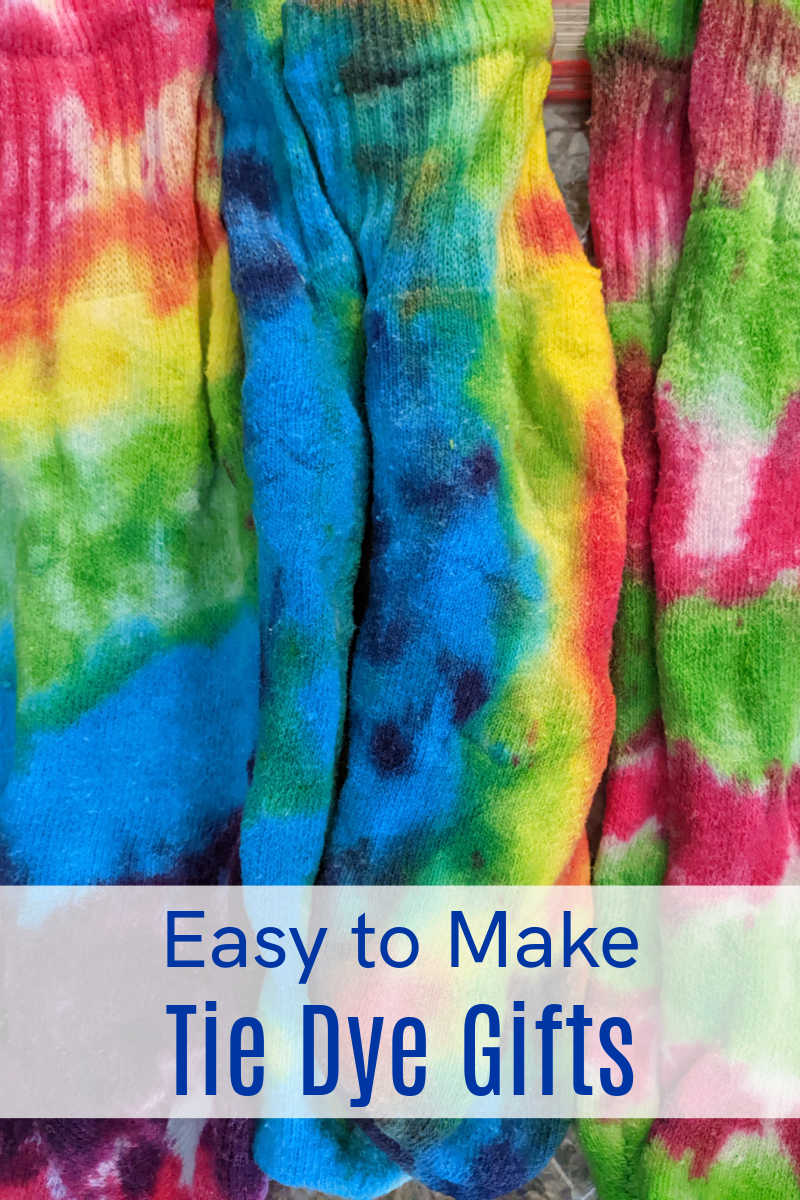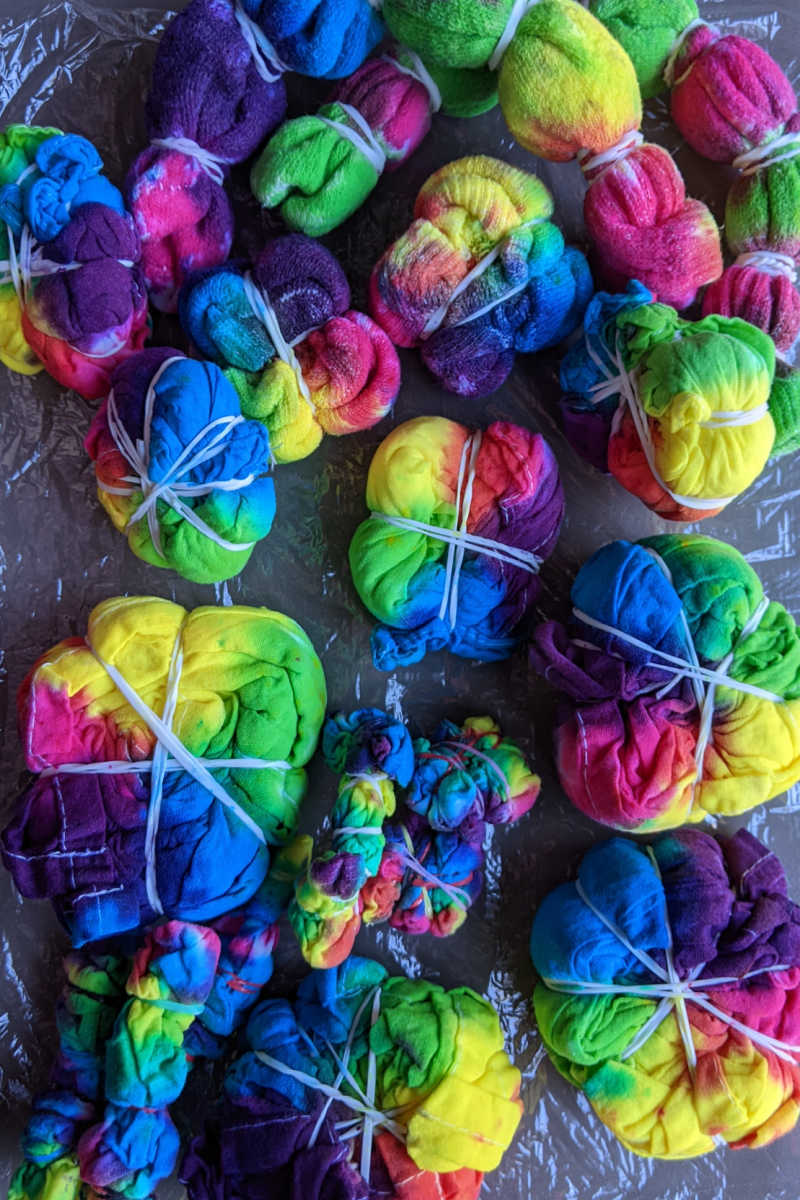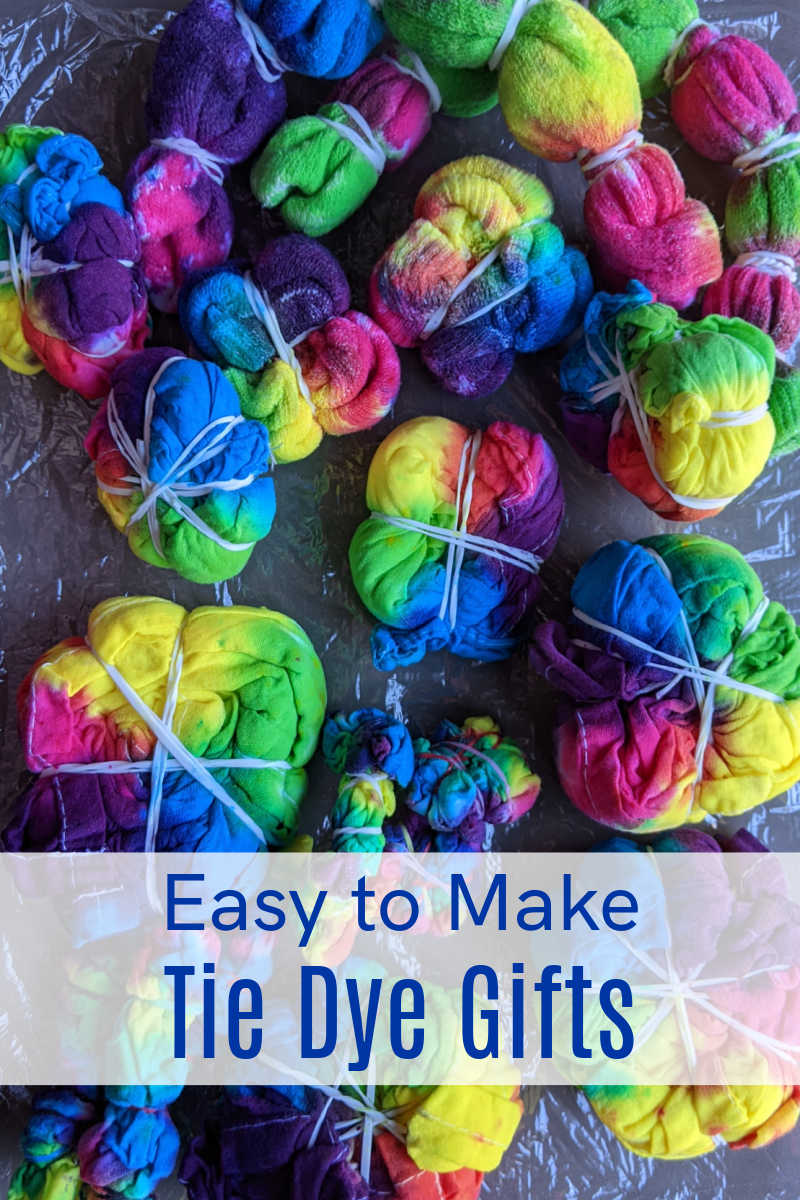 Easy To Make Tie Dye Gifts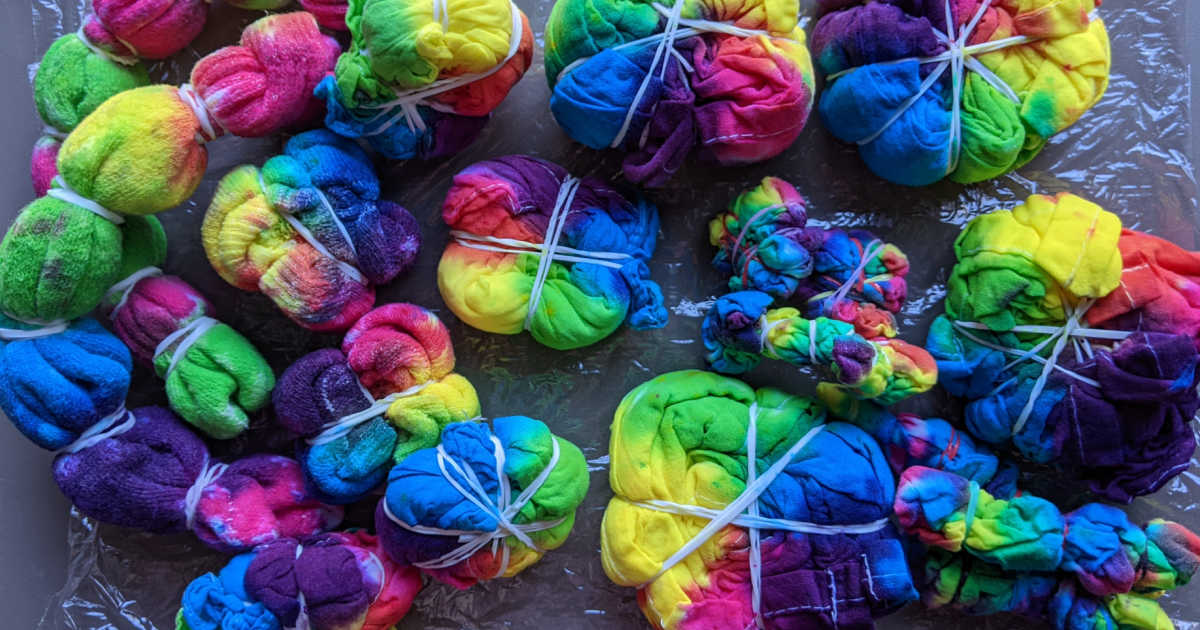 Make tie dye gifts that family and friends will love, when you use basic supplies and your own creativity and style.
T-shirts are always fun, but it is great to think outside the box and make tie dye gifts that are more unique.
Gather up your supplies and make a plan for what you want to dye and how you want to dye it.
Choose bold rainbow colors or pretty pastels in whatever combination you'd like.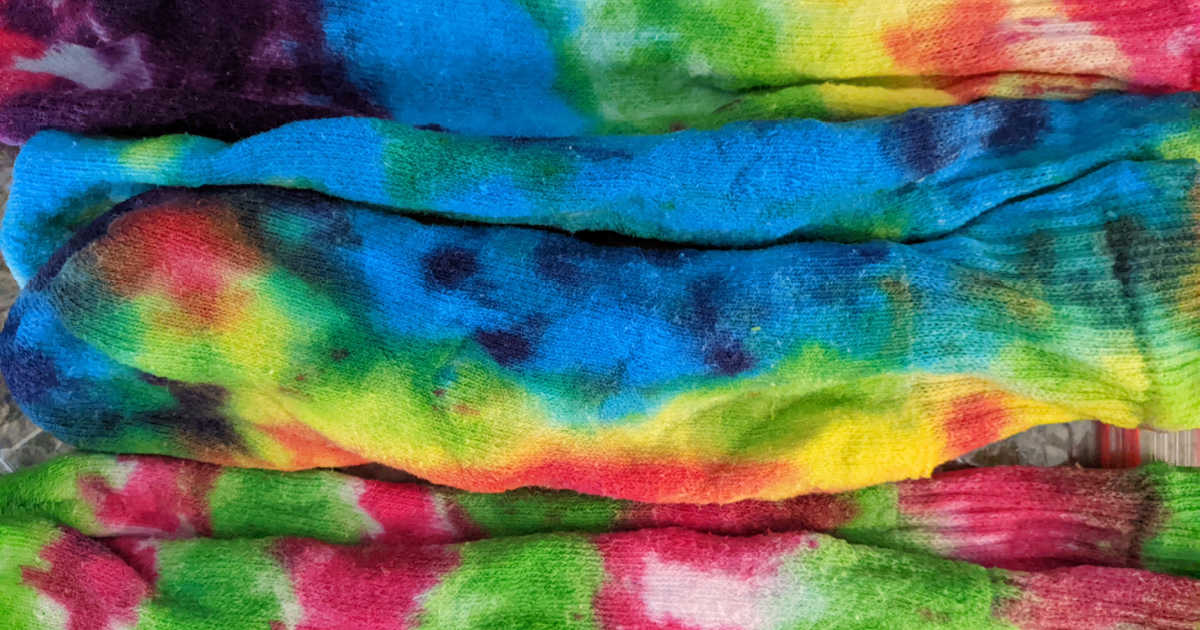 What To Tie Dye
You can have fun and get creative, when you are choosing what to tie dye.
100% cotton is best, since it absorbs the dye well and looks great.
Other natural fibers like silk and wool can work, too, but will probably cost more than cotton.
Avoid blends and man-made fibers like polyester, lycra and acrylic, since they won't absorb the colors.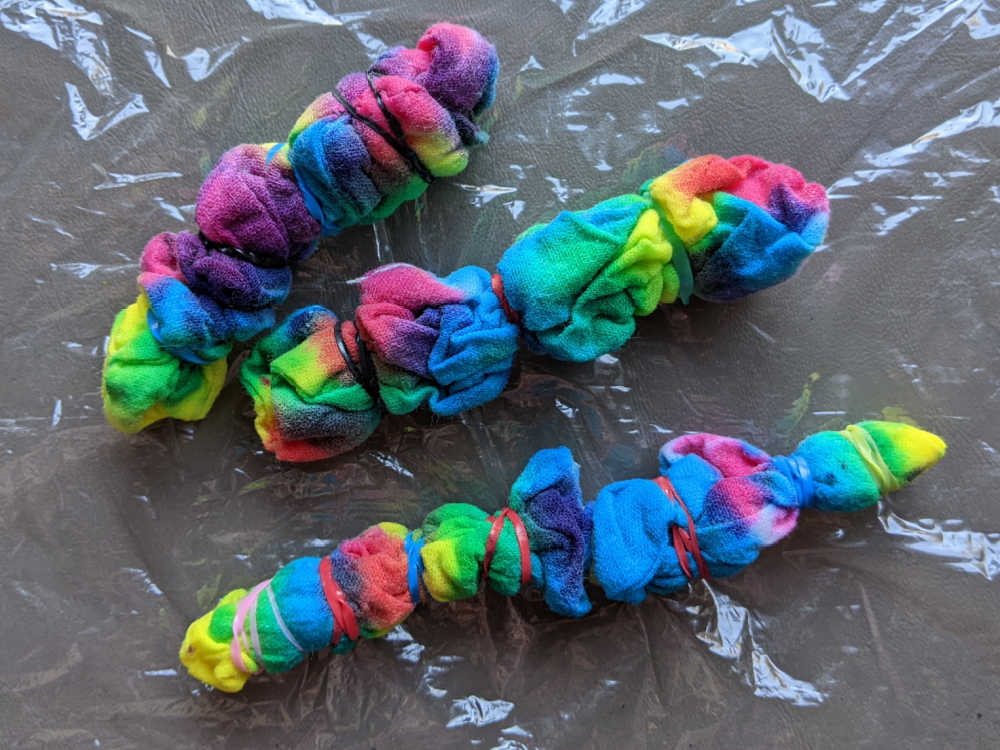 Inexpensive white cotton scrunchies are a perfect little accessory to tie dye and give as gifts.
It is quick to make them, since they are small.
This is a great choice, when you want to make a lot of little gifts.
They are an easy project for beginners, so even children and first-time tie dyers can get great results.
Multi-packs of 100% cotton scrunchies are available at a great low price on Amazon.
Choose packs that contain all scrunchies or ones that are a mix of scrunchies and headbands.
Some sets even include small rubber bands to use, when you are dying them.

Kitchen Towels
Tie dyed kitchen towels add a fun pop of color to any kitchen and they can be used regularly, so they make a great homemade gift.
100% cotton flour sack towels absorb the dye well and will still look good after repeated washing.
A thick kitchen towel that is 100% cotton will also take the dye, but will take a LOT of dye since it is so absorbent.
I prefer to use flour sack towels that don't leave lint on my glassware and dishes, but also think they look extra nice when tie dyed.
Use whichever style of white cotton kitchen towels you prefer, but be prepared with extra dye for thick towels.

Bath or Beach Towels
Turkish towels are fantastic for tie dye.
These 100% cotton towels are much thinner than a 'regular' batch towel, but they absorb water after a shower or swim just fine.
When dry, they can double as a beach blanket or a wrap to cover up from the sun or keep warm when the sun starts to go down.
The Turkish towels are available at good prices in a few different sizes.
I got the larger beach towel size for us to use as bath towels at home instead of the standard bath towel size.
If you'd like to step outside the box, the bath or beach towels can also be used as a table cloth and the hand towels can be used as a table runner.

Bandanas
Tie dyed bandanas look great as fashion accessories and can be used for other purposes, too.
A set of bandanas can be used as eco-friendly reusable napkins around the dinner table or can be packed in lunch boxes.
We also use bandanas as reusable gift wrap for family birthday and holiday gifts.
Bandanas are generally 100% cotton, but check the label just to make sure.
Purchase plain solid white bandanas or white ones with a traditional black paisley print on them.
Either way, the tie dyed bandanas will look great.

Socks
Tie dye socks are fun to wear at home around the house or with your favorite sneakers.
However, socks are not like other things that you will want to tie dye.
Socks are stretchy, so they are typically made with lycra or other material that doesn't dye well.
Look for white socks with as much cotton in them as you can find.
The crew socks I used were 58% cotton and they look nice, but the colors aren't as vivid as other items.
Also, it takes a lot of dye to soak into thick socks, since the fabric wants to repel the dye.
It took a little extra work to "massage" the dye into the socks.
Yes, they look great and my family loves their socks, but plan on spending a few extra minutes and using a lot of dye.

T-Shirts
Yes, everyone can use at least one tie dye t-shirt in their wardrobe.
Look for 100% cotton shirts, instead of tees that are a stretchy blend that isn't all cotton.
The cotton t-shirts are typically available in budget friendly multi-packs, so are a great way to save money and make a lot of gifts.
Choose from crew-necks, v-necks and tank tops to make custom clothing that is one of a kind.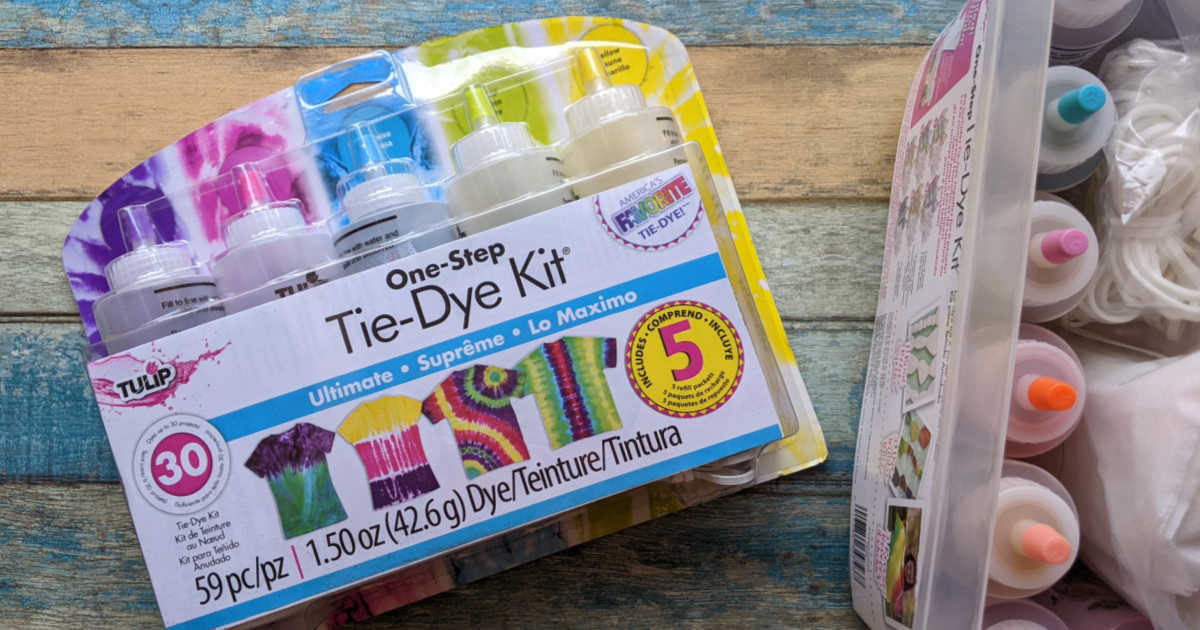 When I first tie dyed t-shirts decades ago, I used boxes of dye that I mixed in big buckets and tubs to dip the shirts into the dye.
It was fun, but it was a mess and the designs didn't always look the way I wanted.
This time I used Tulip One Step Tie Dye Kits and the whole process was easy and fun.
The kits include the basics you'll need to complete your tie dye craft projects.
Instead of mixing dye in buckets, you add water to little squirt bottles that are pre-filled with dye powder.
Then you can squirt the dye right where you want it and clean up is a breeze.
Check out the available kits and choose the colors you like.
Many of them include extras, so see what they have and know what else you need to get.
Colorful Dye in Squirt Bottles
Rubber Bands
Gloves
Plastic Table Covering
Cookie Cooling Rack (or other metal rack to keep your project up off the table while you work)
Saran Wrap (to wrap up your project while the colors set before you remove the rubberbands)

Tips for Good Tie Dye Results
Where To Tie Dye
Tie dye can be messy, even if you think you can be neat.
Add kids into the mix and there are bound to be some accidental spills.
Set up outside, if that's an option.
Then you'll be able to have fun without stressing about your floor getting some color added to it.
Cover Your Table
Use a plastic table cloth to protect your table.
Then when you are done crafting, you can carefully roll it up and toss it in the trash.
Many of the Tulip kits include a tablecloth or you can use another one.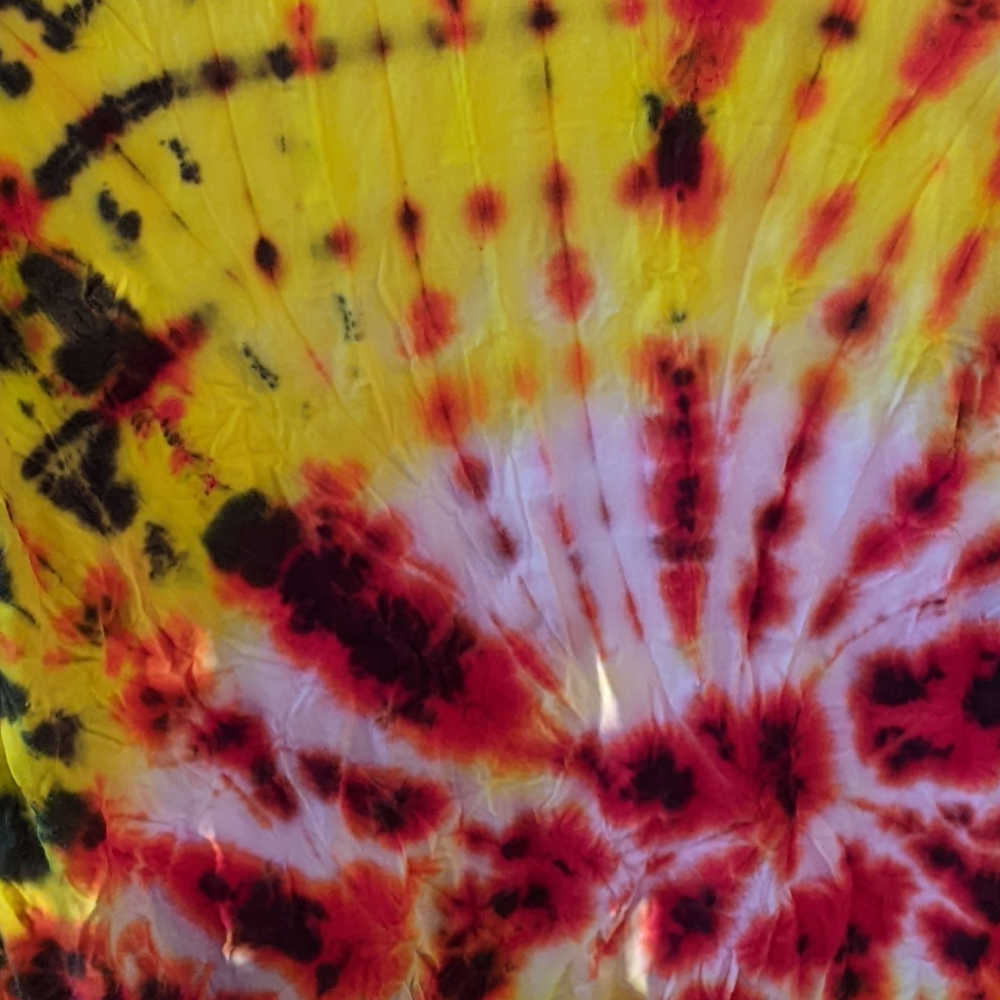 Use Gloves
Kits have gloves included.
Use them or other gloves that you have.
Dye will wash off in a day or so, if you don't use gloves.
However, gloves are a great way to keep clean while you dye.
Anything Goes
Be creative and have fun!
Do whatever you want with the colors and twist, roll and tie them up however you'd like.
Then it will be a fun surprise to unwrap what you've made to see how amazing your tie dye looks.
Have fun when you make tie dye gifts and, of course, enjoy giving the presents to your friends and family.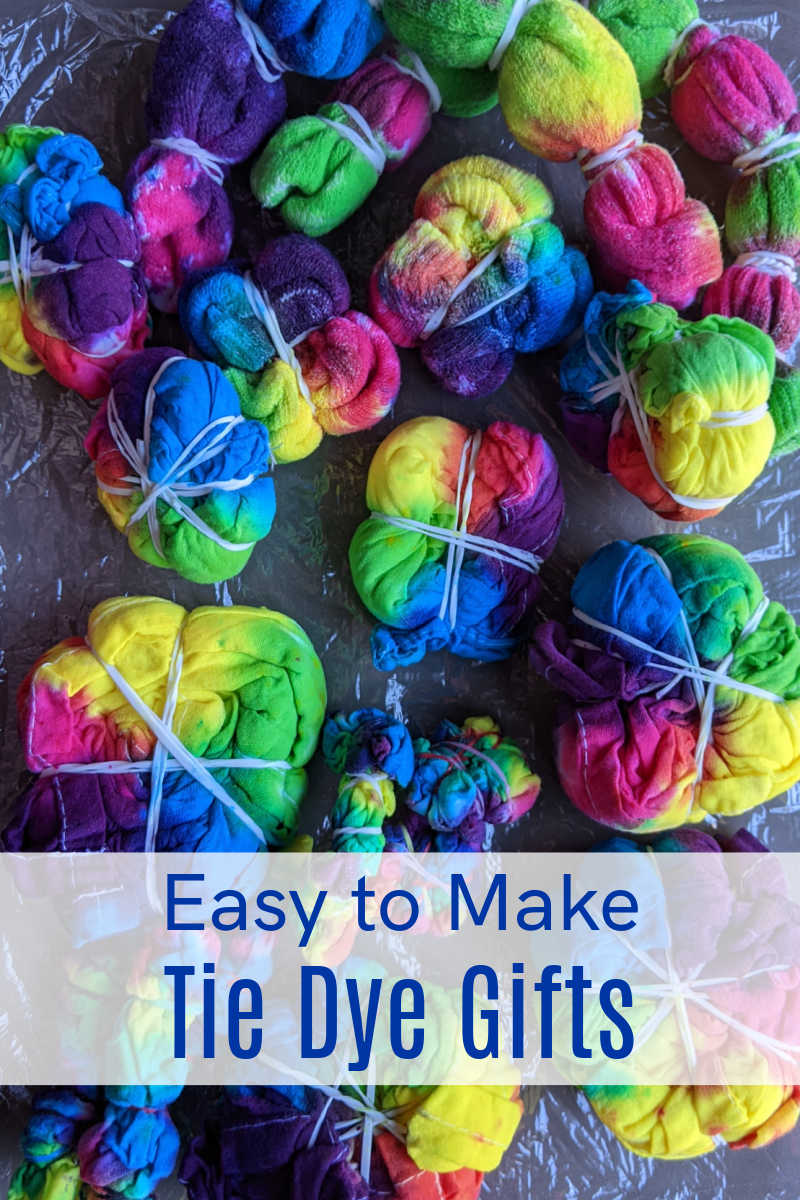 More from Mama Likes This
Take a look at my entertainment articles, so you can keep up with the latest TV, movie and book news.
Also, check out my free printables, when you are looking for fun activities to do at home.
Some are educational, but others are just plain fun.
There are coloring pages, crafts, word puzzles, mazes, memory games and, also, many other family friendly activities.
Rainbow Crafts
Shopping Deals
For great deals on a beautiful assortment of gifts and necessities for adults, teens, kids and babies, check out these online stores.
What will you buy first?