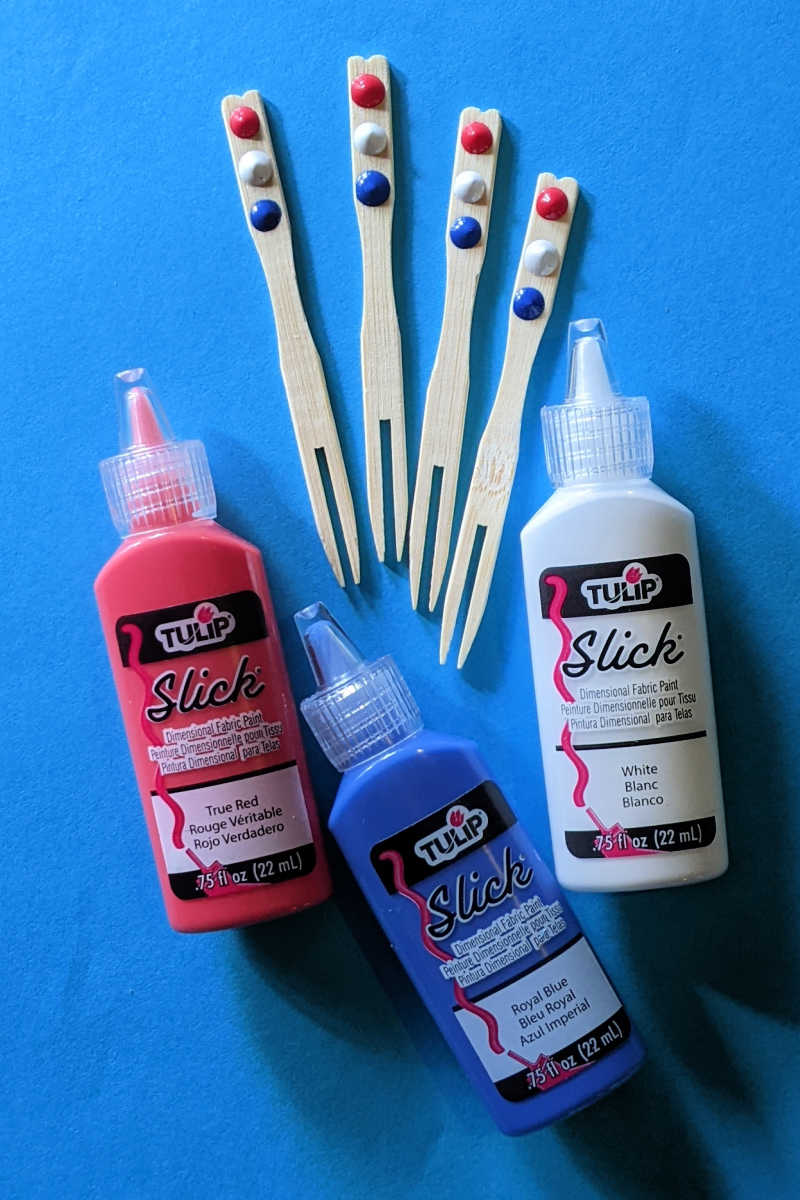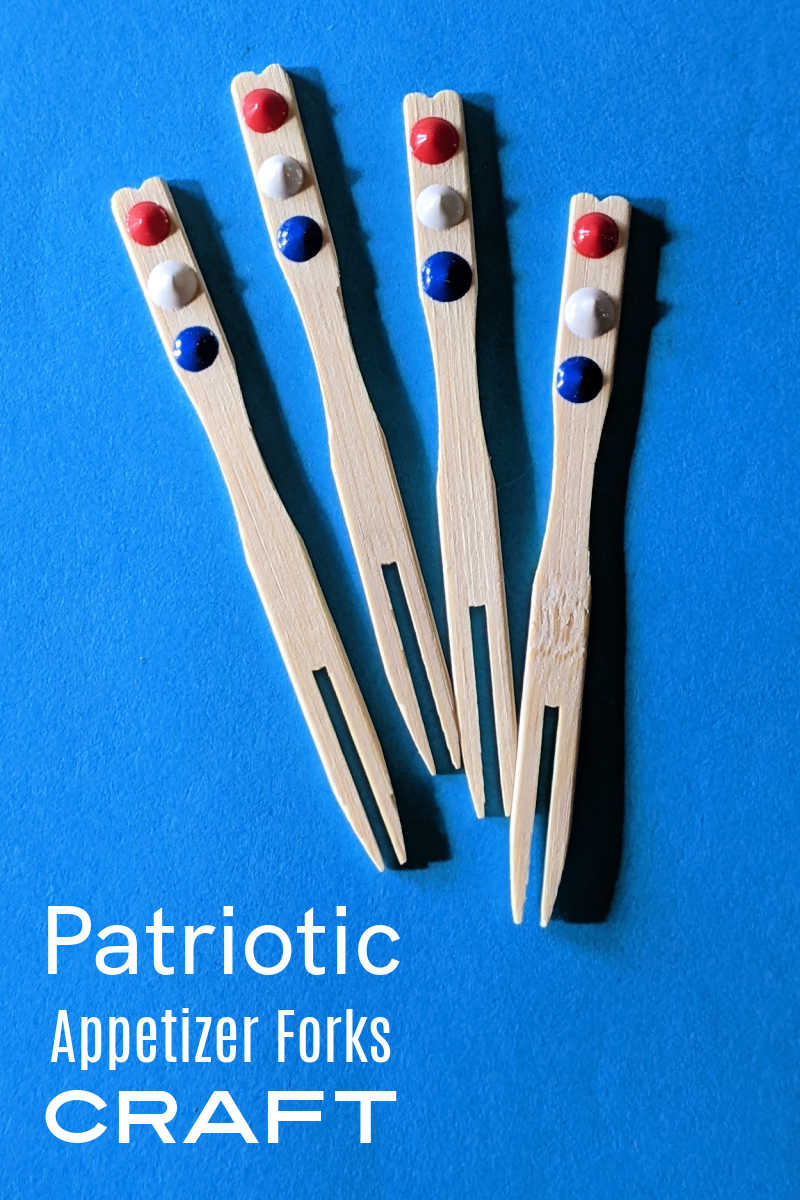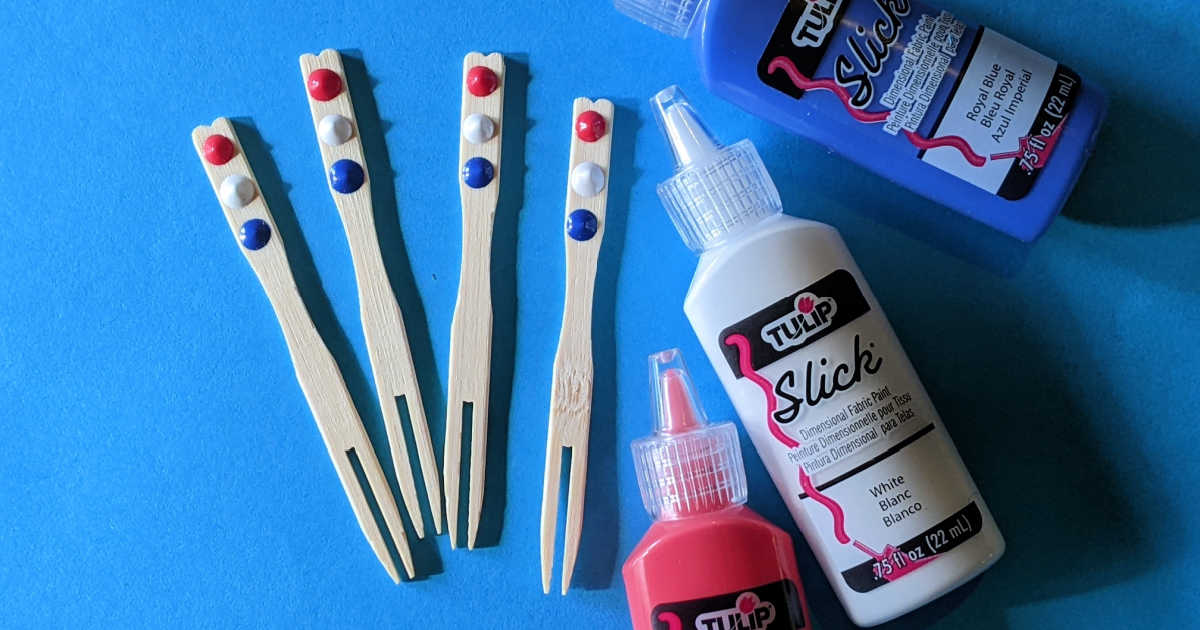 Celebrate the Fourth of July with this easy and festive painted patriotic appetizer fork craft!
Made with bamboo party forks and Tulip Dimensional Paint, these patriotic forks are perfect for serving cheese, fruit, and other appetizers at your next party.
Plus, they're so easy to make, even the kids can help!
The paint needs time to dry, so make these festive picks ahead of time instead of waiting for the last minute on party day.
These patriotic forks are a fun and easy way to add a festive touch to your Fourth of July party.
They're also a great way to get the kids involved in the festivities.
So gather up some bamboo party forks, some Tulip Dimensional Paint, and let's get started!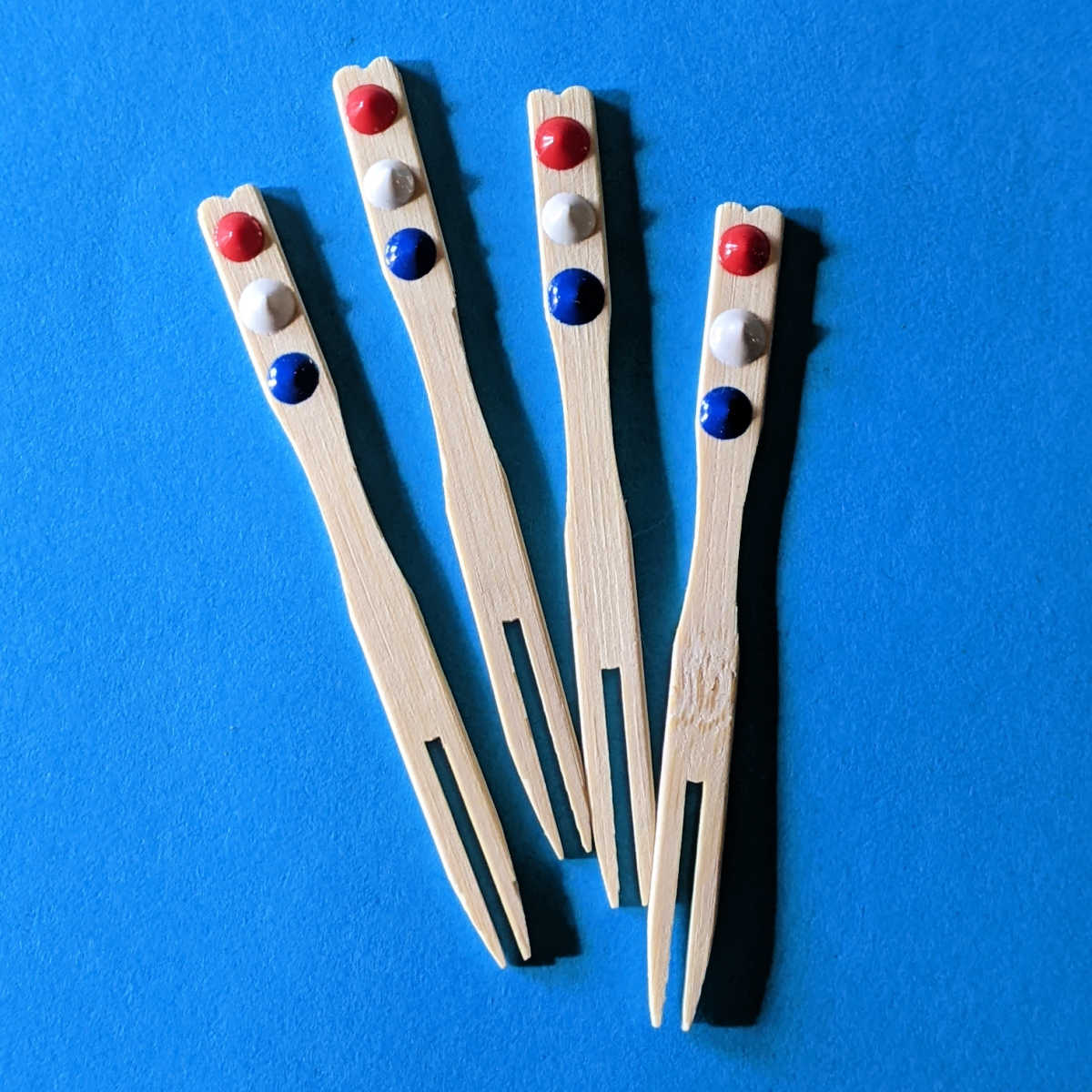 Bamboo Appetizer Forks
Bamboo appetizer forks are a great way to serve your guests appetizers at your next party.
They are inexpensive, useful, and look great.
The bamboo forks are made of durable bamboo and have a blunt end so they are safe for kids to use.
They are also disposable, so you don't have to worry about washing them after the party.
Bamboo appetizer forks are perfect for serving a variety of appetizers, such as cheese, fruit, and crackers.
They are also great for serving finger foods, such as chicken nuggets and meatballs.
Also, bamboo is a sustainable material, and it is biodegradable.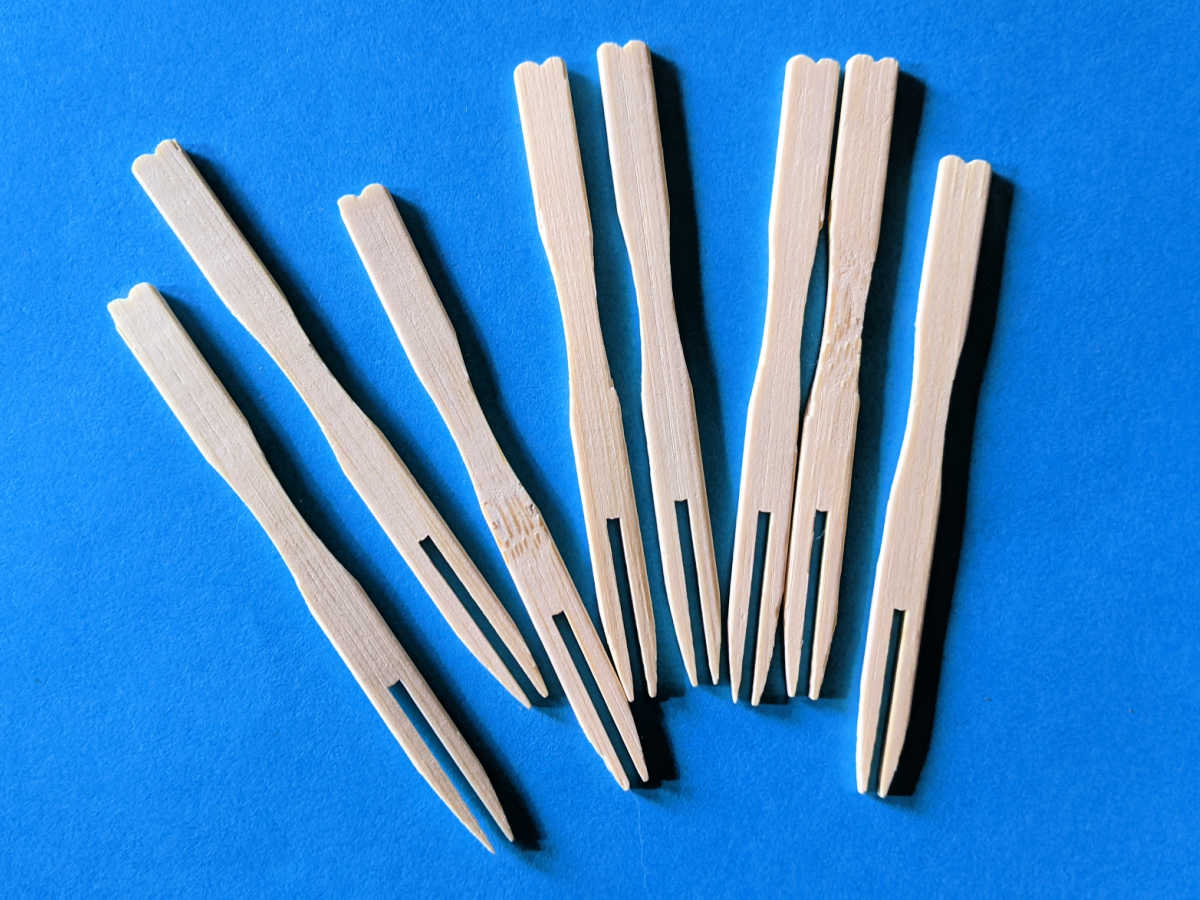 These appetizer forks were painted with Tulip Dimensional Paint, which has a glossy finish that appears wet even after it dries.
Tulip is my go-to brand for paint and other colorful craft supplies.
For this patriotic craft, I used paints from the Rainbow & Neon Dimensional Fabric Paint Pack, which includes red, white, and blue paint.
The paints are ideal for use on fabric, of course, but they also work well on bamboo and other surfaces.
The paints have screw-on lids and a pointed tip that makes it simple to apply paint directly to the party forks.
You will not need a paintbrush, as you can just squeeze the paint onto the wood.
If you are cautious, this can be a virtually mess-free paint project.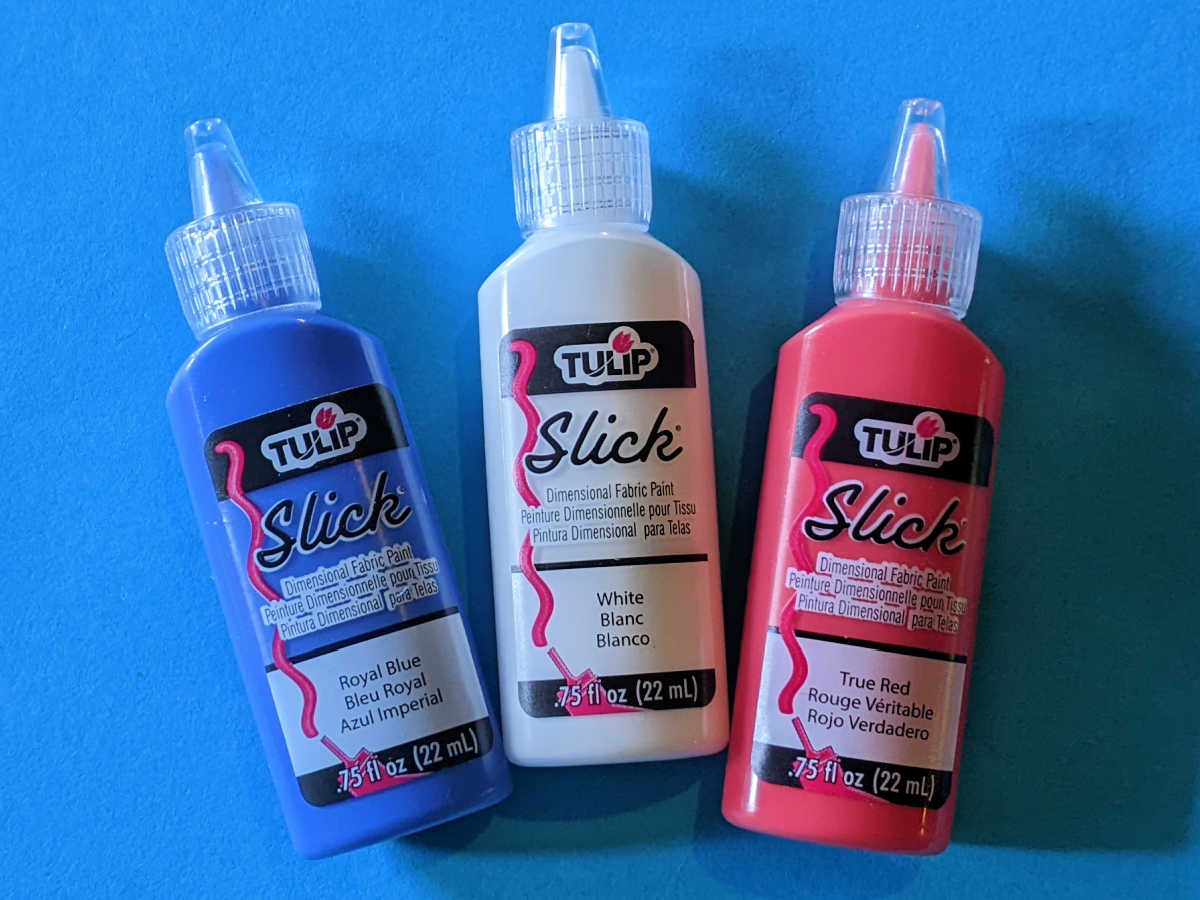 Red, White and Blue
The colors red, white, and blue are often used in flags and to represent sports teams around the world.
These colors are associated with patriotism, freedom, and democracy.
Red is often associated with blood, courage, and sacrifice.
White is often associated with purity, cleanliness, and peace.
Blue is often associated with the sky, the sea, and loyalty.
The combination of red, white, and blue is often used to represent unity and strength.
It is a powerful symbol that has been used by countries and organizations for centuries.
The United States of America is one of the most well-known countries that uses the colors red, white, and blue in its flag.
However, there are many other countries that also use these colors in their flags, including the United Kingdom, Australia, France, Russia, North Korea, Thailand, Costa Rica, Cuba, the Netherlands, and many more.
There are also many sports teams that use the colors red, white, and blue in their uniforms.
The colors red, white, and blue are a powerful symbol that represents many positive values.
I encourage you to try this craft and see how simple it is to create festive patriotic forks for a party.
The dimensional paint is available online, and the diy craft instructions are simple to follow.
So what are you waiting for? Get started on your patriotic craft today!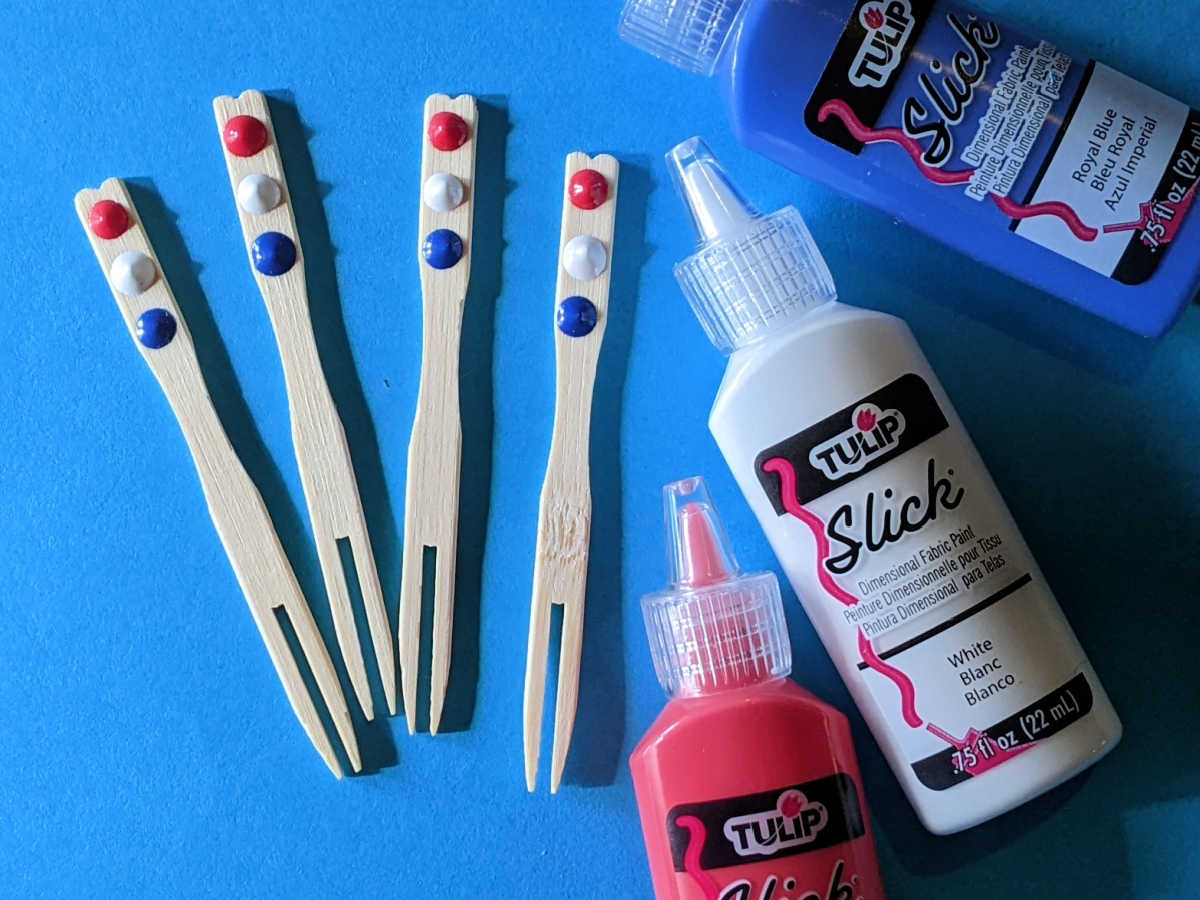 Painted Patriotic Appetizer Forks Craft
Supplies / Materials
Bamboo Party Forks
Tulip Dimensional Paint (Red, White and Blue)
Tools/Equipment
None
Instructions
1) Gather your supplies and make a basic plan for your patriotic appetizer forks. Yours can be three simple dots like mine or you can make another type of pattern with the red, white and blue paint.
2) Add red, white and blue paint dots to a bamboo party fork. Decorate as many as you'd like.
3) Let the paint thoroughly dry and then use your patriotic party picks to serve appetizers for the 4th of July or another holiday. If the weather is hot and dry, paint will dry more quickly. If it is cold and wet, drying does take longer. Plan appropriately.
4) Enjoy food and fun as you celebrate!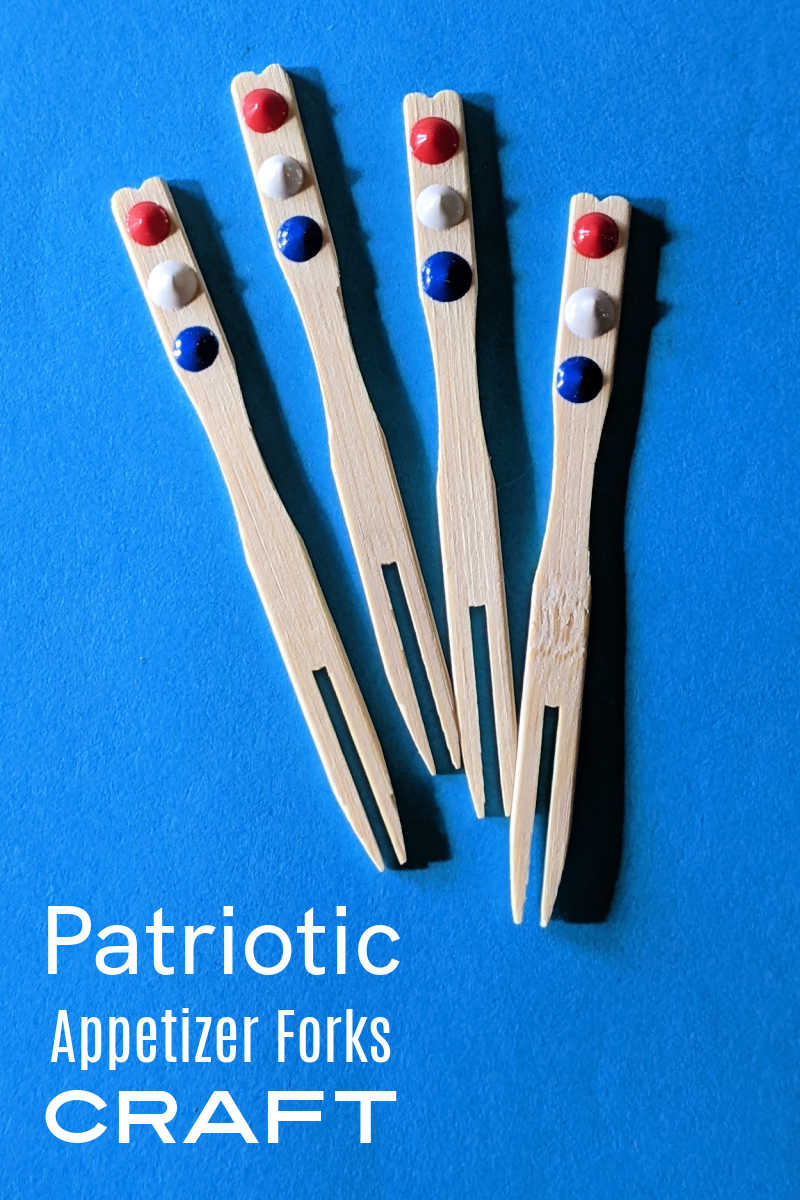 More from Mama Likes This
Take a look at my entertainment articles, so you can keep up with the latest TV, movie and book news.
Appetizer Fork Crafts
Crafts Made with Tulip Paints and Dyes
Patriotic Crafts
Patriotic Printables
Free Printable Activity Pages
Check out my free printables, when you are looking for fun activities to do at home.
Many are from Disney, Netflix and Shout Factory, so they feature movies, TV series and characters that your kids already know and love.
Some are educational, but others are just plain fun.
There are coloring pages, crafts, word puzzles, mazes, memory games and many other family friendly activities.
Shop Now
Check out the latest online deals, so you can save money and pick out some great products for yourself and your family.
What will you buy first?