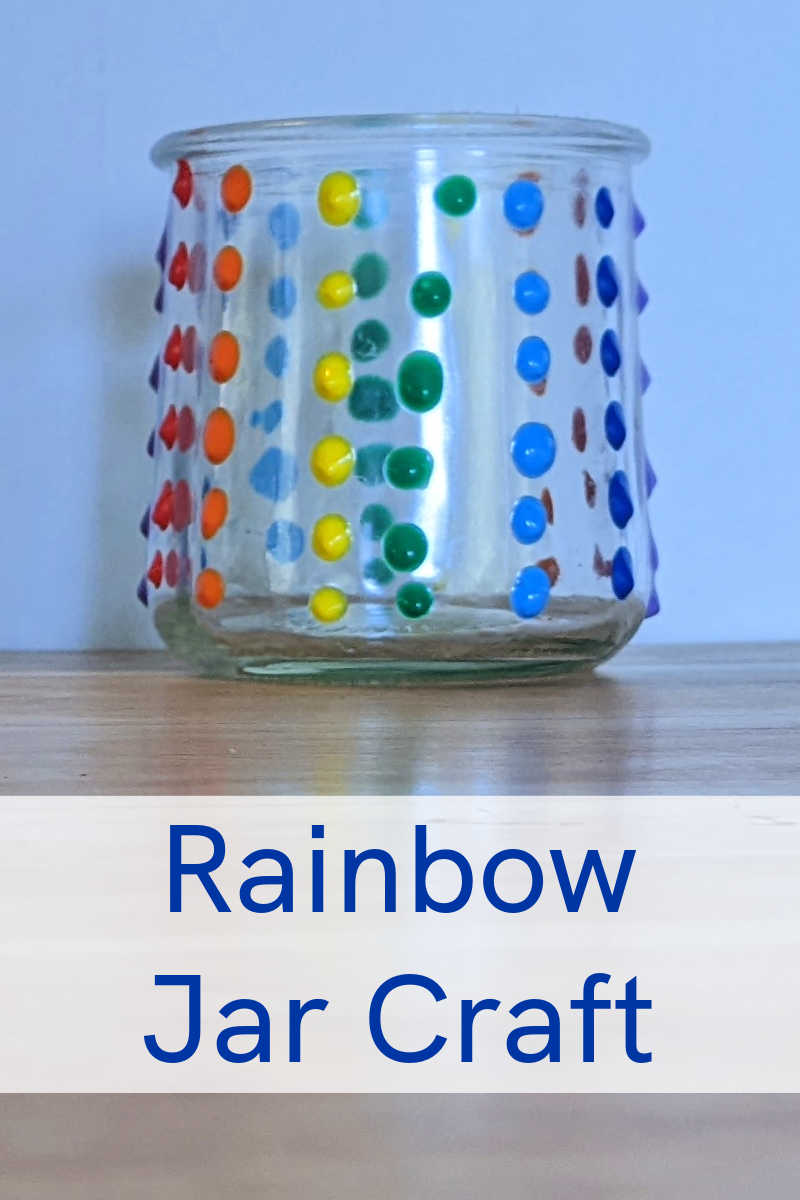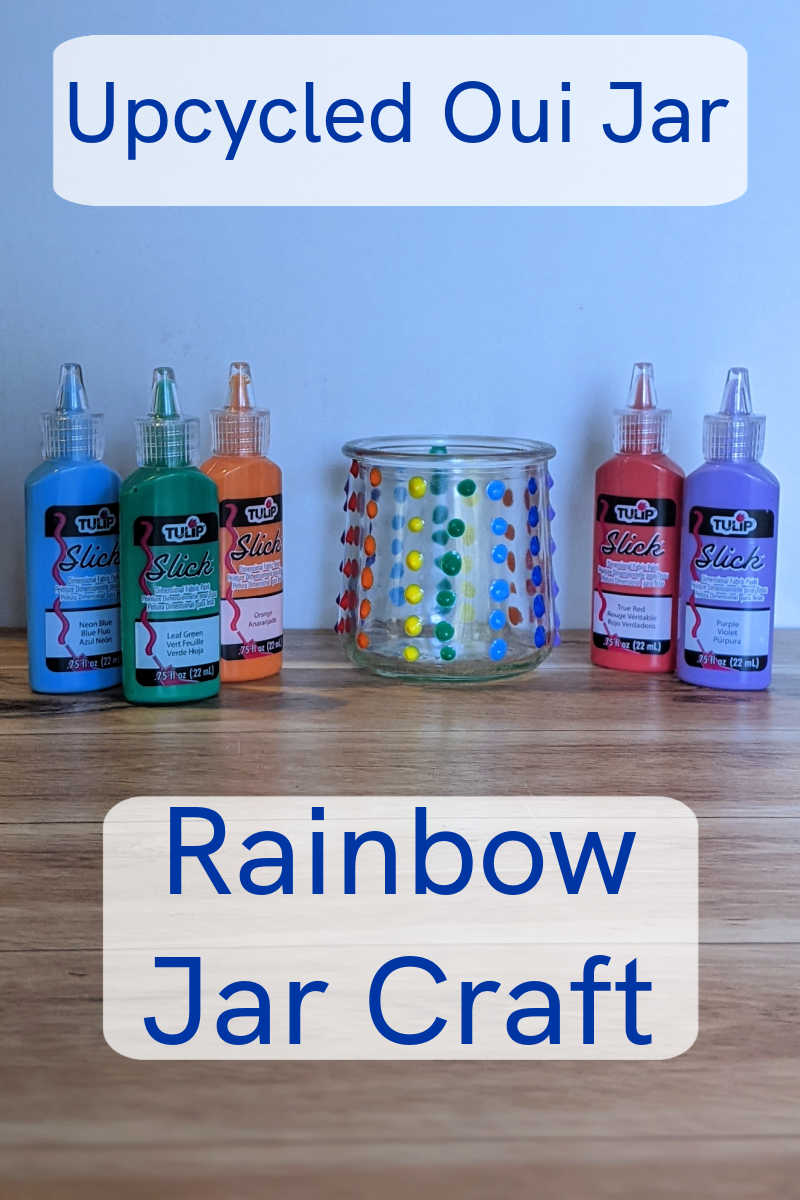 How to Upcycle a Jar with Rainbow Colored Tulip Paints
Make this upcycled rainbow painted jar craft to repurpose an empty glass Oui Yogurt jar by turning it into something useful and beautiful.
Dimensional paints are easy to use to create a rainbow colored pattern like mine or something unique that you design yourself.
Make a jar to keep yourself or give as a gift or make a whole bunch of them.
It's fun to turn "trash" into something pretty!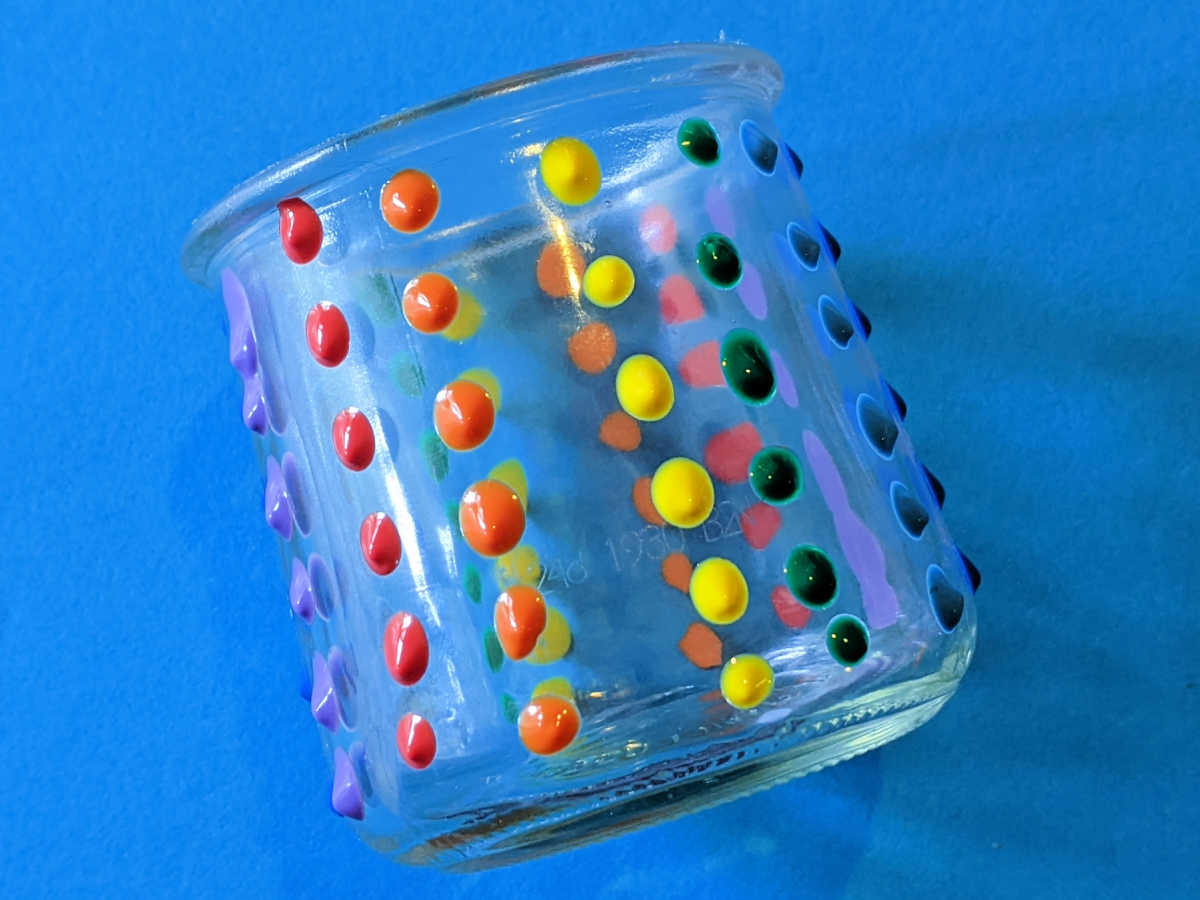 Oui Yogurt Jars
I enjoy eating yogurt and trying out new brands and new flavors, but I know I'm not the only one who first tried Oui because of the cute glass jars.
The yogurt is good, but these little jars are much too cute to be tossed in with the recycling.
If you don't have a Oui Yogurt jar, you can rescue another jar or bottle that is destined for the recycle bin.
Petit Pot Pudding comes in similar jars that would also work for this craft.
And if you are planning decorations for an event or party where you need a lot of matching jars, you can purchase different shapes and sizes of jars to suit your decor needs.
Rainbow Colors
Are you familiar with ROYGBIV?
This acronym is how many of us learned the proper order for the colors in a rainbow.
Red
Orange
Yellow
Green
Blue
Indigo
Violet
These colors are all pretty and they are even more beautiful when they are together in a real life rainbow or when used in a rainbow craft.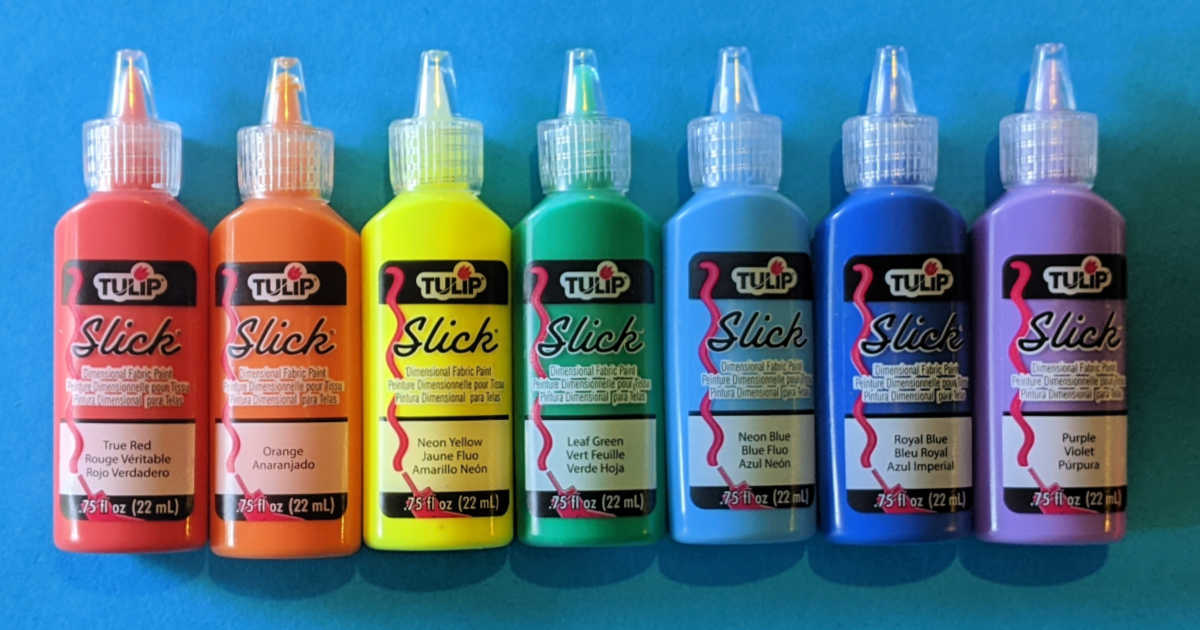 Tulip is my go to brand for paint and other colorful craft supplies.
For this project I used paints from the Rainbow & Neon Dimensional Fabric Paint Pack.
The paints are good for using on fabric, of course.
However, they also work very well on glass, wood and other surfaces.
The paints have screw on lids and a pointed tip that makes it easy to apply paint directly to the jar.
You won't need a paint brush, since you can just squeeze the paint onto your jar.
If you are careful, this can be a virtually mess free paint project.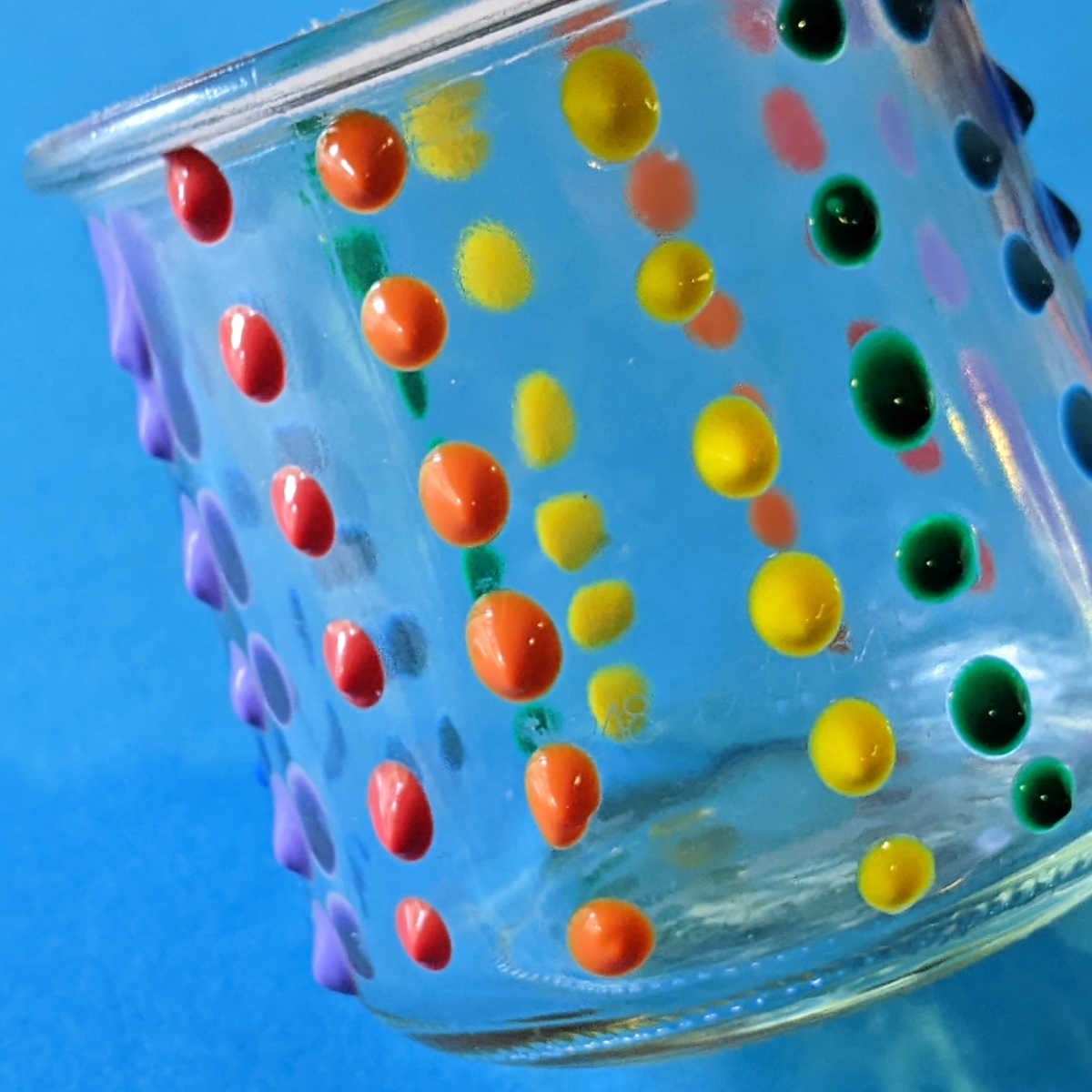 How to Use an Upcycled Oui Yogurt Jar
You can do whatever you want with your upcycled Oui jar craft including
Add a votive candle or LED votive to the jar to turn it into a decorative light
Use is as table decor for a party or event
Fill it with water and add little flowers to turn it into a vase
Use the jar to store loose change, paper clips or other small items
What will you do with your rainbow painted jar?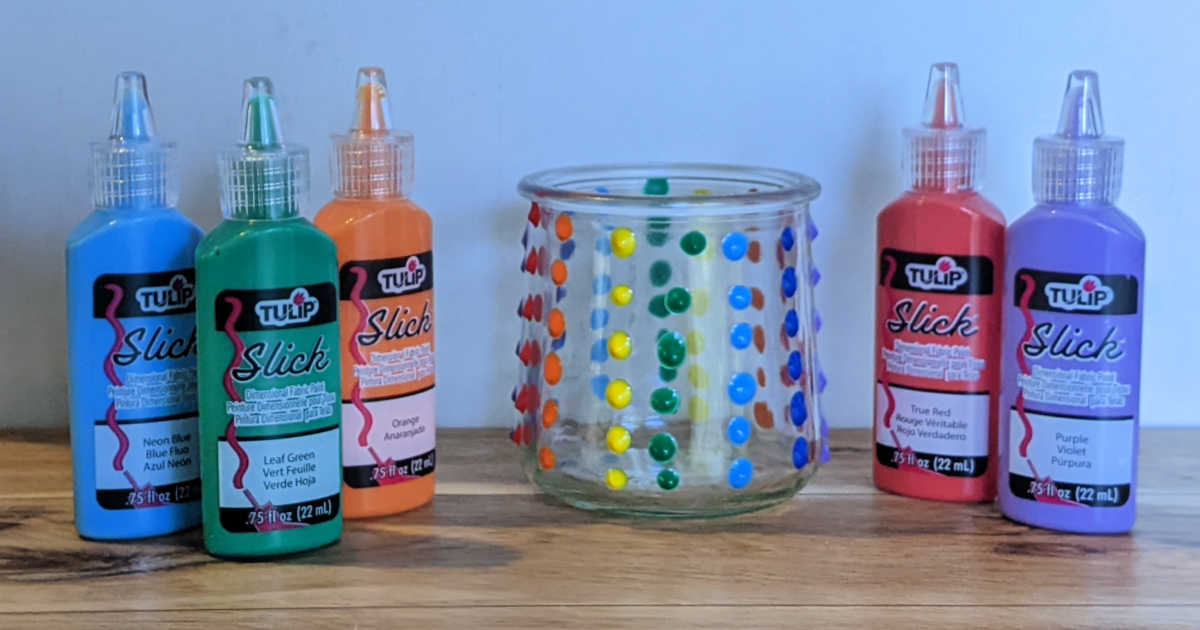 Upcycled Oui Yogurt Jar Rainbow Painted Jar Craft
Supplies / Materials
Oui Yogurt Jar
Tulip Dimensional Paint (Red, Orange, Yellow, Green, Blue, Indigo, Violet)
Tools/Equipment
None
Instructions
1) Wash and dry your glass Oui Yogurt jar.
2) Arrange your paint bottles in rainbow color order and make a basic plan for your dot design. Yours can be just like mine, a different pattern or just randomly placed dots around the outside of the jar.
3) To make a design like mine, start with a vertical row of red dots going down one side of the jar. Then make another identical row on the opposite side of the glass.
4) Do the same with orange dots next to both rows of red dots.
5) Repeat with the rest of the rainbow colors until you complete the circle around the jar. As you are working, pay attention to how many more colors need to fit in the remaining space. Measure it out, if you'd like to be precise. Or just estimate, if you are fine with having your handmade upcycled painted jar look handmade.
6) Let the paint thoroughly dry and then use your rainbow jar however you would like. If the weather is hot and dry, paint will dry more quickly. If it is cold and wet, drying does take longer.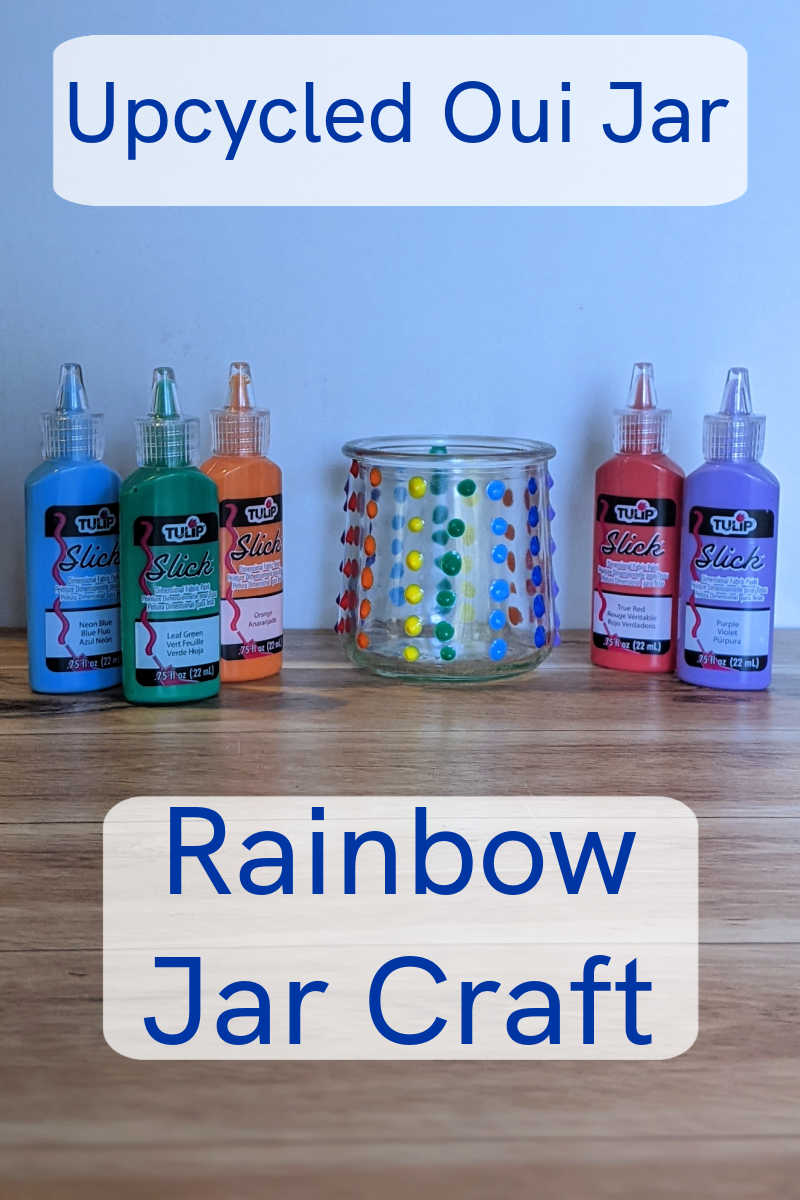 More from Mama Likes This
Take a look at my entertainment articles, so you can keep up with the latest TV, movie and book news.
Rainbow Crafts
Free Printable Activity Pages
Check out my free printables, when you are looking for fun activities to do at home.
Many are from Disney, Netflix and Shout Factory, so they feature movies, TV series and characters that your kids already know and love.
Some are educational, but others are just plain fun.
There are coloring pages, crafts, word puzzles, mazes, memory games and many other family friendly activities.
Shop Now
Check out the latest online deals, so you can save money and pick out some great products for yourself and your family.
What will you buy first?