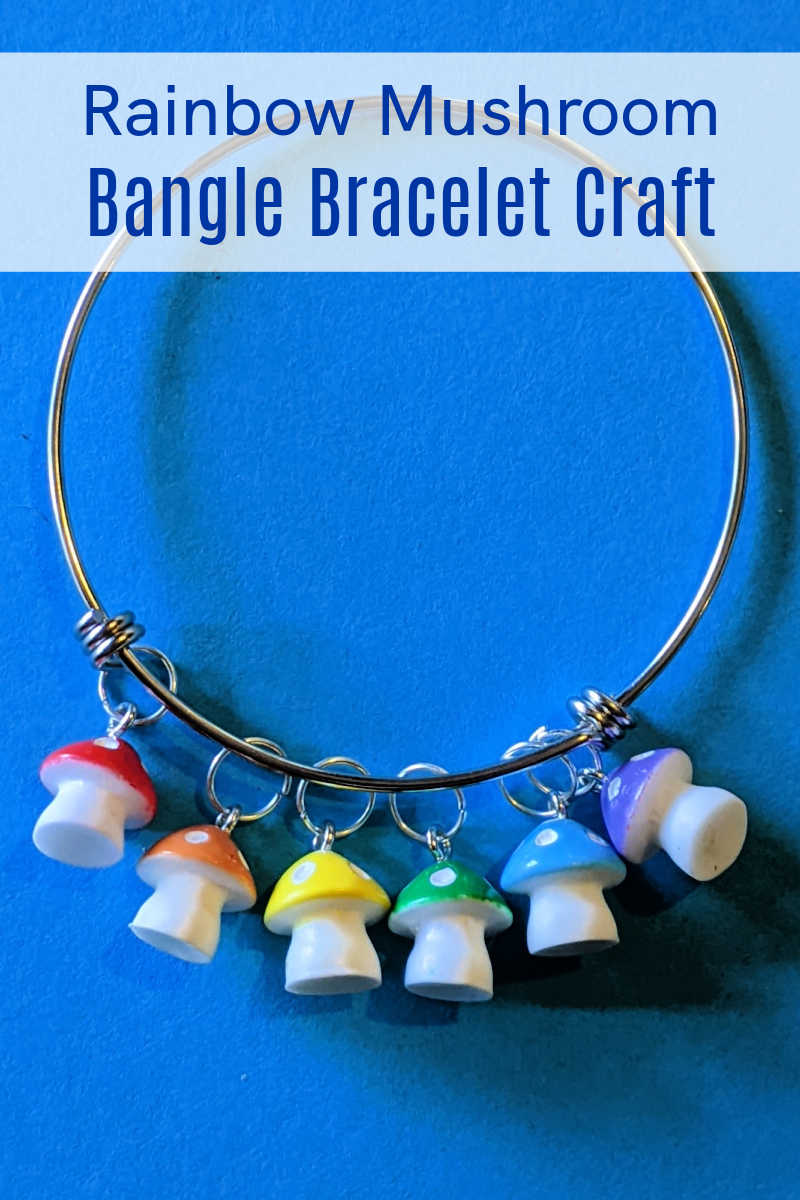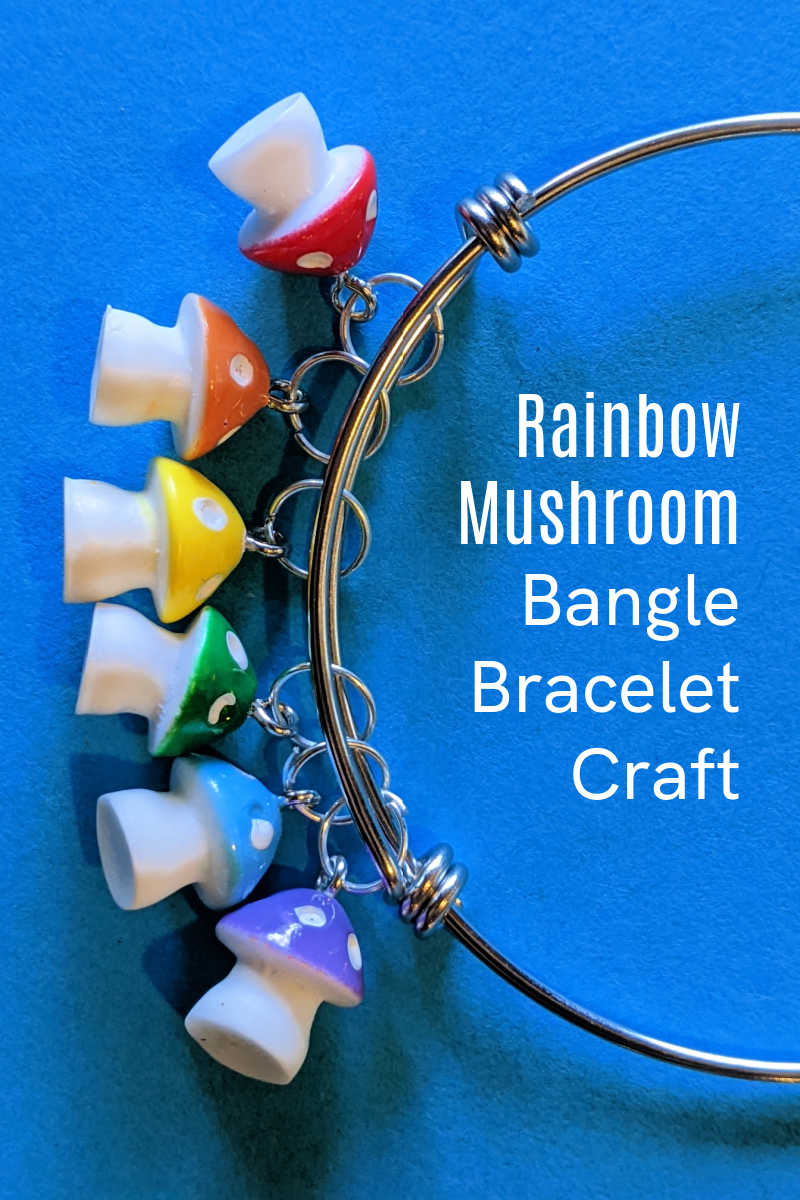 How to Make a Rainbow Mushroom Charm Bracelet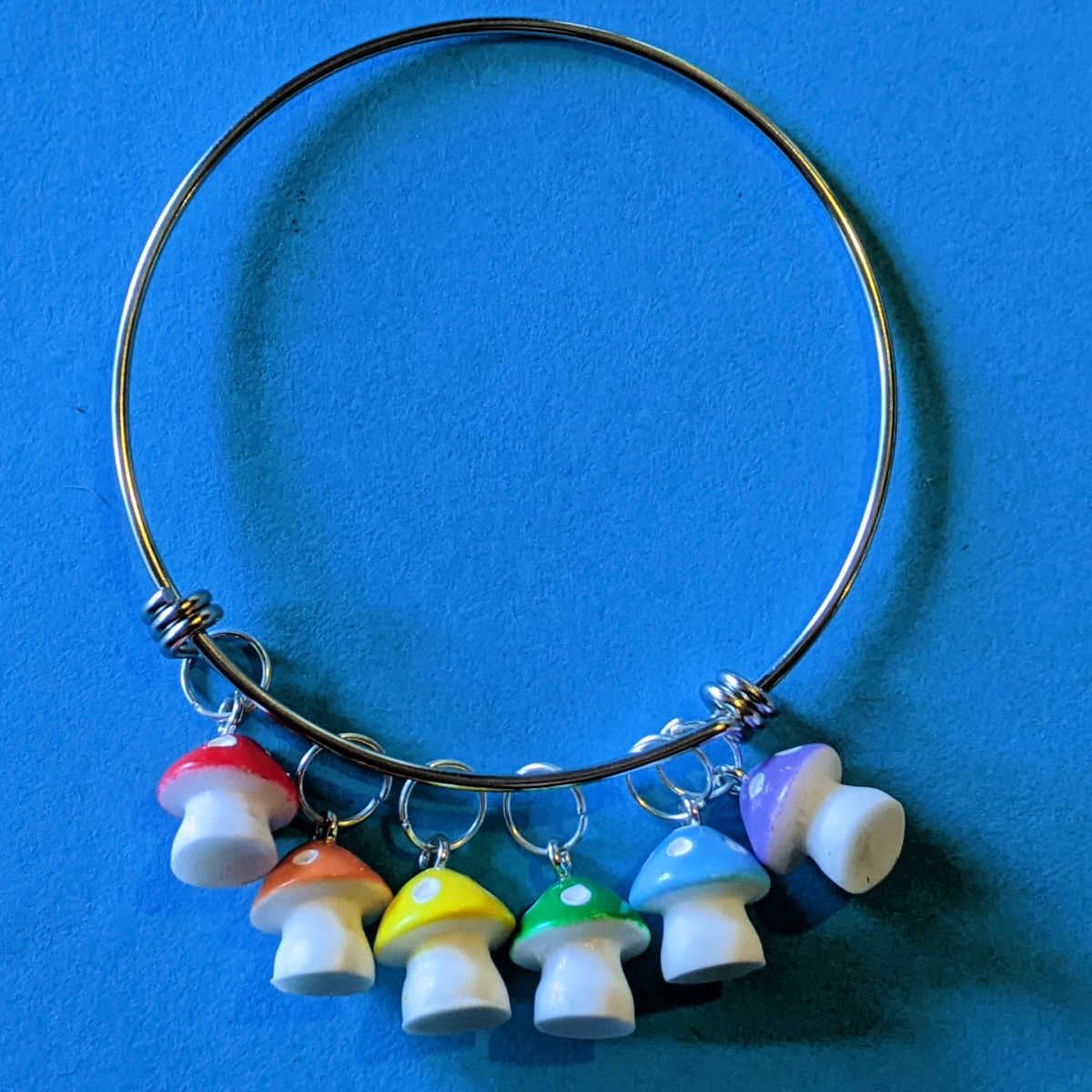 This cute rainbow mushroom bangle bracelet craft is fun to make and easy enough for a jewelry making beginner.
I love wearing bracelets and these magic mushrooms are just too cute!
It makes me happy to wear the charm bracelet and it is so fun to be able to tell people that I made it myself.
Make a bracelet for yourself or give it as a gift to a friend or family member.
The supplies are budget friendly, so it's a great jewelry making craft for a group activity in a classroom or at a party.
You could also make a nice profit selling the rainbow bangles at a craft fair.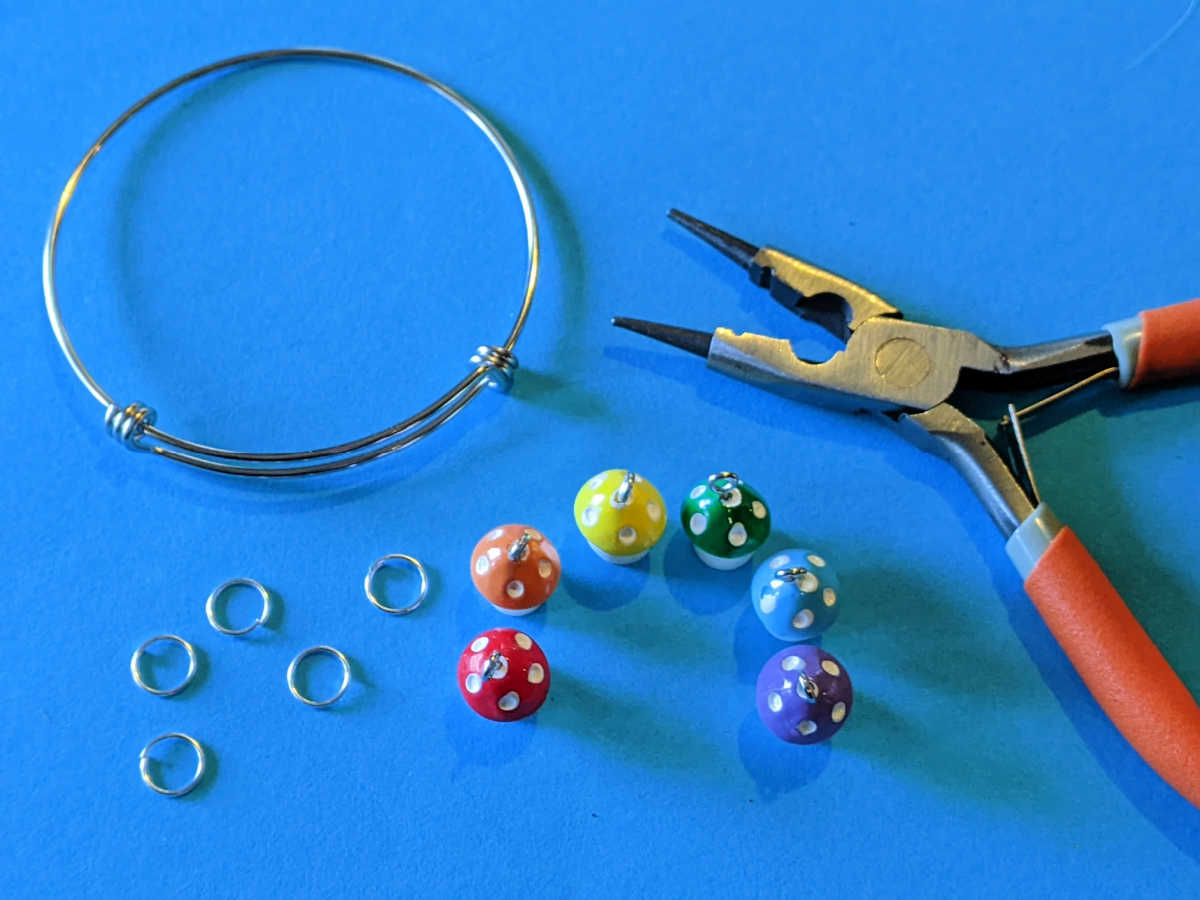 Are Mushrooms Trendy?
Yes! And this is a trend that I am here for.
Mushrooms are very popular for jewelry, clothing, crafts and home decor.
The fungi are good for gardeners and foodies who enjoy growing or eating mushrooms.
Fans of fantasy and fairy tale books, movies and TV shows like mushrooms, too.
A fairy can live in a mushroom house, Hobbits like mushrooms and Alice in Wonderland enjoys magic mushrooms.
Most importantly, mushrooms are really cute!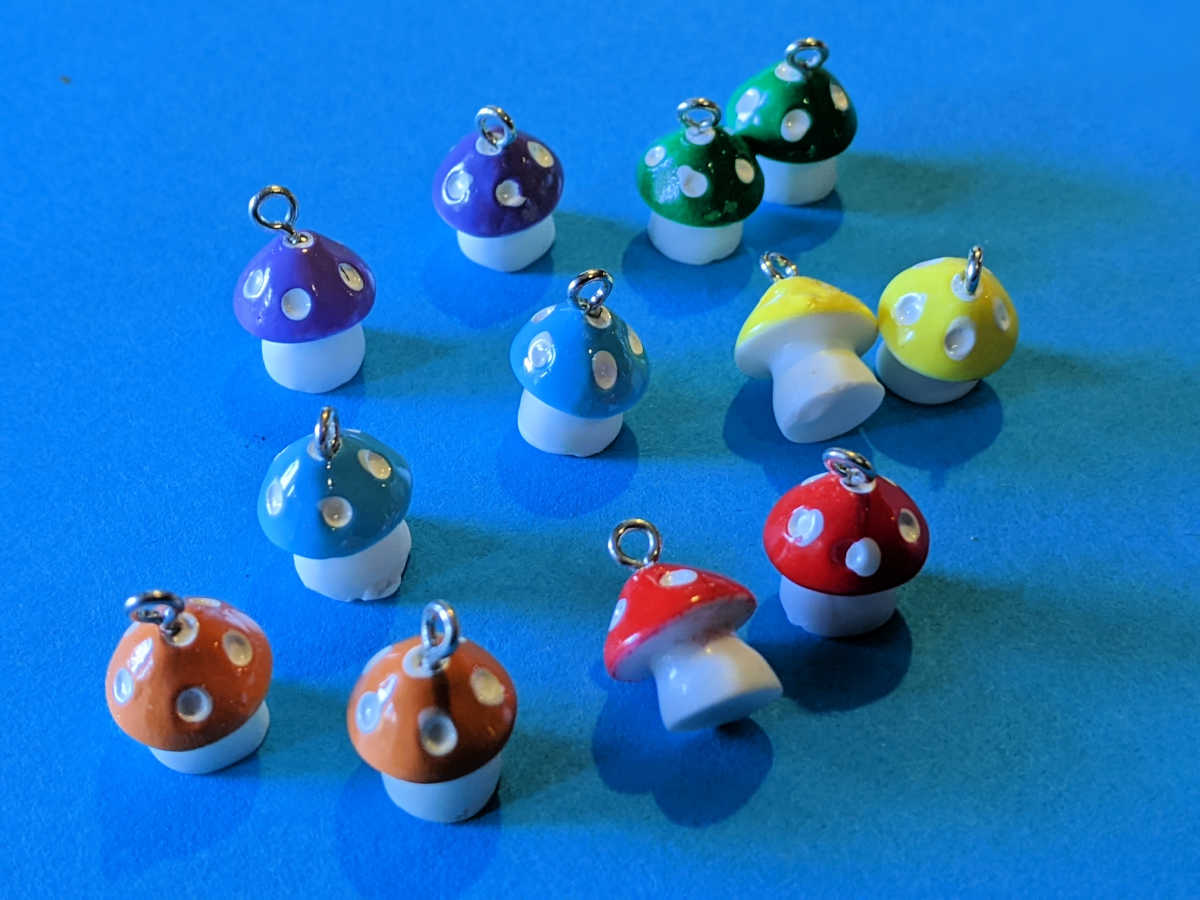 Resin Mushroom Charms
These little mushroom charms are adorable!
I used three dimensional resin mushroom charms in rainbow colors for the mushroom bangle bracelet, since they look super cute from all directions.
These mushrooms have rounded caps, but you may like others that have more of a pointed cap.
The charms are packaged with all of the magical colors and others in one set.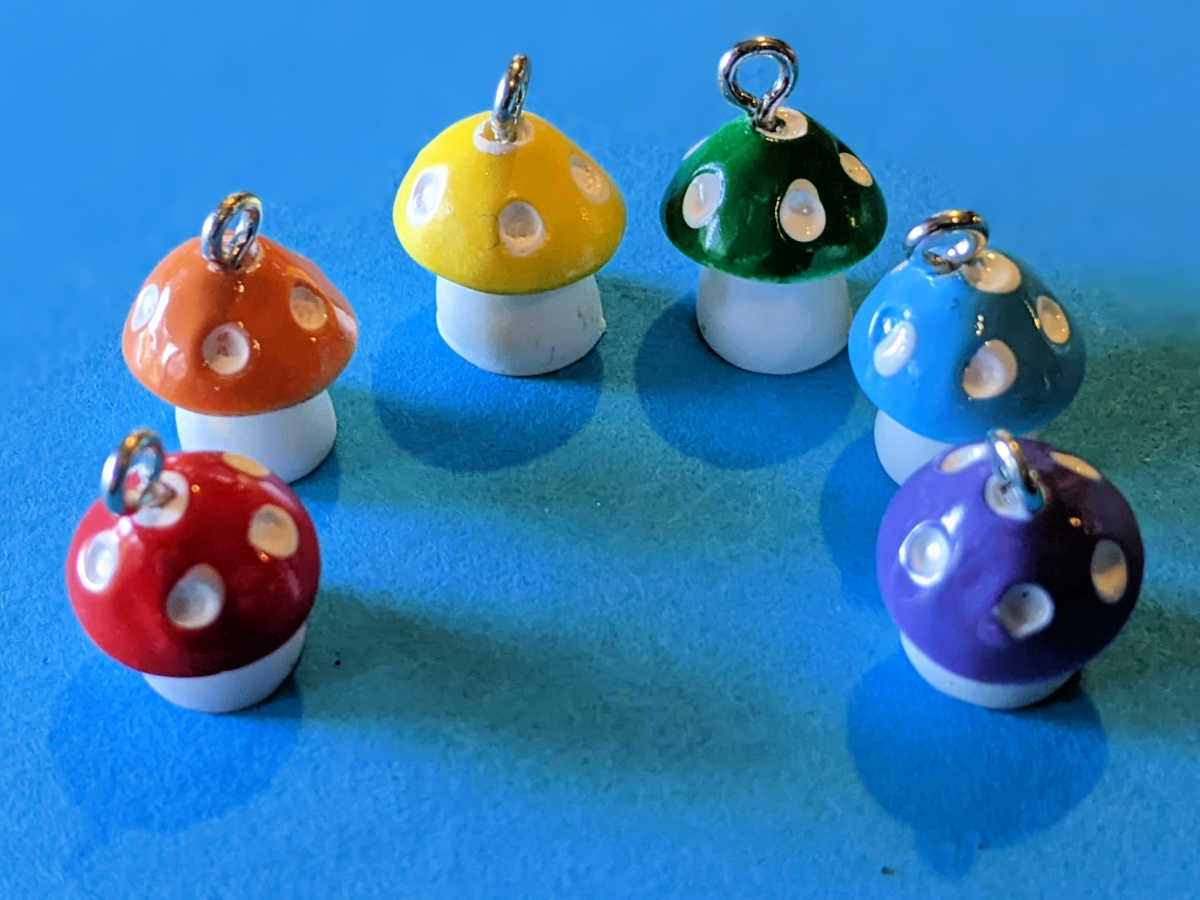 Expandable Bangle Bracelet
Adjustable bangle bracelets are wonderful to work with and they are a pleasure to wear.
An added bonus is that these bracelet blanks are very budget friendly, very.
You can get a pack of 60 of these bracelets to add your own charms to for less than you'd pay for one bracelet at the mall.
Mine are silver, but steel, rose gold and yellow gold tone adjustable bracelets are good options, too.
A regular circular bangle needs to be big enough to fit over your hand, so it slides down instead of resting nicely on your wrist.
This bangle expands to slide onto your wrist and the contracts, when it's on.
The bangle rests on your wrist, so it looks nice and doesn't get in the way when you are using your hands.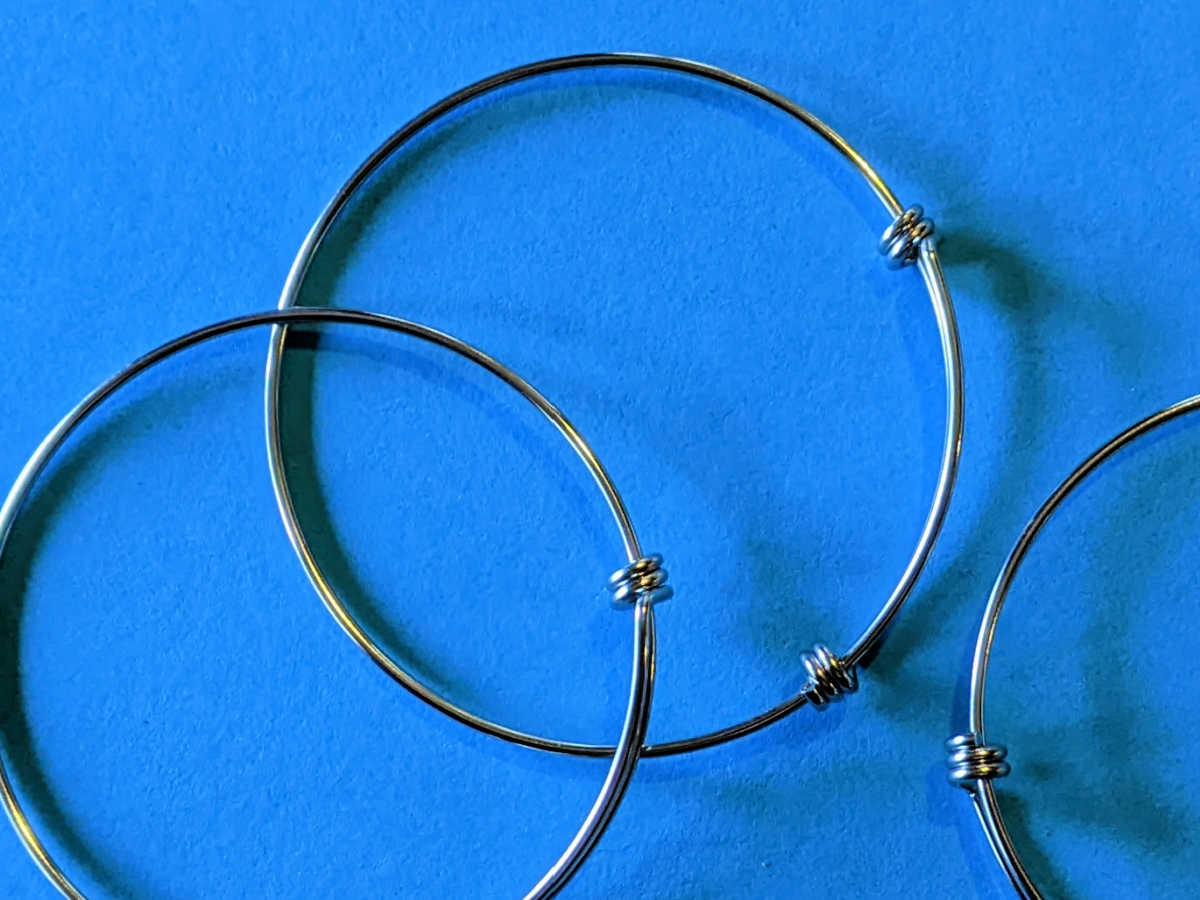 Jump Rings
The small circle findings used to connect jewelry components are called jump rings.
They are positioned between the charm and the bangle to keep it hanging freely and dangling at a nice angle.
If this is your first time making jewelry at home, you can pick up an inexpensive package of jump rings to use now and on future DIY projects.
The small rings have an opening that you can open up with pliers and then close it up again when your jewelry components are in place.
They come in different sizes and in different types of metal.
I find it handy to keep assorted sizes of gold and silver jump rings available for jewelry making projects at home.
You can use jump rings to match the other jewelry findings you are using or you can mix and match, if you'd like.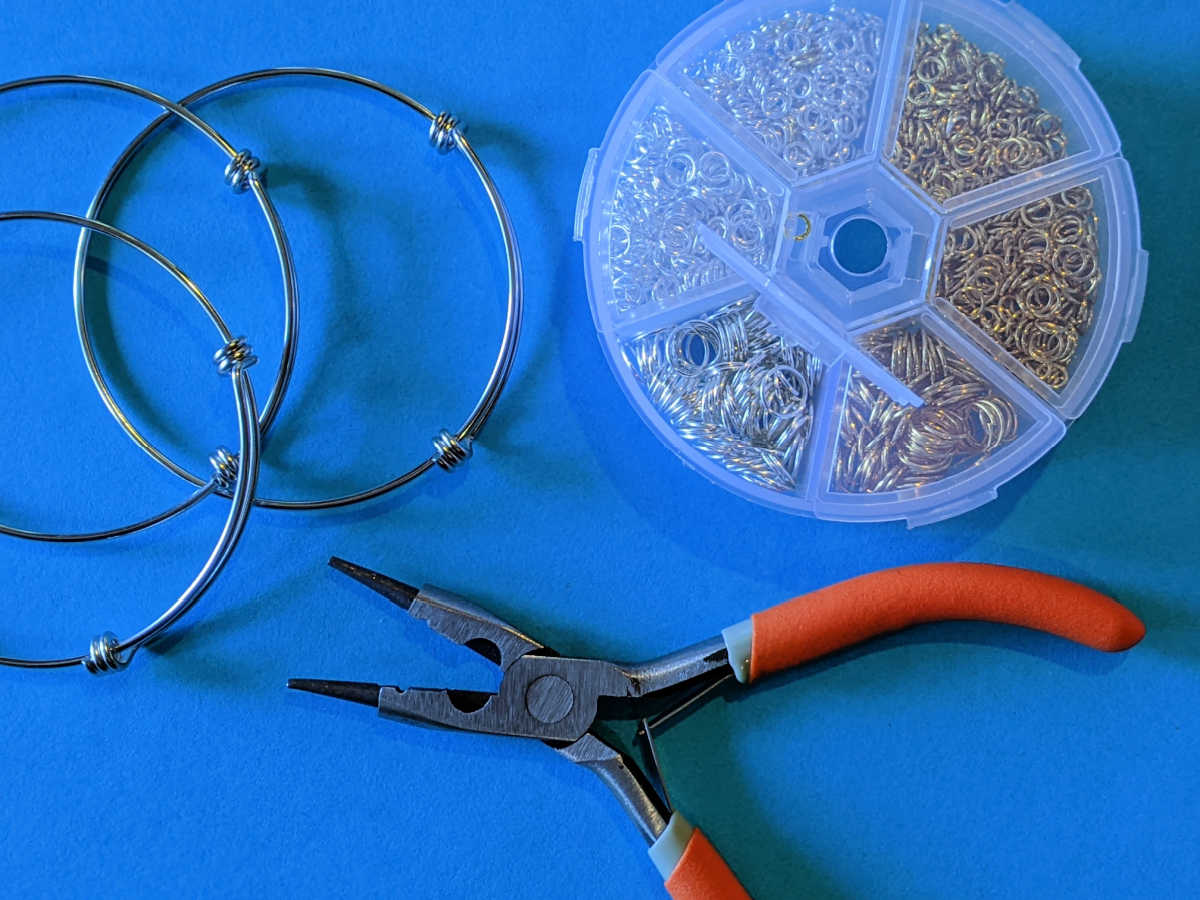 Pliers
Pliers are a helpful tool for jewelry making.
Needle nose pliers are handy to open up jump rings and attach your jewelry components together.
I find it easiest to use pliers with a short pointed tip, but you may like a longer tip or even a curved (hooked) tip.
You can use regular household needle nose pliers, if you already have them on hand.
Or you can get needle nose jewelry pliers with comfortable grips to keep with your other DIY jewelry tools and supplies.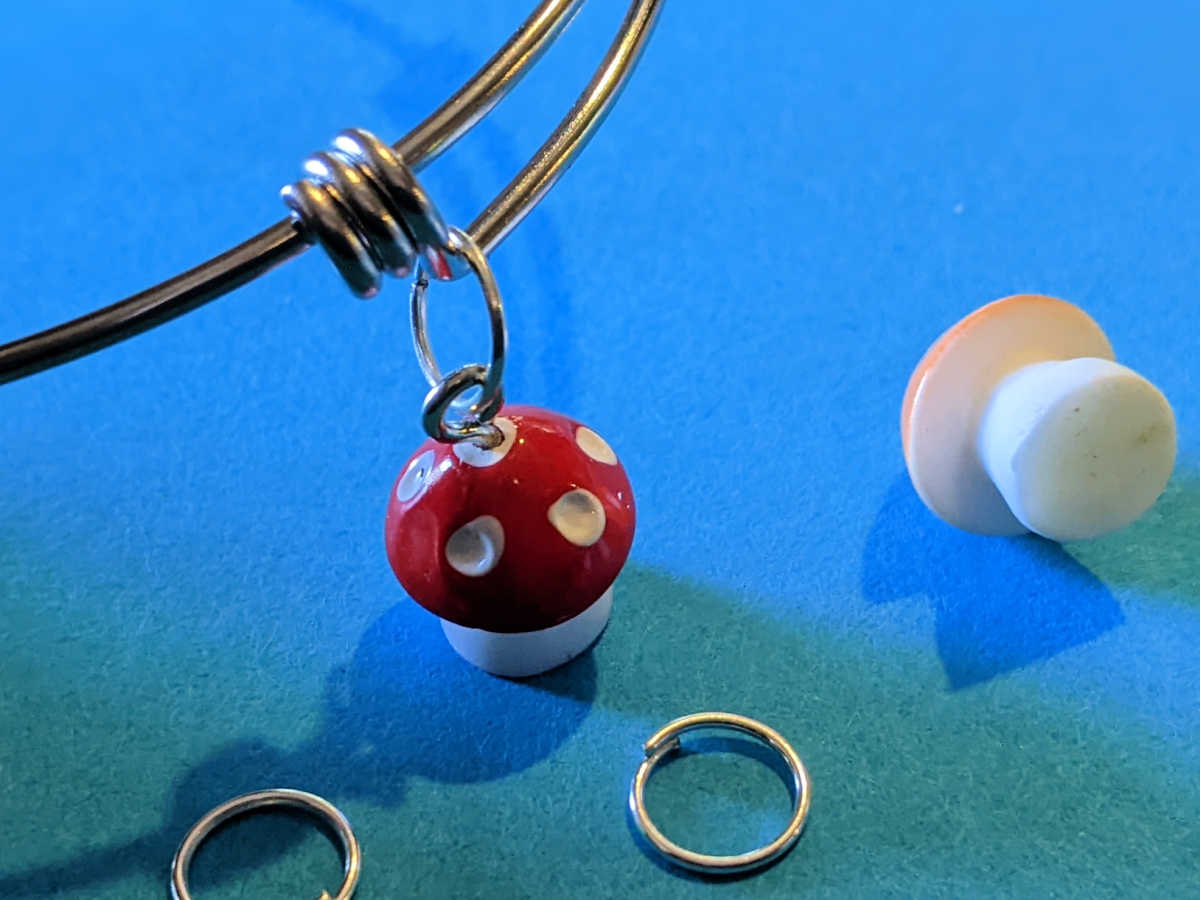 Where to Buy Jewelry Supplies Online
AliExpress has a huge selection of jewelry making supplies at super low prices – incredibly low prices. Plan ahead when you order, since shipping can take longer than US based companies.
Amazon also has a good selection of supplies and shipping can be very fast.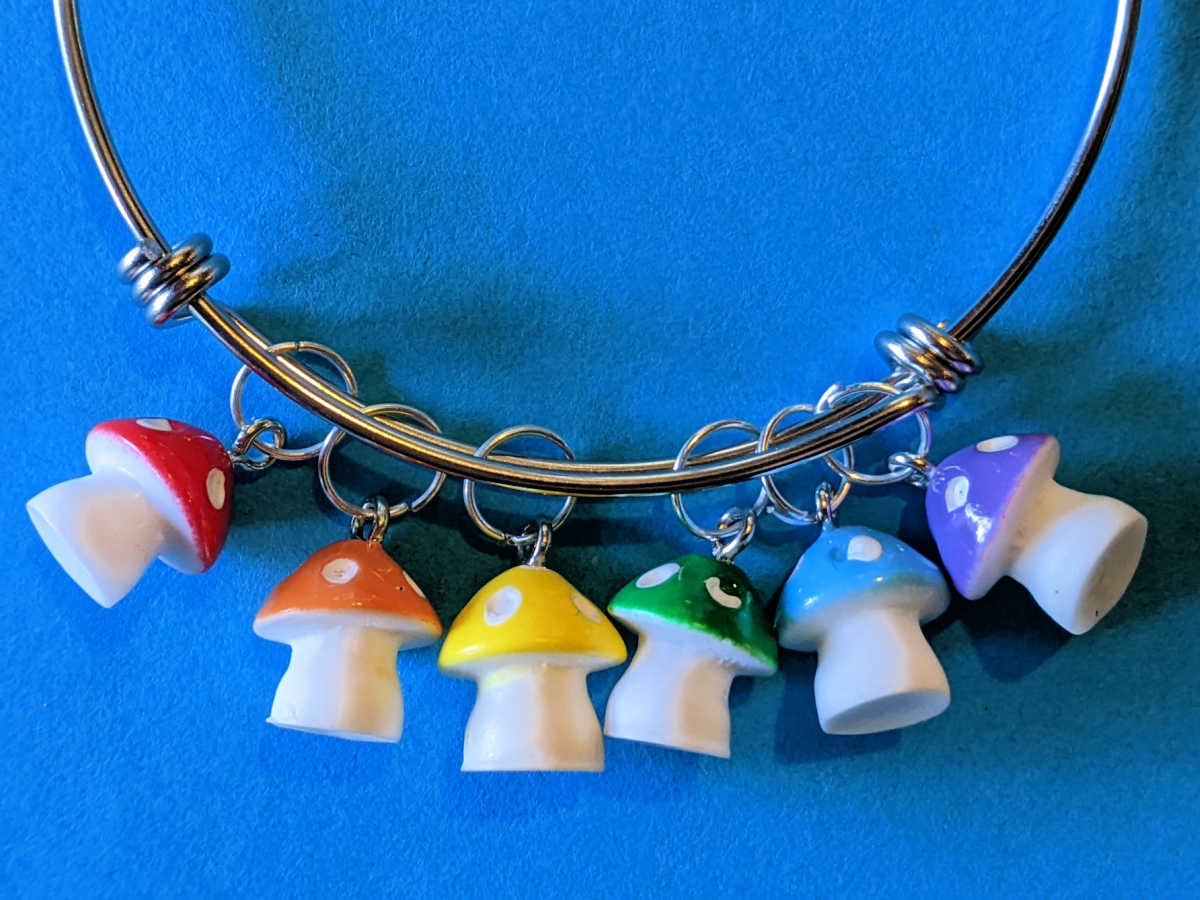 Rainbow Mushroom Bangle Bracelet Craft
Supplies / Materials
Expandable Bangle Bracelet
Resin Mushroom charms (Red, Orange, Yellow, Green, Blue, Violet)
6 Jump Rings
Tools/Equipment
Instructions
1) Gather up your jewelry making supplies plan for how you will arrange the charms. My resin mushrooms are in this order:
Red
Orange
Yellow
Green
Blue
Violet
2) Use the pliers to open up a jump ring and slip it through both the red mushroom charm loop and the bracelet.
3) Squeeze the jump ring closed with the pliers, so your mushroom is securely attached to the charm bracelet.
4) Repeat for the rest of the rainbow colored mushrooms.
5) Have fun wearing your trendy rainbow mushroom bangle bracelet!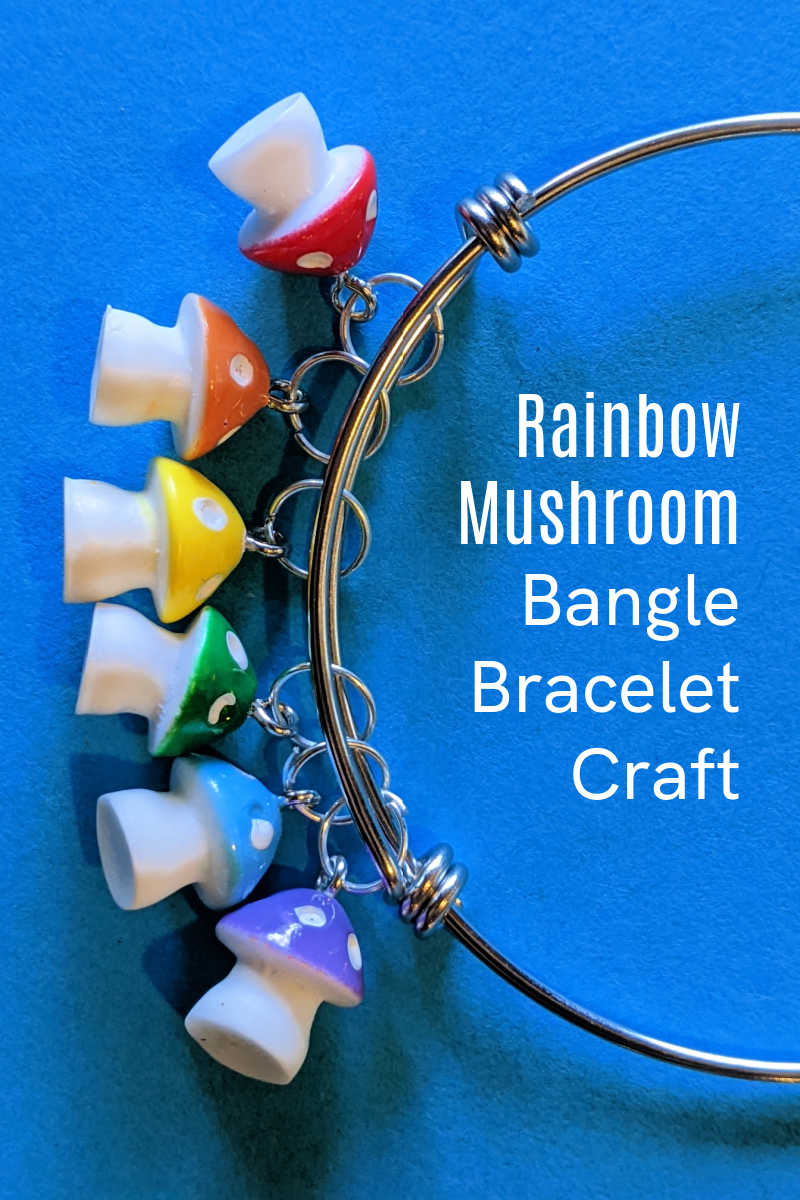 More from Mama Likes This
Take a look at my entertainment articles, so you can keep up with the latest TV, movie and book news.
Mushroom Crafts and Printables
Rainbow Crafts
DIY Bracelets
Hoop Earrings Crafts
Drop Earrings Crafts
Clip-on Earrings Craft
Free Printable Activity Pages
Check out my free printables, when you are looking for fun activities to do at home.
Many are from Disney, Netflix and Shout Factory, so they feature movies, TV series and characters that your kids already know and love.
Some are educational, but others are just plain fun.
There are coloring pages, crafts, word puzzles, mazes, memory games and many other family friendly activities.
Shop Now
Check out the latest online deals, so you can save money and pick out some great products for yourself and your family.
What will you buy first?