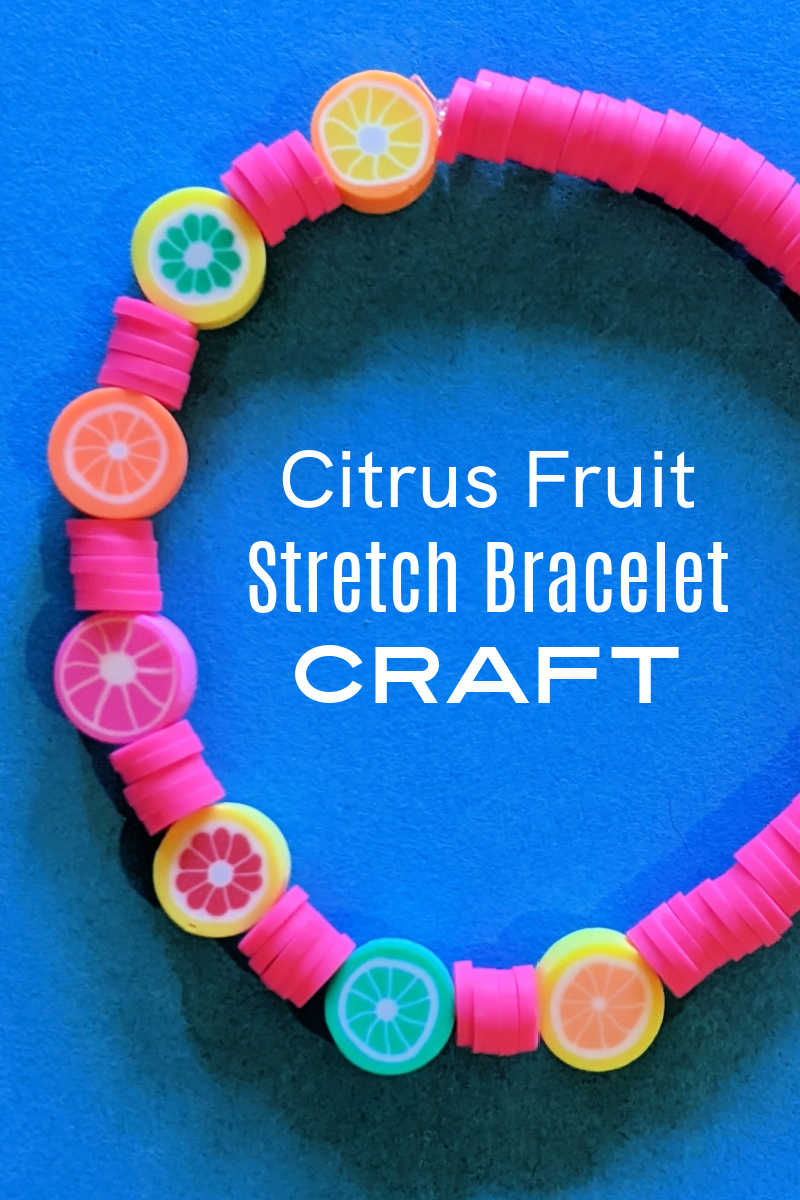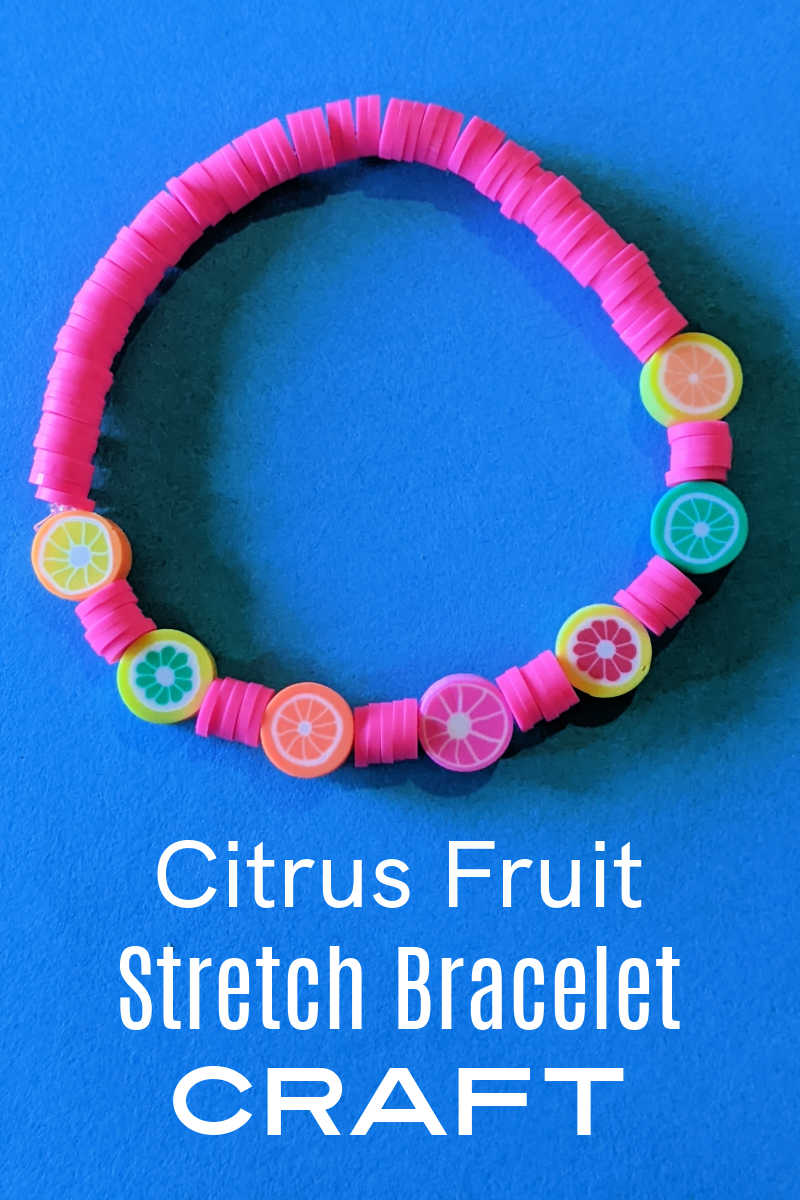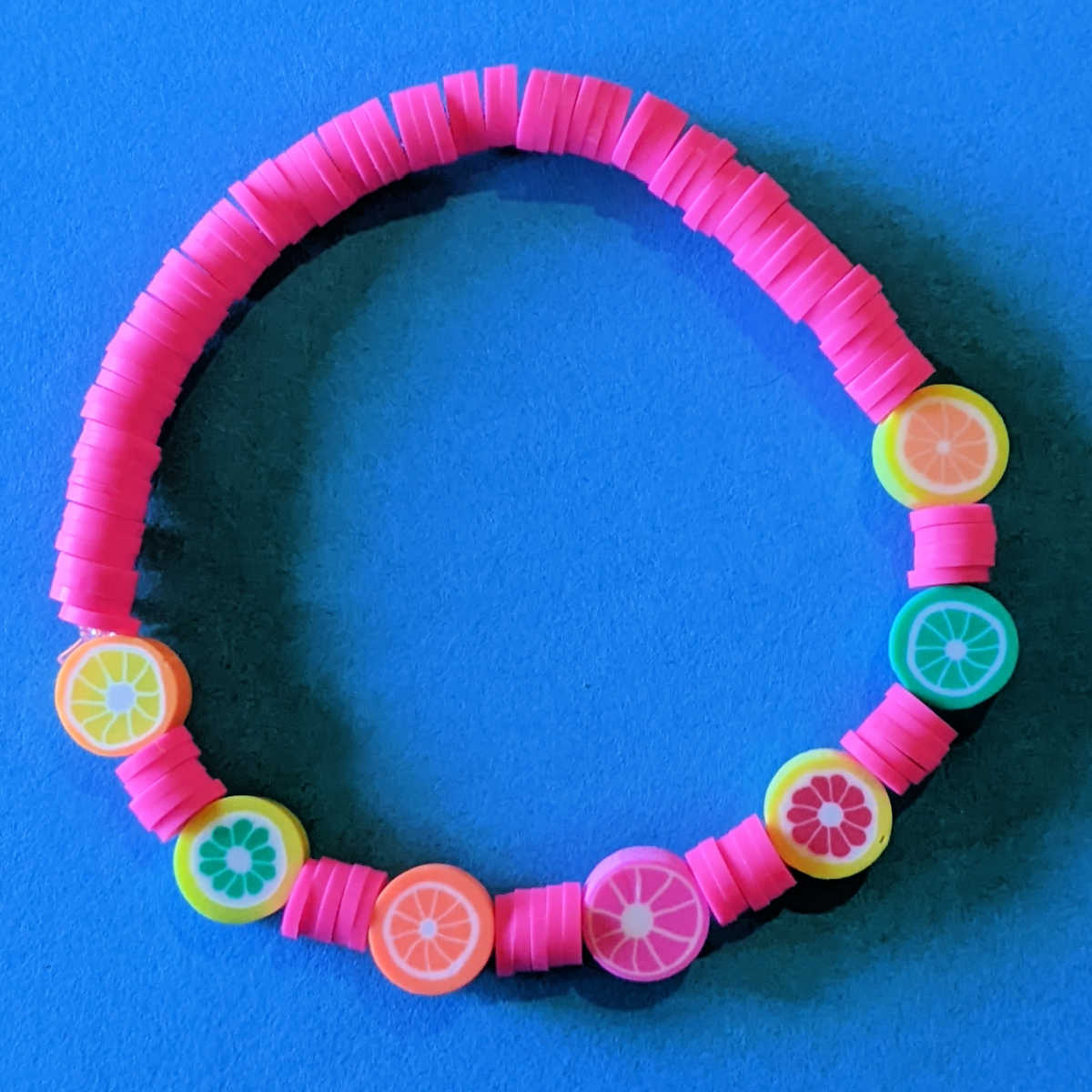 Make a fun DIY citrus fruit bracelet craft with polymer clay beads and elastic thread, so you can add a happy pop of color to your wrist.
The stretch bracelet craft is great for kids and adults who like vibrant colors and citrus fruit.
No special skills are needed, so this DIY jewelry project is fine for beginners.
Knotting the elastic thread is the only 'tricky' part of the craft, but once you've practiced you'll be able to make good, secure knots.
Make one citrus stretch bracelet or a bunch of them to stack and wear all at once.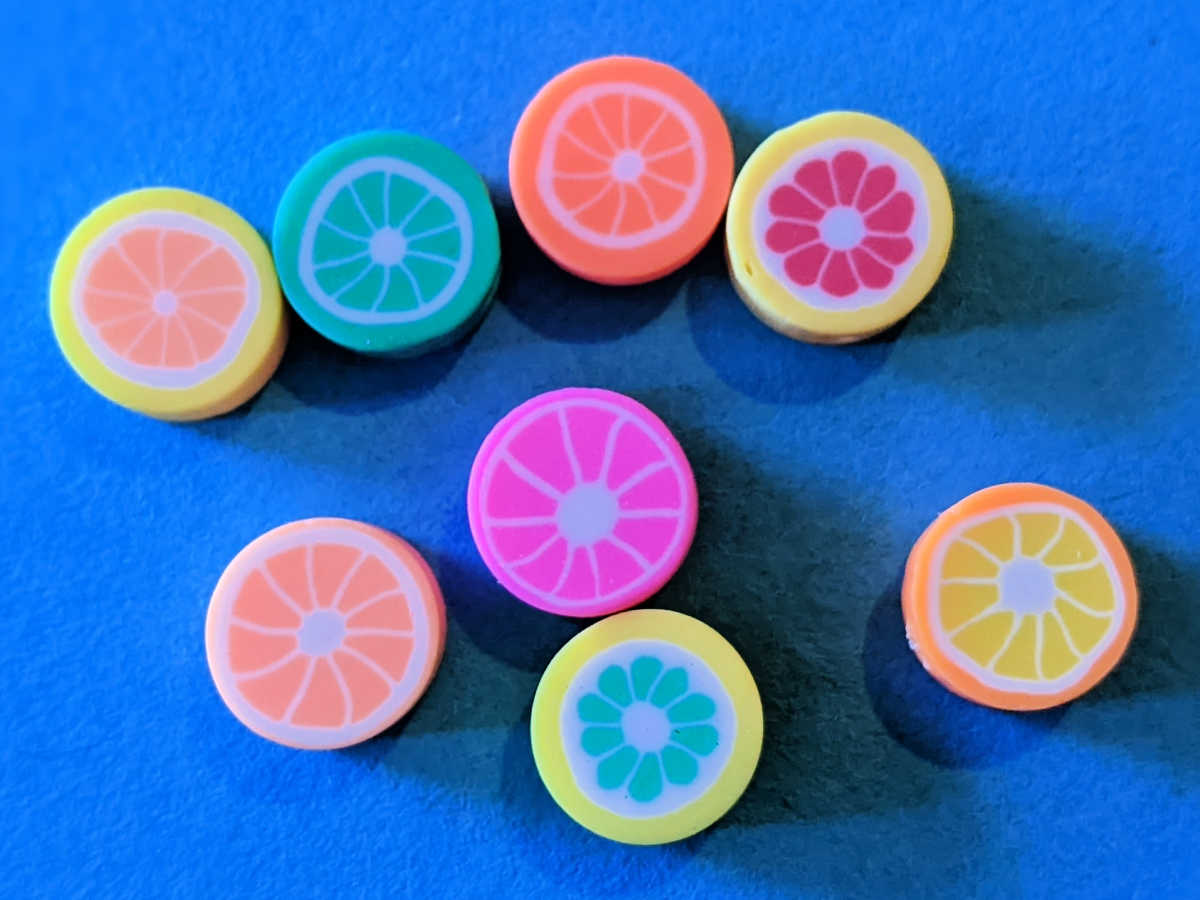 Fruit shaped beads made from polymer clay look great and are also easy to use.
Citrus beads include sliced oranges, lemons, limes, pink grapefruit, mandarins and more in beautiful bright colors.
They are sturdy beads that will wear well, but they aren't too heavy.
Holes are already drilled in the fruit beads going side to side, so they are ready to use.
You'll be able to slip your thread right through without using a needle.
Choose beads just like mine or use a different assortment of your favorite citrus fruit.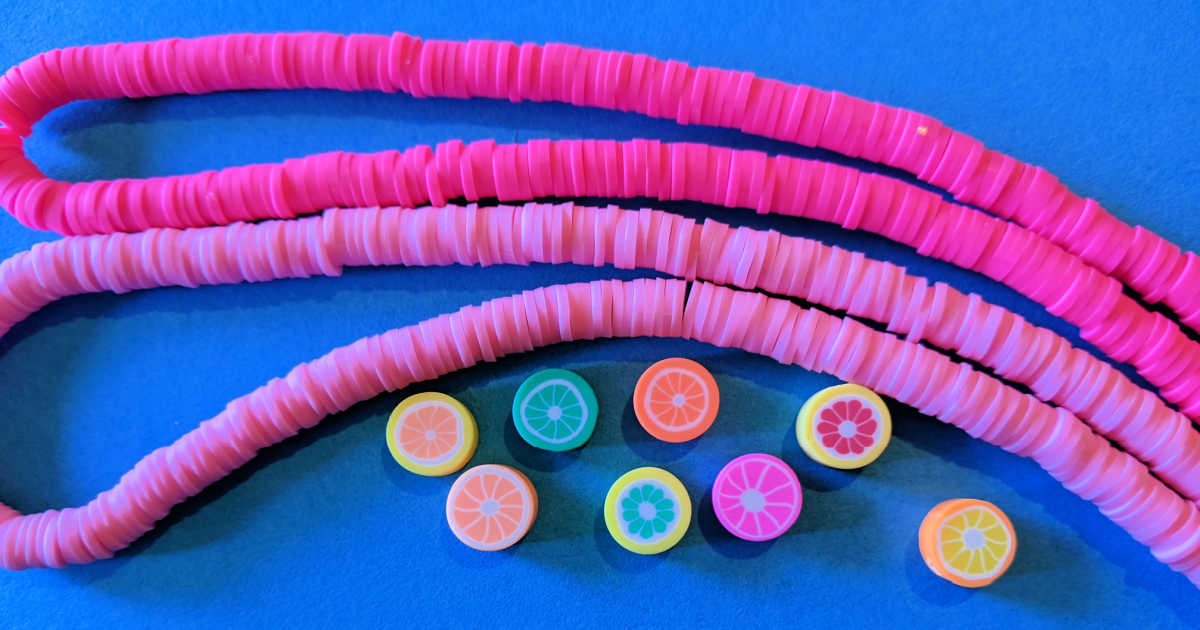 Traditional heishi (pronounced hee-shee) beads are formed from a clay made from ground up shell or stone powder.
Today the term is used for a variety of flat disc shaped beads.
The most common type of heishi beads used for DIY jewelry crafts are made from polymer clay and come in a wide variety of colors.
They can be purchased as strands of beads, packages of loose beads and boxed jewelry making kits with beads organized by color.
Typical size of the beads is 6mm wide by 1mm thick with a hole that is 2mm in diameter.
Bright pink heishi beads look beautiful when they are strung with the vibrant citrus fruit beads.
Of course, you are welcome to use a different color of heishi beads, if you'd like.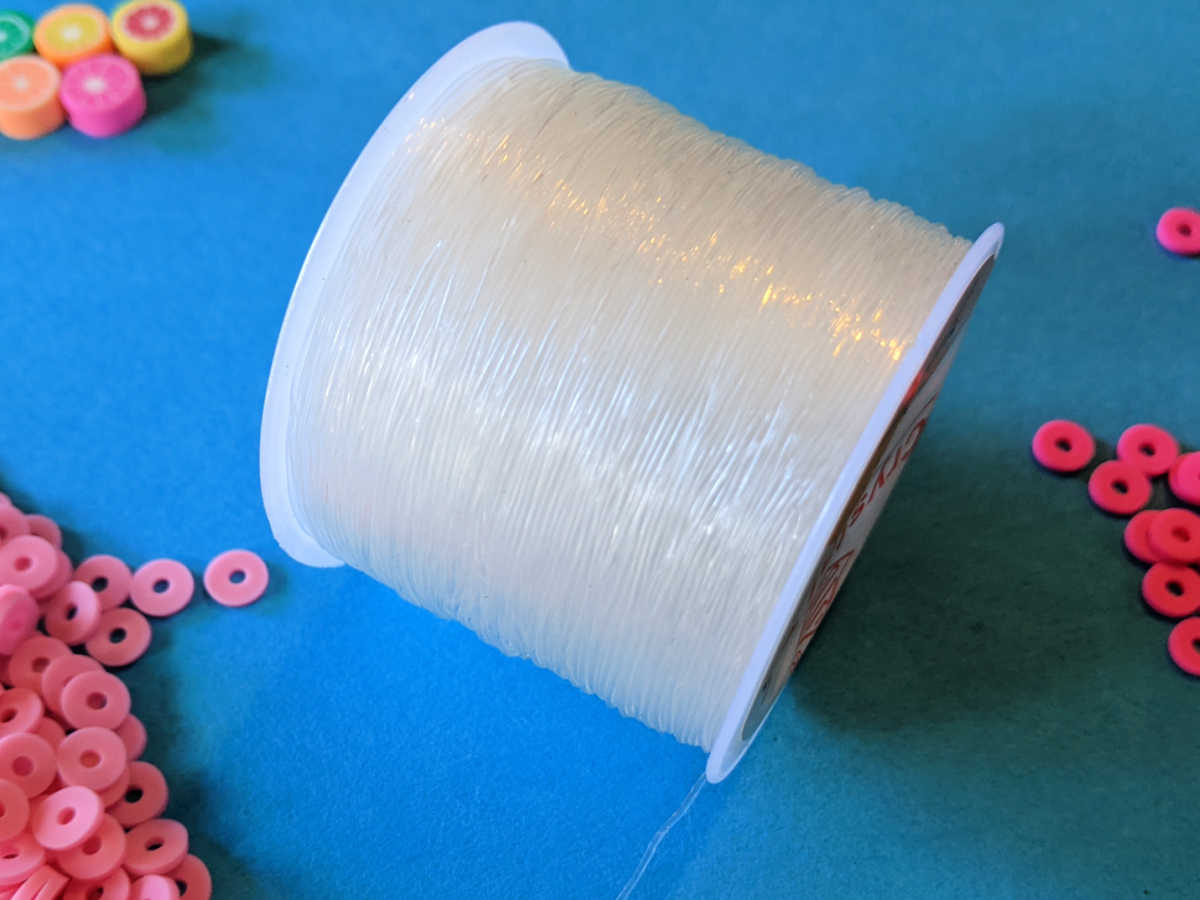 Elastic Thread for Making Bracelets
Stretchy, elastic thread is great for making these heishi bead citrus fruit bracelets.
The stretchy thread comes in a variety of widths, usually between .4mm and 1mm.
The thin .4mm elastic thread can be used with tiny seed beads.
A thicker thread is better for the polymer heishi beads with 2mm holes, since it will be stronger than the thin thread.
I used .7mm elastic thread for this bracelet, but you can also use .8mm or 1mm.
It will still be easy to use, but will result in a stronger bracelet.
If all you have is thin elastic, you can double it up when making this beaded bracelet.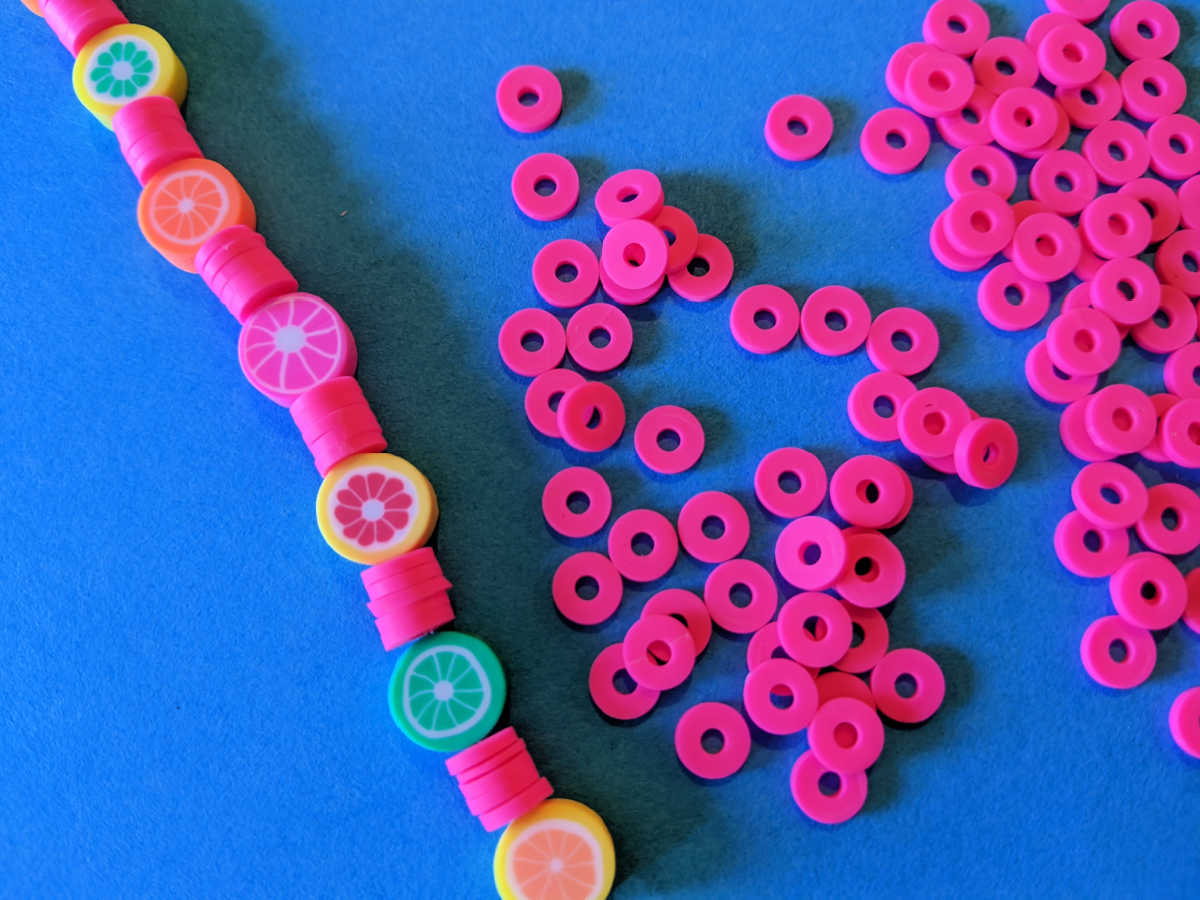 What Size Should A Bracelet Be?
A standard women's bracelet is between 6.5 and 7.5 inches and a child's would be 5.5 to 6.5 inches.
Use that as a general guide, if you can't measure the wrist of the person you are making it for.
The best way to get a good fit is to measure the wrist of the person who will be wearing it and then add 1/4″.
That is how long the finished bracelet will be, but you'll need to cut a piece of elastic thread several inches larger than that to allow room to easily string the beads and knot the bracelet.
You want the bracelet to rest comfortably on the wrist and then stretch to slide it off and on.
This bracelet was made to fit my 7″ wrist, so I added 7 1/4″ of beads to the thread before tying it off.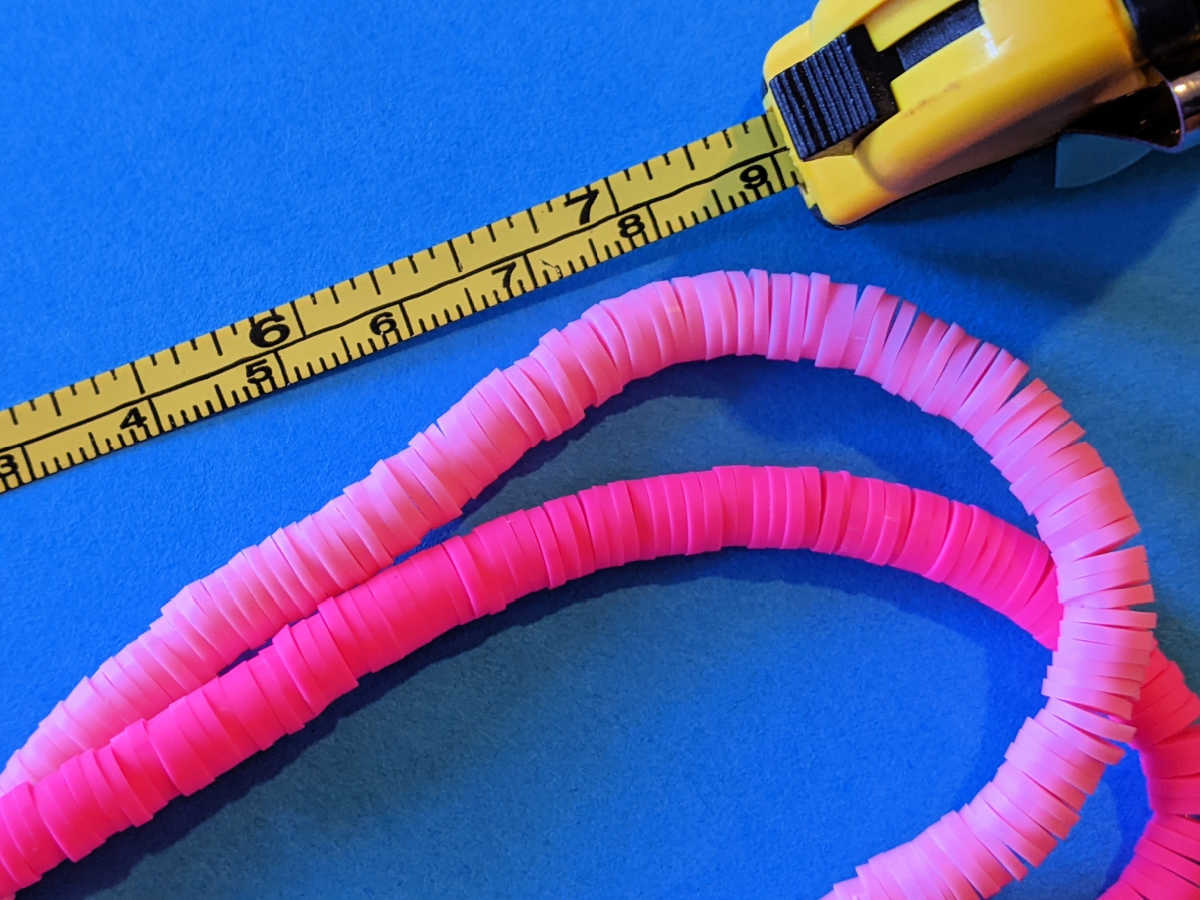 Tape Measure or Ruler
A tape measure or ruler can be used to get the proper size, when you are beading.
I use a tape measure that can measure the wrist and then be set at the appropriate length to refer to it as I'm working.
You can also use a bead board to measure and arrange your bracelet.
How to Knot a Stretch Bracelet?
It is easy to knot a bracelet made using elastic thread once you learn how to do it.
Crimp beads will cut into and break the elastic thread, so they are not recommended for these bracelets.
The flexible thread can easily be tied into a secure knot that will hold as you wear and enjoy the bracelet.
A surgical knot is a good knot to use, so are others.
The thread is looped through an extra time, instead of a single time like you would for a regular knot.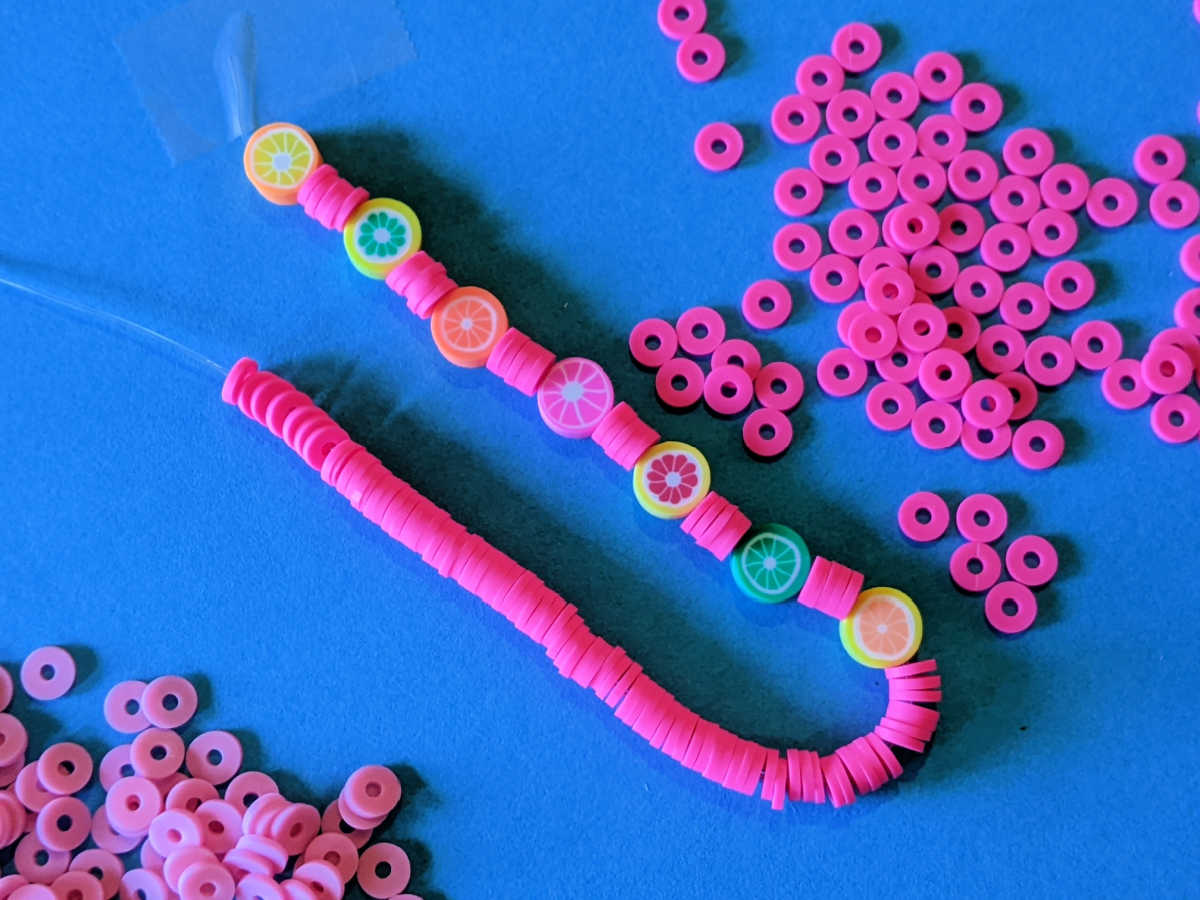 Where to Buy Jewelry Supplies Online
AliExpress has a huge selection of jewelry making supplies at super low prices – incredibly low prices. Plan ahead when you order, since shipping can take longer than US based companies.
Amazon also has a good selection of supplies and shipping can be very fast.
Beebeecraft has beads from around the world, jewelry findings and craft supplies with free shipping on orders over $25.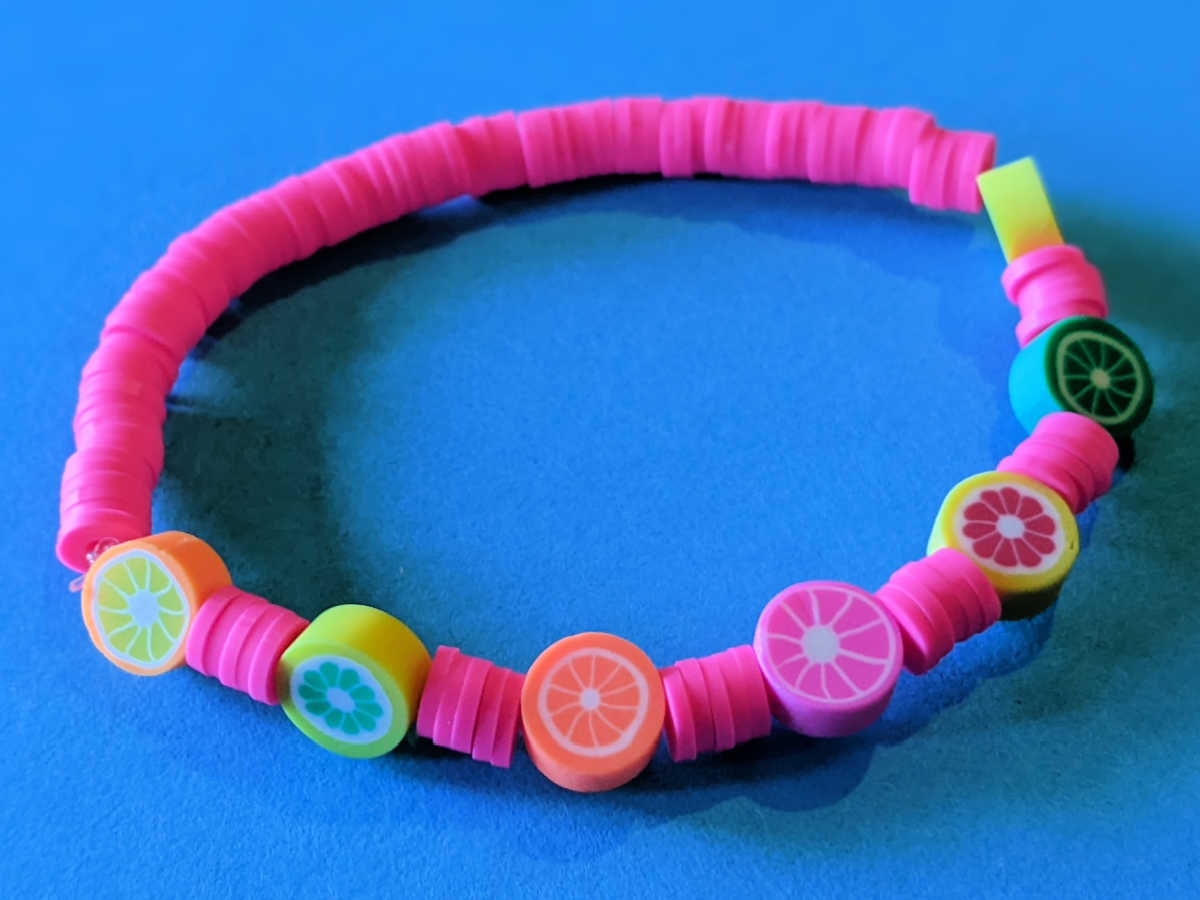 DIY Citrus Fruit Bracelet Craft
Supplies / Materials
Bright Pink Polymer Clay Heishi Beads
7 Citrus Fruit Beads
Elastic Beading Thread (.7mm to 1mm)
Tools/Equipment
Tape Measure
Tape
Scissors
Instructions
1) Determine the size of the bracelet (see tips above) and cut a piece of elastic thread that is several inches longer than that.
2) Make a plan of how you want to arrange your beads. They can be arranged just like mine or you can come up with your own pattern.
3) Tape your elastic to your work surface to keep the beads from falling off as they are threaded.
4) Start with a citrus bead, so that the knot will be next to it.
5) Add 5 pink heishi beads between each of the citrus beads.
6) Complete your beading by adding pink heishi beads until your bracelet is the desired length.
7) Tie the fruit bracelet off with a surgical knot (tips above) and carefully trim the excess thread with scissors.
8) Your stretchy citrus fruit bracelet is ready to wear!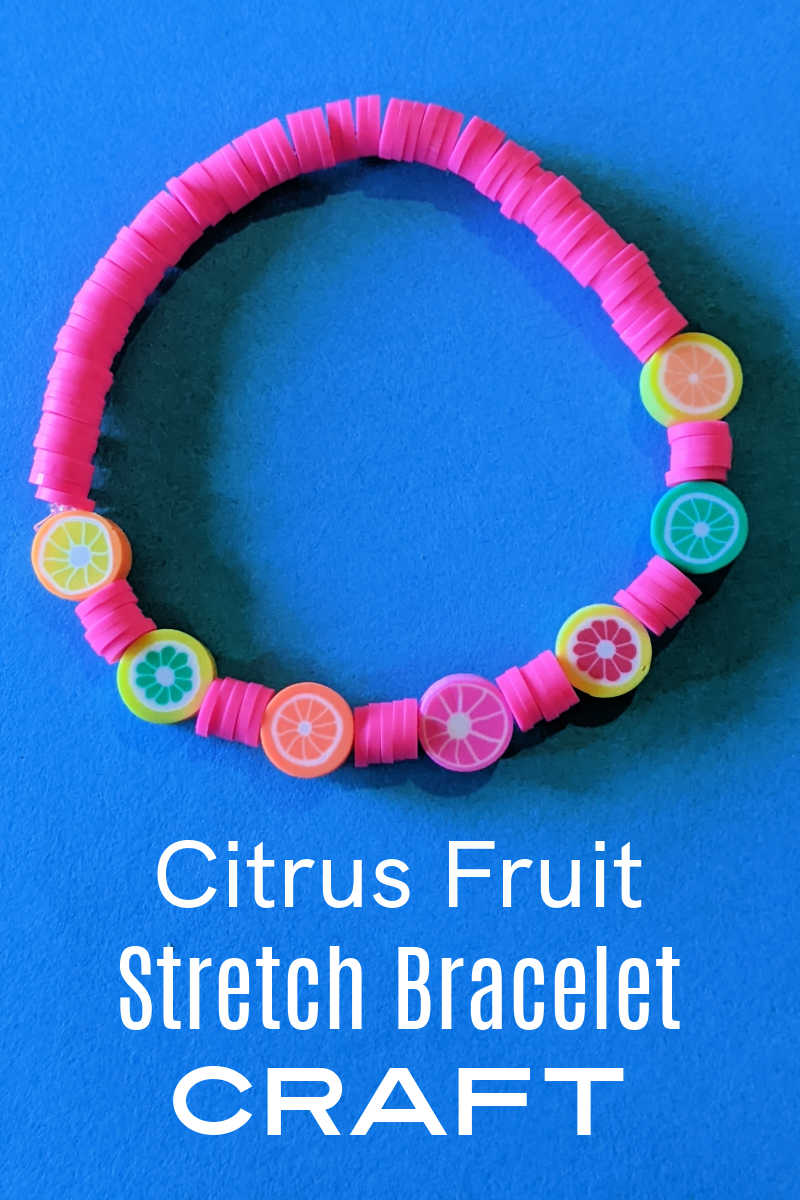 More from Mama Likes This
Take a look at my entertainment articles, so you can keep up with the latest TV, movie and book news.
DIY Bracelets
Hoop Earrings Craft
Drop Earrings Craft
Clip-on Earrings Craft
Fruit Crafts
Free Printable Activity Pages
Check out my free printables, when you are looking for fun activities to do at home.
Many are from Disney, Netflix and Shout Factory, so they feature movies, TV series and characters that your kids already know and love.
Some are educational, but others are just plain fun.
There are coloring pages, crafts, word puzzles, mazes, memory games and many other family friendly activities.
Shop Now
Check out the latest online deals, so you can save money and pick out some great products for yourself and your family.
What will you buy first?