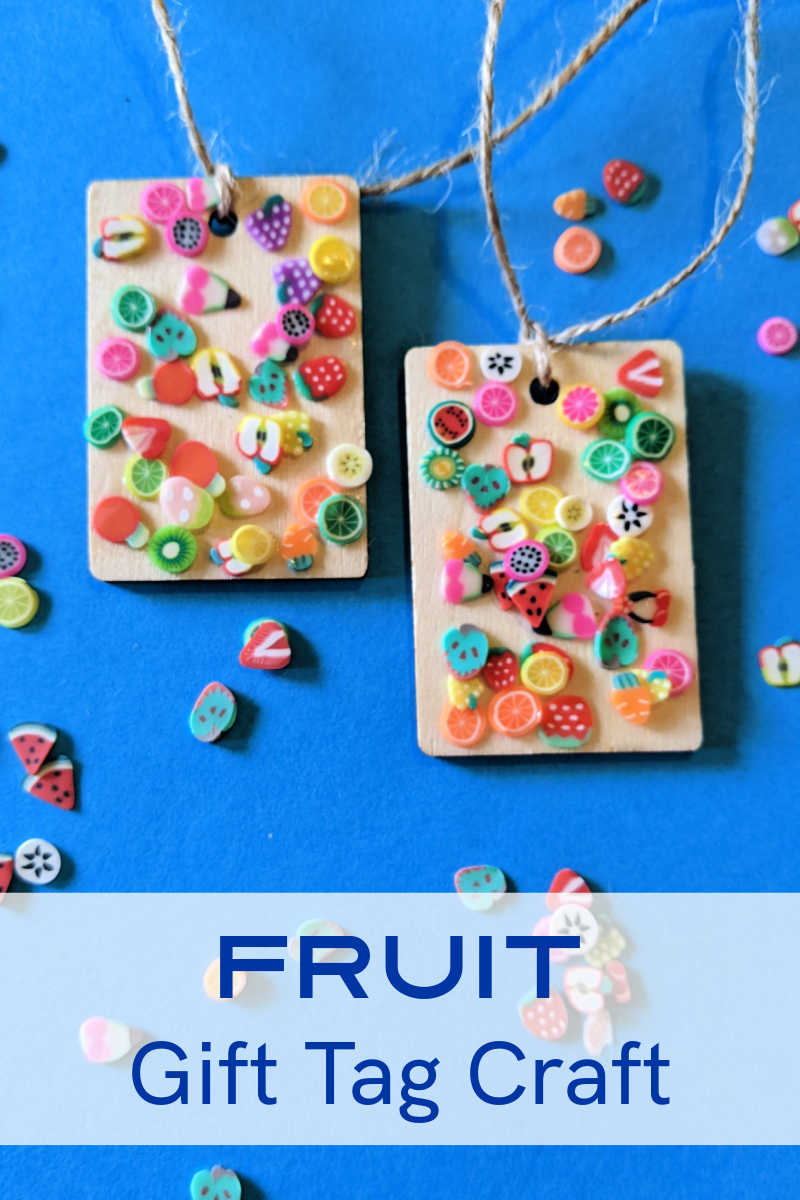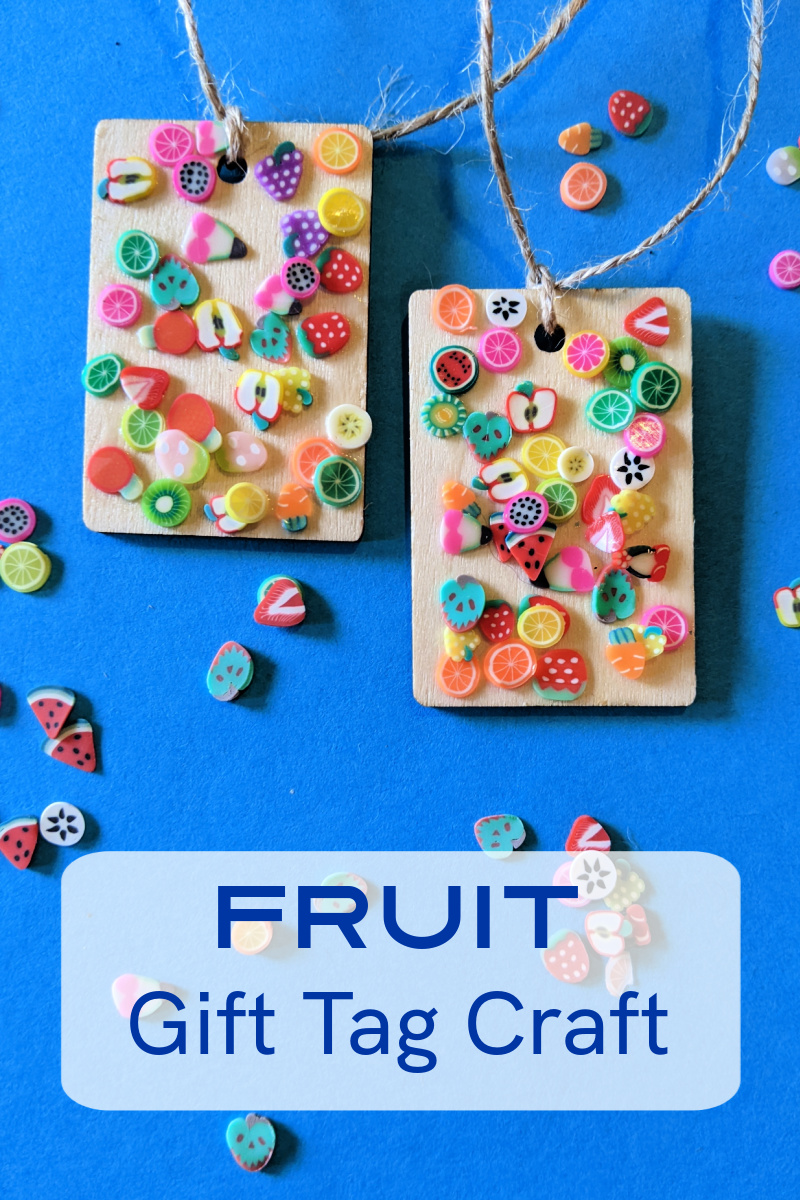 Wood Gift Tag Craft with Polymer Fruit Slices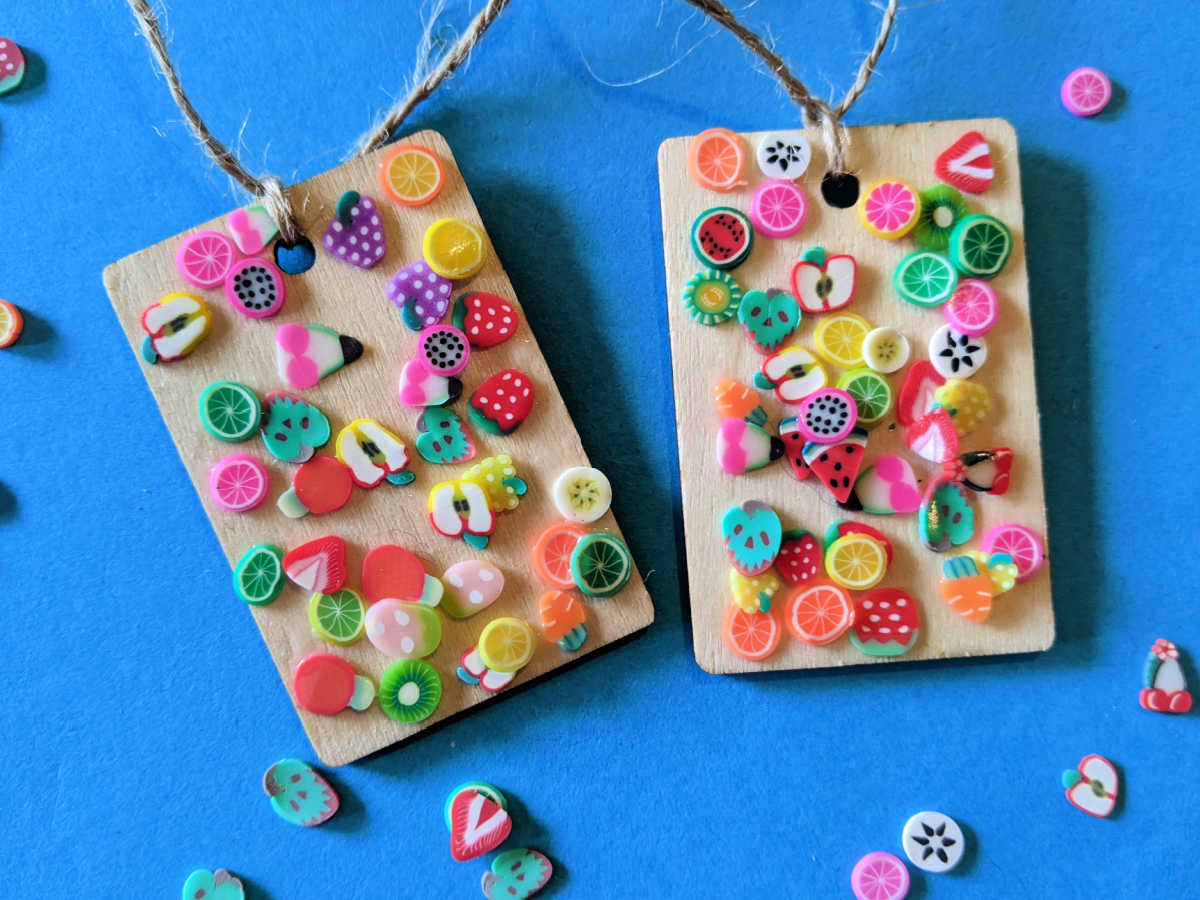 This fruit gift tag craft is fun and easy to make with unfinished wood gift tags and polymer fruit slices confetti.
Small children, senior adults and all ages in between can easily make a gift tag with brightly colored polymer fruit scattered on it.
There are oranges, lemons, limes, strawberries, watermelon, grapes, dragon fruit and more.
The fruit slices and the wood gift tags are both readily available and easy on the budget.
This makes it ideal for a quick craft at home or a bigger craft activity in a classroom or at a club meeting or party.
Everyone can have a fun crafty activity and end up with a fruit themed gift tag that looks beautiful.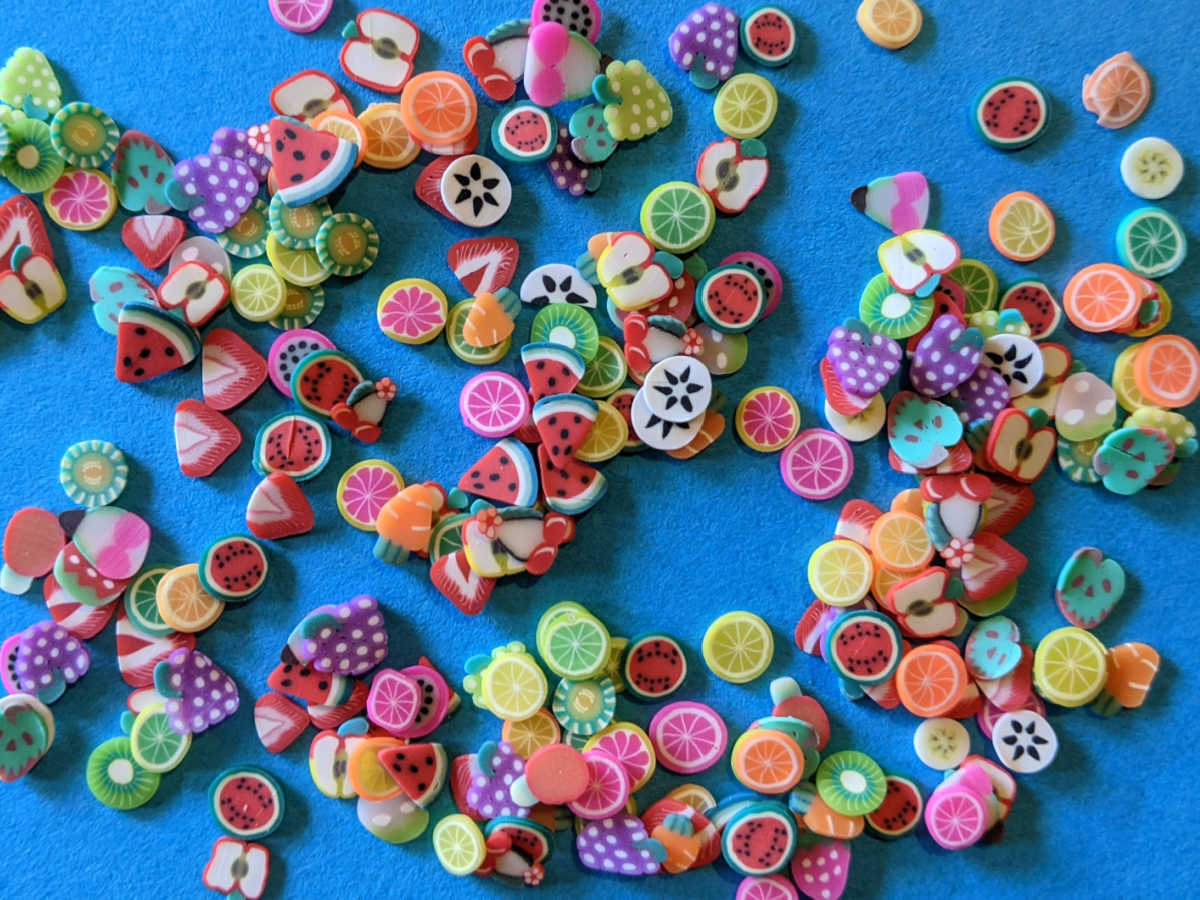 Brightly colored polymer clay fruit slices are a convenient craft material that is ready to be used in creative ways.
The little bits of polymer clay that are made into confetti are typically used as a fun mix-in for homemade slime, so you may already be familiar with using them in that way.
The confetti is also perfect other DIY crafts including these unfinished wood gift tags.
The multi-colored fruit slices add a pretty pop of color to this craft.
Mine polymer fruit is scattered randomly, but you could also form an organized pattern.
Polymer fruit slices can be purchased as a mix or separated by type of fruit.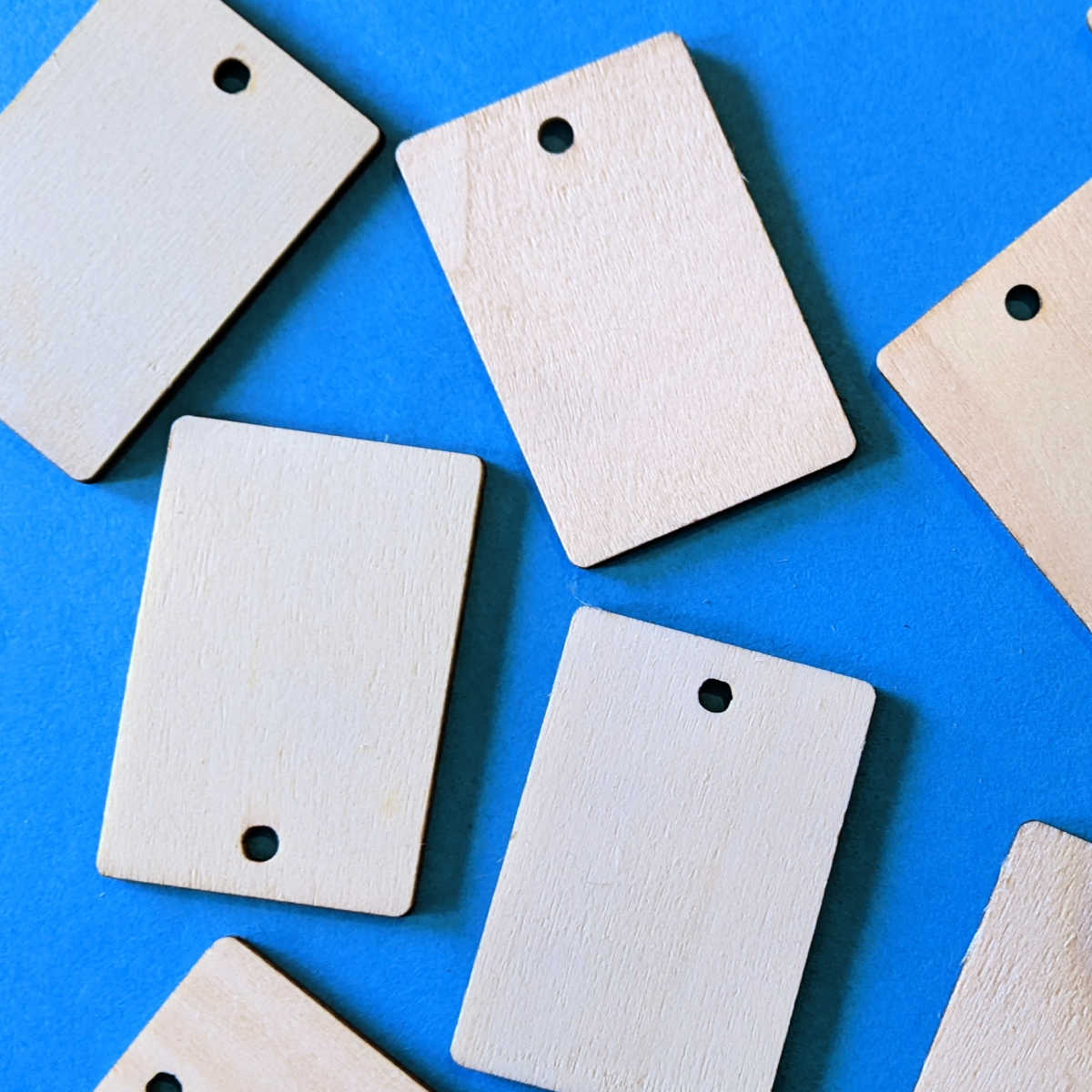 Wood Gift Tags
Unfinished wood gift tags look great and are easy to use, so they are an excellent material to use for crafting.
Adults and kids can get great results, when they craft with unfinished wood tags.
I used small rectangular shaped gift tags with rounded edges, but there are other shapes and sizes available, too.
Just make sure you choose wood gift tags that already have holes drilled in them to make it easy to string ribbon or twine through them.
Reusable Gift Tags
These wood gift tags do not need to end up in the trash, after they have been attached to a gift.
Simply save the tag for the next time you are wrapping a present for a loved one.
They look great and it's fun to have special gift tags as part of your family gifting traditions.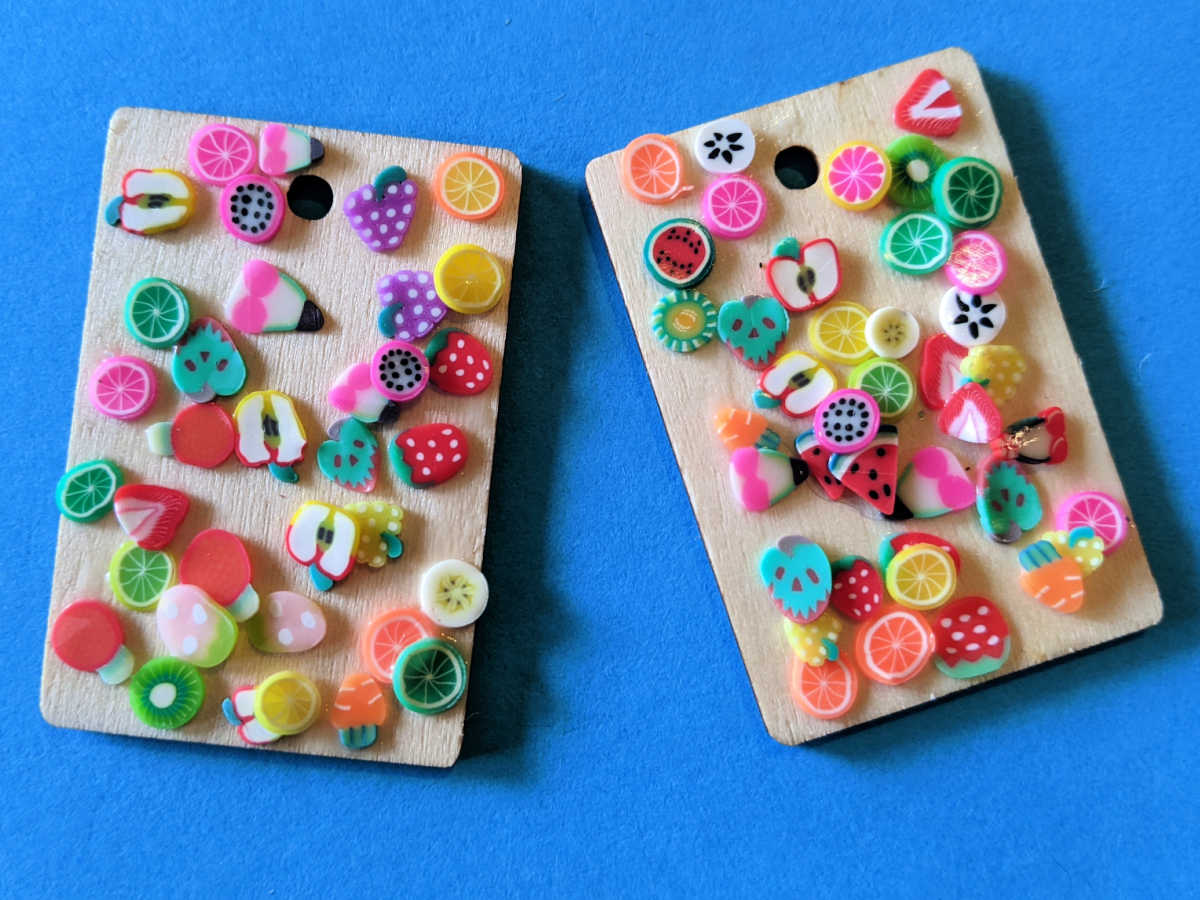 White School Glue
There is no need for specialty glue for this project, since regular white school glue that dries clear works just fine.
And, of course, school glue is also very easy to clean up, if there are any spills.
Mix glue with a little bit of water in a small bowl, so that you can use a paintbrush to apply it to the craft.
First, you'll paint a layer on the unfinished wood heart.
Then you'll add the little polymer clay fruit slices and a brush on a top coat of the glue and water mixture to finish up the craft.
You can also use Mod Podge, instead of the glue and water mixture.
Ribbon or Twine
Many of the unfinished wood packages include twine for hanging, which is great.
If you prefer ribbon, a narrow 1/8″ ribbon can be used, too.
You can go for a natural look or choose a color to match your favorite kind of fruit.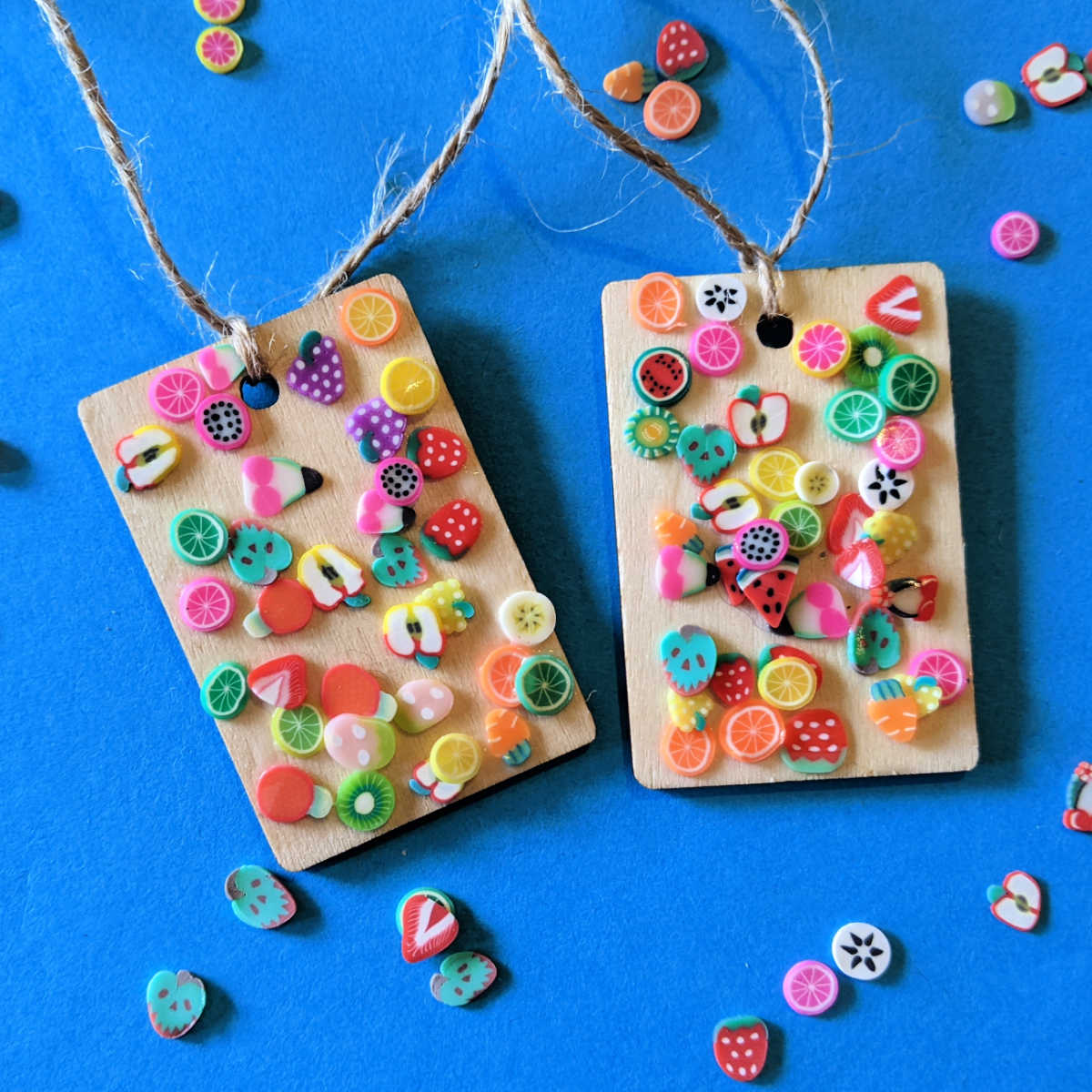 Fruit Gift Tag Craft
Supplies / Materials
Unfinished Wood Gift Tags
Assorted Polymer Confetti Fruit Slices
White School Glue
Water
Ribbon or Twine
Tools/Equipment
Small Paintbrush
Small Dish
Instructions
1) Pour glue and some water into a small bowl and mix it together with the paintbrush to thin in out.
2) Use the paintbrush to paint the unfinished wood heart with the thinned glue.
3) Arrange the polymer fruit on the wood heart that you have coated with glue. Scatter the fruit randomly like mine or create a pattern. Let the glue dry.
4) Paint a top coat of glue on top of the fruit slices. Let dry.
5) Hang with twine or ribbon.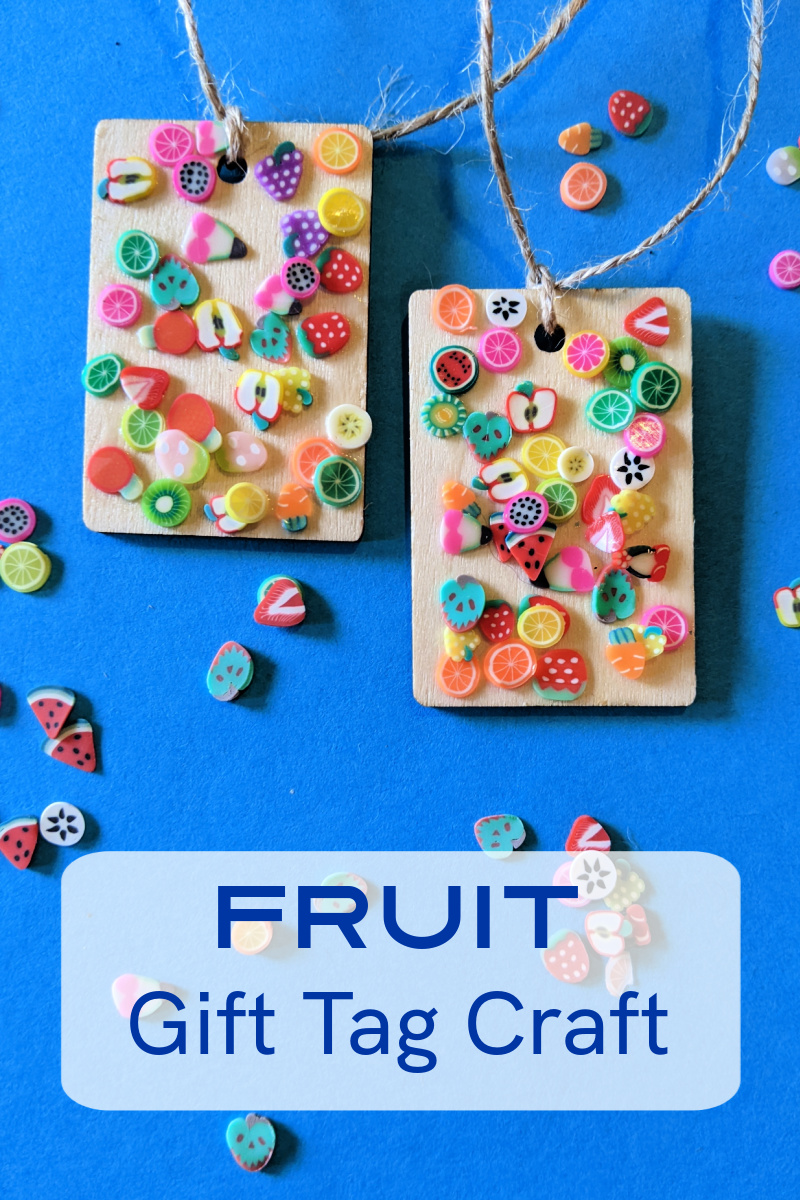 More from Mama Likes This
Take a look at my entertainment articles, so you can keep up with the latest TV, movie and book news.
Gift Tag Crafts
Free Printable Gift Tags
Unfinished Wood Crafts
Fruit Crafts
Free Printable Activity Pages
Check out my free printables, when you are looking for fun activities to do at home.
Many are from Disney, Netflix and Shout Factory, so they feature movies, TV series and characters that your kids already know and love.
Some are educational, but others are just plain fun.
There are coloring pages, crafts, word puzzles, mazes, memory games and many other family friendly activities.
Shop Now
Check out the latest online deals, so you can save money and pick out some great products for yourself and your family.
What will you buy first?