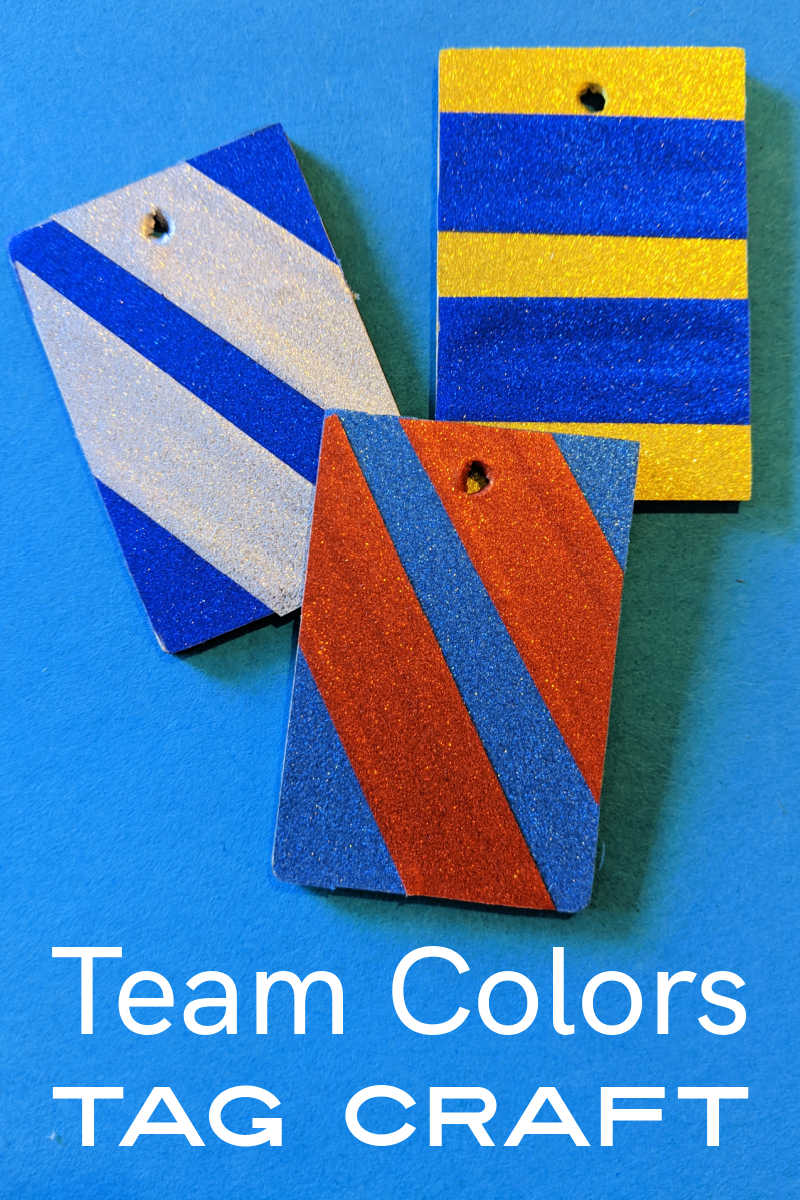 Wood Team Spirit Gift Tag Craft with Washi Tape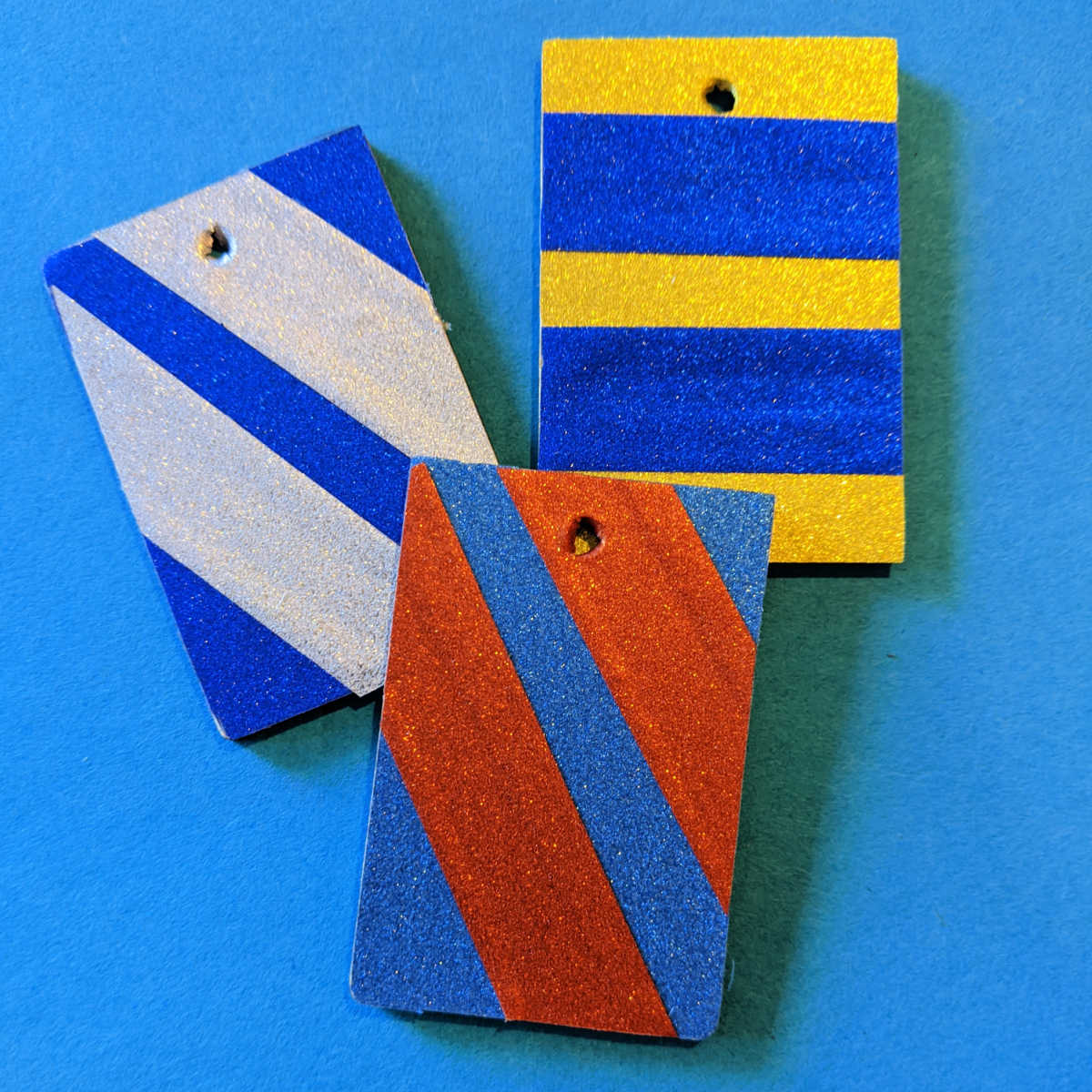 Show your team spirit, when you make this team colors gift tag craft with unfinished wood tags and washi tape.
Whether you are a player or a sport's fan, it's fun to make a craft featuring the team's colors.
The craft is fun and easy for a child or adult to do on their own.
However, it is also a great activity for a team, classroom, club, party or other type of group event.
The tag can be used for gifts, of course.
Or it can be used as a pendant for a necklace or as a team spirit tag on a backpack or bag.
Wood Gift Tags
Unfinished wood gift tags are easy to use, so adults and kids can get great results with their DIY tag craft.
I used rectangular shaped tags with rounded edges, but there are other shapes available, too.
The rectangles work well, when you cover them with washi tape.
If you choose another shape, it may take a little extra work to trim the tape to fit.
Just make sure you choose wood gift tags that already have holes drilled in them to make it easy to string ribbon or twine through the hole for hanging.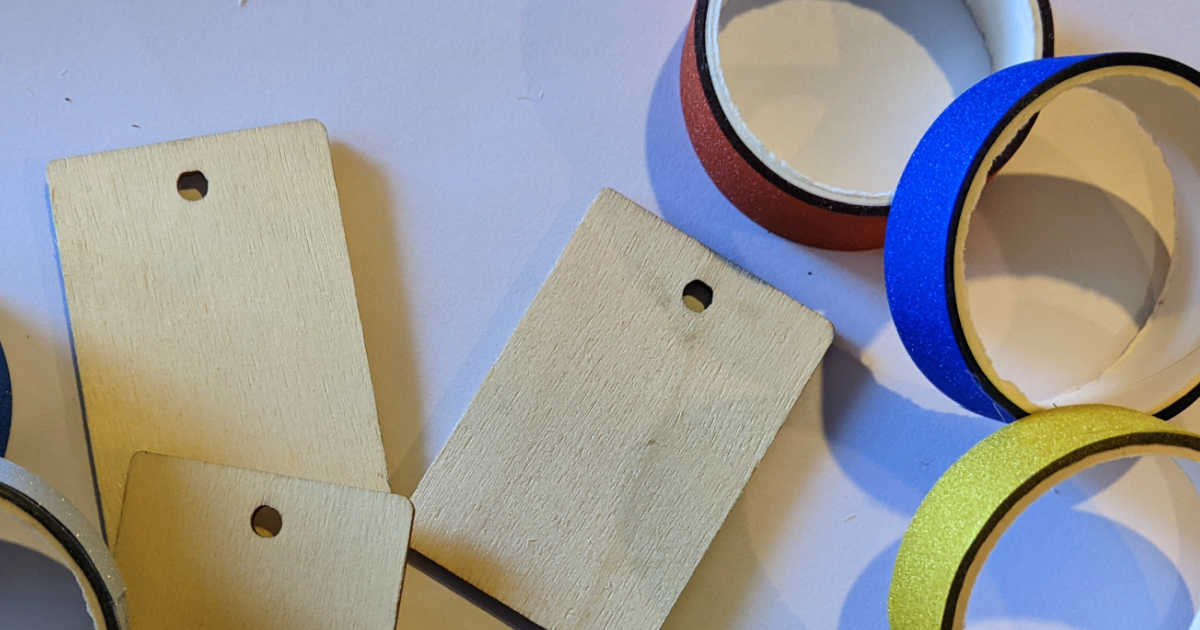 Reusable Gift Tags
These wood gift tags do not need to end up in the trash, after they have been attached to a gift.
Simply save the tag for the next time you are wrapping a present for a loved one.
They look great and it's fun to have special gift tags as part of your family gifting traditions.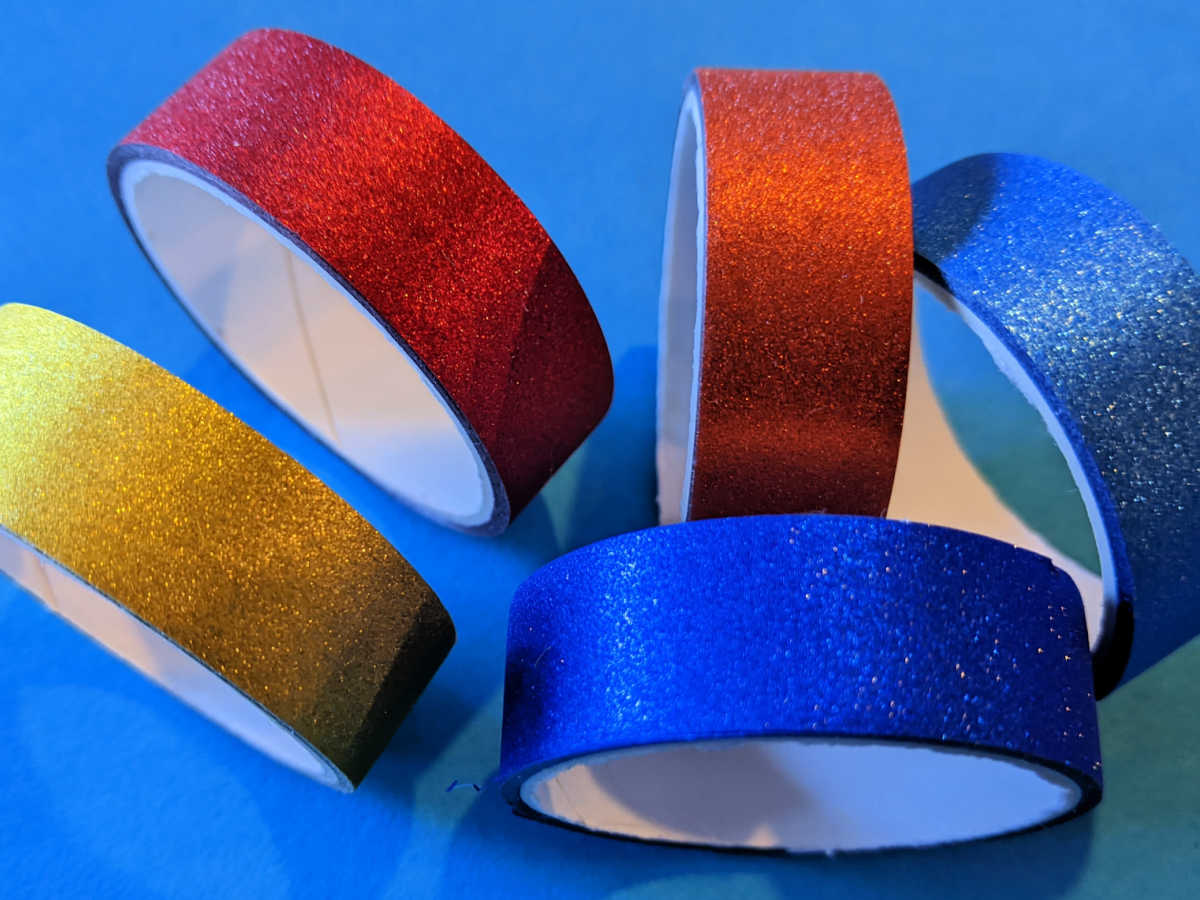 Washi Tape
These little wood gift tags are covered with washi tape, which looks great and is less messy than paint.
It is less sticky than regular tape, so it is forgiving to work with.
If you put the tape on a little crooked, it can easily be moved into the right position.
I used glitter washi tape for my gift tags, but you can also use non-sparkly tape in your choice of colors.
Feel free to arrange your tape however you'd like – diagonal stripes, horizontal stripes, vertical stripes or another pattern.
There is no right or wrong way to do this craft, so feel free to get creative.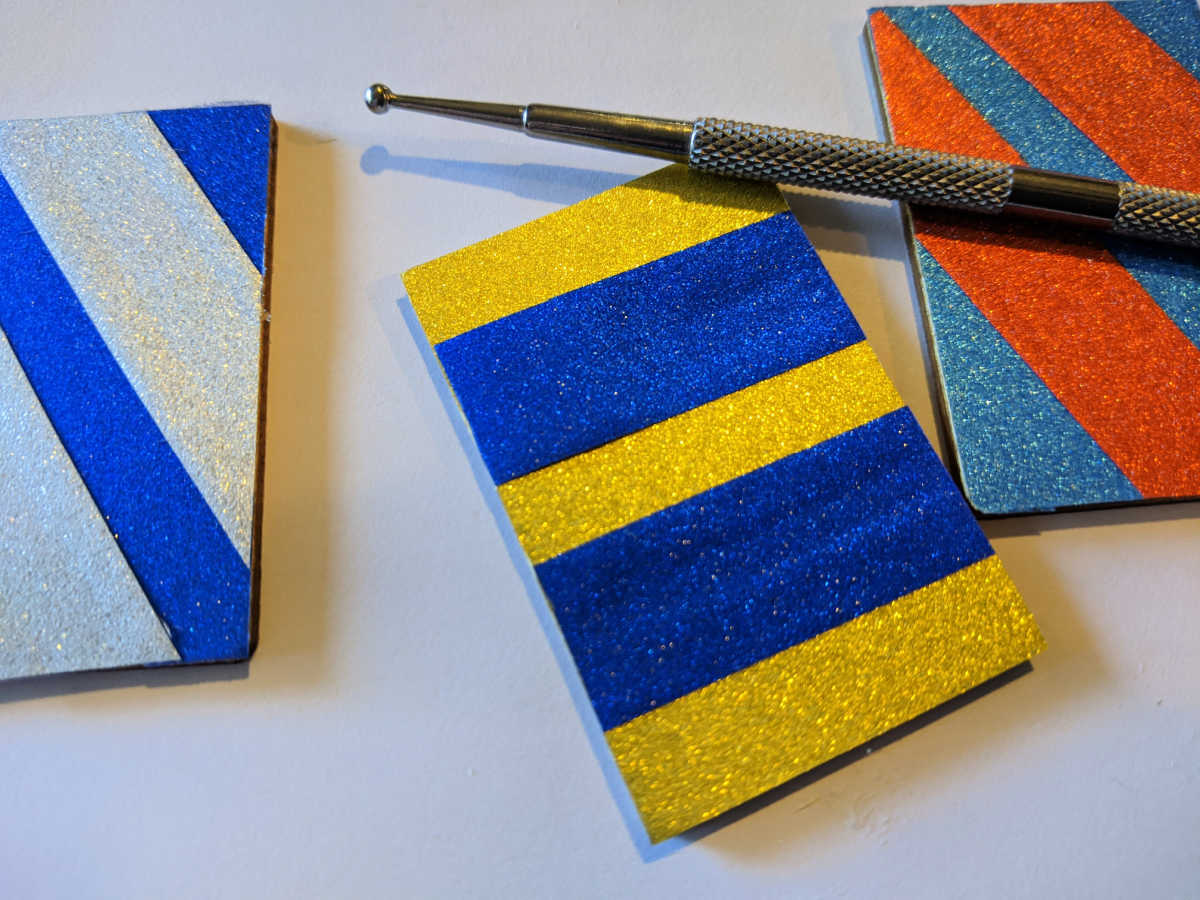 Stylus
A metal stylus is an easy way to make a neat hole in the washi tape for your ribbon or twine.
A stylus made for crafts or one that is for nail art doesn't cost much, but really comes in handy.
I keep mine with my other crafting tools and end up using it quite a bit.
You can get a set with a variety of sizes, but a single stylus with a small ball on one end and a bigger one on the other end is enough for me.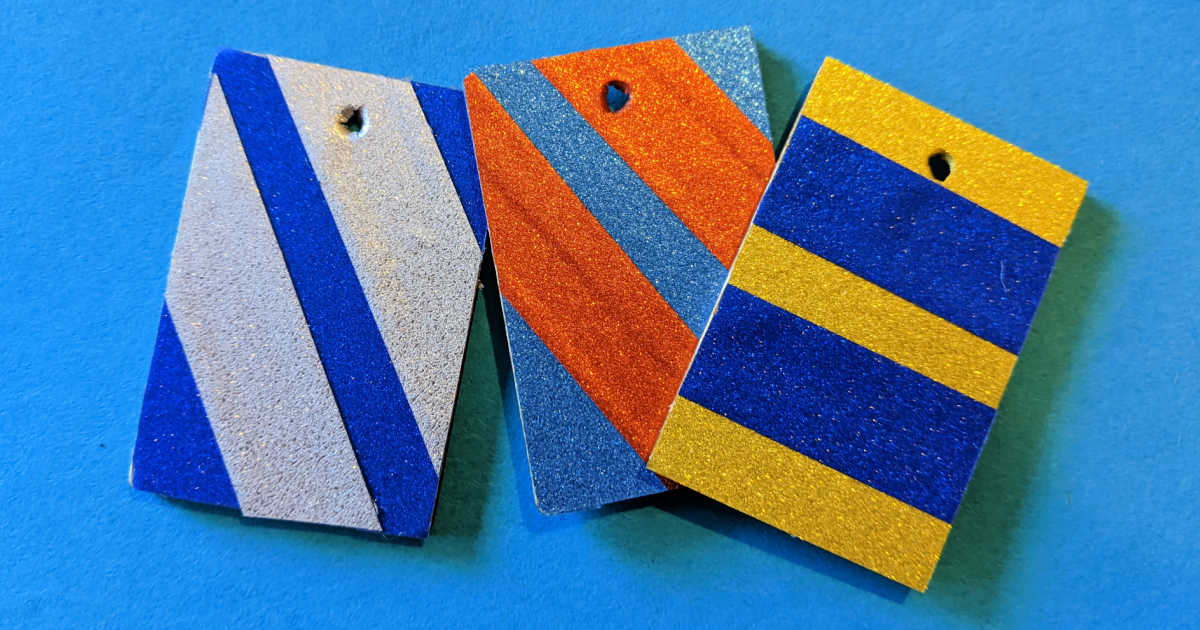 Team Colors Gift Tag Craft
Supplies / Materials
Unfinished Wood Gift Tags
Washi Tape in Your Team's Colors
1/8″ Ribbon or Twine
Tools/Equipment
Scissors
Stylus
Instructions
1) Gather your supplies and get a rough idea of how you'd like arrange the colors on your gift tag.
2) Place strips of washi tape on the unfinished wood gift tag, so it is covered with your team colors. Press each piece of tape firmly down, so it is well attached to the tag. Trim off any excess tape with scissors.
3) Use a stylus to poke a hole through the washi tape for hanging.
4) Add a ribbon or twine to the tag.
More from Mama Likes This
Take a look at my entertainment articles, so you can keep up with the latest TV, movie and book news.
Team Crafts
Free Sports Printables
Washi Tape Crafts
Gift Tag Crafts
Free Printable Gift Tags
Unfinished Wood Crafts
Free Printable Activity Pages
Check out my free printables, when you are looking for fun activities to do at home.
Many are from Disney, Netflix and Shout Factory, so they feature movies, TV series and characters that your kids already know and love.
Some are educational, but others are just plain fun.
There are coloring pages, crafts, word puzzles, mazes, memory games and many other family friendly activities.
Shop Now
Check out the latest online deals, so you can save money and pick out some great products for yourself and your family.
What will you buy first?