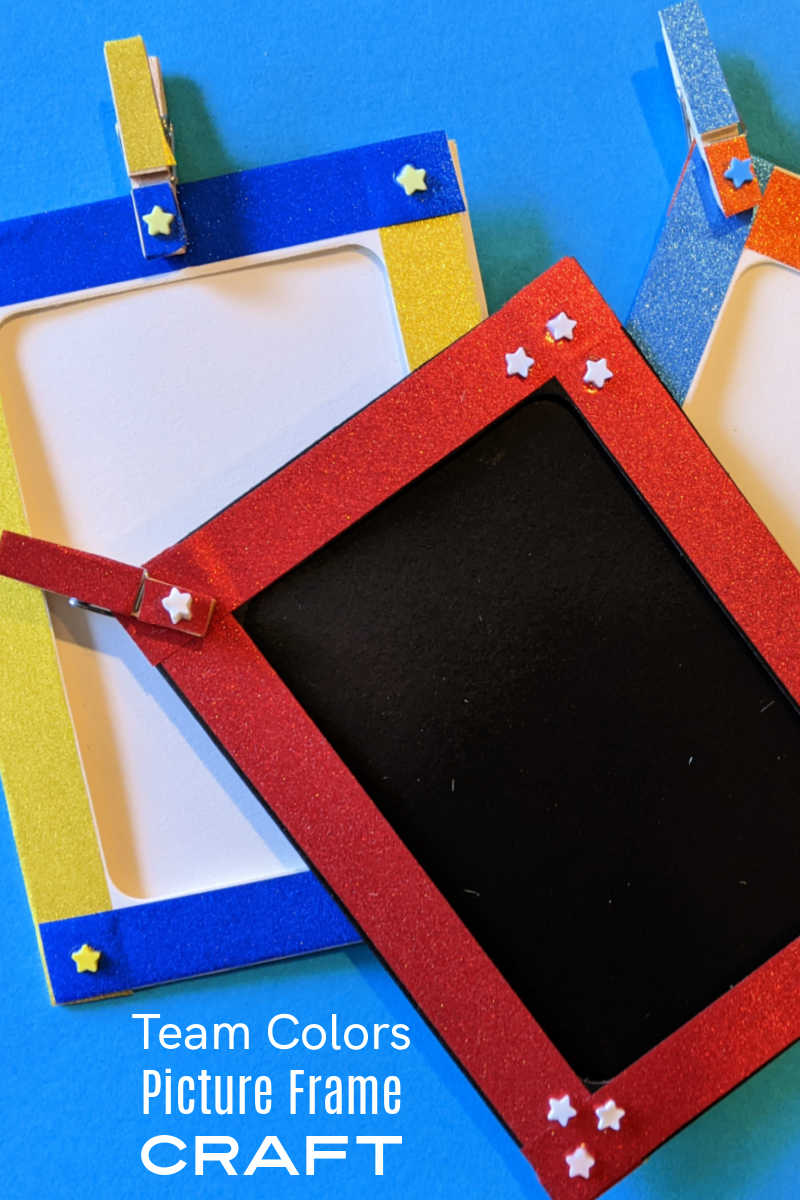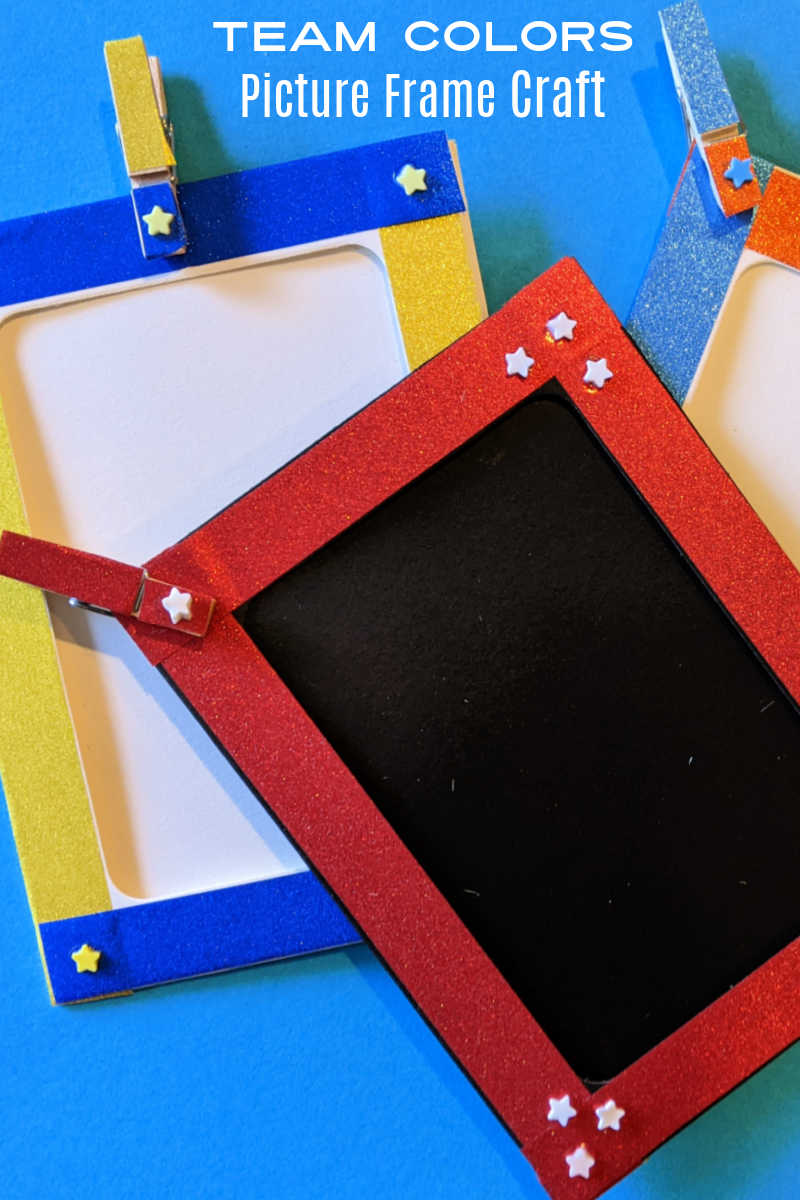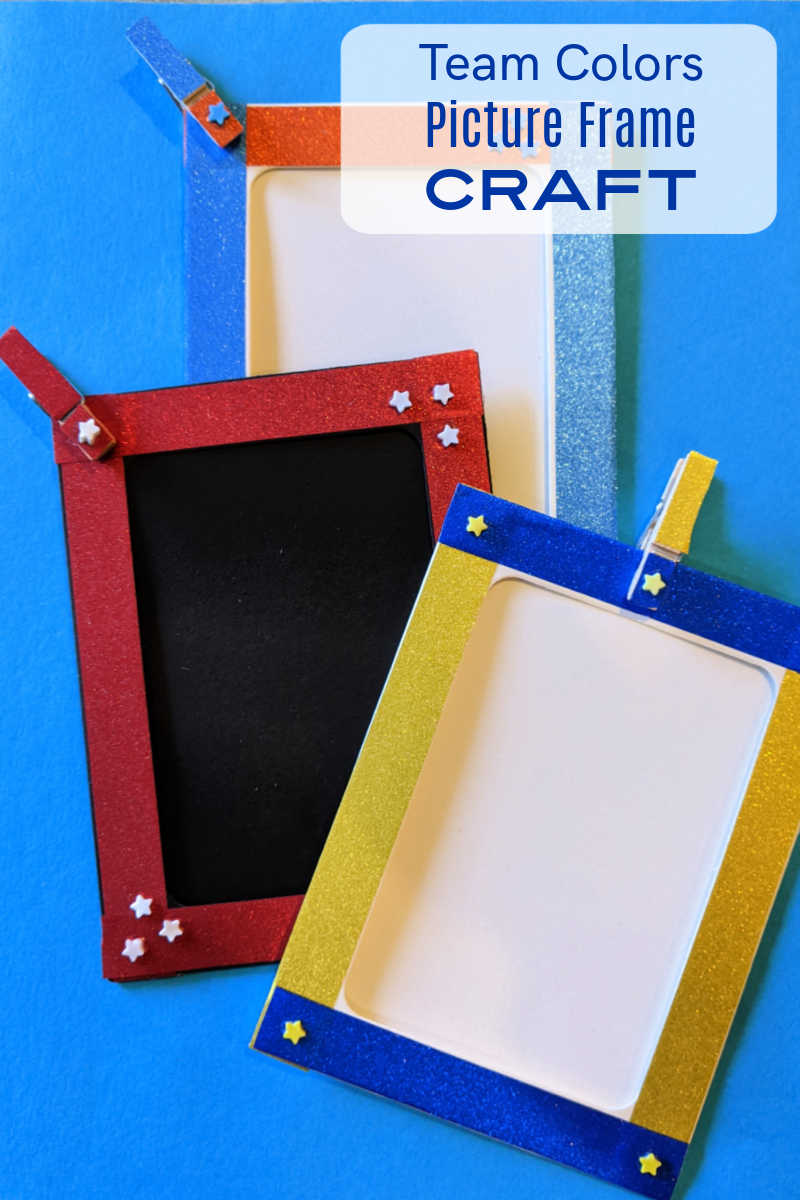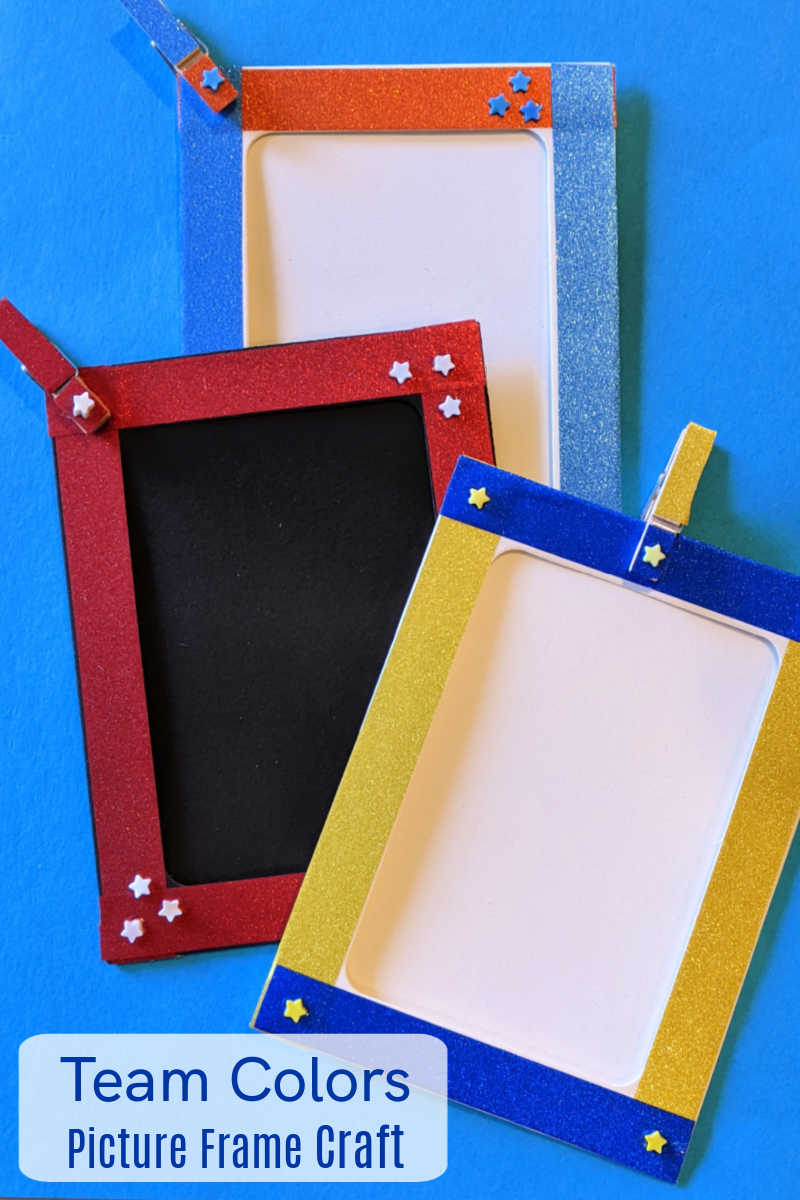 Washi Tape Craft: Team Spirit Photo Frame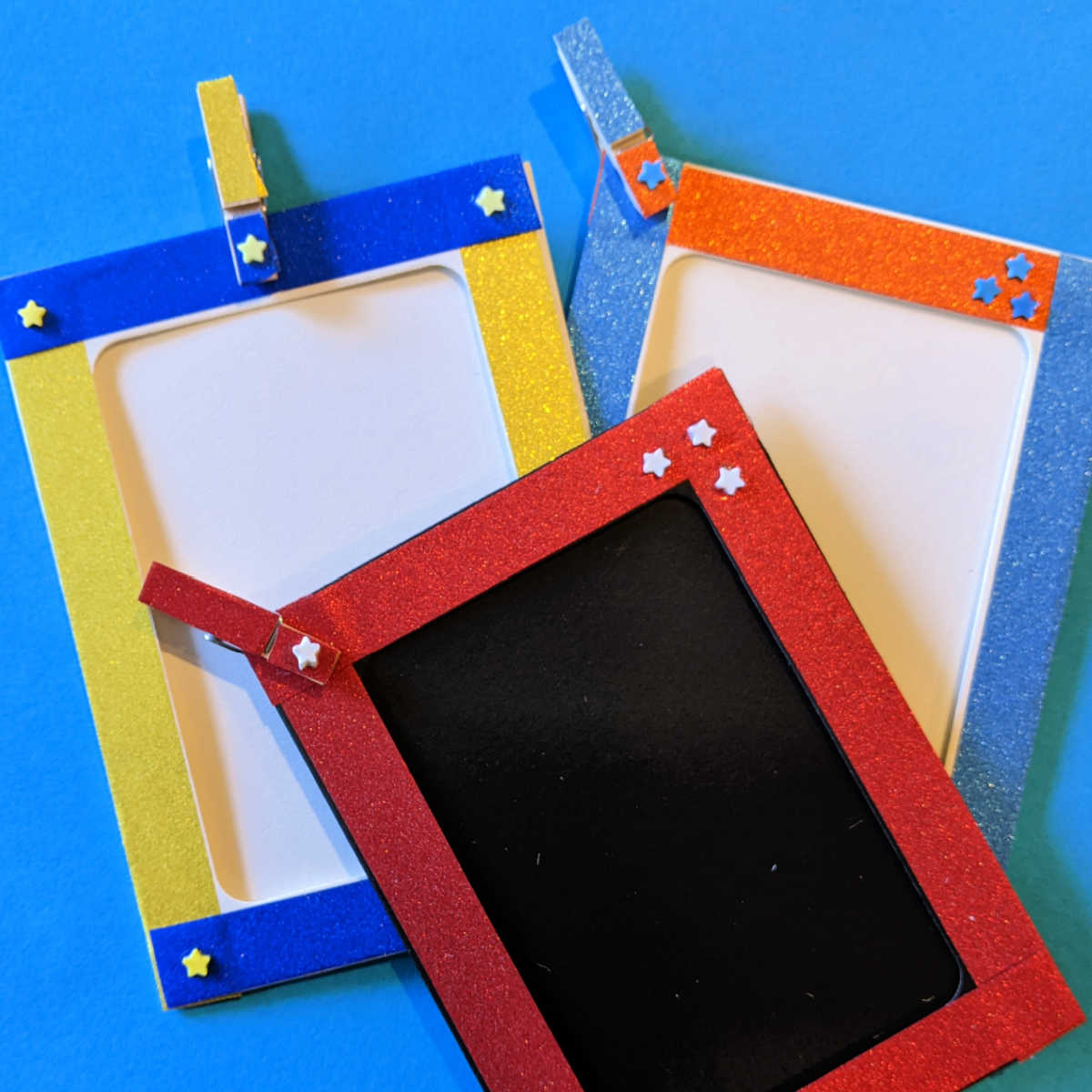 This team colors picture frame craft is great for fans or kids who play on a soccer, football, baseball or other sports team.
Of course, it's also fun for anyone who wants to show some school spirit.
The DIY project is fun to do on your own or you can coordinate a group craft activity for your child's team, a club or a class.
Make one or make a whole bunch of them to string up with twine.
Customize your frame with the colors that represent your team and arrange your washi tape and polymer stars however you'd like.
Then you'll have a one of a kind personalized frame to showcase your child's photo, a picture of you cheering on your favorite team or one of your favorite professional athlete.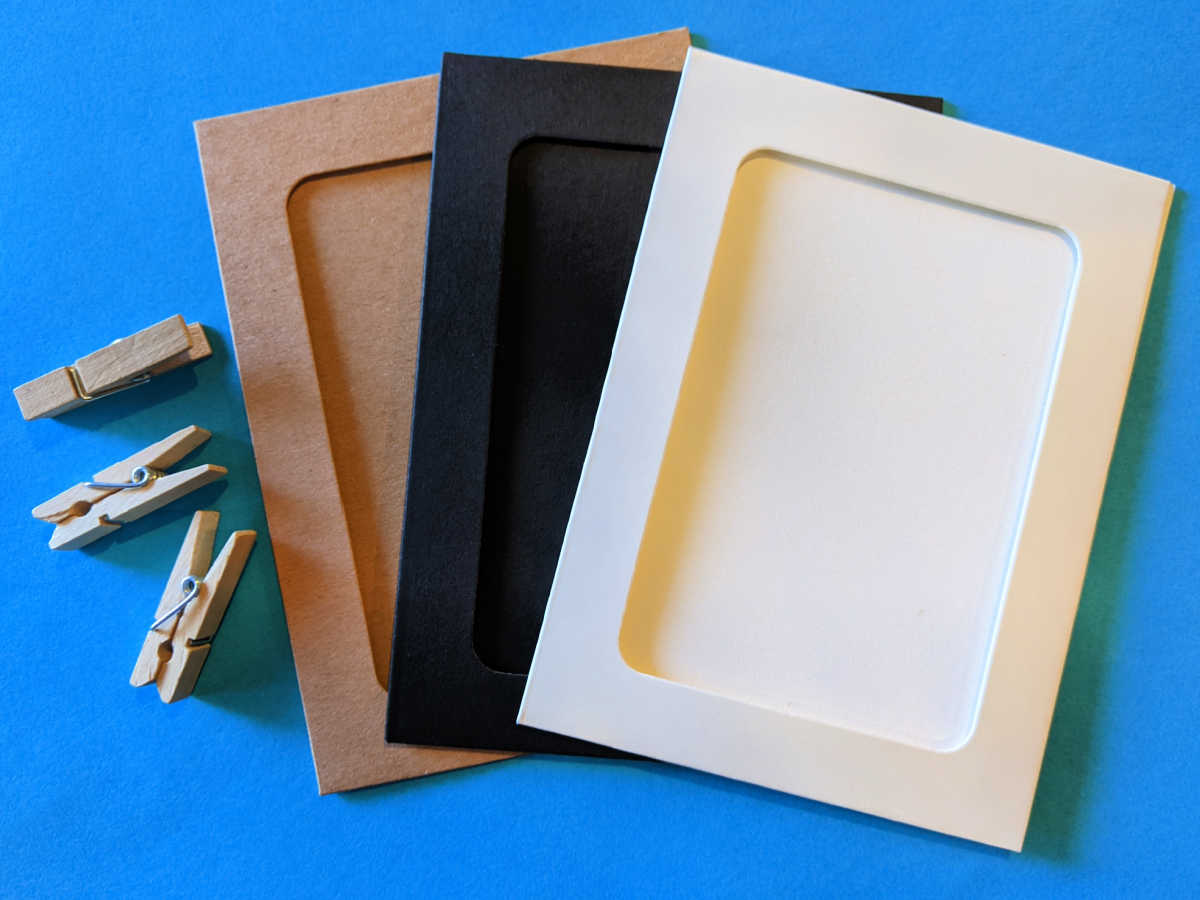 Paper Picture Frames
Sets of paper picture frames are available in convenient packs with twine and mini clothespins ready for you to add your own personal touches.
The frames are made from sturdy cardboard that is inexpensive, but look nice when you hang them up.
They typically come in sets of 10, 30 or 50 frames, so you can pick up however many you need.
My set came with black, white and natural colored frames, but they are also available with single colors and assorted bright colors.
It's easy to slip your photo in through the opening at the top.
If you have a Cricut or other cutting machine, you can make and assemble your own.
However, these are very reasonably priced and it's convenient to have them already put together and packaged with twine and clothespins.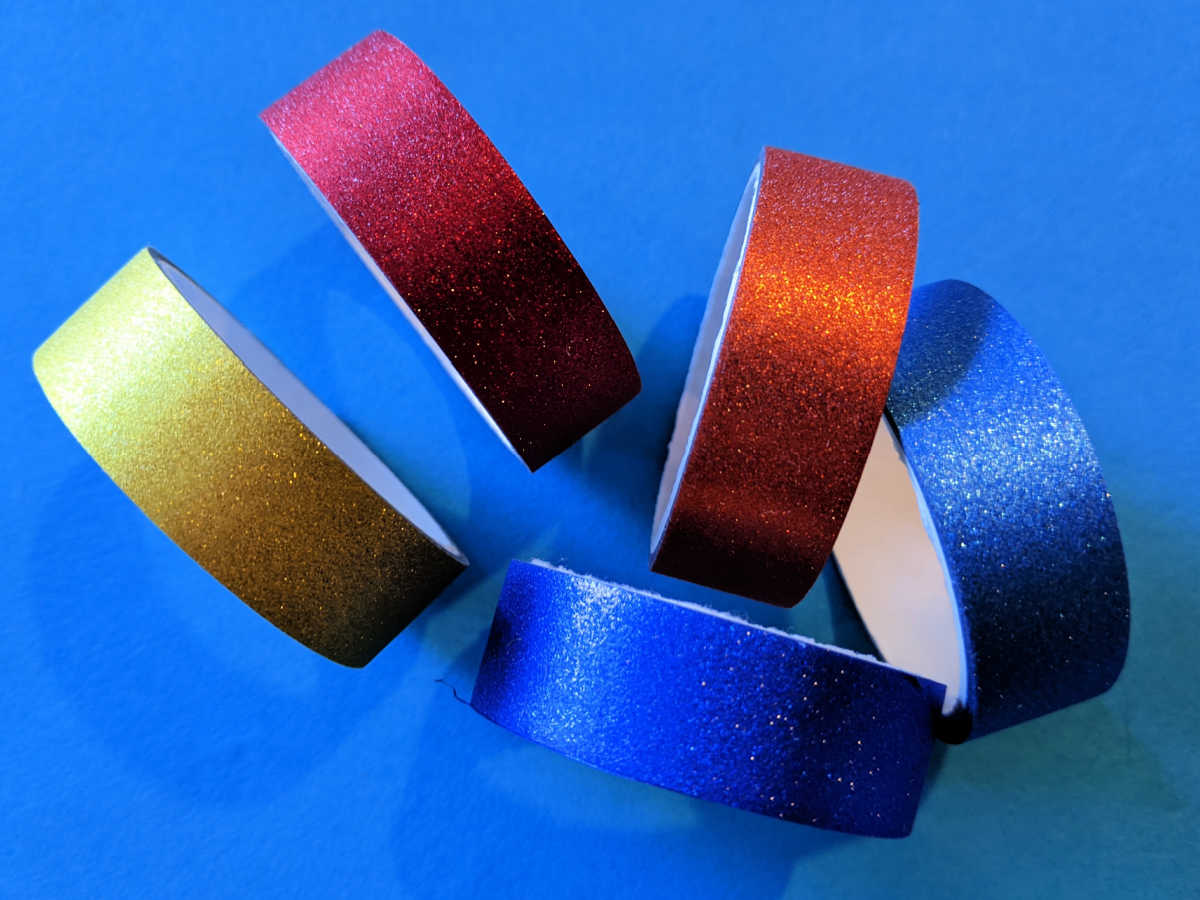 Washi Tape
These picture frames are made with washi tape, which is easy to find in colors to represent your team.
It is less sticky than regular tape, so it is forgiving to work with.
If you put the tape on a little crooked, just pick it up right away to shift it into the right position.
I used glitter washi tape for my frames, but you can also use non-sparkly tape in your choice of colors.
Feel free to arrange your tape and stars however you'd like.
There is no right or wrong way to do this craft, so get creative.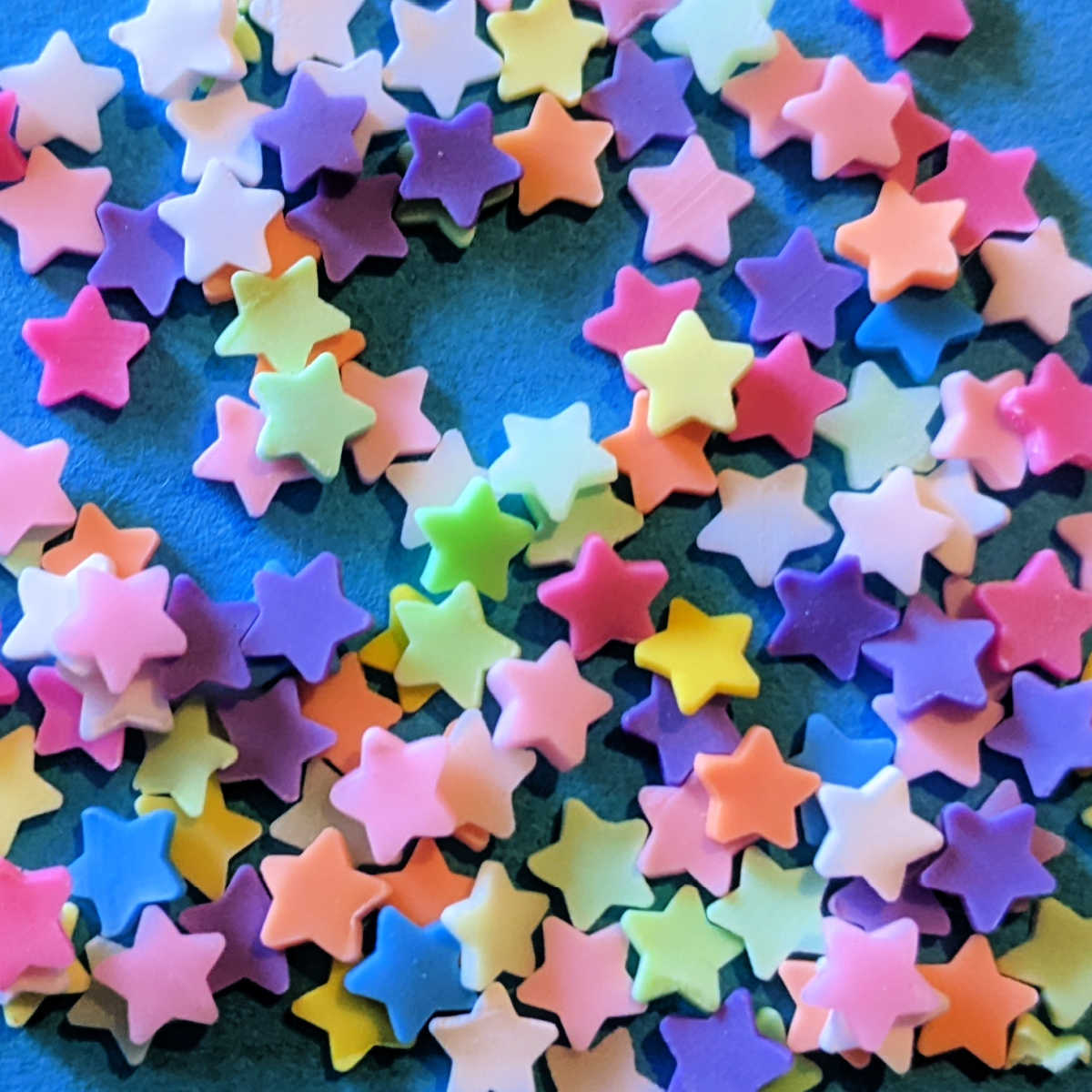 This is a fun way to use polymer confetti stars in a fresh, new way.
Polymer clay is a great material that works well for beads and other craft and decor items.
The small bits that are made into confetti are typically used as a fun mix-in for homemade slime.
However, they are also perfect for these picture frames and other creative DIY crafts.
I used a pack of multi-colored star shaped confetti for my frames, but there are also plenty of other shapes and patterns to choose from.
They add a nice little pop of color to celebrate a superstar.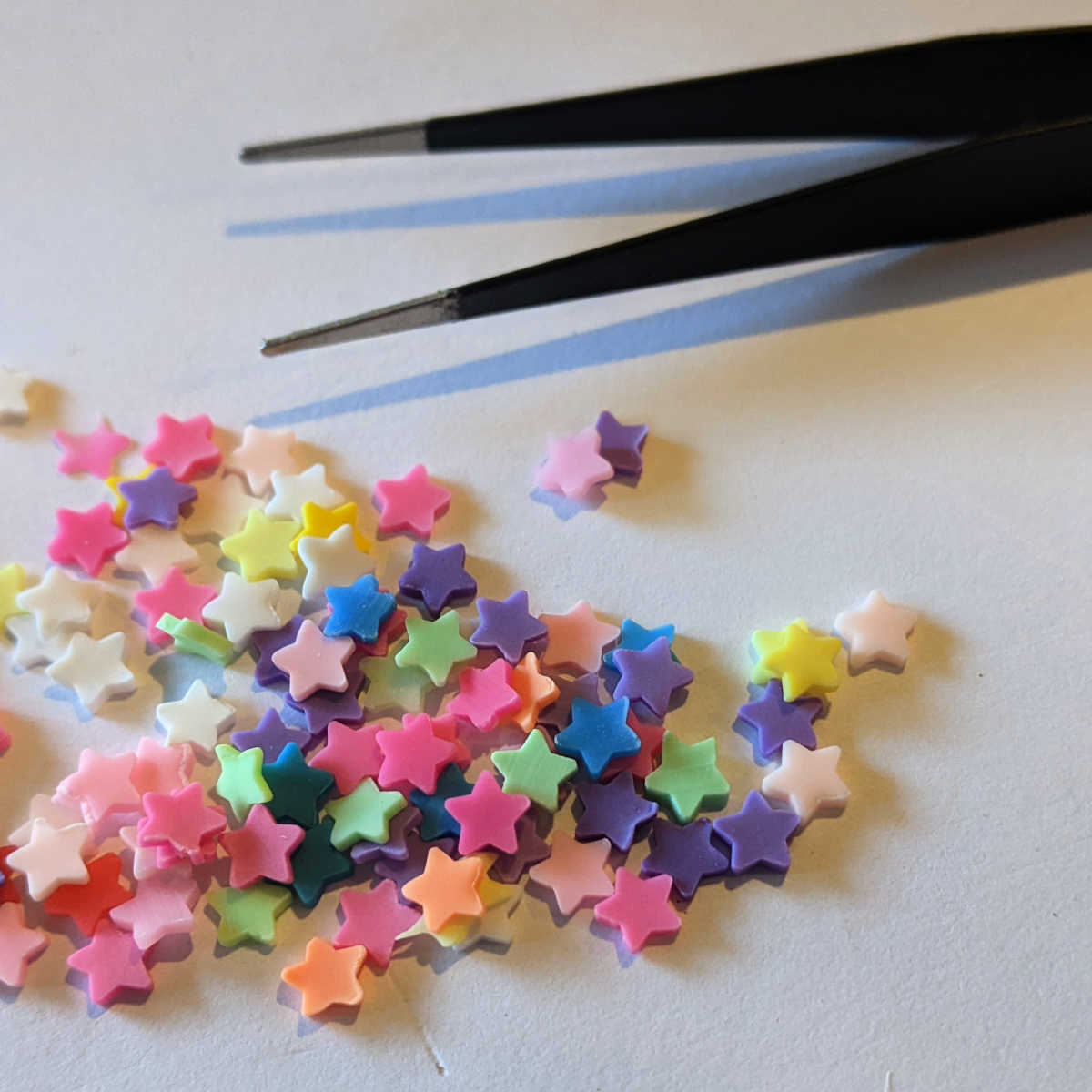 Pointed Tweezers
Tweezers are not absolutely necessary for this craft, but they make it a whole lot easier to get your polymer stars positioned exactly where you want them.
Pointed tweezers are best to pick up the tiny stars and control where you are placing them.
If all you have are slanted eyebrow tweezers, they can work, too.
However, the pointed ones are better for this craft.
They are inexpensive and can get used for this and other DIY projects.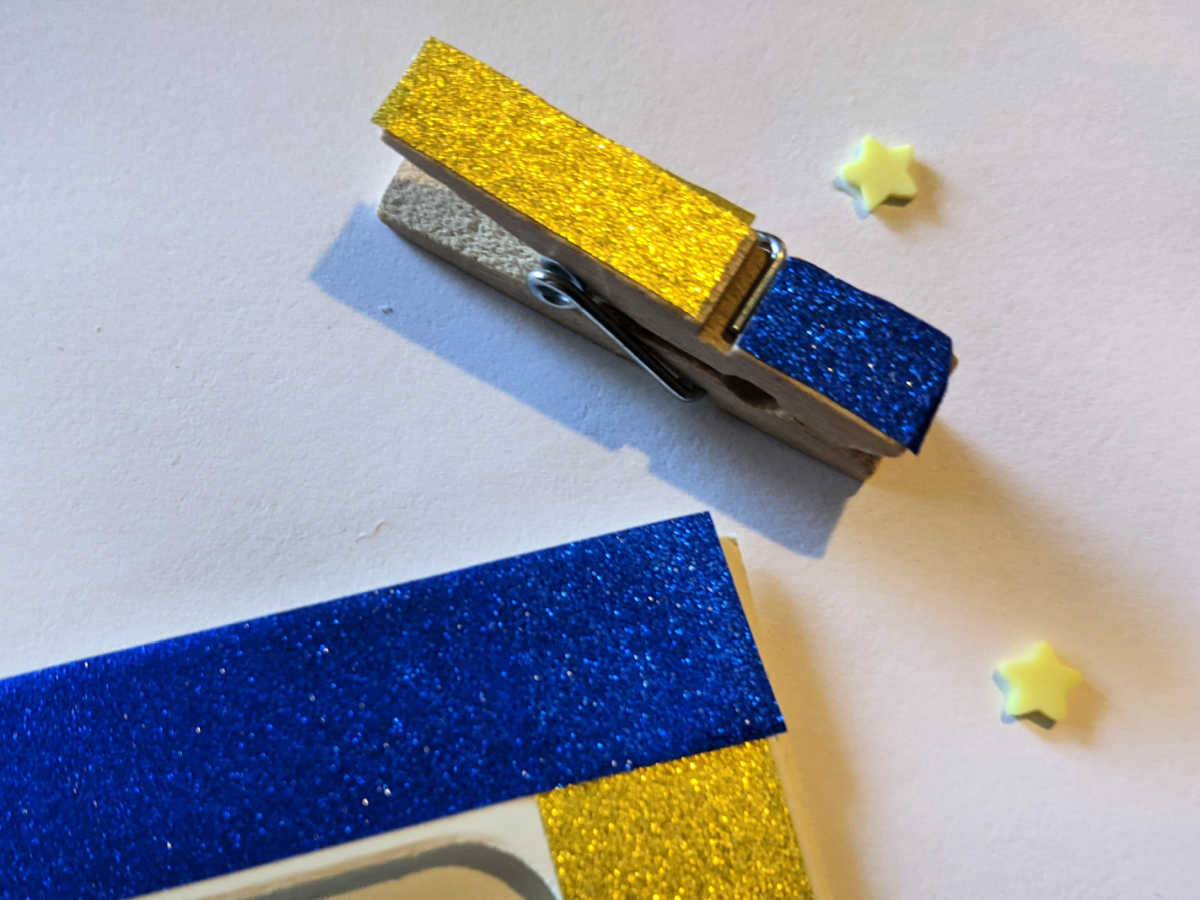 White Glue
Regular white school glue is fine for the frame, since the polymer confetti is lightweight.
A stronger craft glue would work well, too.
Just make sure you choose a glue that will dry clear, so that your finished picture frame looks nice.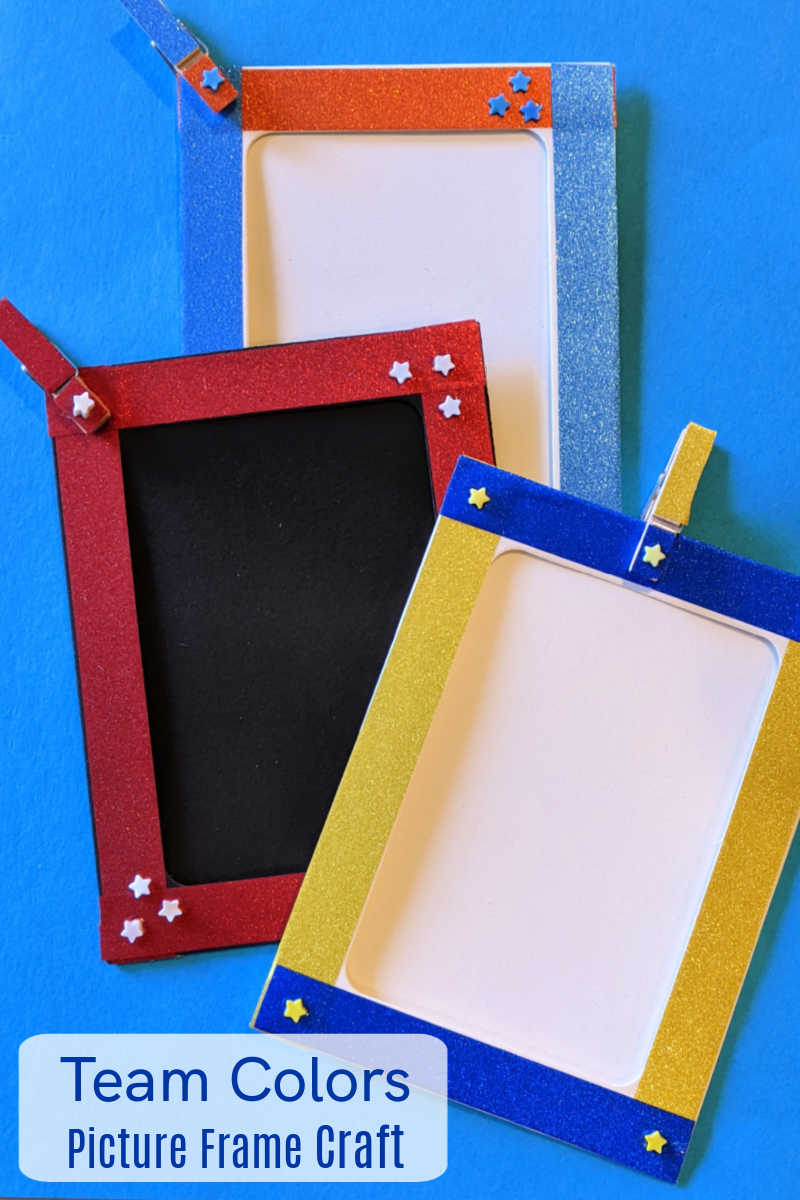 Team Colors Picture Frame Craft
Supplies / Materials
Paper Picture Frames with Mini Clothespins
Washi Tape in Team Colors
Polymer Confetti Stars (or other shapes)
Glue
Tools/Equipment
Scissors
Tweezers
Instructions
1) Gather your supplies and make a plan for how you want to arrange your colored washi tape and stars. Make note of where the opening should be and whether you'd like your clothespin clipped in the center or on one side.
2) Firmly stick your washi tape around the sides of the frame and use scissors to trim off any excess tape.
3) Add a strip of washi tape to the mini clothespin. Either add one long strip or one small piece of washi in each of the team colors. Press down to make sure the tape is firmly attached.
4) Use tweezers to pick up individual polymer stars and glue them to the frame and clothespin.
5) Let the glue dry and then your frame is ready to use!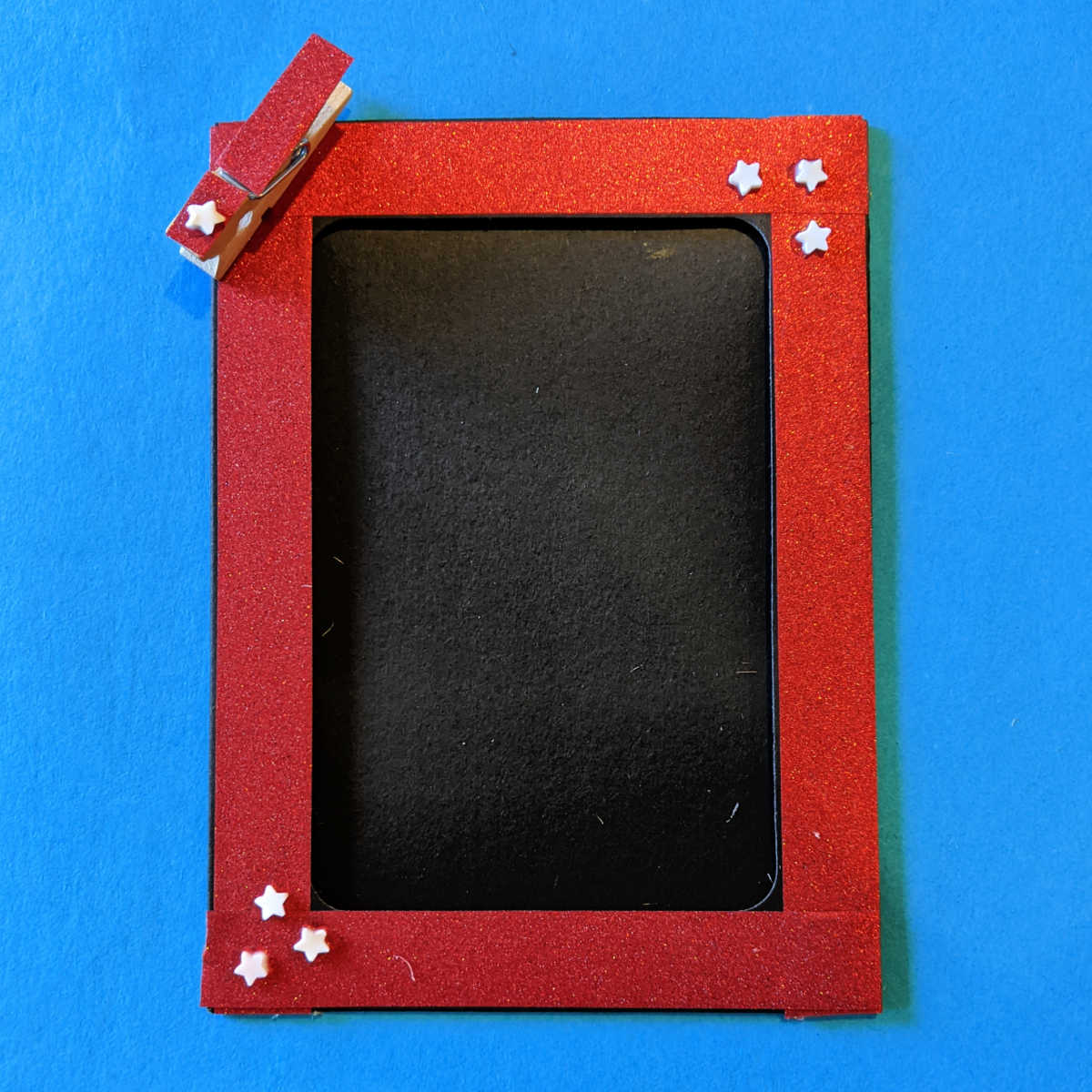 More from Mama Likes This
Take a look at my entertainment articles, so you can keep up with the latest TV, movie and book news.
Team Crafts
Free Sports Printables
Following are a few sports themed printables that your family may enjoy:
Picture Frame Crafts
Washi Tape Crafts
Free Printable Activity Pages
Check out my free printables, when you are looking for fun activities to do at home.
Many are from Disney, Netflix and Shout Factory, so they feature movies, TV series and characters that your kids already know and love.
Some are educational, but others are just plain fun.
There are coloring pages, crafts, word puzzles, mazes, memory games and many other family friendly activities.
Shop Now
Check out the latest online deals, so you can save money and pick out some great products for yourself and your family.
What will you buy first?