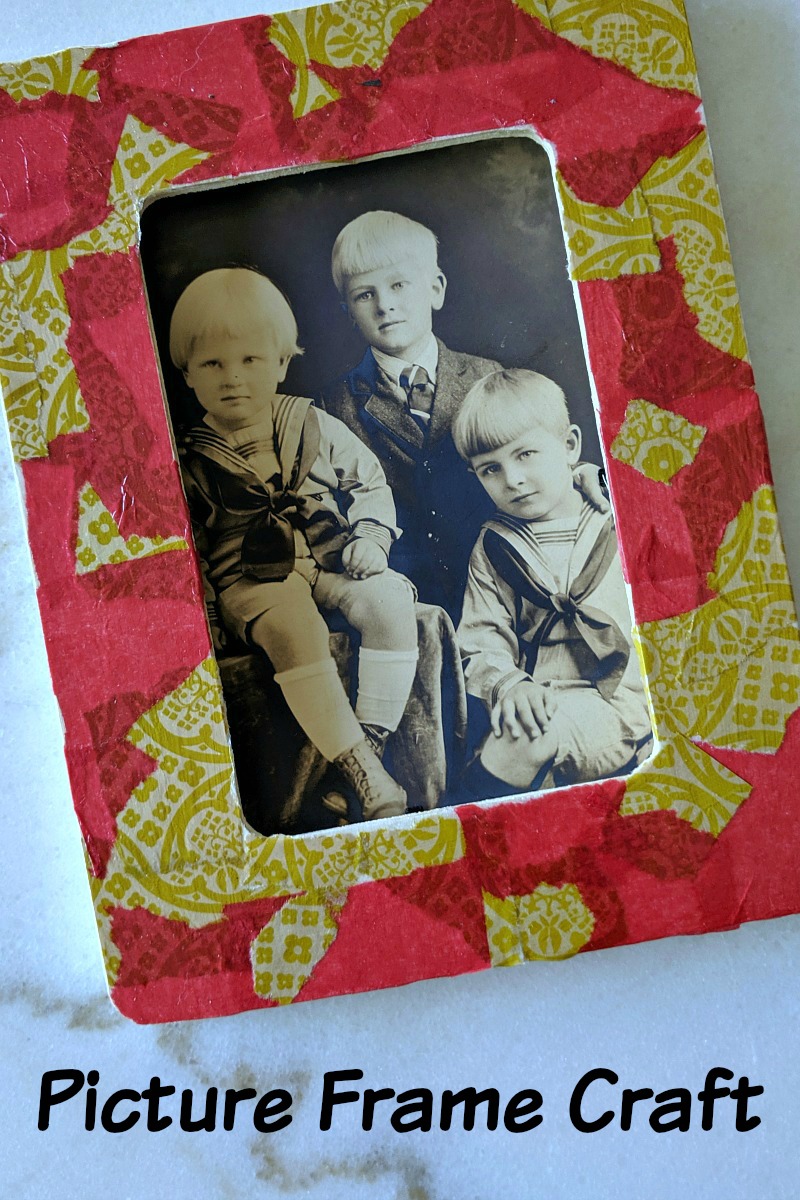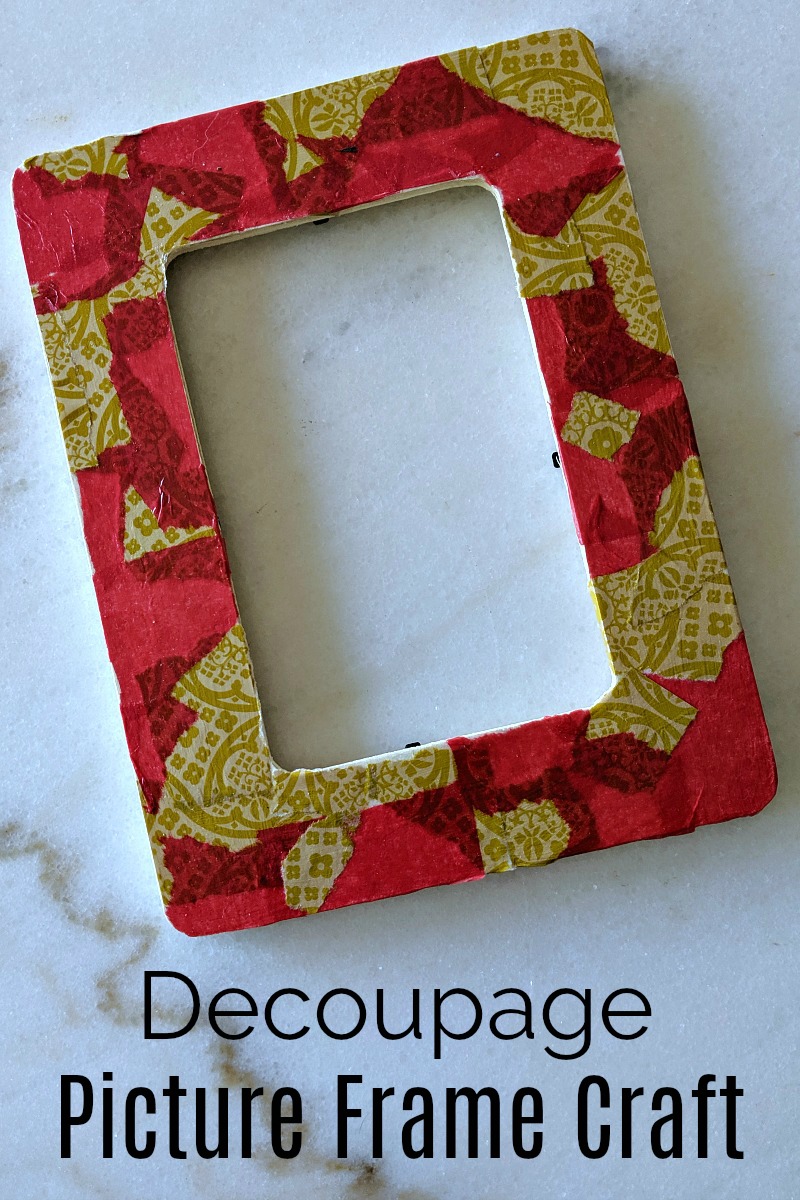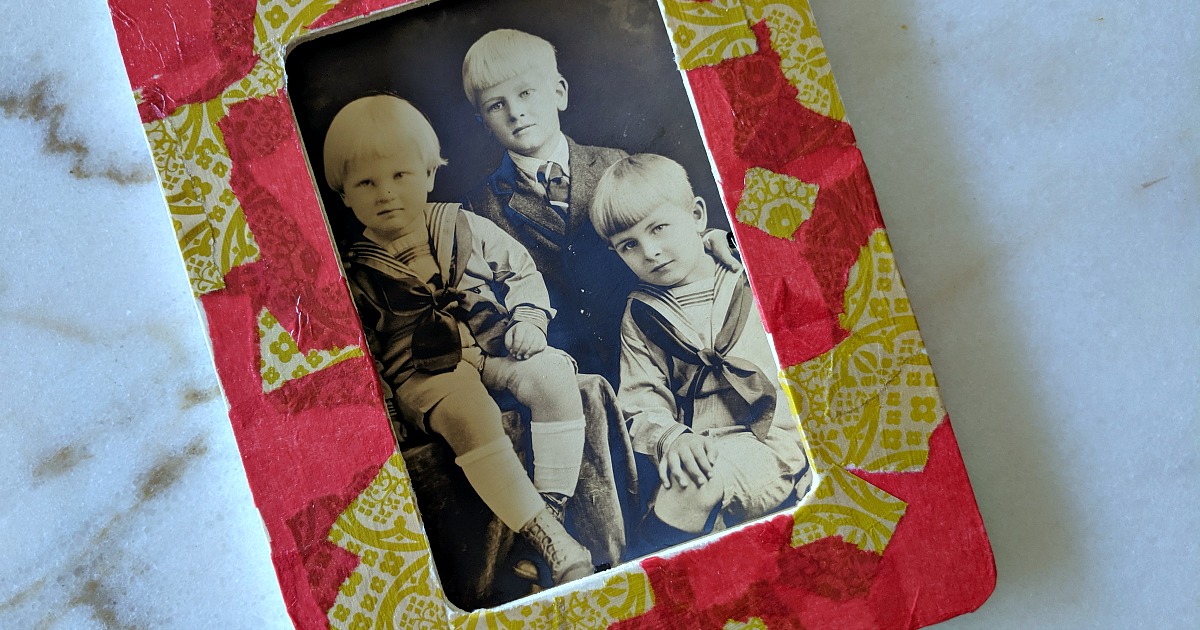 Mod Podge Craft for Kids and Adults
When you want a craft for both kids and adults, make a holiday decoupage picture frame.
Yes, you can make your Mod Podge frame with any color combination, but I chose red and gold for Christmas.
The vintage photo of my Dad and his brothers is a family favorite, so we like to have it out on display.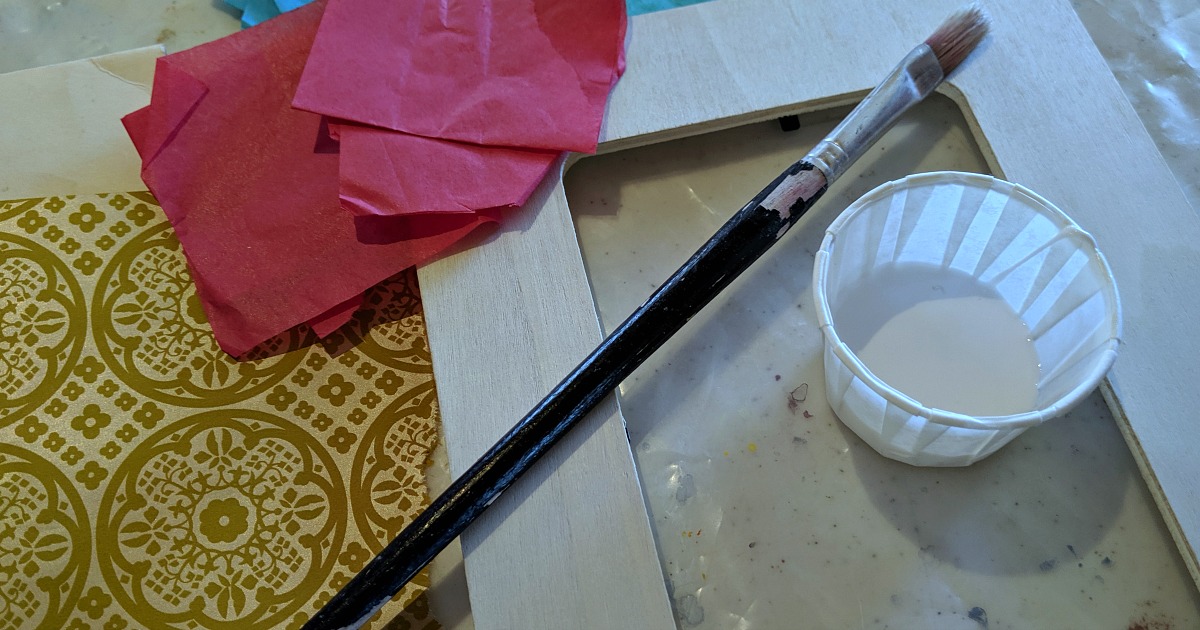 This easy craft is perfect for all ages, since there is so much room for personal expression.
There is no right or wrong way to design it, so each person will end up with a unique frame.
Even a very small child can help choose colors and paper placement as an adult or older sibling helps with the assembly.
You can make a frame by yourself.
Or you can set up a family craft table before the holidays or at a holiday gathering.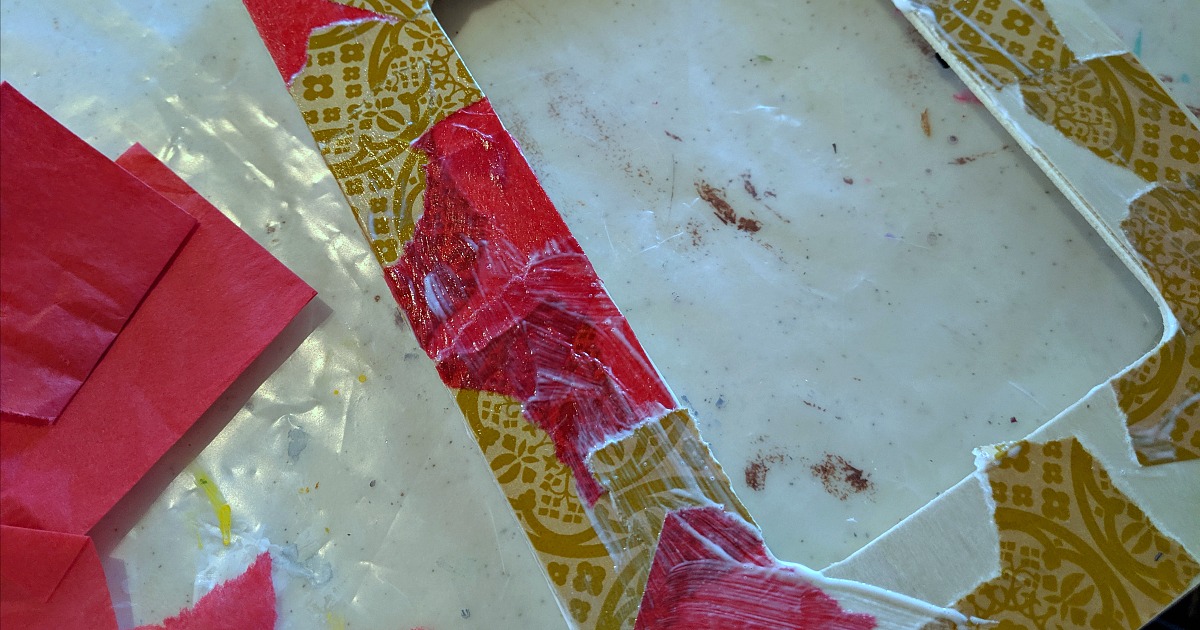 I had a basic plan before I started adding the bits of paper to my frame, but my design took shape as I began to work.
Feel free to use any sort of color combination that works for you.
Of course, you can also make your frame a solid color.
Anything goes, when it comes to creating a decoupage picture frame.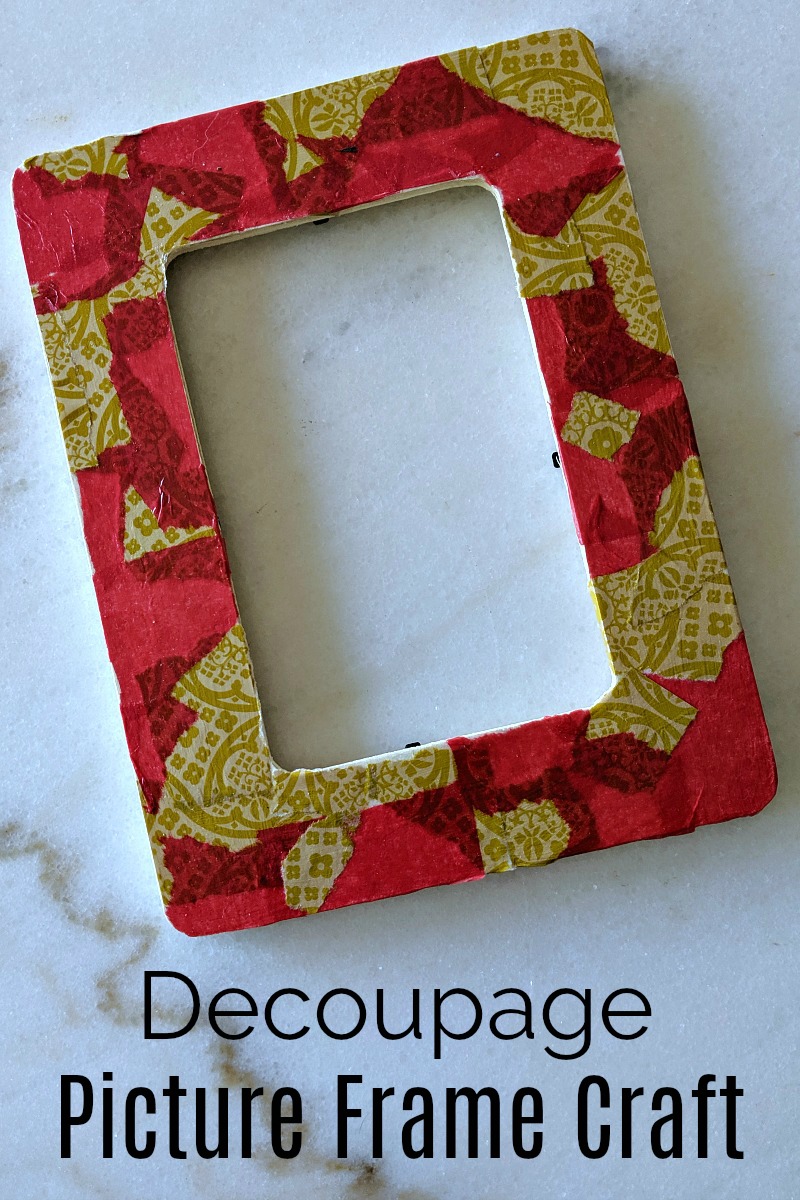 Holiday Decoupage Picture Frame Craft
Supplies
Unfinished Wood Picture Frame
Flat Edge Paint Brush
Mod Podge
Wrapping Paper
Tissue Paper
Instructions
1) Cover your work surface, so that clean up will be quick and easy.
2) Pour a small amount of Mod Podge into a cup or dish.
3) Tear off a little piece of wrapping paper or tissue paper. Paint a thin layer of Mod Podge onto the frame and place the paper on top of it. Then, brush another thin coat of Mod Podge on top of the paper.
4) Repeat until your design is complete and the frame is covered.
5) Allow it to dry completely and insert photo.
6) Give as a gift or display it in your own home.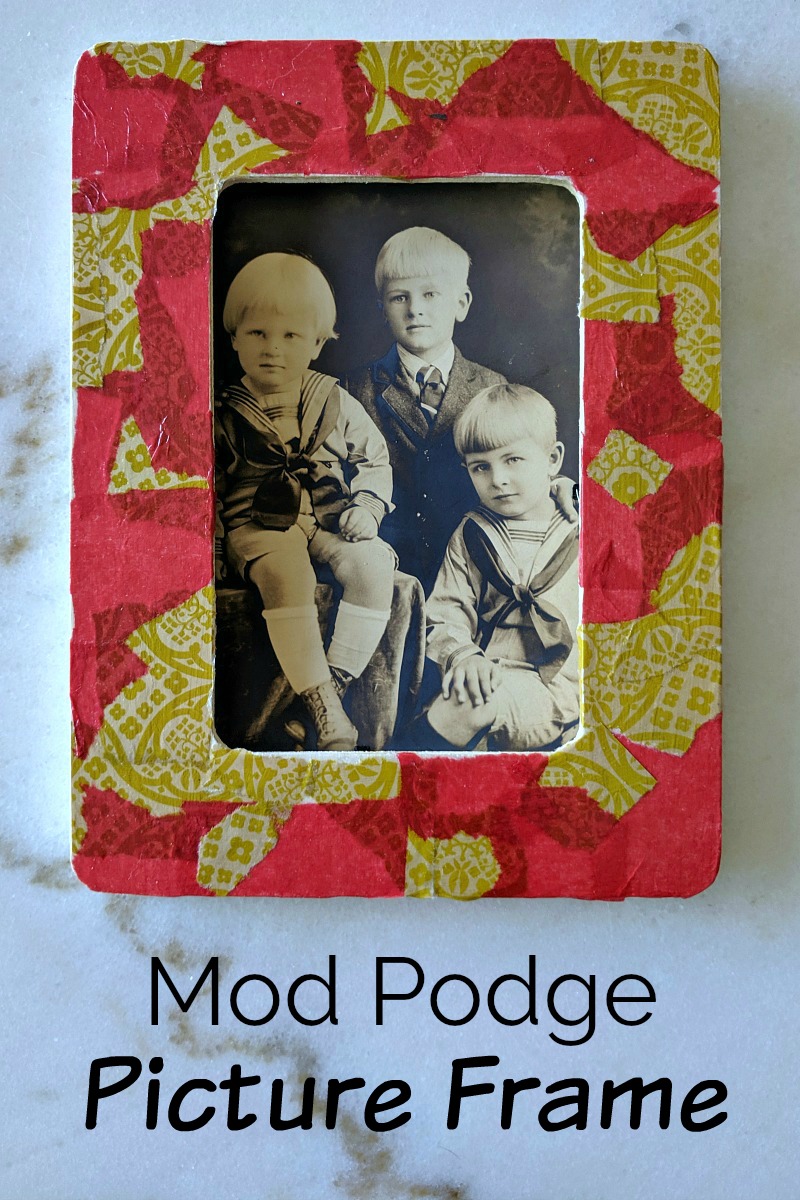 More from Mama Likes This
Take a look at my entertainment articles, so you can keep up with the latest TV, movie and book news.
Picture Frame Crafts
Free Printable Activity Pages
Check out my free printables, when you are looking for fun activities to do at home.
Many are from Disney, Netflix and Shout Factory, so they feature movies, TV series and characters that your kids already know and love.
Some are educational, but others are just plain fun.
There are coloring pages, crafts, word puzzles, mazes, memory games and many other family friendly activities.
Shop Now
Check out the latest online deals, so you can save money and pick out some great products for yourself and your family.
What will you buy first?