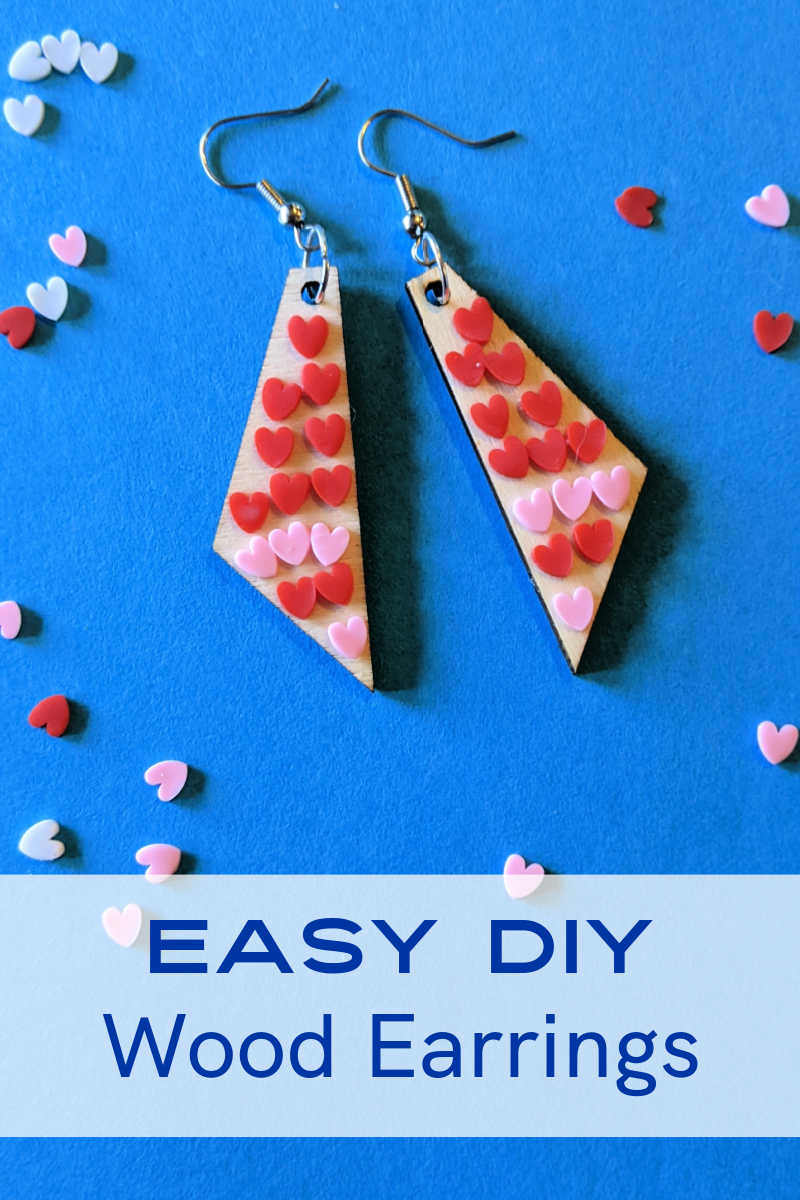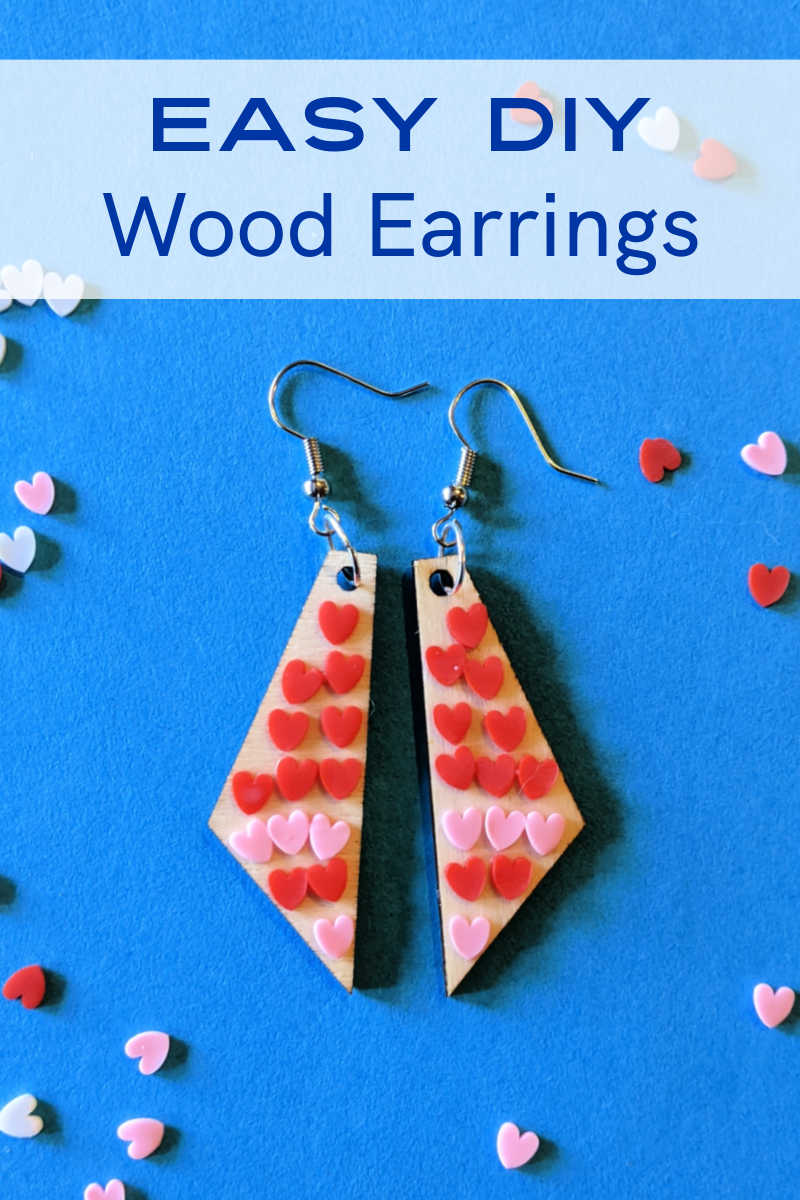 Make Wood Earrings with Hearts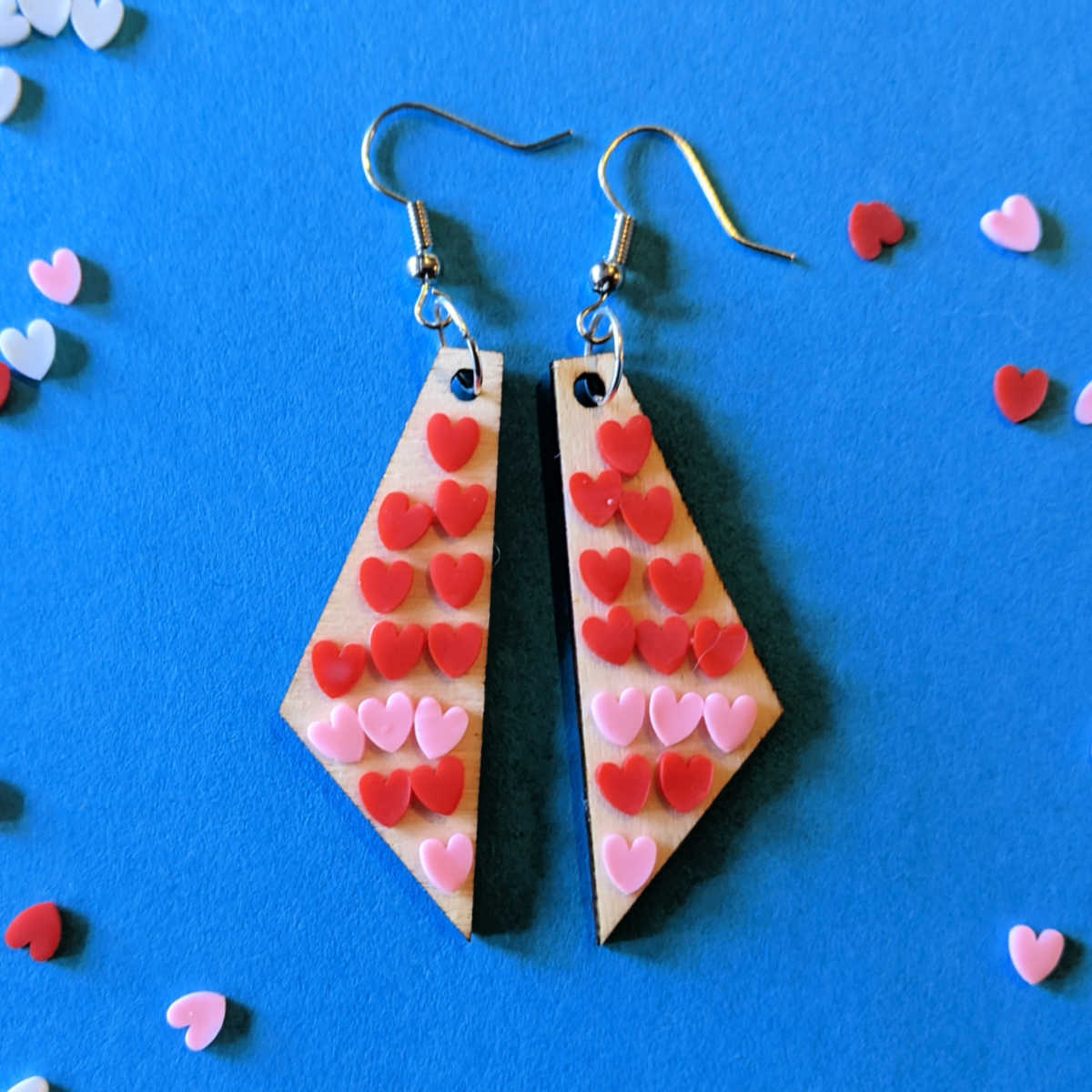 February 14th is a good time to make DIY Valentine wood earrings, but you can wear this cute heart jewelry any time of the year.
The homemade earrings are made with unfinished wood earring blanks and 3 dimensional polymer confetti heart slices.
These are dangle earrings that people will notice, but the wood is surprisingly lightweight and comfortable to wear.
It's an easy craft, so even a jewelry making beginner can make earrings that look great.
Yours can be exactly like mine or you can choose a different wood shape and unique heart pattern.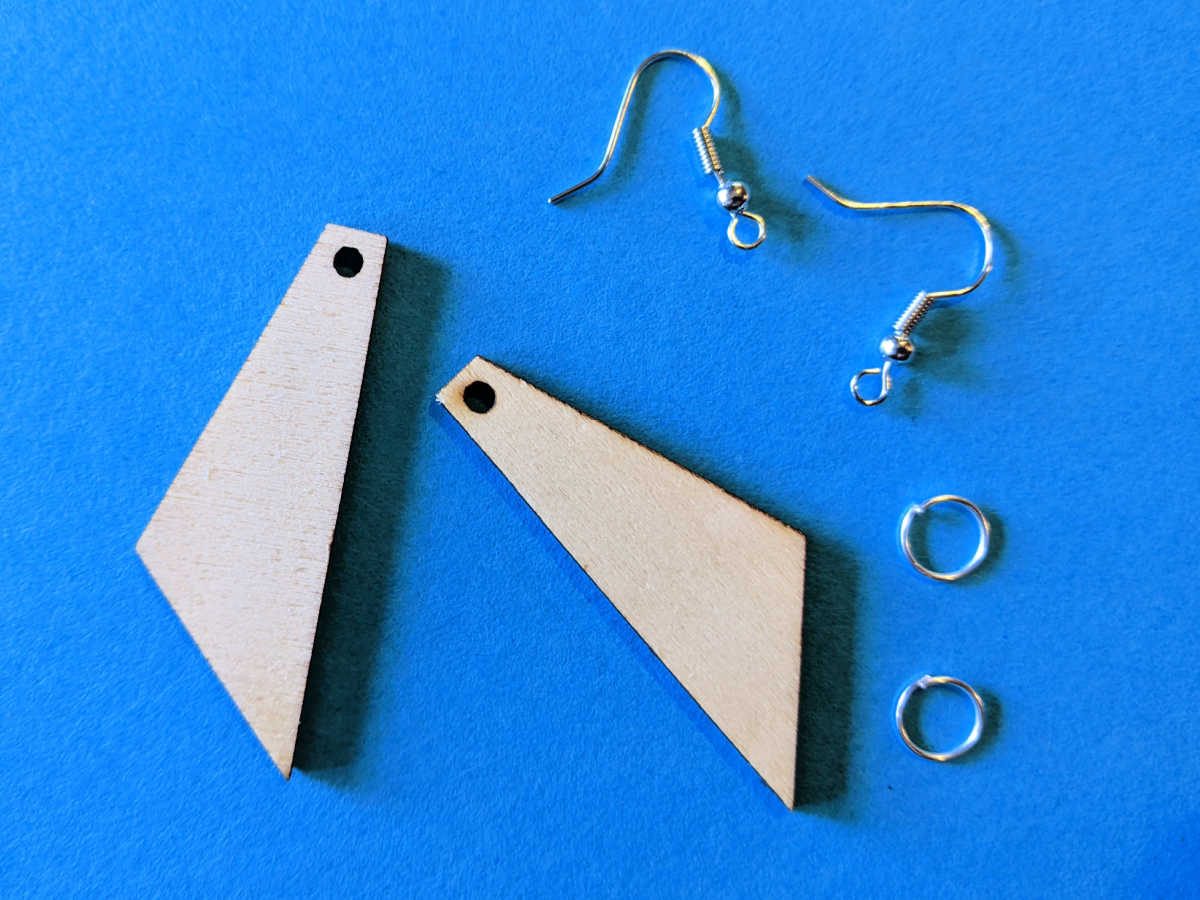 Crafting with unfinished wood is easy and you can get great results.
Precut wood is available in a variety of shapes and sizes for a wide range of craft projects, including jewelry making.
Earring blanks are usually sold in sets that include wood pieces and jewelry findings, so they are ready to use.
My set had 3 different wood shapes, earring hooks and jump rings.
The wood is lightweight, so my earrings are comfortable to wear.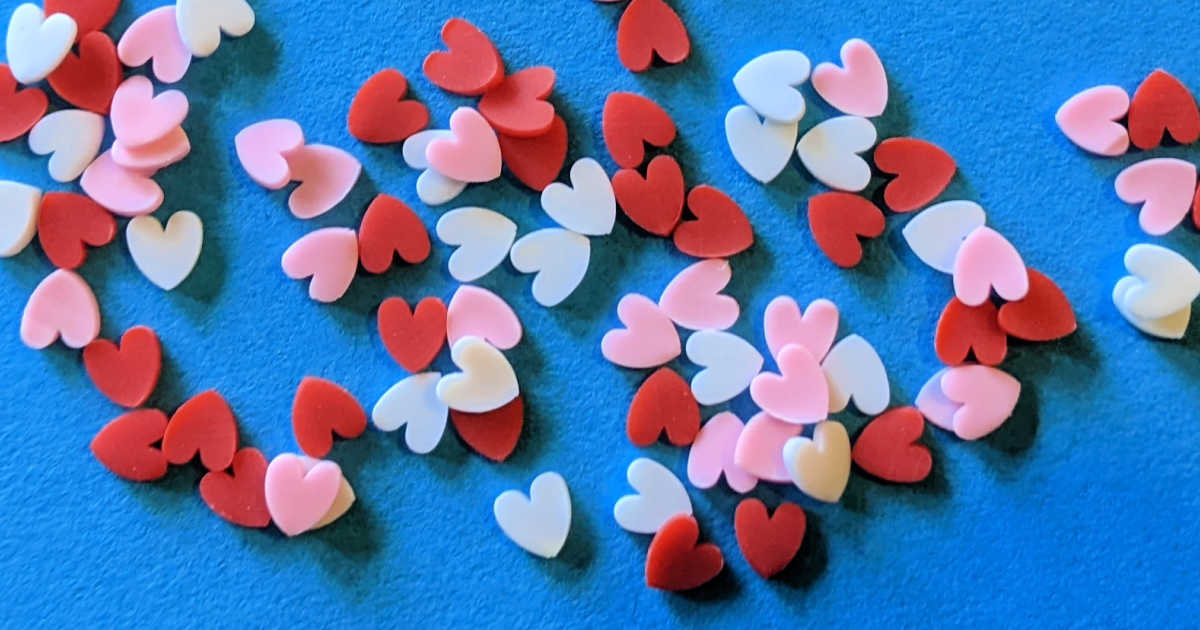 Aren't these tiny red and pink hearts cute?
The colorful polymer clay slices are a convenient material that is ready to be used in creative ways for crafts, jewelry making or nail art.
They are 3 dimensional, so they stick out a little more than flat sequins.
The little bits of polymer clay that are made into confetti are often used as a fun mix-in for homemade slime, so you may already be familiar with using them in that way.
The confetti is also perfect other DIY crafts including to make cute Valentine earrings.
This package of hearts included red, pink and white hearts and I chose to use just the pink and red ones.
Other heart styles and colors are available, too.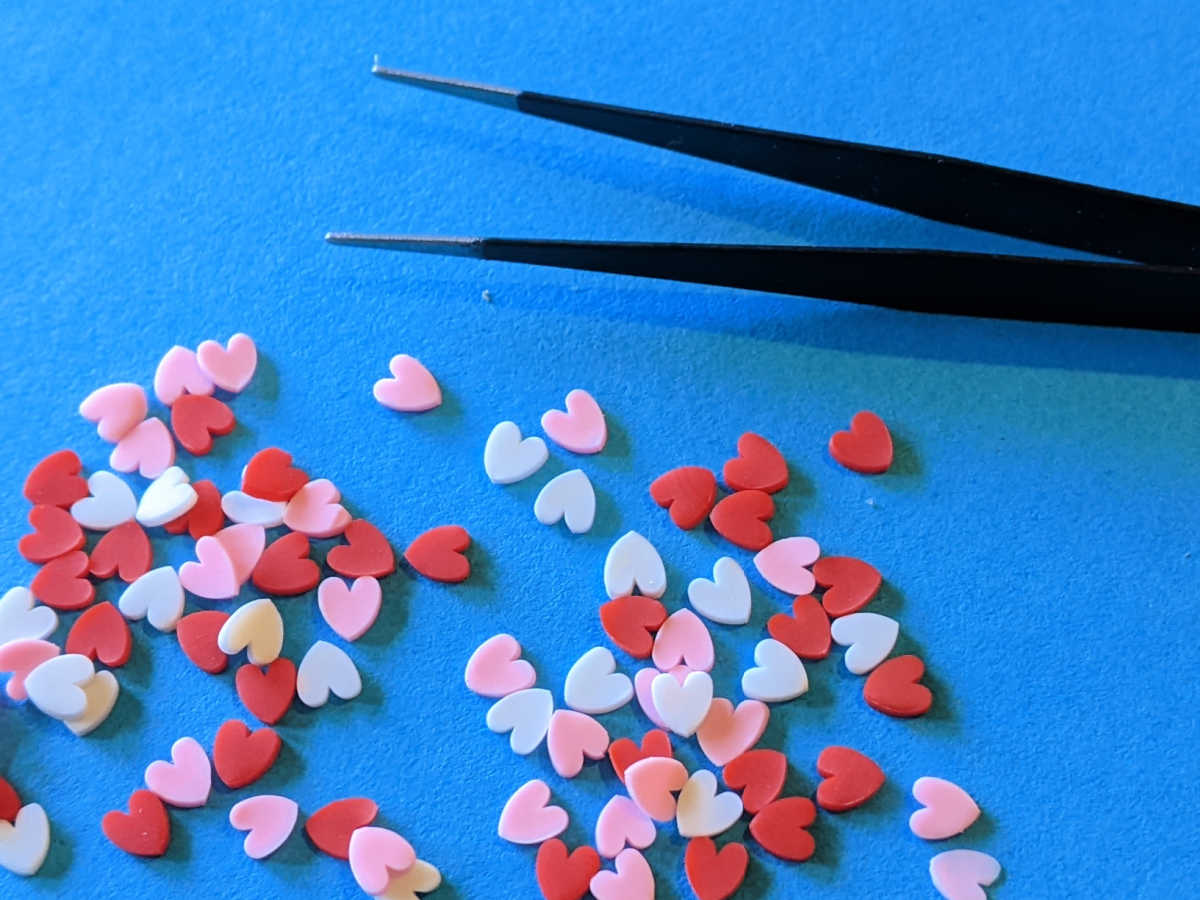 Tweezers
I use the pointed tweezers that I keep with my craft and jewelry supplies often.
They are especially helpful for these earrings, since they make it easy to handle the tiny polymer hearts.
Pointed tweezers can be used to pick up each little heart and place it where you want it on the wood earring.
When you are placing your hearts in a pattern, tweezers help you get a finished design that looks great.
Glue
I used regular white school glue that dries clear to make the earrings.
Mix glue with a little bit of water in a small bowl or on a plate, so that you can use a paintbrush to apply it to the wood earring blanks.
You can also use Mod Podge, instead of the glue and water mixture.
The glue is also used as a top coat after all the hearts are in place on the Valentine wood earrings.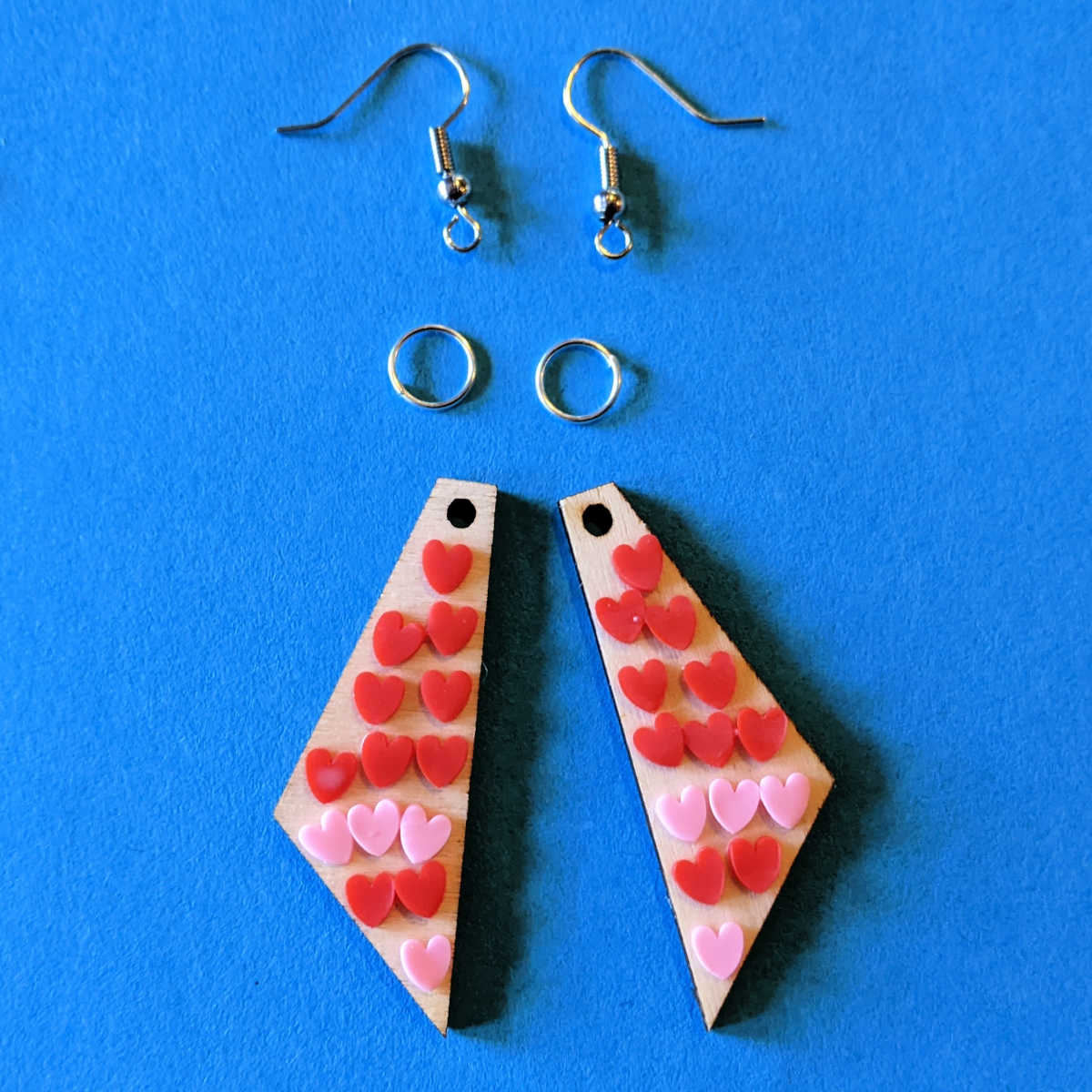 Ear Hooks
My package of unfinished wood earring blanks included basic fish hook earring findings, so that's what I used.
If you need to get them separately, you can buy fish hooks like mine or any other style of hook that works for you.
Jump Rings
There were also jump rings with my earring blanks, so I didn't need to buy them separately.
If you do need to buy them, you can get an inexpensive package of jump rings to use now and on future DIY projects.
The small rings have an opening that you can open up with pliers and then close it up again when your jewelry components are in place.
They come in different sizes and in different types of metal.
You can use jump rings to match the other jewelry findings you are using or you can mix and match finishes, if you'd like.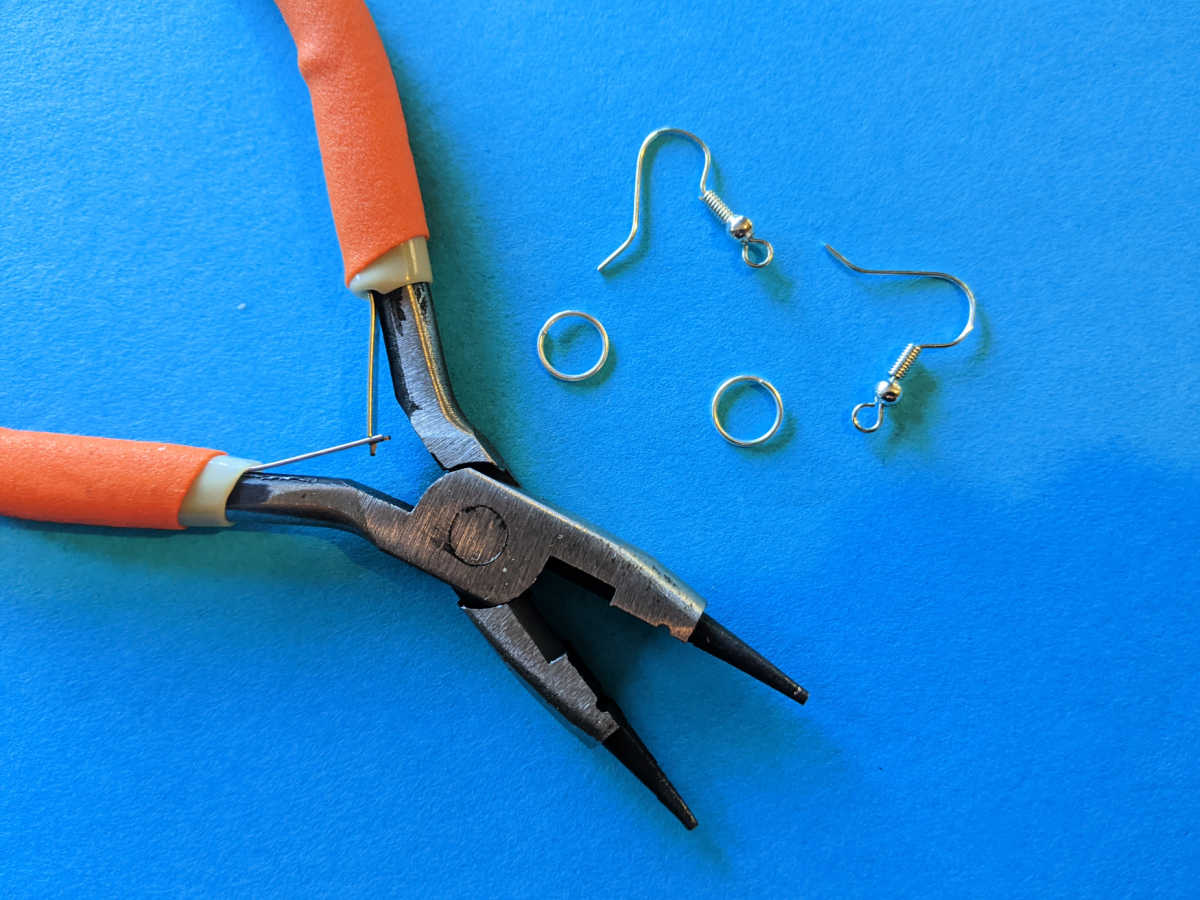 Needle Nose Pliers
Pliers are a big help, when you are making your own jewelry.
Needle nose pliers are handy to open up jump rings and attach your jewelry components.
I find it easiest to use pliers with a short pointed tip, but you may like a longer tip.
You can use regular household needle nose pliers, if you already have them on hand.
Or you can get comfortable needle nose jewelry pliers to keep with your other DIY jewelry tools and supplies.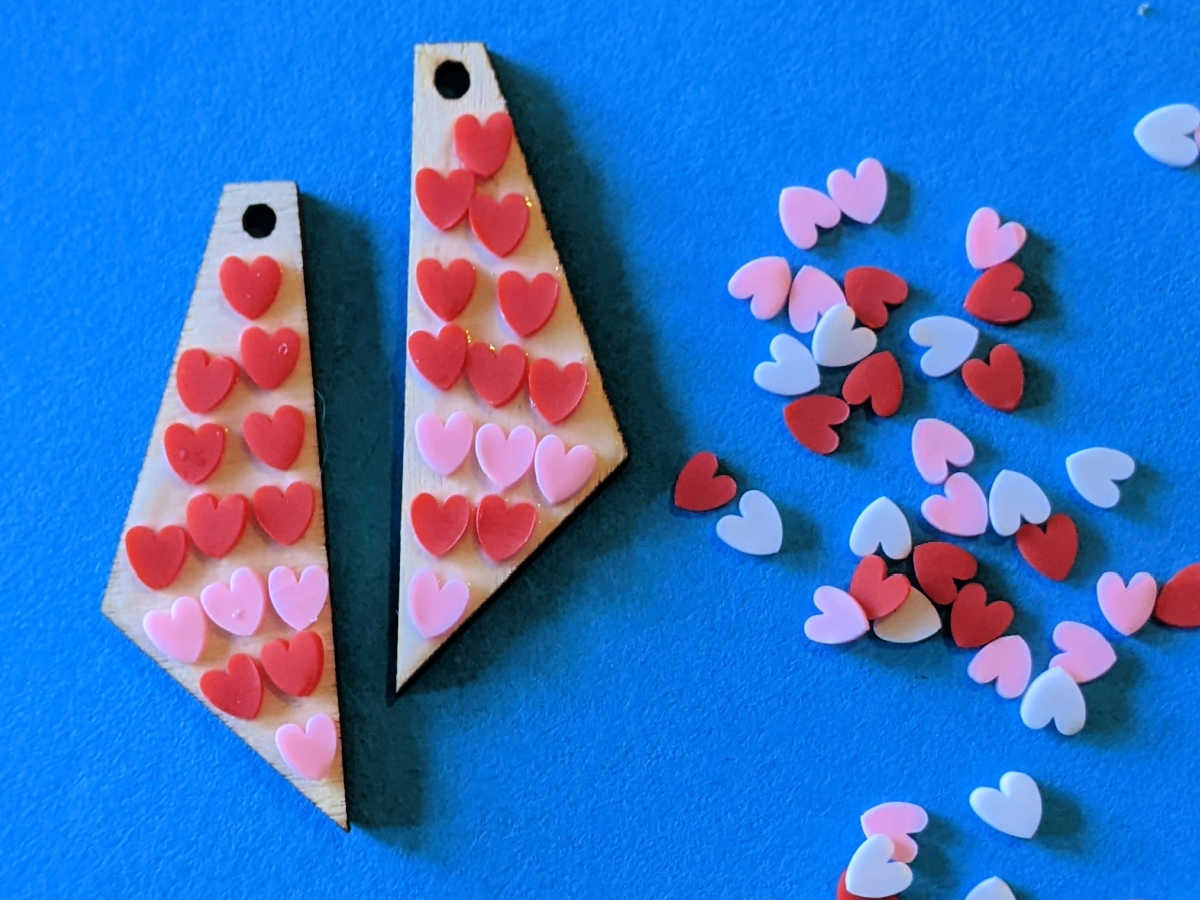 Where to Buy Jewelry Supplies Online
AliExpress has a huge selection of jewelry making supplies at super low prices – incredibly low prices. Plan ahead when you order, since shipping can take longer than US based companies.
Amazon also has a good selection of supplies and shipping can be very fast.
Beebeecraft has beads from around the world, jewelry findings and craft supplies with free shipping on orders over $25.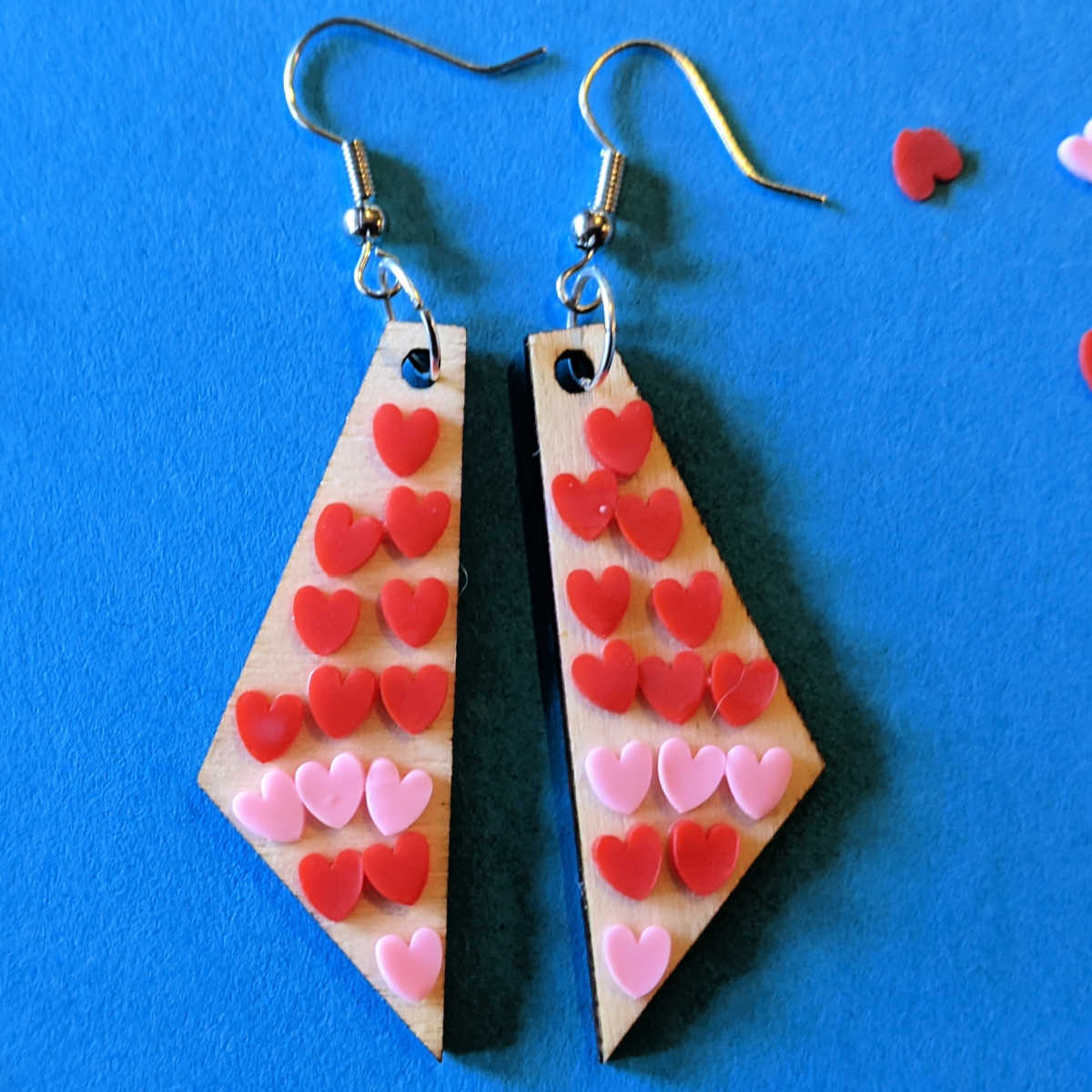 Valentine Wood Earrings Craft
Supplies / Materials
Unfinished Wood Earring Blanks
Jump Rings
Ear Hooks
Polymer Confetti Hearts (like mine or another assortment)
White School Glue
Water
Tools/Equipment
Jewelry Pliers
Paintbrush
Tweezers
Small Dish or Plate
Instructions
1) Gather your supplies and plan how you want to decorate your earrings. Make yours just like mine or change the arrangement of the colored hearts.
2) Pour glue and some water into a small bowl or plate and mix together with the paintbrush to thin out the glue.
3) Use the paintbrush to paint a section of the wood piece with the thinned glue and use the tweezers to put the polymer hearts in place.
4) Repeat until your earring designs are complete, painting on more glue as needed.
5) Let the glue dry.
6) Paint a top coat of glue on top of the heart slices. Let dry.
7) Use the pliers to open up a jump ring and slip it through both the wood earring and the ear hook. Make sure the earrings are facing heart side out, so the hearts are visible from the front when you are wearing them.
8) Squeeze the jump ring closed with the pliers.
9) Repeat for the second earring.
10) Have fun wearing your DIY Valentine wood earrings or wrap them up to give as a gift to someone special.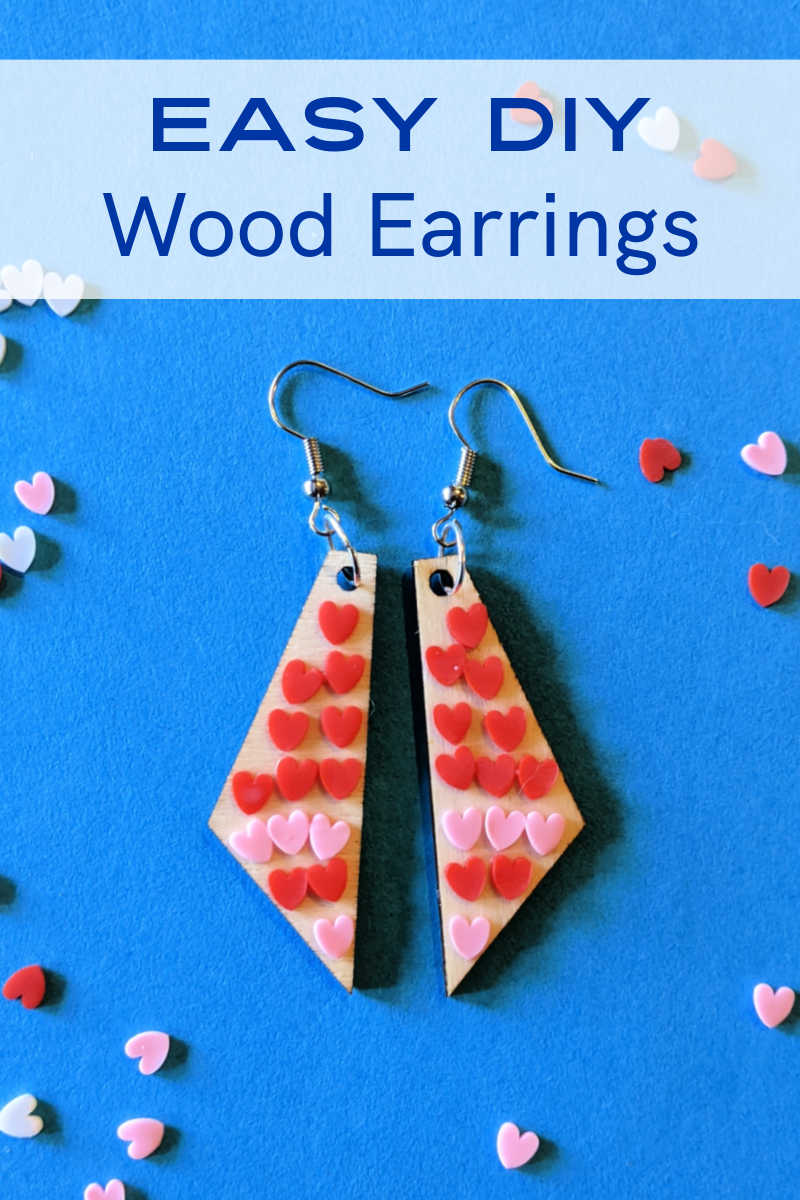 More from Mama Likes This
Take a look at my entertainment articles, so you can keep up with the latest TV, movie and book news.
Hoop Earrings Craft
Drop Earrings Crafts
Clip-on Earrings Craft
Valentine's Day Crafts
Valentine's Day Activity Pages
Free Printable Valentines
Free Printable Activity Pages
Check out my free printables, when you are looking for fun activities to do at home.
Many are from Disney, Netflix and Shout Factory, so they feature movies, TV series and characters that your kids already know and love.
Some are educational, but others are just plain fun.
There are coloring pages, crafts, word puzzles, mazes, memory games and many other family friendly activities.
Shop Now
Check out the latest online deals, so you can save money and pick out some great products for yourself and your family.
What will you buy first?