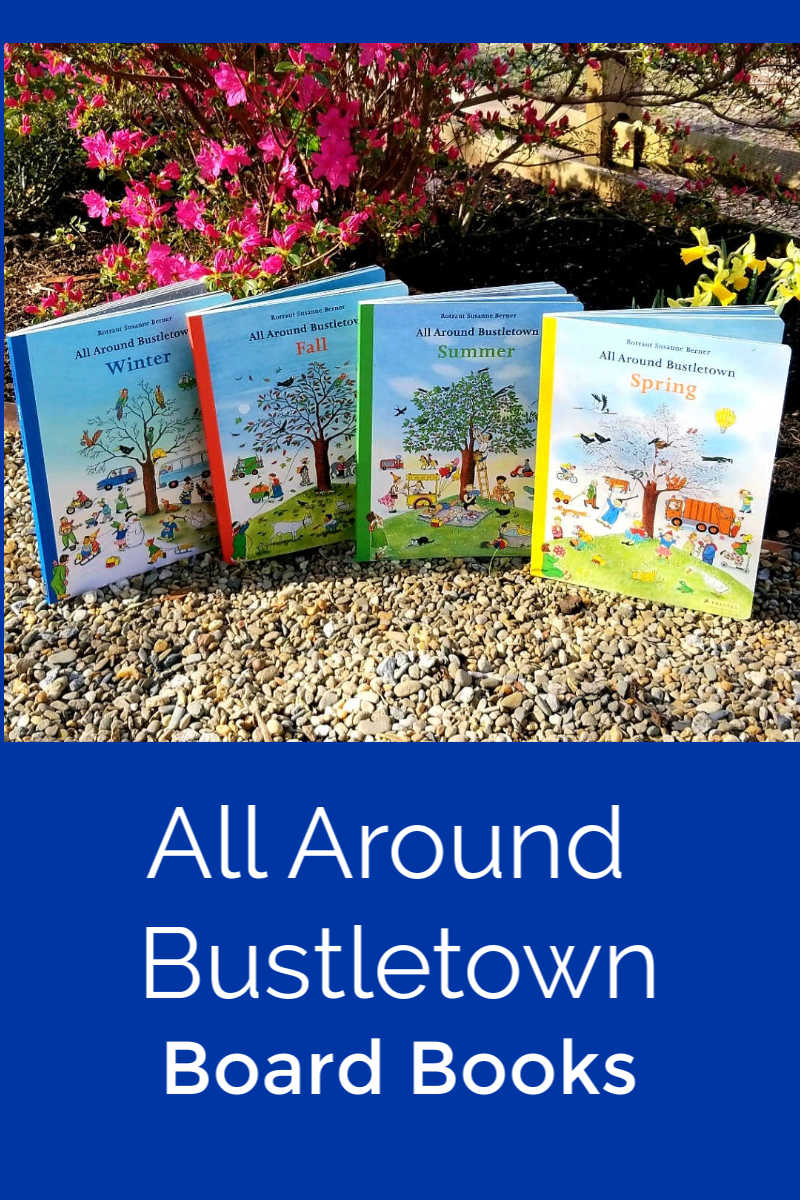 Winter, Spring, Summer and Fall Board Books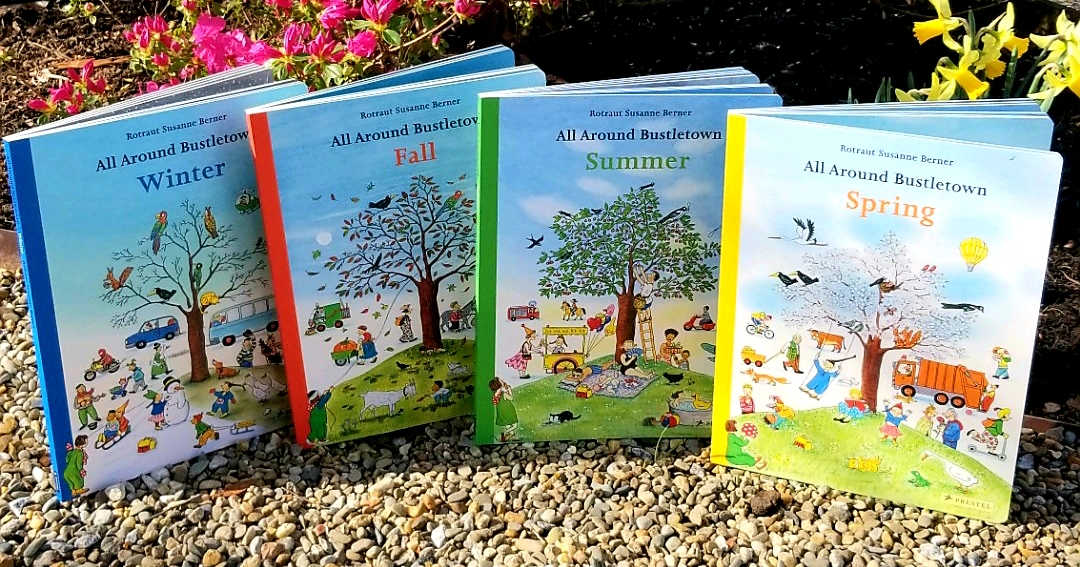 Kids can have a whole lot of fun at home, when you page through the All Around Bustletown books and look at the beautiful illustrations together.
There is a book for each of the four seasons: Winter, Spring, Summer and Fall.
The series is recommended for children ages 2 to 5 and there is a whole lot of age appropriate fun packed into each book.
There is so much going on in each of the illustrations that children can let their imaginations run wild as the look at all of the activity.
You may even find that your bigger kids enjoy them as much as the little ones!
Which one of these books will your child open up first?
by Rotraut Susanne Berner
isbn 978-3791374154
Release Date 8/22/19
Synopsis
Winter has arrived and everywhere you look people are embracing the season.
At home there's baking, reading, and sleeping in, while on the farm the fields are fallow and quiet.
Outside people are bundled up against the cold as they are skating, sledding, and running to catch a crowded bus.
The town's buildings are alive with activity–piano lessons, a dentist appointment, shopping for presents, and visiting the museum.
And if you look closer, you'll recognize the same characters on page after page, each with their own story.
by Rotraut Susanne Berner
isbn 978-3791374093
Release Date 2/18/20
Synopsis
It's springtime in this charming, busy town and there is a lot going on!
A house gets a top-to-bottom spring cleaning and farm fields are being prepared for planting.
People are shopping, commuting to work, constructing buildings, and meeting friends.
If you look closer, you'll recognize the same characters appear on every page, each with their own story.
by Rotraut Susanne Berner
isbn 978-3791374208
Release Date 3/19/20
Synopsis
It's summer and that means flowers, picnics, thunderstorms, and bike rides.
It's a busy time for construction workers, farmers, and house painters.
Playgrounds are filled with kids and vacationers are boarding trains in droves.
In the sky a pair of balloons drifts through every scene, while on the street people of all ages make their way to an outdoor birthday party.
There's even a big storm that turns umbrellas inside out, sends hats flying, but ends in a lovely rainbow.
by Rotraut Susanne Berner
isbn 978-3791374222
Release Date 7/21/20
Synopsis
The leaves are blowing off the trees and the birds are flying south in Bustletown.
Farmers are preparing the fields for winter and kids are back in school.
And look, there's a water main break that's causing havoc and a chimney sweeper perched on a roof!
Each time readers look at these delightfully detailed spreads they'll discover something new, whether it's what's for sale at the outdoor market or how many pumpkins they can spot on a single page.
Bustletown Books
Check out my other giveaways, so you can have more chances to win prizes.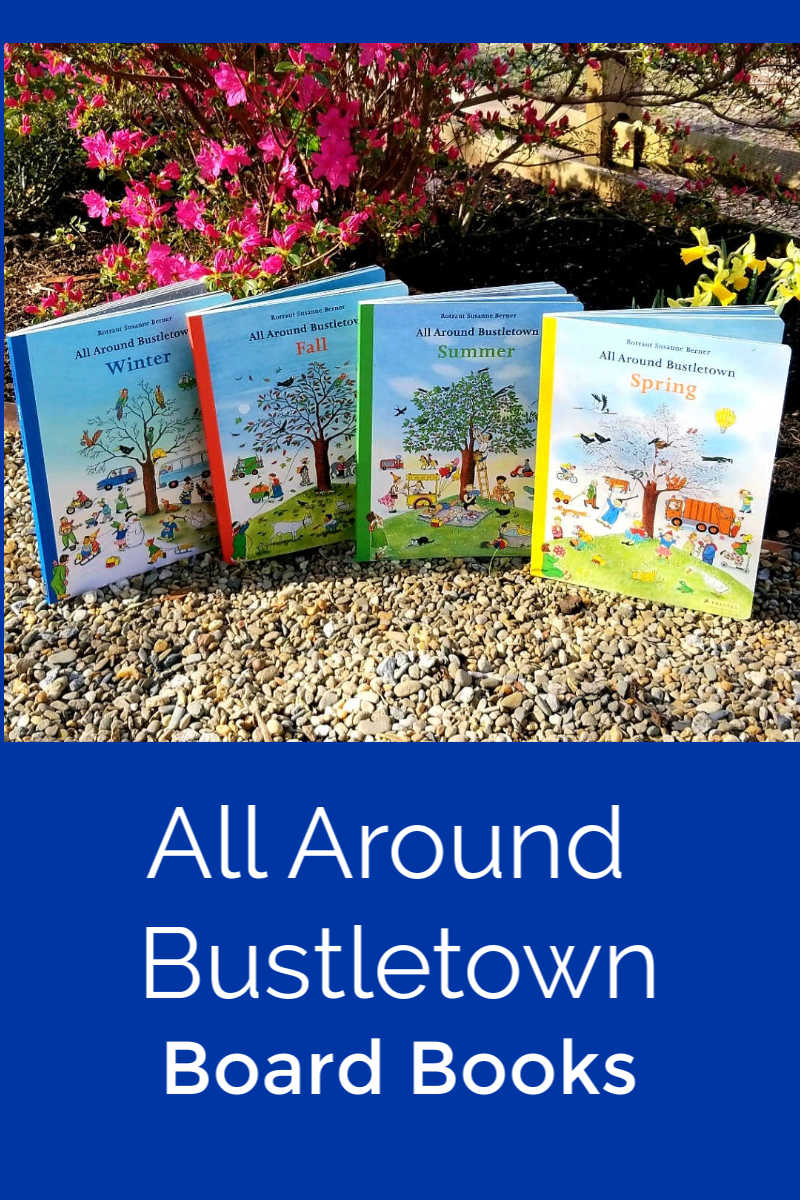 More from Mama Likes This
Take a look at my other entertainment articles, so you can keep up with the latest TV, movie and book news.
Check out my crafts and free printables, so you and your family can have lots of fun.
Following are some of my tropical crafts that are fun for Spring and Summer.
Happy crafting!