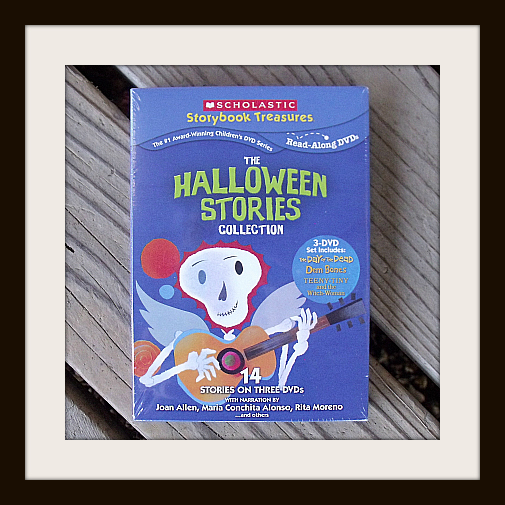 Hooray for Scholastic! I loved getting the Scholastic book catalog at school when I was growing up. I'm happy to see that they are still going strong and helping kids get excited about reading.
Scholastic Storybook Treasures Read Along DVDs do a fantastic job of mixing books and video. They retain a book-like experience with text and illustrated pages and they have the added benefit of animation, voice, music and sounds. They are great for any kid and especially beneficial for kids who learn best when multiple senses are stimulated.
The Halloween DVD Collection includes read-along versions of 14 children's books and some enlightening bonus feature interviews with authors and illustrators. Some of the stories are probably already familiar to your kids. Others will be new to them. There is lots of kid-appropriate spooky fun ready to be had!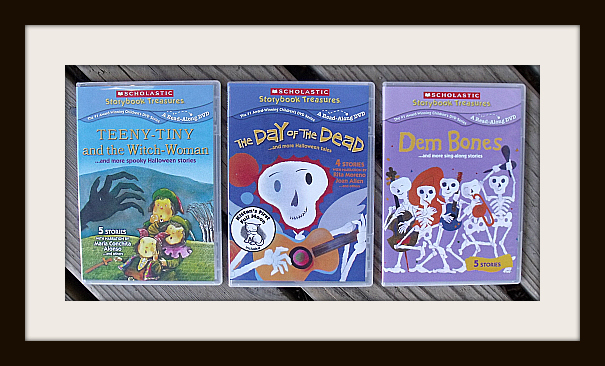 Scholastic Storybook Treasures
The Halloween Stories Collection

Volume 2 DVD 3pk
Release date 9/10/13
This wonderful boxed collection includes 3 DVDs in individual cases that will help keep them in good condition for a long time.
Teeny Tiny and the Witch-Woman and:
The Boy wiht Two Shadows
Los Gatos Black on Halloween
What's Under My Bed
King of the Cats
The Day of the Dead and:
The Little Old Lady Who Was Not Afraid of Anything
Kitten's First Full Moon
Fletcher and the Falling Leaves
Dem Bones and:
Dinosaur Bones

Hush Little Baby
The Fox Went Out on a Chilly Night
The Erie Canal
CONNECT – You can like New Kideo on Facebook.
Enter daily through the Rafflecopter form below: