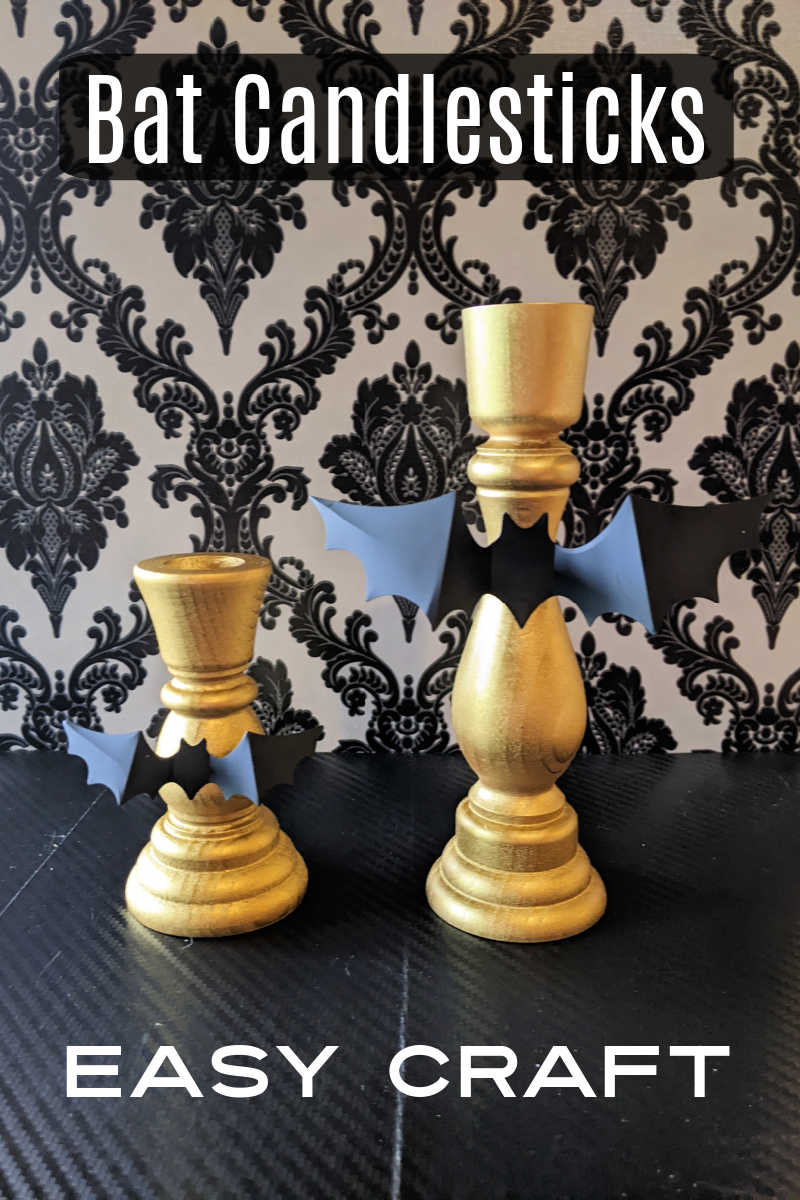 Spooky Bat Candlestick Craft for Halloween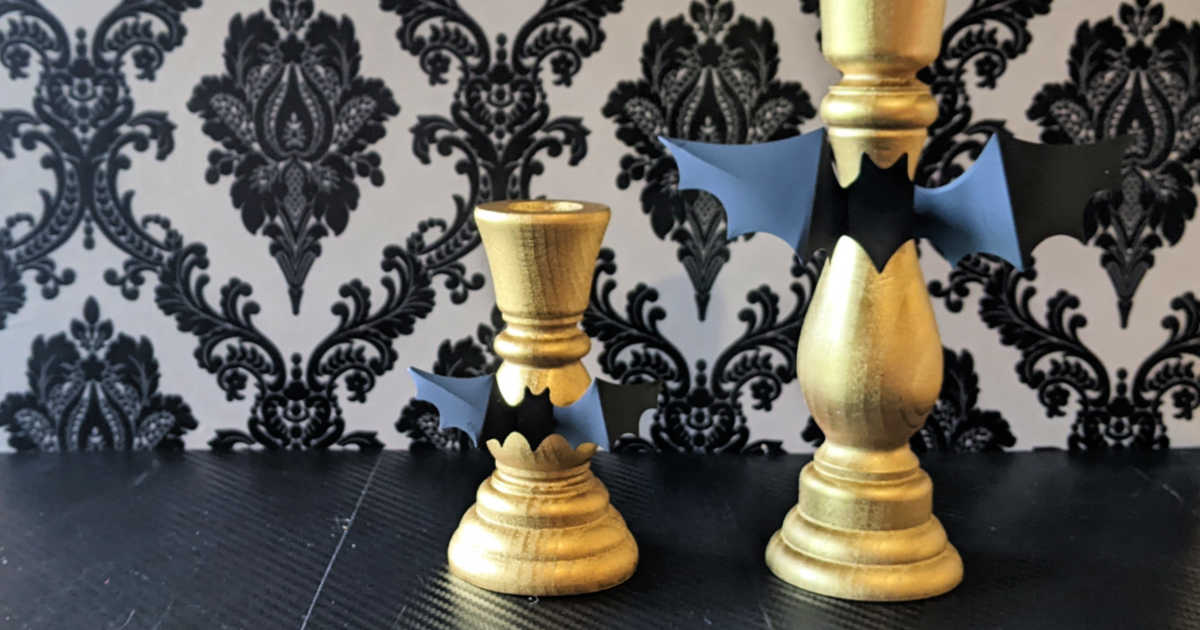 Create a spooky and festive bat candlestick craft for Halloween with this easy DIY project.
All you need are a few simple supplies and a little bit of creativity.
Halloween is the perfect time to get creative with your home décor, but, of course, you can enjoy this craft anytime of the year you'd like.
This DIY craft is easy to make and only requires a few simple supplies, so gather your materials and get ready to add a touch of Halloween magic to your home.
I will provide a list of all the supplies you will need, as well as step-by-step instructions on how to make your very own bat candlestick.
So get ready to get spooky!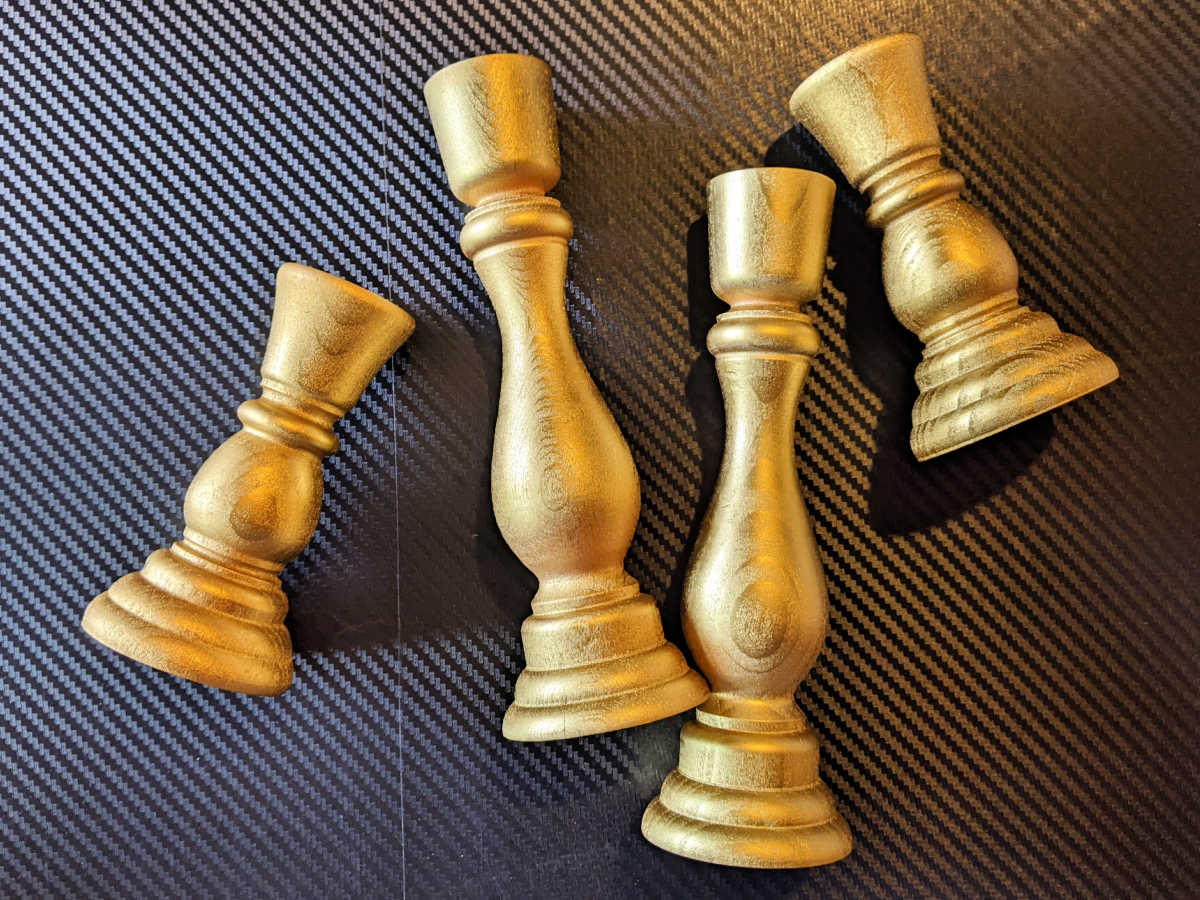 Wood Candlesticks
Simple wood candlesticks are fun to use for home diy projects.
They are reasonably priced and come in a variety of shapes and heights, so you can make one or make many for a pretty arrangement.
If you'd like to leave them unfinished, they will look good with bats attached.
Mine have been painted with gold metallic paint, which is the look I wanted.
It takes a little bit of extra effort, but the gold is beautiful.
Whether you leave your wood plain or paint it, this is a fun craft that looks great.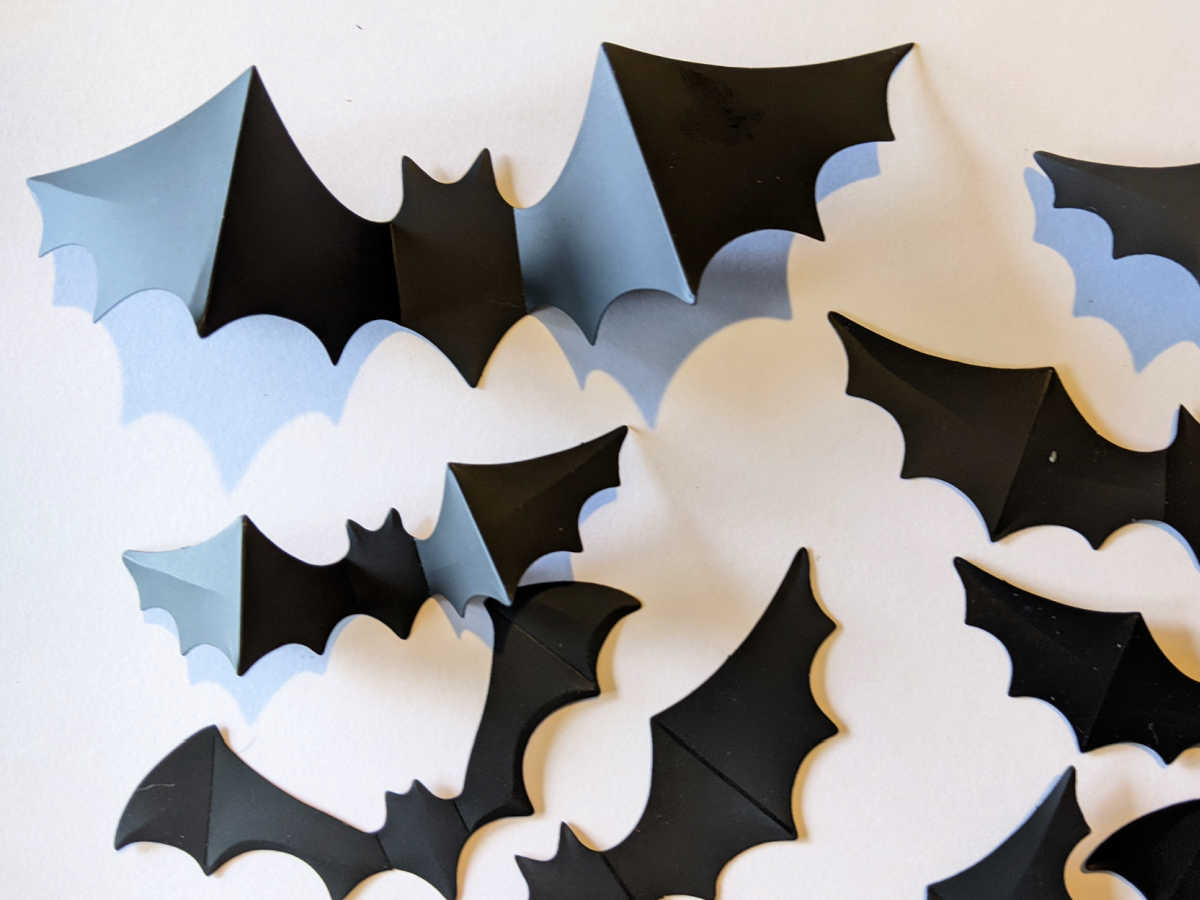 3D Bat Stickers
Black 3D bat stickers are a great way to add a spooky and festive touch to candlesticks and other Halloween crafts.
They come in packs with assorted sizes and bat shapes, so you can find the perfect stickers for your homemade DIY crafts.
You can choose between 3D bat stickers made from stiff paper or PVC.
Both types of stickers have lines to show you where to fold to give the bats their 3D shape.
Since 3D bat stickers aren't sticky all over like regular stickers, you will need to use adhesive to stick them on.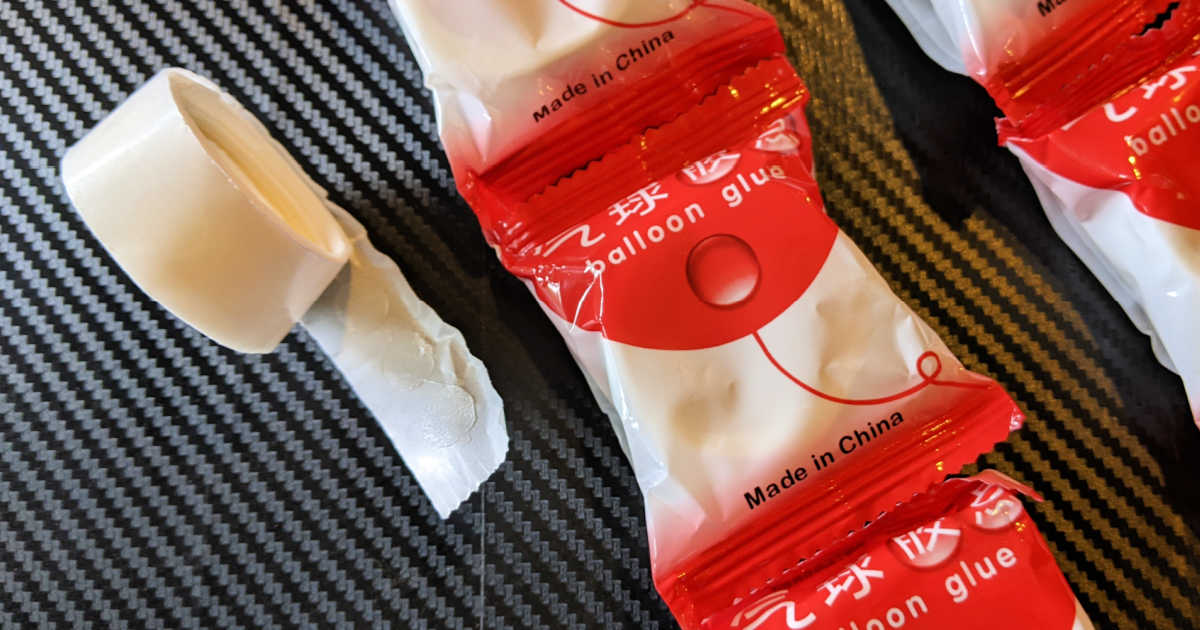 Adhesives for 3d Bat Stickers
There are a few different types of adhesives that you can use to stick 3D bat stickers to your Halloween crafts.
I used glue dots (balloon glue), but any of the following options will work.
Double-sided foam tape: This is the most common type of adhesive that is used with 3D bat stickers. It is easy to use and provides a strong bond. Most 3D bat stickers come with double-sided foam tape included in the package.
Glue dots: Glue dots are a convenient and easy-to-use adhesive option. They are also very strong and will hold your 3D bat stickers securely in place.
School glue or tacky craft glue: This is a good option if you don't have double-sided foam tape or glue dots on hand. However, it is important to note that school glue and tacky craft glue will take longer to dry than double-sided foam tape or glue dots.
Candle Safety
As always, it is important to be cautious with candles to avoid starting a fire.
My bat candlesticks are purely decorative, so I have candles in them that I do not intend to light.
If you are going to light your candles keep that in mind, and position your bats lower so there is no chance the flame will touch them.
Also, of course, never leave lit candles unattended.
Where to Buy Craft Supplies Online
AliExpress has a huge selection of craft supplies at super low prices – incredibly low prices. Plan ahead when you order, since shipping can take longer than US based companies.
Amazon also has a good selection of supplies and shipping can be very fast.
You can get the supplies for this DIY project at either of those online stores.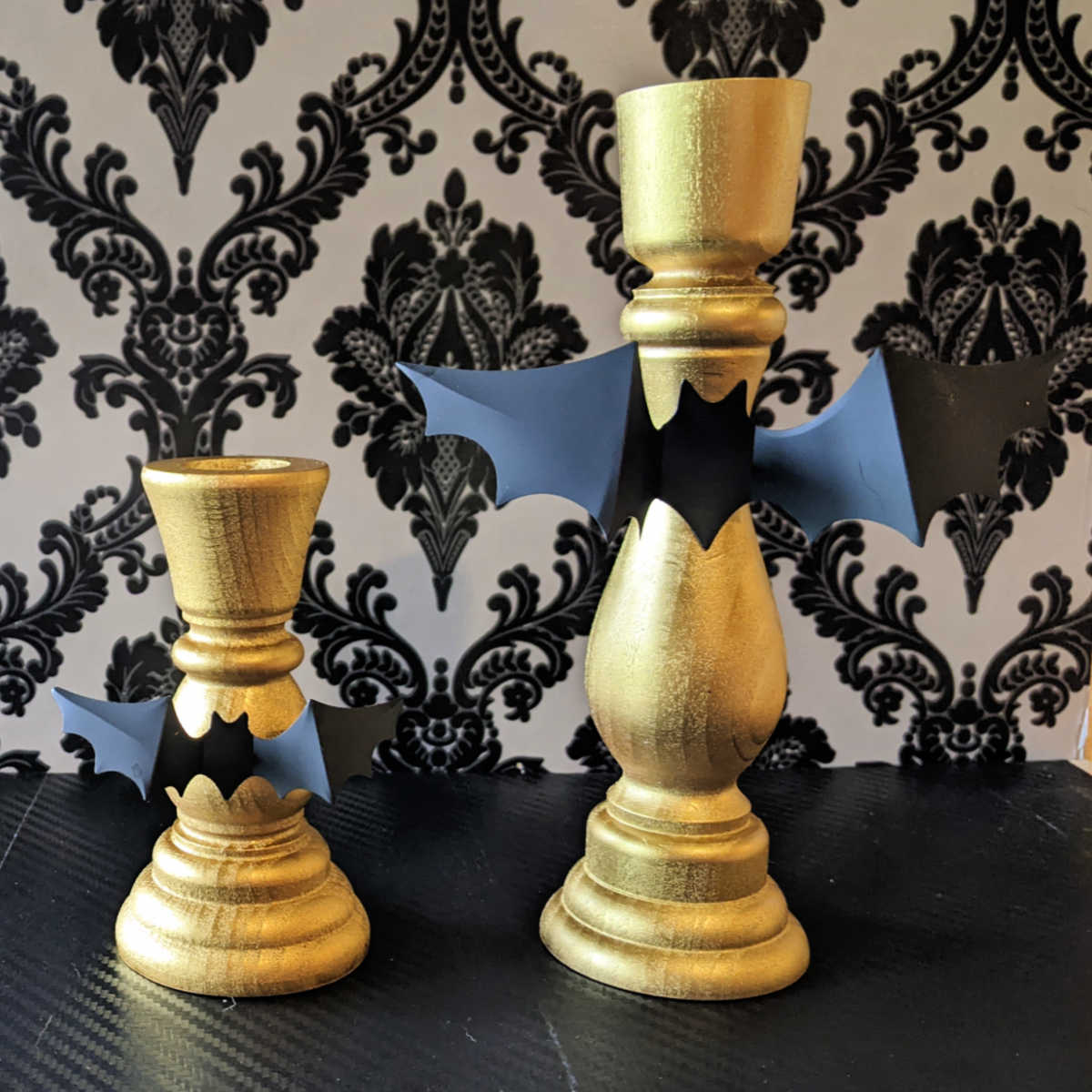 Bat Candlestick Craft
Supplies / Materials
Wood Candlesticks
3D Bat Stickers (PVC or Paper)
Adhesive (glue dots, tacky craft glue or double sided foam tape)
Optional: Gold Paint and Paint Brush
Instructions
1) Gather your supplies and make a plan for how you want to arrange the bat or bats on your candlestick. IF you are going to light your candles, be safe and place your bats low and far away from the flame.
2) Optional: Paint your candlestick and let it dry completely.
3) Fold the bat wings to create the shape you want.
4) Attach the bats to the wood candlestick with your choice of adhesive. I used glue dots (balloon glue).
5) Enjoy your fun and festive bat candlestick.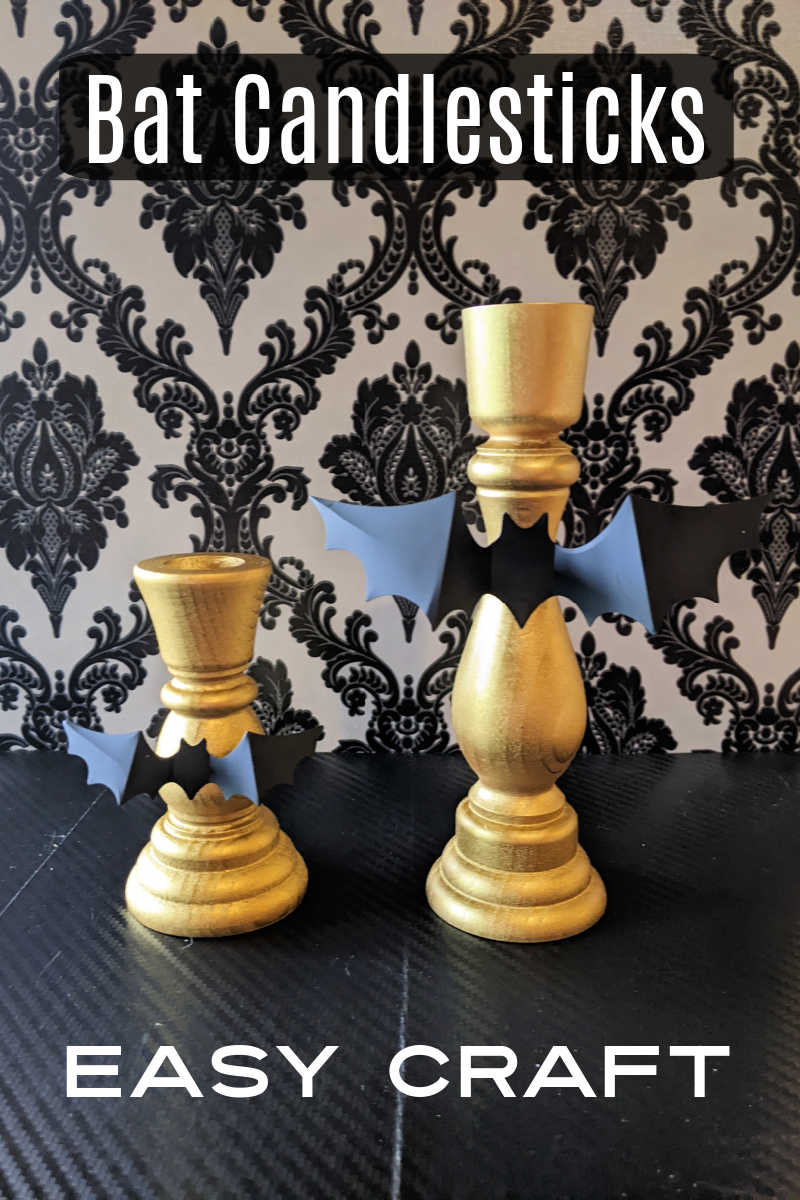 More from Mama Likes This
Take a look at my entertainment articles, so you can keep up with the latest TV, movie and book news.
Bat Crafts
Halloween Crafts
Mama Likes to Cook Halloween Drink Recipes
Mama Likes to Cook Halloween Food Recipes
Free Printable Activity Pages
Check out my free printables, when you are looking for fun activities to do at home.
Many are from Disney, Netflix and Shout Factory, so they feature movies, TV series and characters that your kids already know and love.
Some are educational, but others are just plain fun.
There are coloring pages, crafts, word puzzles, mazes, memory games and many other family friendly activities.
Shop Now
Check out the latest online deals, so you can save money and pick out some great products for yourself and your family.
What will you buy first?