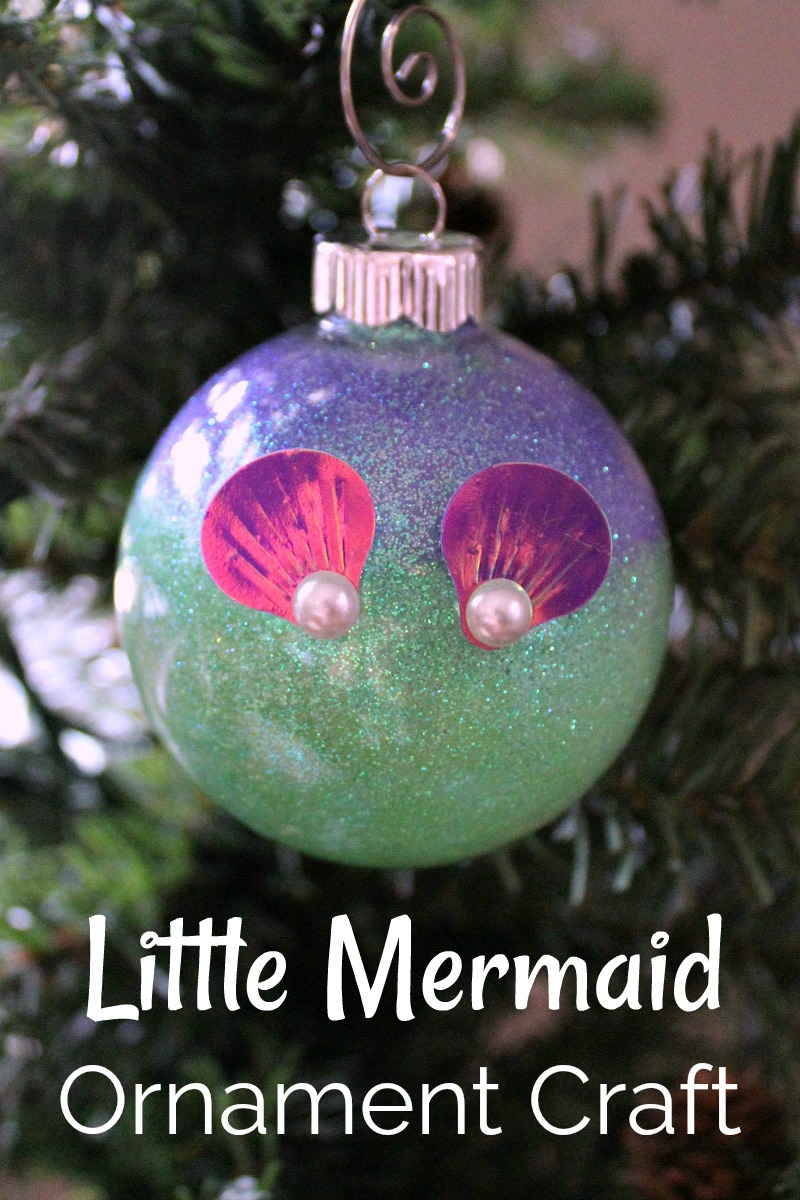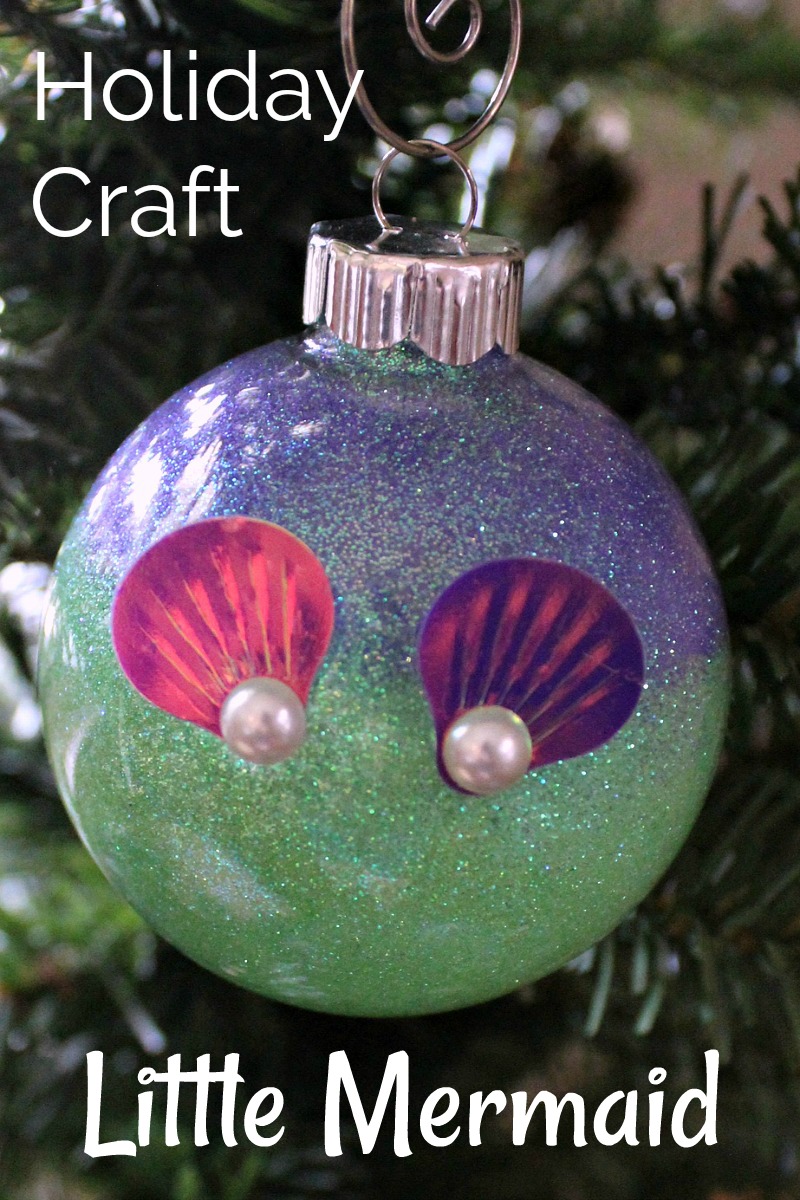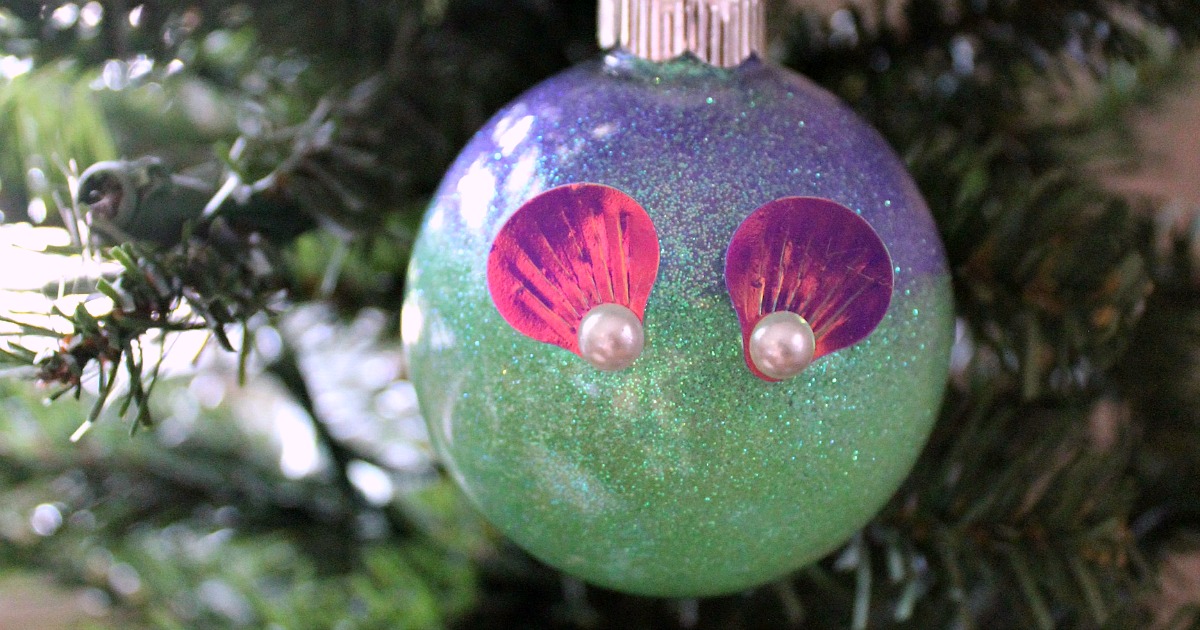 If you have an Ariel fan in your home, this DIY Little Mermaid ornament will be a fun holiday craft project for your family.
When I was a child, I read the Hans Christian Andersen Little Mermaid fairytale over and over again. I always thought it would be amazing to be a mermaid living under the sea.
Then, when I had kids of my own, we had fun watching the original animated Disney movie.
Soon there will be a live action version of the the movie, so we will have a whole new way to enjoy this classic tale.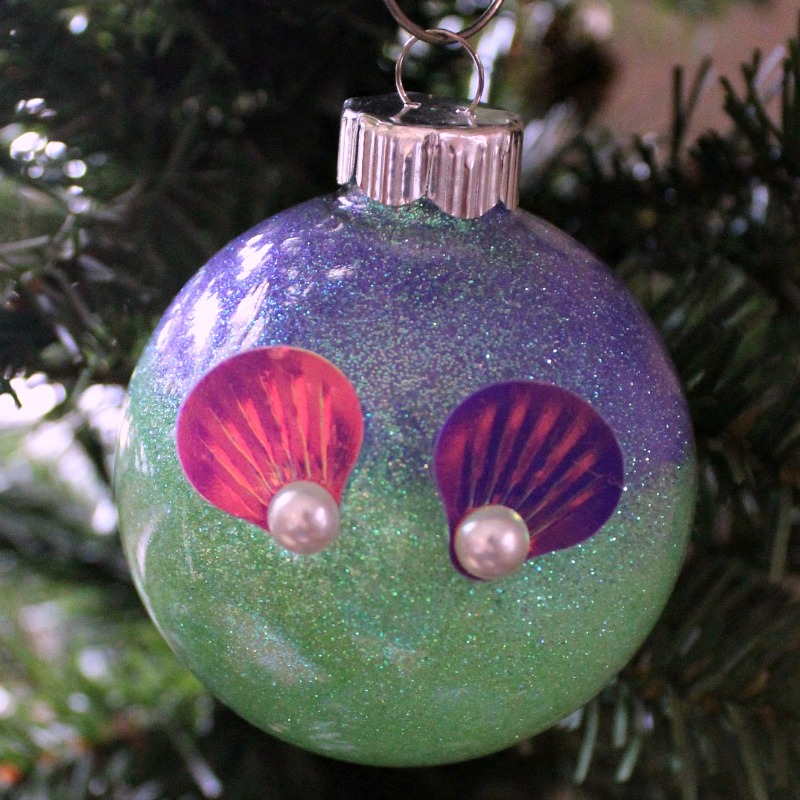 This Christmas tree ornament craft is the perfect way to celebrate Ariel, and to help build excitement for the upcoming movie.
There are sparkles that Princess Ariel would love and seashells that look like her mermaid style swim suit.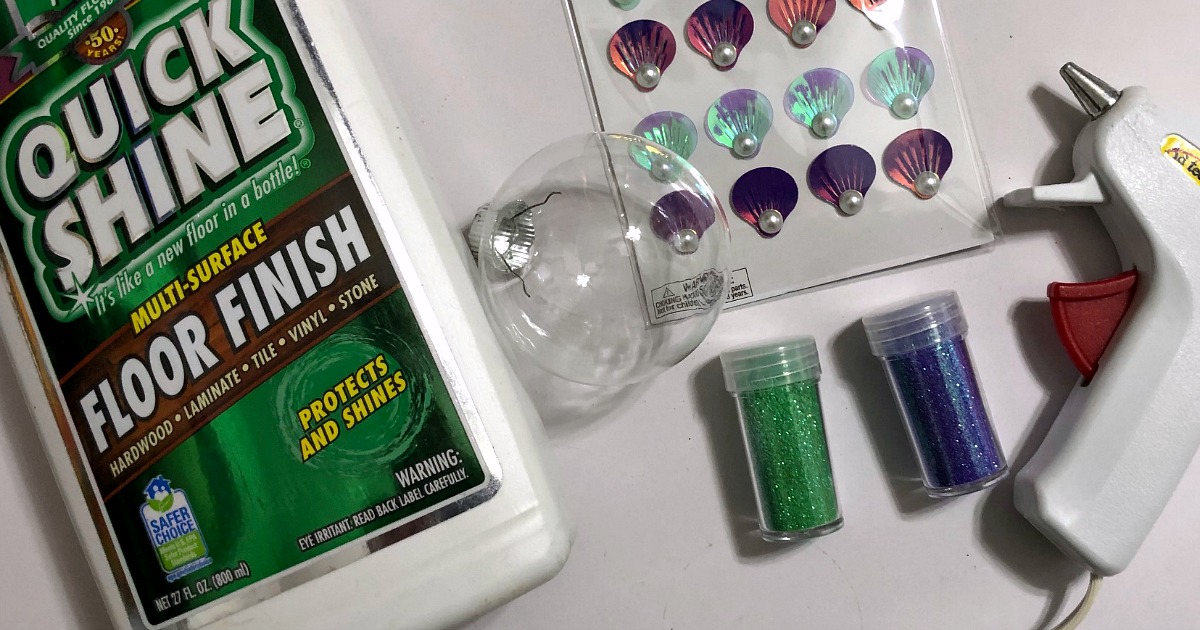 The simple craft project is fun to do on your own, but is even more fun as a group activity.
Plan for a craft day with your child or go big with a craft activity for a group.
It would be a fun movie night or birthday party activity.
Make one or make many to give as gifts.
Very small children will need some help, but bigger kids will be able to handle the diy ornaments by themselves.
"The seaweed is always greener
In somebody else's lake
You dream about going up there
But that is a big mistake
Just look at the world around you
Right here on the ocean floor
Such wonderful things surround you
What more is you lookin' for?"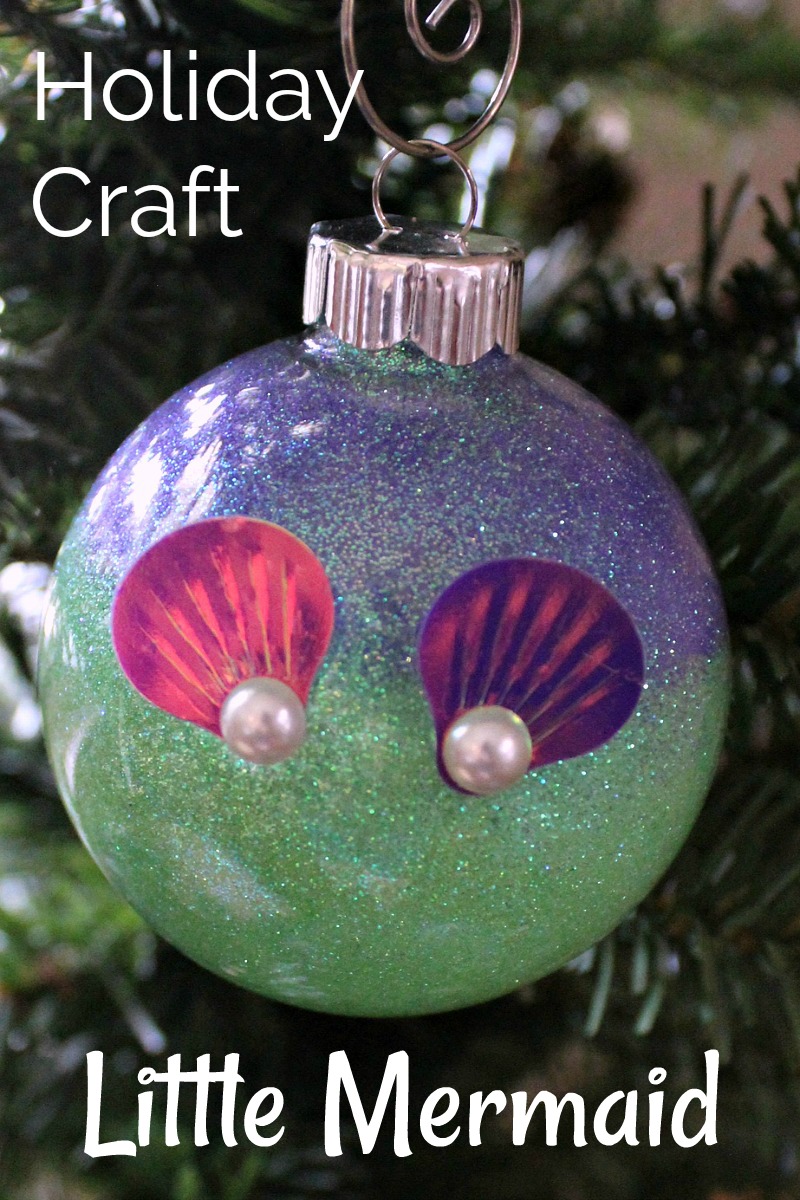 DIY Little Mermaid Ornament
Supplies
Clear Glass Ornament
Floor Polish (all-purpose, hard-wood or laminate – any brand will do)
Black Paint Pen
Neon Green Glitter
Neon Purple Glitter
Small Funnel
Hot Glue Gun
Seashell Stickers
Instructions
1). Remove the lid from your ornament and set it aside. Then, pour a dollop of floor polish inside the ornament with a small funnel.
2) Swirl the floor polish around the inside of the ornament, so that it is completely covered. Drain any excess liquid and dispose of it.
3) Using a clean, dry funnel, pour a little neon green glitter into the ornament. Swirl it so that it coats the bottom half of the ornament.
4) Repeat with the purple glitter, but try to keep it on the top half of the ornament. If they mix together a bit, that is perfectly fine. Pour out any excess glitter.
5) Put the lid back on the glass ornament.
6) Use hot glue to affix the seashells to the ornament. The hot glue will keep them in place better than the glue that is on the back of the sticker.
7) Add a ribbon or hook and hang the Ariel ornament on your Chirstmas tree.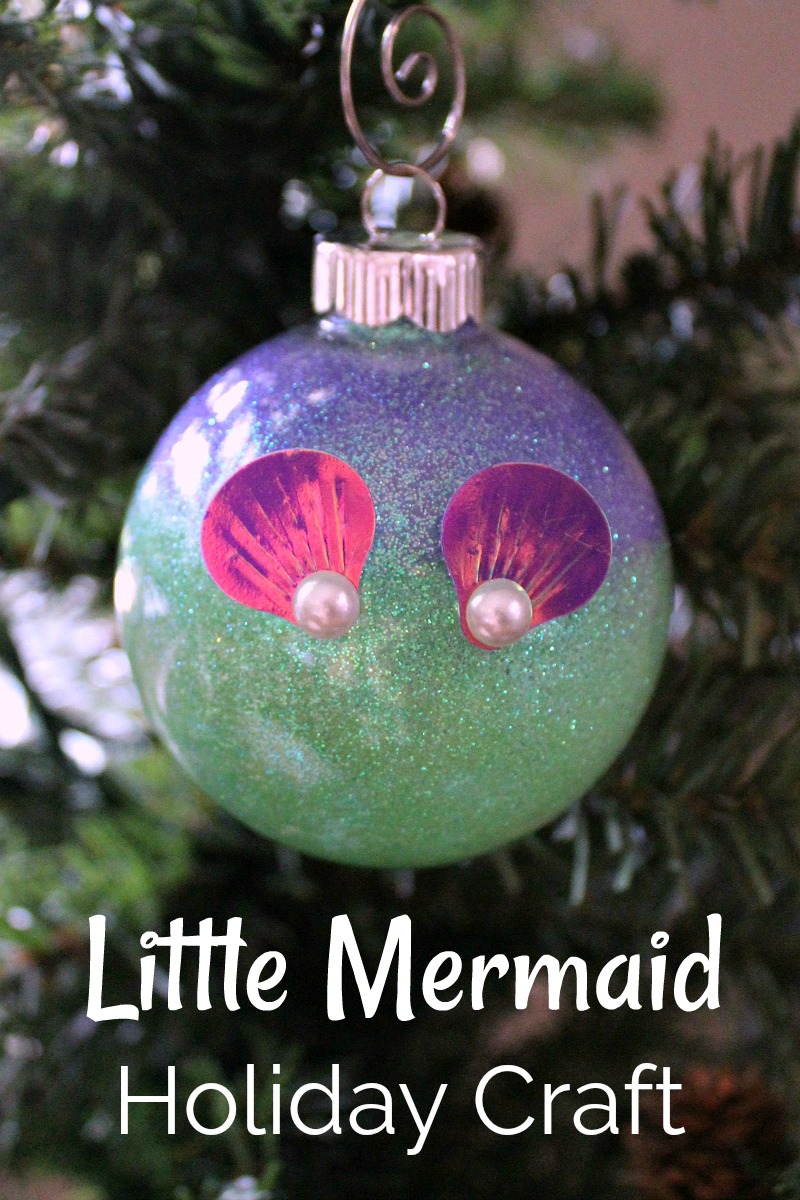 More from Mama Likes This
For year round fun, take a look at the rest of my free printables.
Many are from Disney and Shout Factory, so they feature movies, TV series and characters that your kids already know and love.
Some are educational and some are just plain fun. There are coloring pages, crafts, word puzzles, mazes, memory games and other family friendly activities.
Under The Sea Crafts with Free Printable Templates
Happy Crafting!